Traditional Spanish cuisine is simple, down-to-earth food that is based on the ingredients that may be found nearby or the crops that are farmed in the area. Up until the second half of the 20th century, Spain was surrounded by mountains, which acted as natural obstacles to communication and complicated transportation.
Spain is situated in southwest Europe on the Iberian Peninsula, with the sea enclosing its east and south. Thus, shellfish constitute a significant portion of Spanish cuisine. Spain is renowned for its agriculture and the fertile areas found in its interior. Wheat and other grains can be easily cultivated here.
PAELLA – Famous Spanish rice dish
The list of Spanish rice recipes doesn't end with paella!
In Spain, rice can go by a vast variety of names depending on where you are in the nation, the kind of pan it is cooked in, and the components it contains. You may be guaranteed to receive the freshest, tastiest rice in any place by being aware of the terms to search for.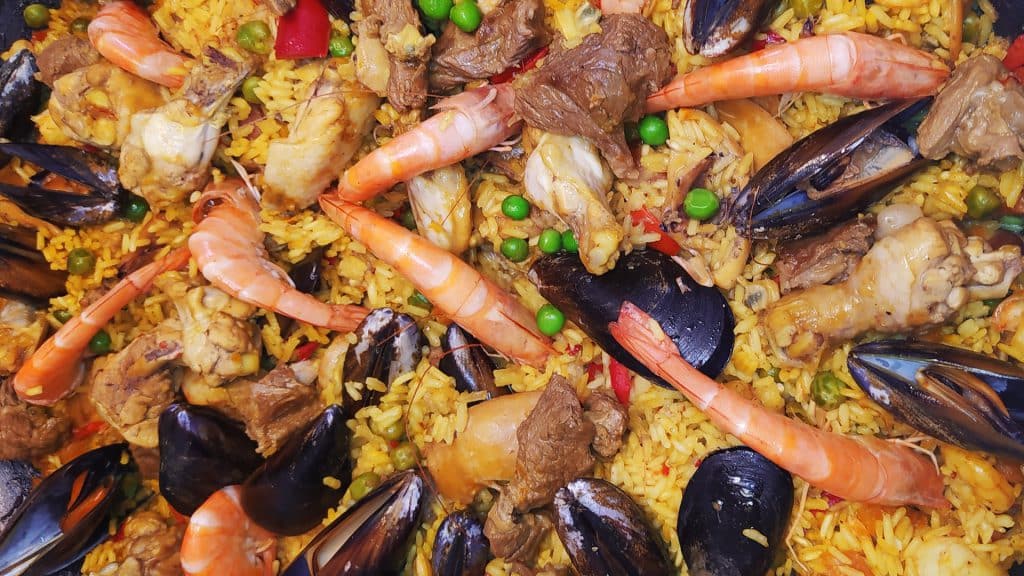 JAMON IBERICO – Iberian ham
Iberian ham, also known as jamón ibérico, is a variation of the cured leg of pork known as presunto that is made in Portugal and, to a lesser extent, Spain.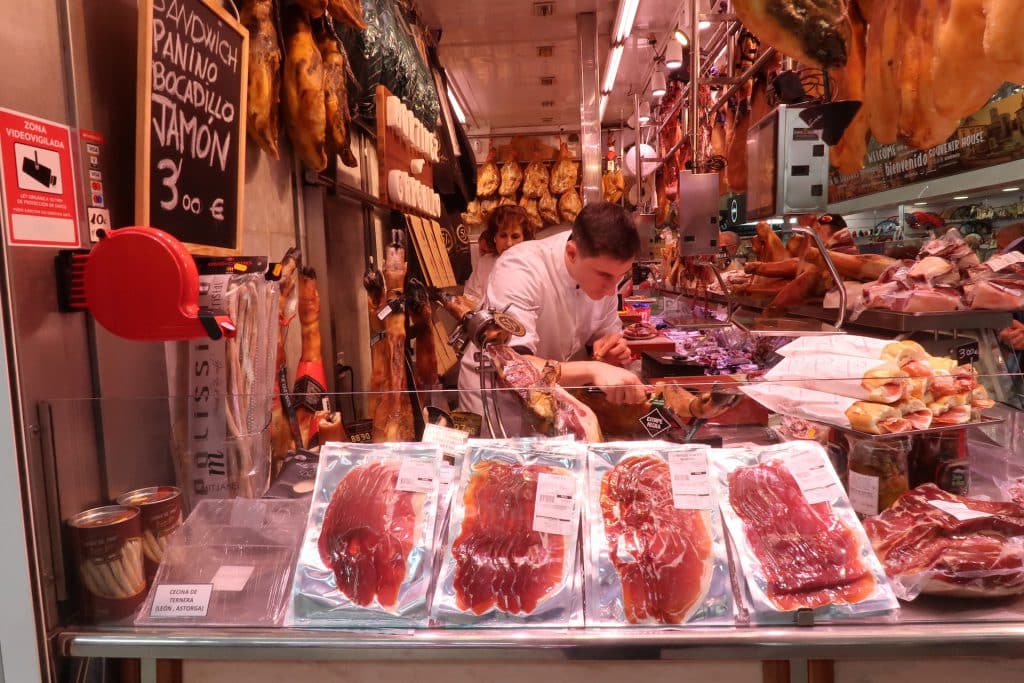 GAZPACHO – Famous Spanish tomato soup
On a hot summer day, gazpacho, a chilled, tasty soup, makes the ideal starter to any meal. It also makes the ideal nutritious snack.
This chilly soup has its roots in Andalusia, a hot and arid region in southern Spain. It produces a silky smooth and delectable cold gazpacho and is as straightforward and genuine as it gets.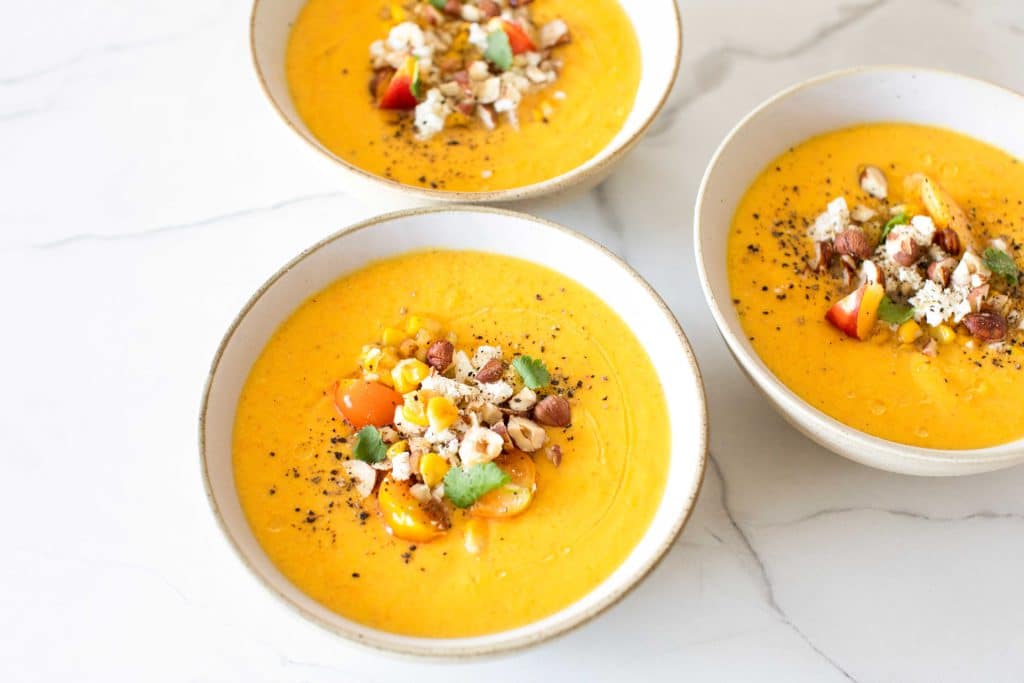 SALMOREJO – Popular Spanish tomato purée
Salmorejo is currently known for its pinkish-red hue, which has caused the soup to resurface in some of Spain's more upscale eateries. The artistic qualities of this dish are increasingly being recognized by numerous chefs, who are now decorating many of their plates with it.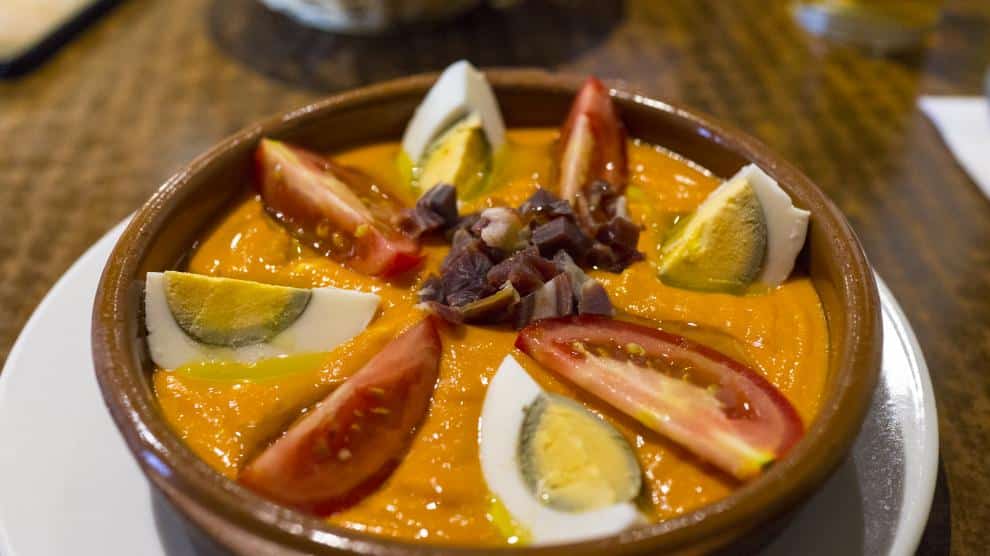 TORTILLA ESPANOLA – The national meal of Spain is tortilla espanola, a well-known Spanish omelet.
A typical Spanish cuisine is Spanish tortilla or Spanish omelette. It is a staple of Spanish cuisine and is revered as the country's national dish. It is a potato and onion-optionally omelette prepared with eggs. It is frequently offered as a tapa at room temperature.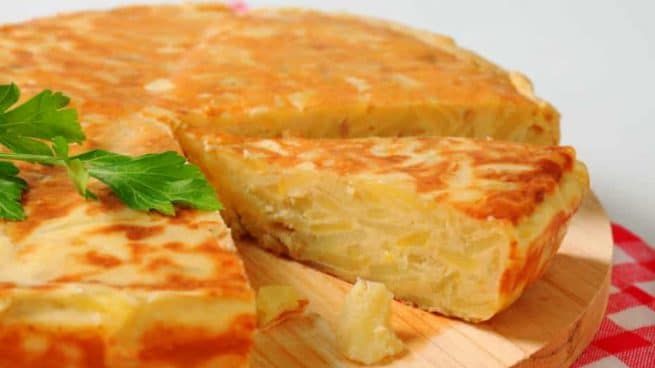 CROQUETAS – Spanish croquettes are among the most well-liked foods in Spain.
Croquettes were created as an attempt to prevent food wastage, particularly meat. These scraps are combined with béchamel sauce and deep-fried to a golden brown perfection as a way to use up leftover meat or vegetables. It's a fantastic approach to guarantee that none of the food in the fridge is wasted! French croquettes, which have a base of creamy potatoes, are the origin of croquettes in Spain. Spanish croquettes are made with béchamel, while French croquettes are made with potatoes. Similar to a roux, this rich, creamy sauce is made with butter, flour, and milk. These delightful morsels are known as croquetas in Spain and are a staple of tapas bars.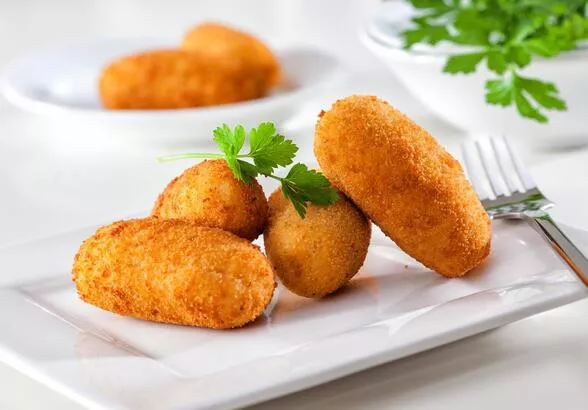 PAN CON TOMATE – Popular Spanish bread with tomatoes
Pan con tomate, also known as pan tumaca or pa amb tomaquet, is a simple bread dish that is made with fresh, ripe tomatoes, garlic, good extra virgin olive oil, and a pinch of salt.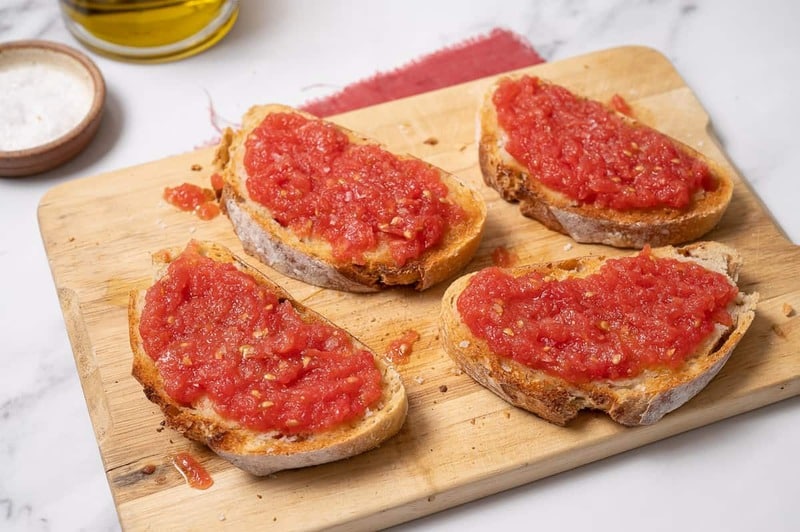 BOCADILLOS – Popular Spanish baguette sandwiches
On a baguette, a classic Spanish bocadillo is a type of sandwich. This is not a sandwich, contrary to what you might imagine when you hear the word "sandwich."
A bocadillo is a 6- to 8-inch long part of a baguette that has been split in half and filled with tuna, Serrano ham, cold cuts, or Spanish chorizo sausage. Typically, Spaniards don't smother their bocadillos in mayonnaise, lettuce, and pickles; instead, they may add tomato slices or rub a tomato slice on the bread to moisten it.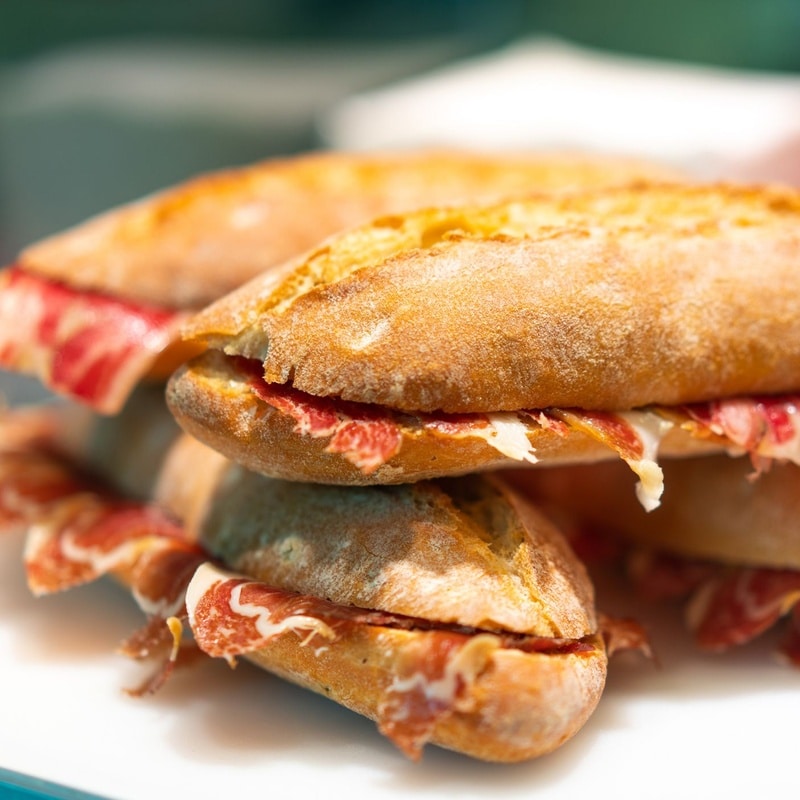 MONTADITOS – Popular finger sandwiches from Spain
A Montadito is a mainstay of Spanish cuisine. It is a special bread roll that is the size of a tapa and resembles a baguette but is wider and twisted.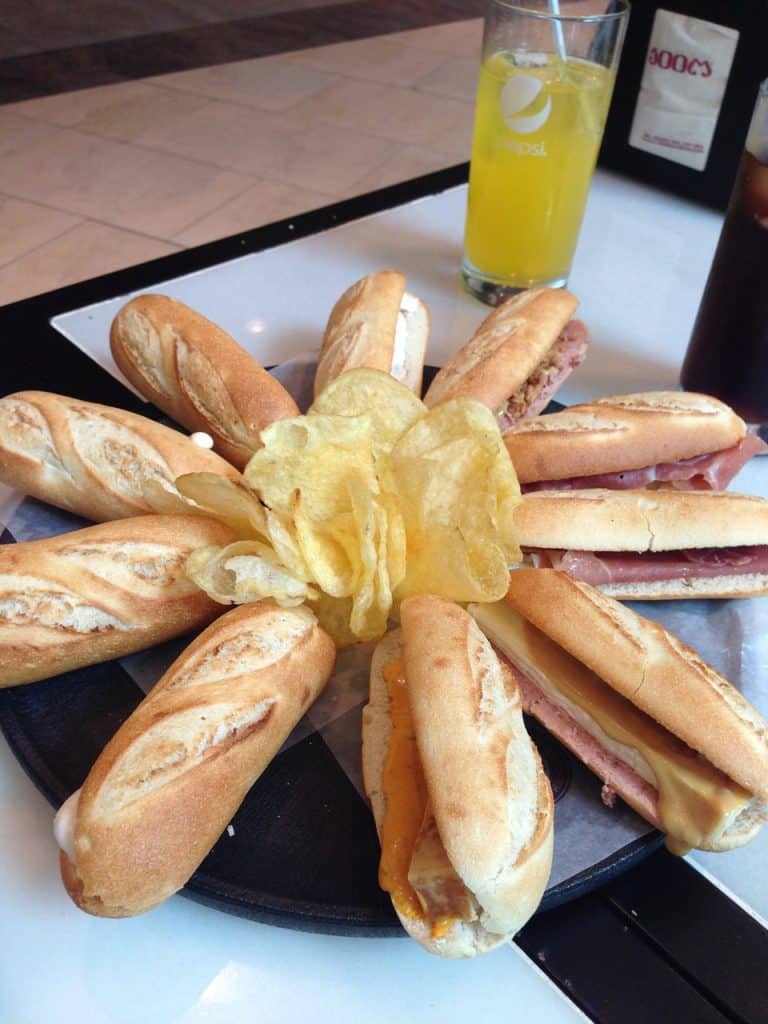 RABO DE TORO – The well-known Spanish dish
One of the best dishes in all of Spain, and that's saying a lot! The melt-in-your-mouth stew rabo de toro will put your taste buds into overdrive!
The flavorful dish rabo de toro is made from oxtail, one of the most underappreciated portions of beef.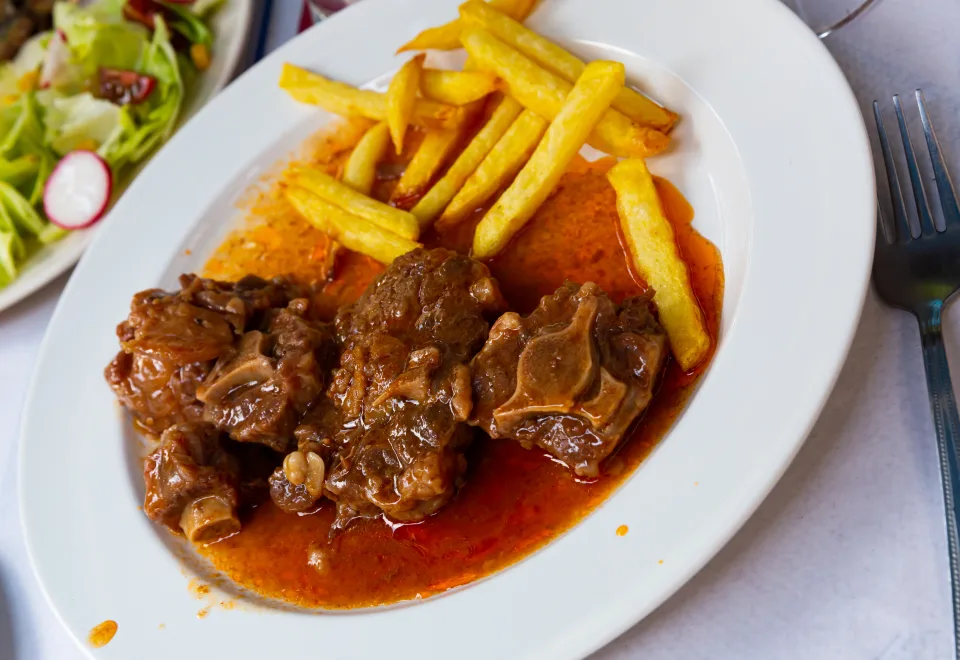 CHORIZO – Traditional Spanish sausage
For authentic Spanish chorizo, use this recipe. Dry sausage known as Spanish chorizo is prepared with pork, pimentón, oregano, and garlic. In addition to oregano, garlic, and pimentón paprika, which gives the sausage its rich red color, pork is coarsely diced and seasoned.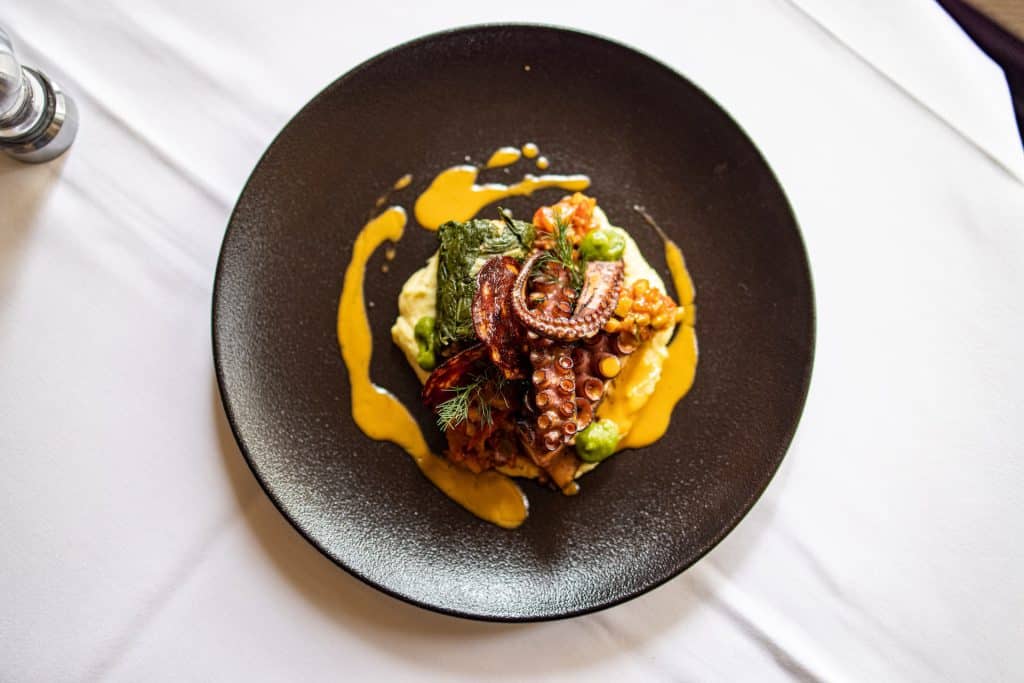 PATATAS BRAVAS – Spanish spicy potatoes
Spanish-born patatas bravas are also known as patatas a la brava or papas bravas, all of which translate to "spicy potatoes." White potatoes that have been sliced into 2-centimeter-wide cubes and then cooked in oil before being served warm with a hot sauce make up the majority of this dish.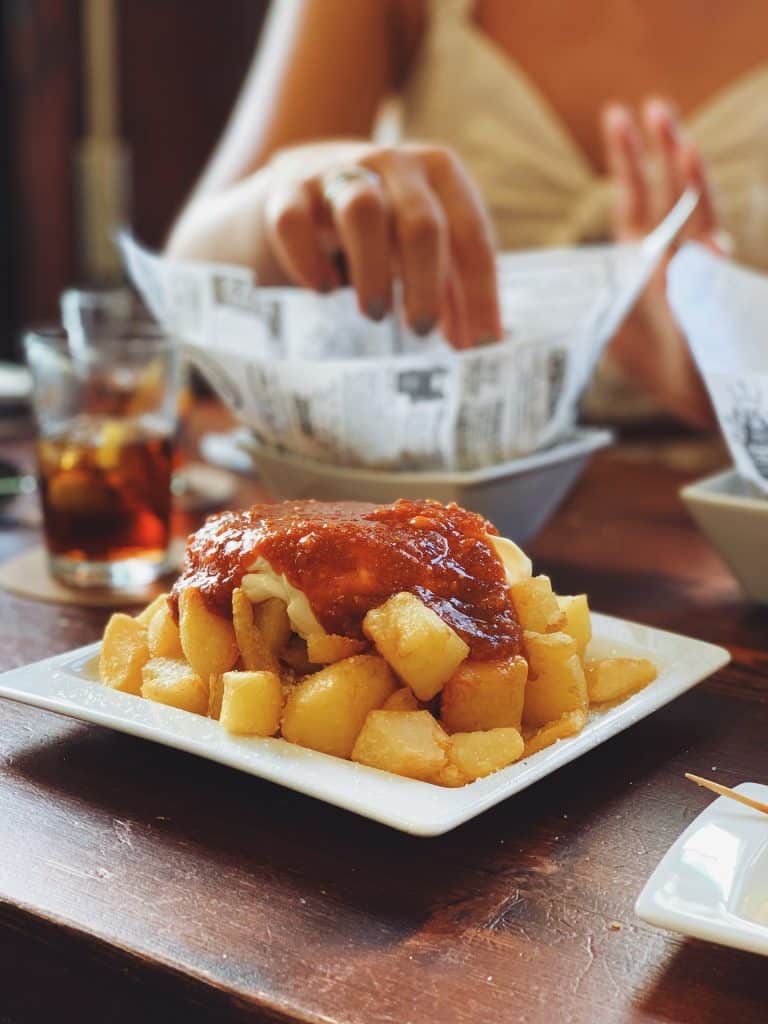 PULPO A LA GALLEGA – Famous Spanish boiled octopus
Octopus prepared in the Galician way, or "pulpo a la Gallega," is a popular dish in this region of northwest Spain. Just well cooked octopus, premium olive oil, paprika, and sea salt make up this dish, but you'll be amazed at how tasty it is.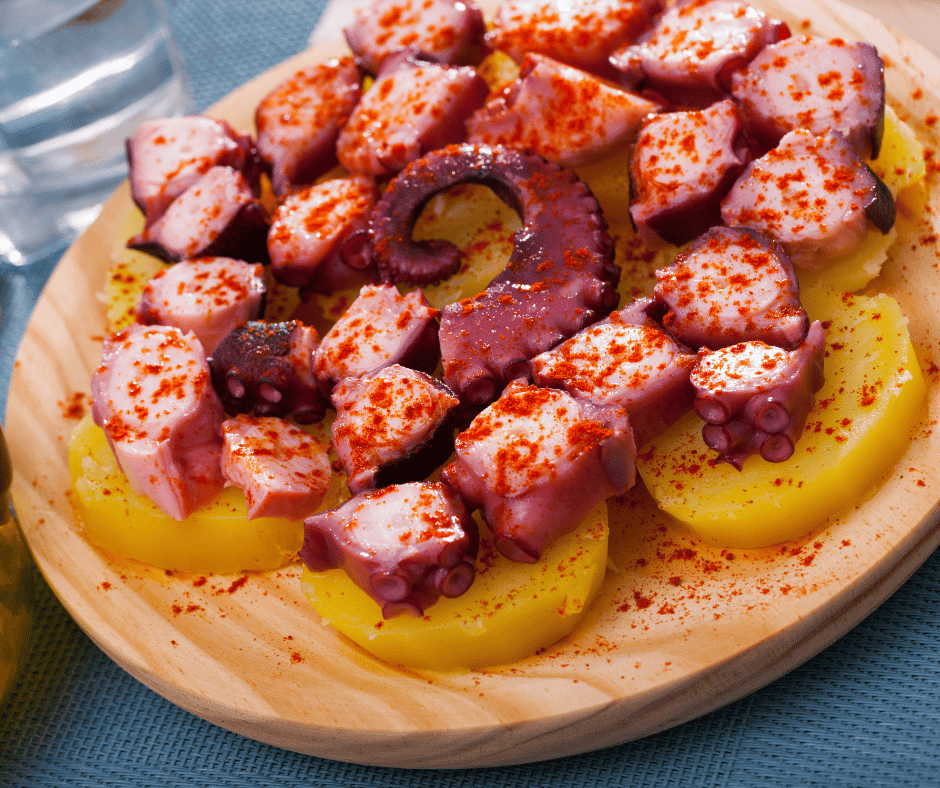 GAMBAS AL AJILLO – Popular Spanish prawns with garlic
Popular Spanish cuisine in the south and center of the country is known as gambas al ajillo (garlic shrimp). Olive oil, garlic, and shrimp are the main components, but there are many variations. In Spain's tapas establishments, it's frequently offered as an appetizer.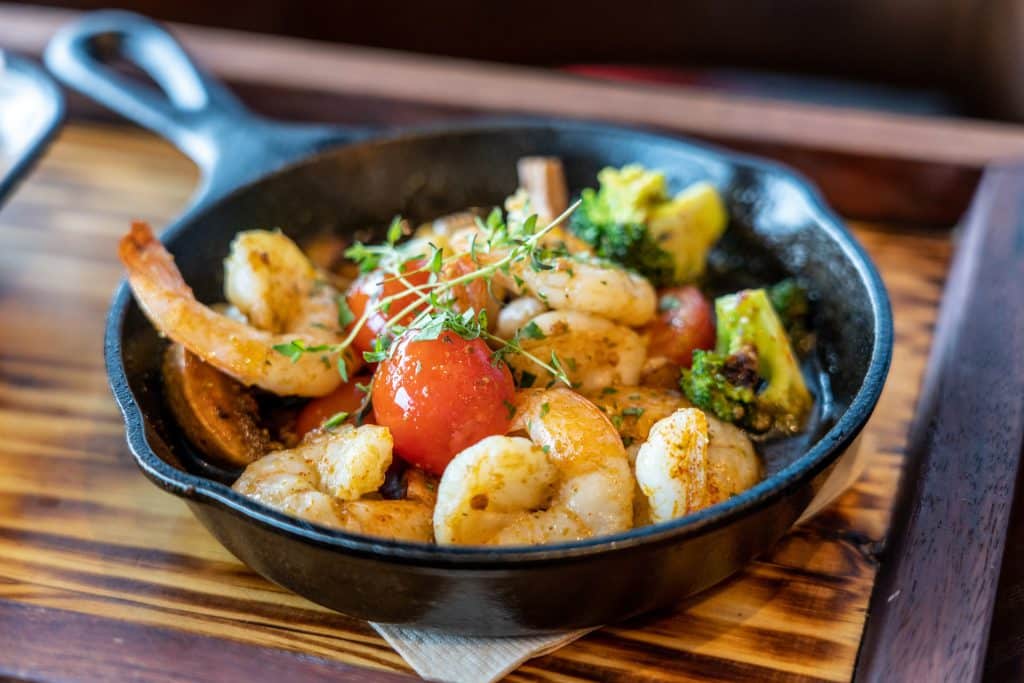 BOQUERONES FRITOS – Classic Spanish fried anchovies
Depending on whether they are fried, preserved in vinegar, or salt-cured (anchoas), they are referred to as boquerones in Spanish (boquerones). Boquerones Fritos may be prepared quickly and easily; it takes less than 15 minutes to prepare this delicious tapa. The fish needs only be coated in seasoned flour, fried in olive oil until crisp, and then sprinkled with salt and sometimes some lemon juice.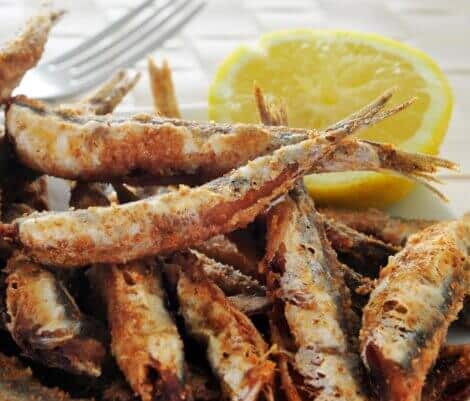 ZAMBURIÑAS A LA GALLEGA – Well-known scallops from Galicia
The Variegated Scallops, also known as Zamburias, are a tiny form of scallops from Galicia that are two to three times smaller than regular scallops.
They even make a pie with the Zamburias, the Galician octopus known as pulpo a la gallega, the Galician cod known as bacalao a la gallega, etc.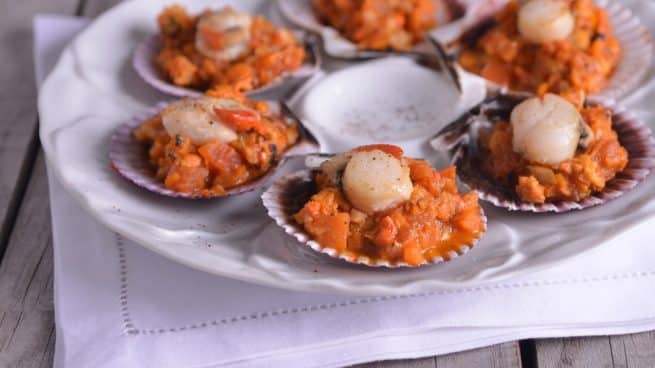 EL ARROZ NEGRO – Popular Spanish black risotto
Even though some would argue it's not strictly a paella, arroz negro is commonly referred to as paella negra. Whatever your opinion, the rice dish is excellent and filled with fish.
Arroz negro/arrs negre) is a traditional Spanish and Valencian dish. This Spanish black rice paella may have a slightly ominous appearance due to its hue, but it is actually delicately seasoned and unbelievably delicious.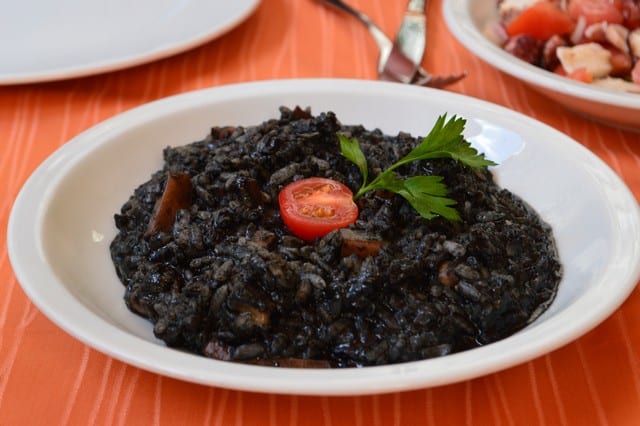 GARBANZOS CON ESPINACAS – Traditional Spanish spinach with chickpeas
Espinacas with garbanzos, a delectable Andalusian cuisine that is simple to prepare at home, is a must-try. In all the neighborhood tapas bars in Seville, Spain, you may get this typical spinach and chickpea stew.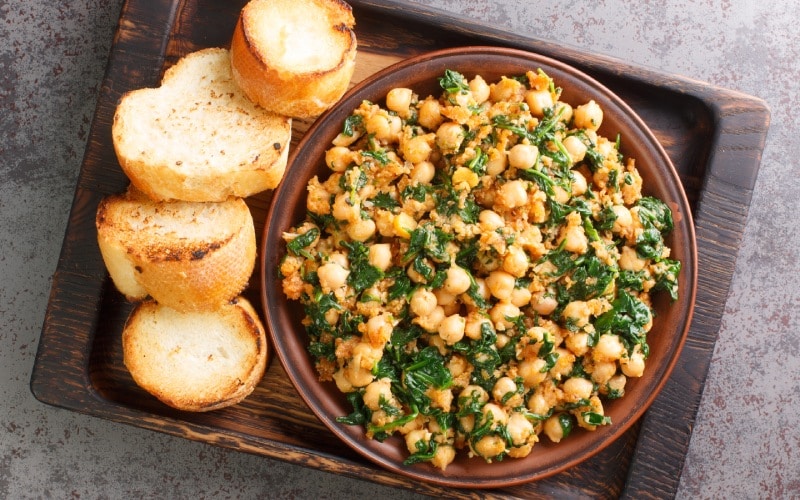 PIMIENTOS DE PADRON – Popular Padron peppers from Spain
Espinacas with garbanzos, a delectable Andalusian cuisine that is simple to prepare at home, is a must-try. In all the neighborhood tapas bars in Seville, Spain, you may get this typical spinach and chickpea stew.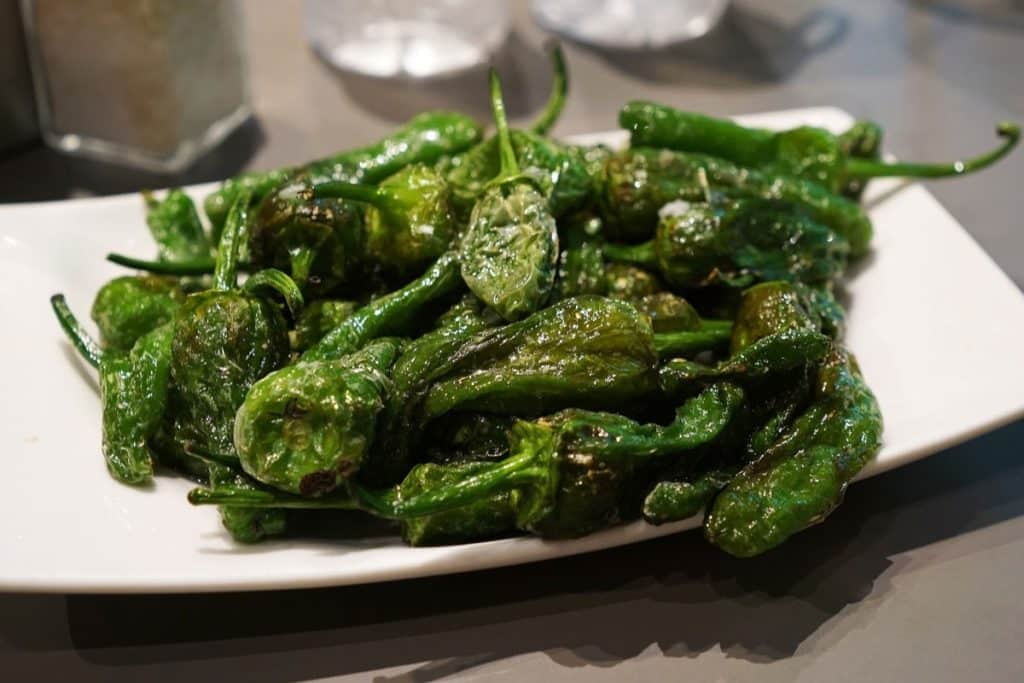 BACALAO AL PIL PIL –Famous fried codfish cooked in the Basque way
Recipe for Bacalao Al Pil Pil! One of the most mysterious meals in the Basque cuisine. The pil pil sauce is made with salted cod, garlic, dried guindilla chili, and olive oil. It is a sometimes challenging emulsion that is thickened by rotating the pan in a circular motion to allow the natural gelatine of the cod to magically emulsify with the warm oil.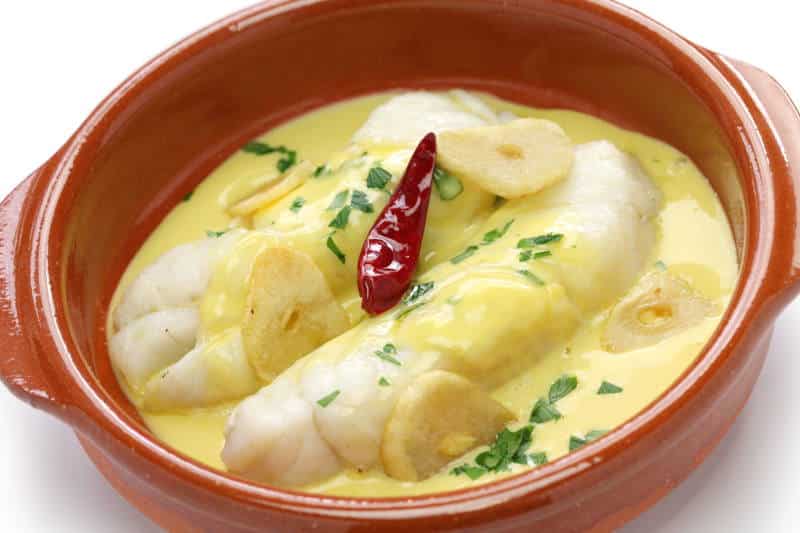 Do you enjoy eating Spanish food? Do you agree with our choice, or did we leave off one of your favorites? Comment below with your must-try dishes.
Must read: Top 15 Best Places to Visit in Spain