Prepare to tantalize your taste buds with the delectable flavors of Belgium! From rich and indulgent chocolates to savory and satisfying dishes, Belgium is a culinary paradise that will leave you craving more. In this article, we will take you on a gastronomic journey through the 20 Belgian dishes that are guaranteed to blow your mind.
Get ready to savor mouthwatering waffles, indulge in creamy moules-frites, and experience the heavenly combination of beer and beef stew. Whether you're a food lover or an adventurous eater, these traditional Belgian delicacies will not disappoint.
So, loosen your belt, sharpen your appetite, and get ready to explore the remarkable world of Belgian cuisine.
Carbonnade Flamande (Stoofvlees)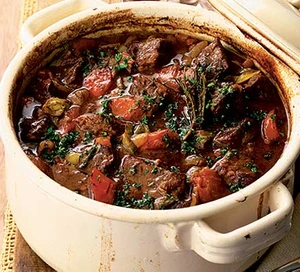 A Flemish beef and beer stew is known as carbonnade à la Flamande, carbonnade Flamande, or occasionally just carbonnade. In Belgium, the Netherlands, and several regions of France, it is highly well-liked.
The French phrase "Carbonnade" refers to a hearty beer- and herb-based stew made with meat, onions, and other ingredients. This is thought to have its roots in French Flanders, which is located in the northeastern region of France and is adjacent to Belgium.
Belgian Fries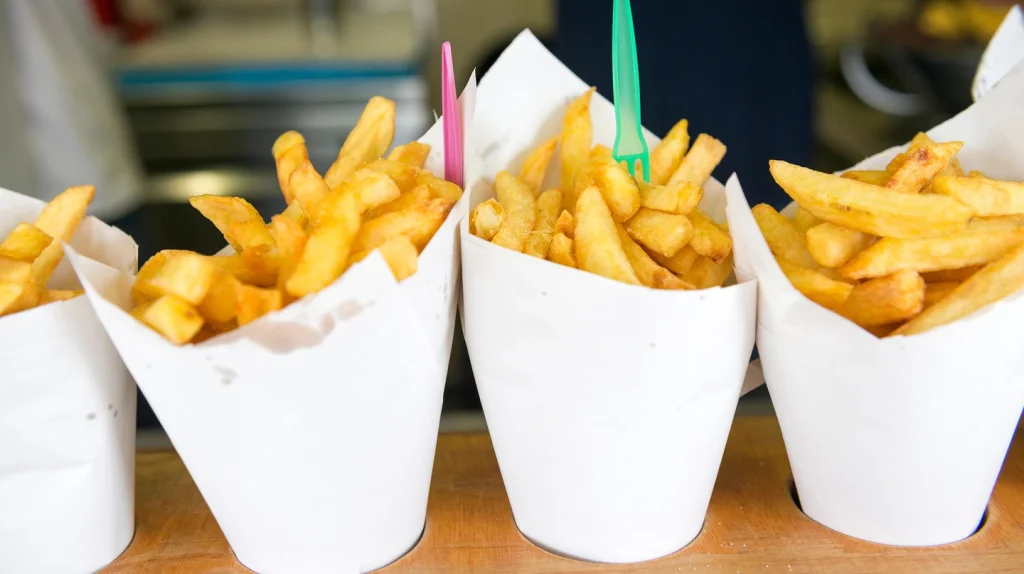 The authentic Belgian frietjes or pommes frites are thickly chopped, swiftly fried twice, and then allowed to cool. The result is that the fries have a crunchy exterior but a mushy interior. Even better, they don't have the same amount of grease as thick-cut fries that are roasted repeatedly for a longer time.
Moules Frites (Mosselen Friet)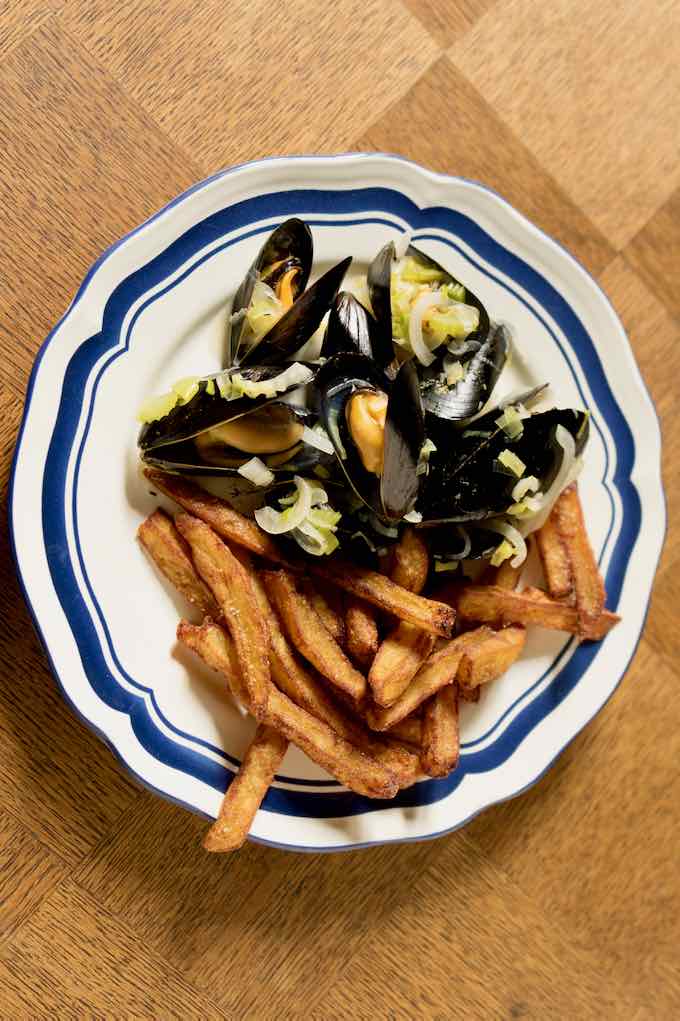 Moules-frites, often known as moules et frites, is a traditional Belgian meal that combines mussels with French fries. The dish's name in French is moules, which means mussels, and its Dutch name is frites, which means fries. It is regarded as Belgium's national dish.
Chicken Waterzooi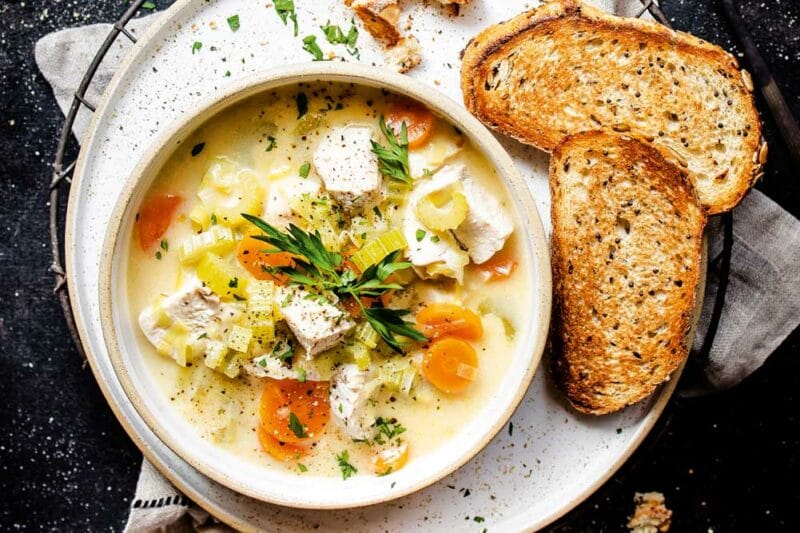 Carrots, celery, leeks, and potatoes are used to make the distinctive and hearty stew or soup known as waterzooi. It is the typical Belgian chicken soup, and it is from the Flanders region. Traditionally, fish or chicken are used to make waterzooi.
Oliebollen (Oil balls)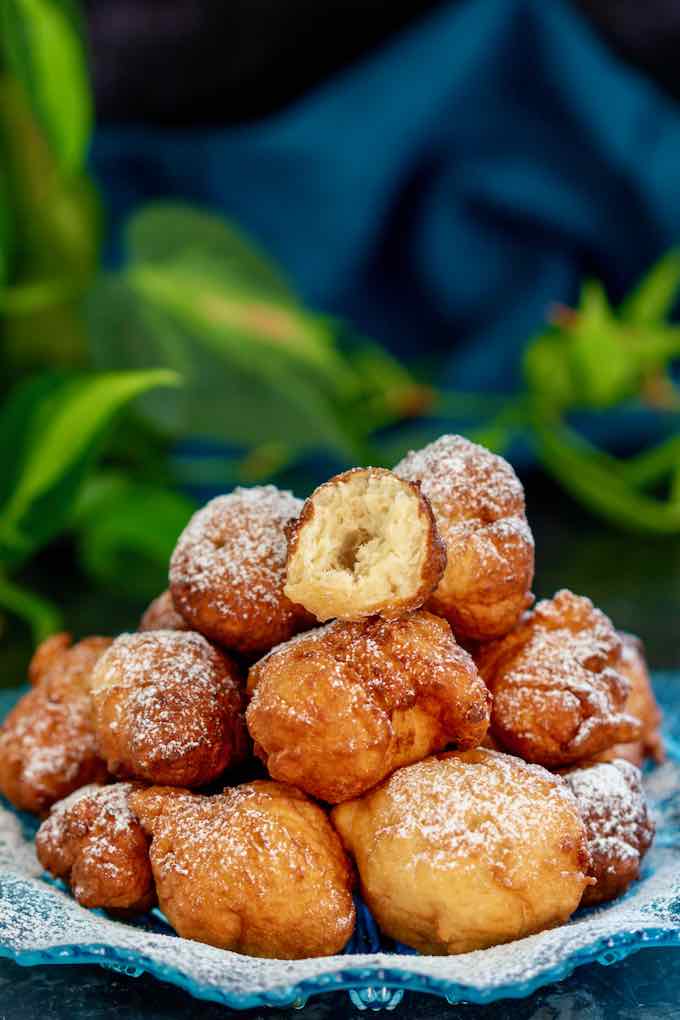 Traditional Dutch and Belgian beignets are called oliebols. In the Netherlands, they are known as oliebollen or smoutballen, in Flanders, smoutebollen, and in Wallonia, croustillons. In Eastern Belgian German, they are known as Schmalzkugeln. With croustillons, they are also frequently referred to as beignets rapides and croustillons hollandais in France.
Boulets Liegeois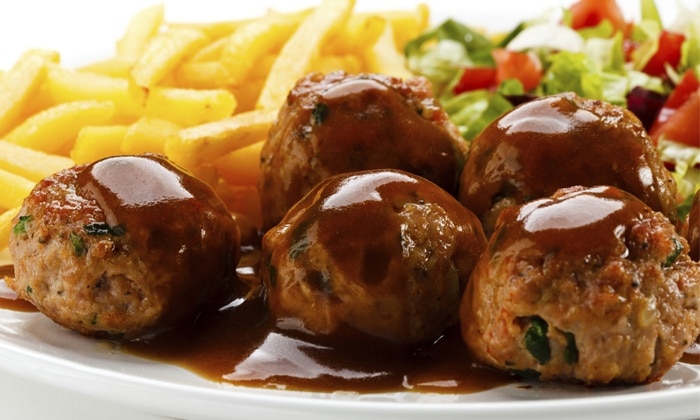 The Belgian specialty known as boulet à la liégeoise, also known locally as boulet sauce lapin, boulet (sauce) chasseur, or Boulets, is made with balls of mixed minced beef and pig in a sweet-sour sauce.
Belgian Endive and Apple Salad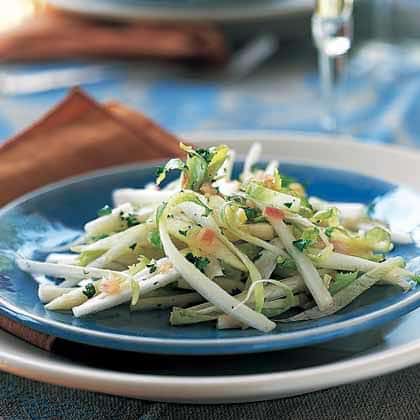 Belgian endive is a compact, cylinder-shaped lettuce with tightly-packed, pale yellow leaves that have slightly curled edges. Its length is around 6 inches. Similar to mushrooms, it is grown slightly beneath the soil in dark spaces, where it is moderately bitter to preserve its delicate flavor.
Braised Rabbit with Prunes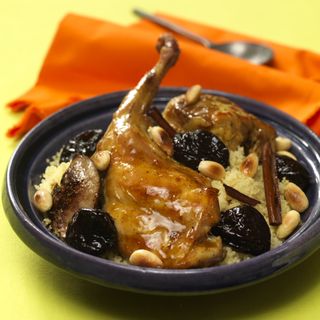 It is one of the best traditional French dishes ever. A delectably rich, thick, and somewhat sticky sauce is made by braising tender rabbit meat in white wine with French favorites like sweet prunes and salty bacon. This recipe is highly memorable because of the delicious sweet and salty flavor combination, which is rather uncommon in French cooking.
Chicken and Mushroom Vol-au-Vent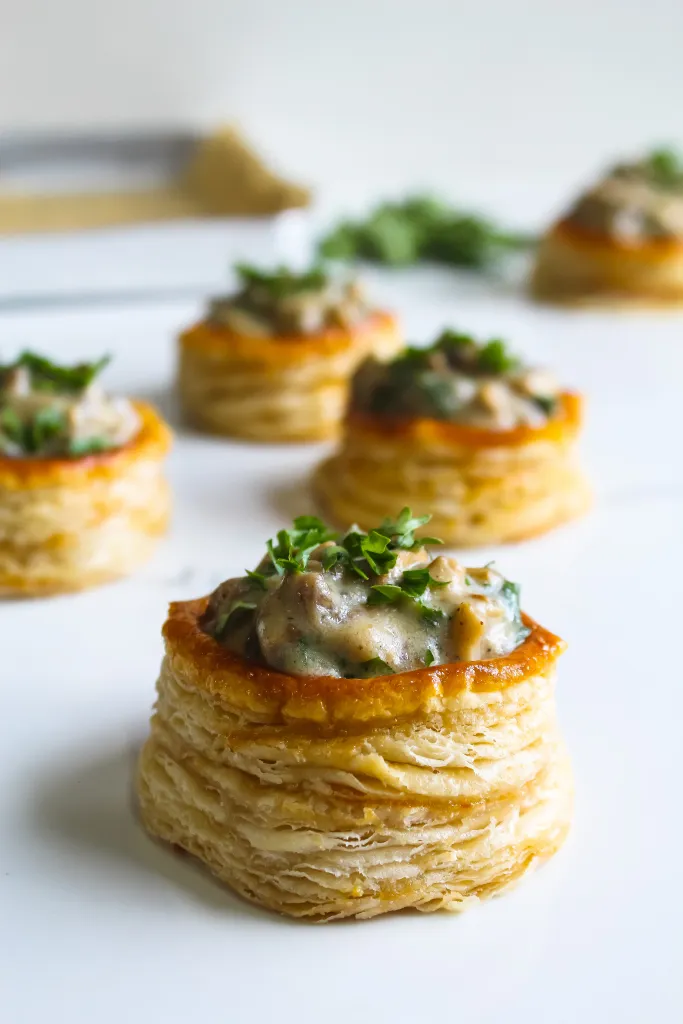 Vol au vent with chicken and mushrooms is the ideal comfort dish. A hollow puff pastry shell with a variety of sweet and savory fillings can be found in France as Vol Au Vent.
Belgian Endive and Ham Gratin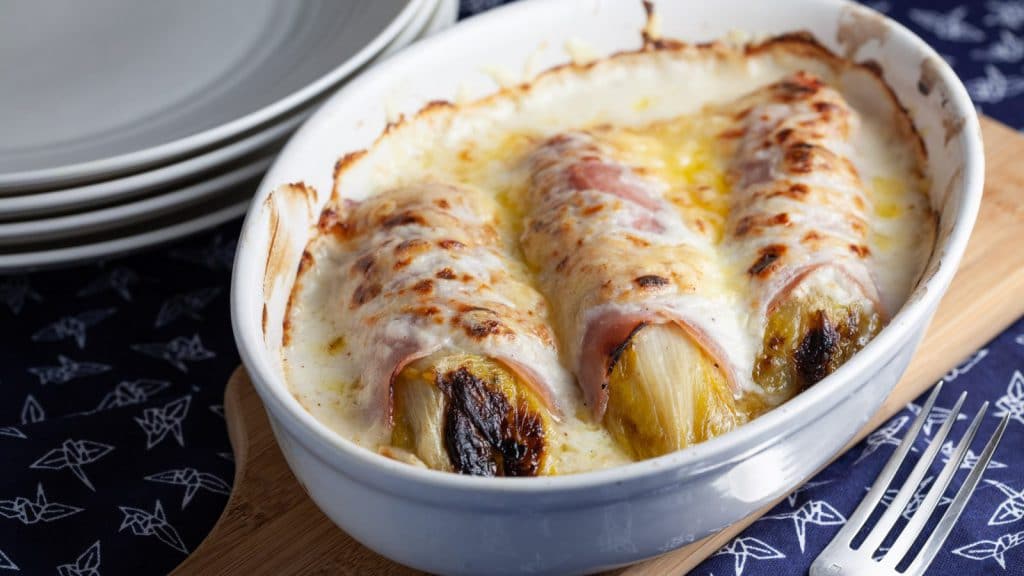 This Belgian endive and ham gratin, also known as "Endives Au Jambon," is a common dish in Northern France and Belgium. After being coated in a thick layer of luscious Mornay Sauce and roasted till bubbling to perfection, endives are wrapped in slices of ham. It's a wonderful combination of deliciously creamy goodness under pleasantly bitter verdure.
Mornay Sauce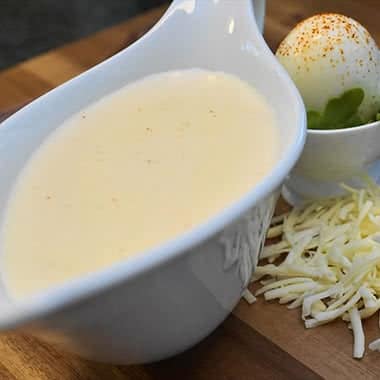 A béchamel sauce with grated or shred cheese added is known as a mornay sauce. Different mixtures of Gruyère, Emmental, white cheddar, or even Parmesan cheese are used in some variants. To prepare macaroni and cheese, a cheddar-based Mornay sauce is frequently used.
Asparagus a la Flamande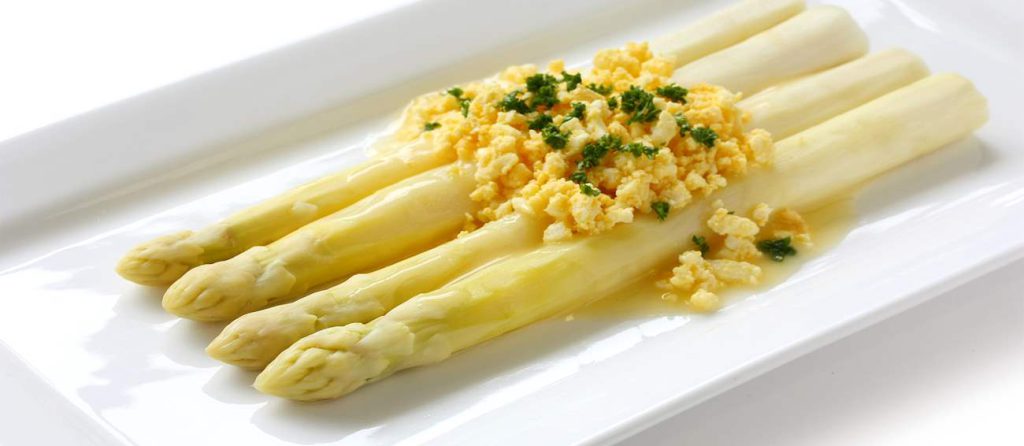 The traditional Flemish recipe, which uses components with a mild flavor, does the vegetables full credit.
There is nothing more delicious than asparagus à la flamande made with fresh Belgian asparagus. It's understandable why this dish has become a Flemish classic.
Belgian Chocolate Ice Cream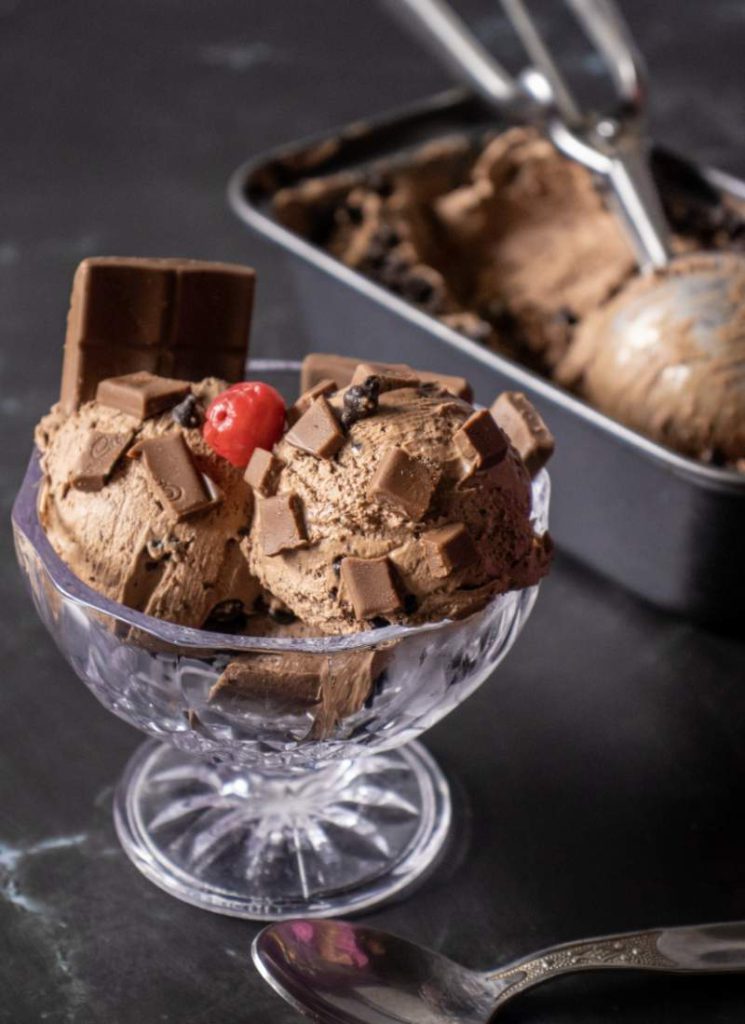 Belgian chocolate ice cream has a sophisticated, rich chocolate flavor similar to what you'd get if you mixed milk chocolate and dark chocolate together.
Belgian Waffles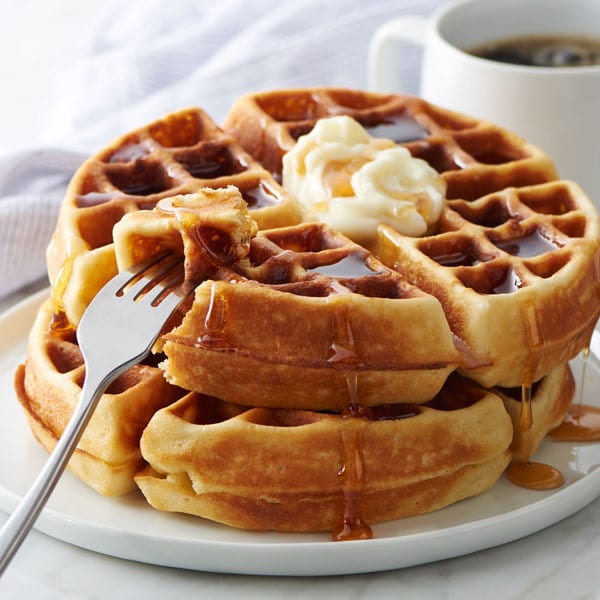 Compared to American waffles, Belgian waffles have a lighter batter, larger squares, and deeper pockets. Baking powder is now frequently used in place of the yeast that was once needed to leaven Belgian waffles.
Liege Waffle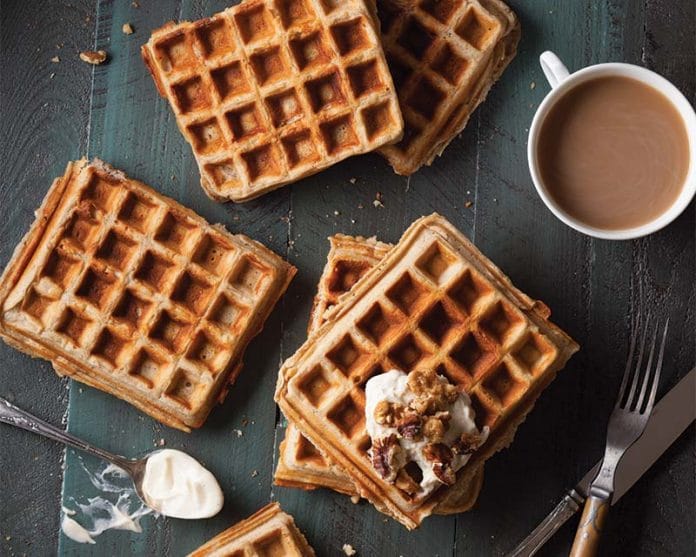 Liege waffles are created with yeast dough. The pearl sugar, which caramelizes on the waffle's exterior, is combined with the yeast dough.
Belgian Pancakes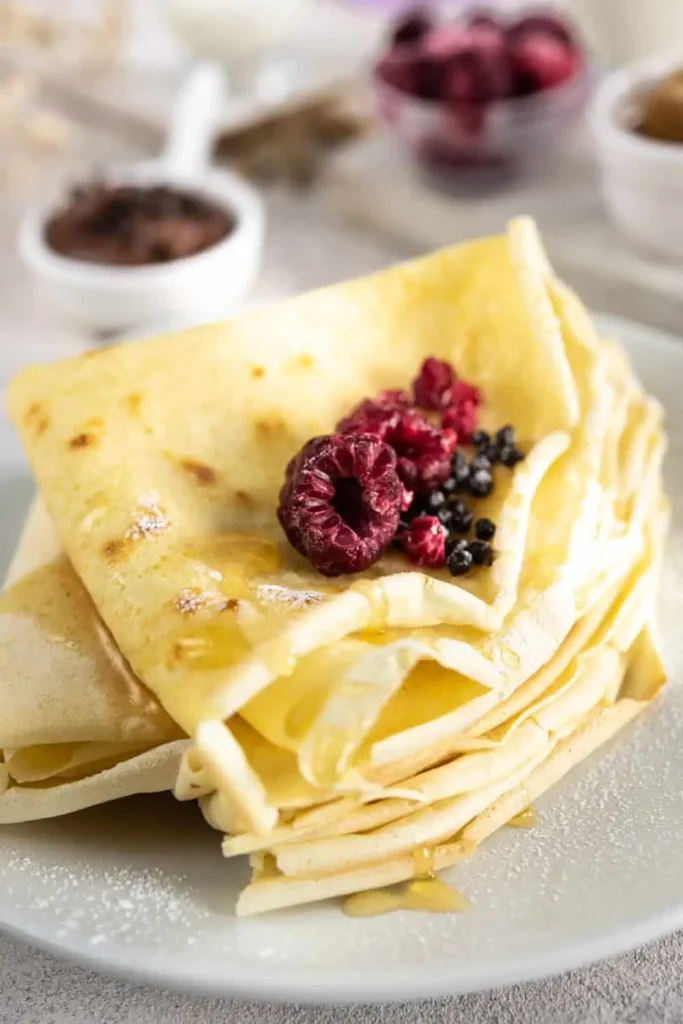 Belgian pancakes do resemble crêpes quite a bit, however they are cooked with sparkling water and have butter added to the batter.
La Dame Blanche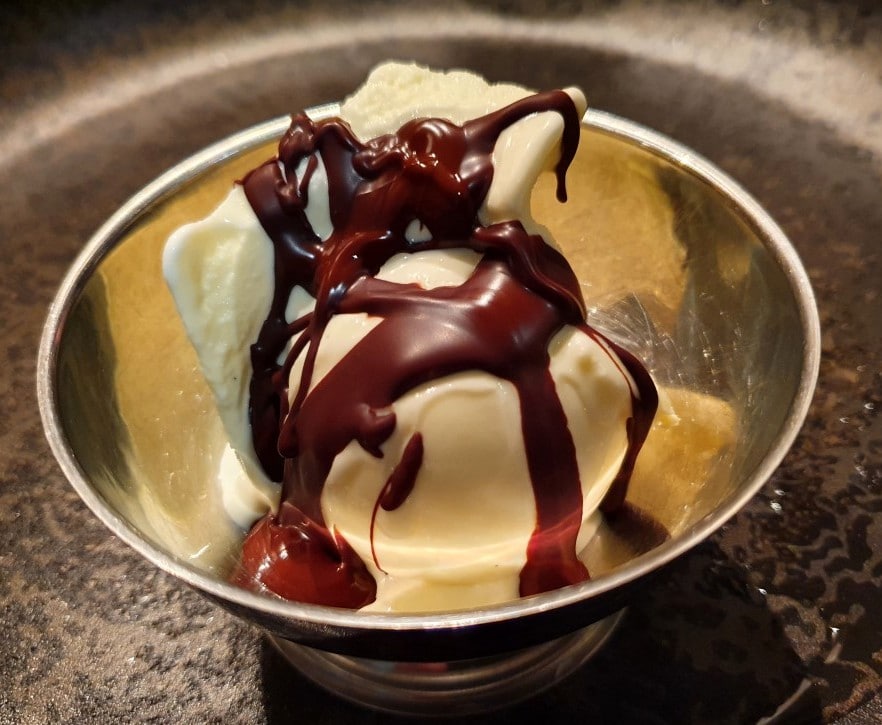 Vanilla ice cream, whipped cream, and a warm chocolate sauce prepared from chocolate, cream, and butter make up the delicious Belgian dish known as la dame blanche. Most restaurants in Belgium serve the dessert, which has the same name as a well-known French opera based on Sir Walter Scott's writings. This traditional dessert pairs perfectly with Cherish Raspberry, a Belgian Lambic beer.
Speculoos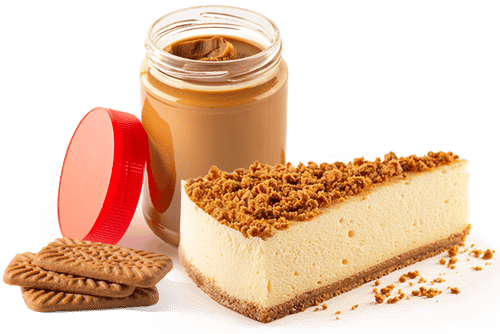 A sort of spiced shortcrust biscuit known as speculaas is prepared with speculaas spices. Speculaas is often flat and shaped like a picture; it is particularly well-liked during Advent and around the feast of St. Nicholas. Weddings and fairs are also mentioned in the earliest speculaas sources.
The typical Belgian diet consists of a light breakfast, a medium lunch, a snack, and a substantial dinner. It is worth visiting Belgium and enjoy these traditional cuisines. You may also visit the Amazing Restaurants in Brussels during your trip!
Have we missed out your favorite Belgian food? Leave your comment down, and we'll surely include on the list!