Are you traveling to Dublin and unsure about where to stay? We've listed the top ten hotels in Dublin's city center, ranging from ultra-luxurious to hipster-chic.
There is no lack of places to stay in Dublin. But don't just choose the first (and least expensive) restaurant in town. No matter if you're visiting Ireland's capital for business or pleasure, having a comfortable home base is essential.
When visiting Dublin for the first time, we advise booking accommodation in the city's center. The area known as Temple Bar, or Dublin's old quarter, is where you'll find the majority of the city's accommodations. This region is rich in history, and you can find several Georgian homes and old-fashioned inns that have drawn tourists for generations.
However, some areas of Temple Bar are infamous for their late-night activities, so beware. If you're not up for a wild night out in Dublin, choose a boutique hotel that is located a few rows back from Temple Bar's main pub street. This is where pub crawls take place and where party goers congregate.
And since it can take a while to find the ideal home away from home, we have already done the legwork for you. See our list of the top 10 hotels in Dublin's city center below.
Where to stay in Dublin?
The Merrion: the pinnacle of the pinnacle
Address: Merrion Street Upper, Dublin 2
The hotel is located in Merrion Square, one of Dublin's well-known Georgian squares, and it boasts a tranquil courtyard garden as well as a posh spa with a pool and several spa services.
This motel is quite well-liked. Never make a last-minute reservation! Dublin is a well-liked vacation spot. By making your reservations at least three months in advance, you will get a far better deal on your vacation and get to stay in the top hotels.
This is one of the most opulent hotels the city has to offer, making it the ideal location to unwind.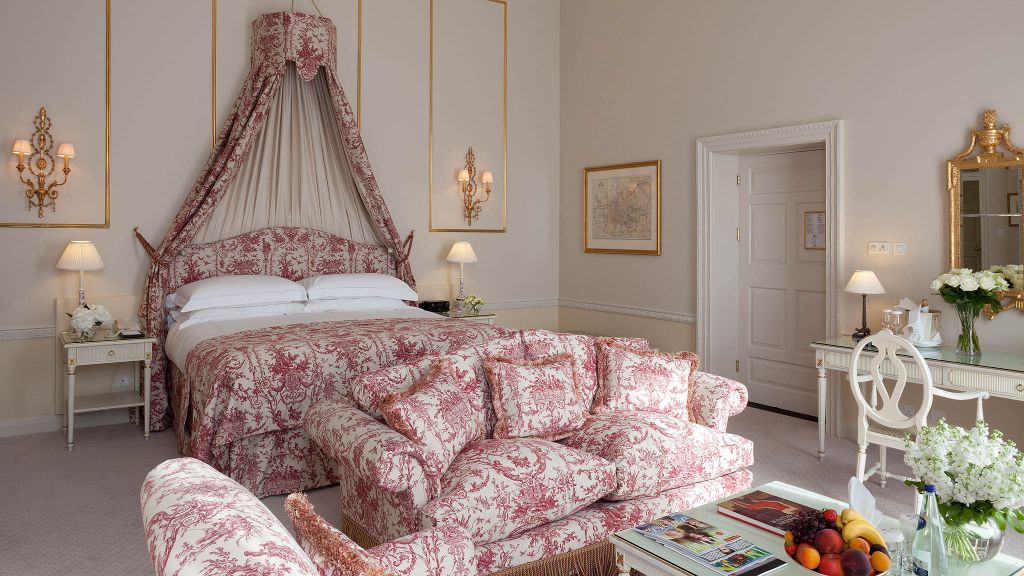 Highlights:
Comfortable queen-size beds
Casual Cellar Bar in the original 18th-century wine vaults
Two-star Michelin Patrick Guilbaud Restaurant
The hotel has Spa and Wellness Center, 18 m pool, and gym No. 23 Cocktail Bar
Beautiful Gardens
Transportation:
The Merrion Hotel is accessible by bus, train, or light rail. These are the lines and routes with nearby stops.
By Buses 155, 15B, 38, 38A, 39A, 70, and 7A
By Train: ROSSLARE EUROPORT SERVICE, DART
By Light Rail: GRN
The Marker Hotel – A chic waterfront location
Address: Grand Canal Square, Docklands, Dublin 2
The contemporary hotel is well-known for its sleek and modern rooms, as well as its award-winning spa. It is easily recognizable by its stylish design, checkered façade, and its own Dublin landmark.
For those who prefer to be close to the city's modern area, the Marker Hotel is ideal.
The ideal stay at this hotel is one that is both modern and peaceful. If you wish to get away from the bustle of the city streets, the Marker Hotel, which is contemporary and opulent, is located just 15 minutes' walk from the city center. By making your reservations at least three months in advance, you will get a far better deal on your vacation and get to stay in the top hotels.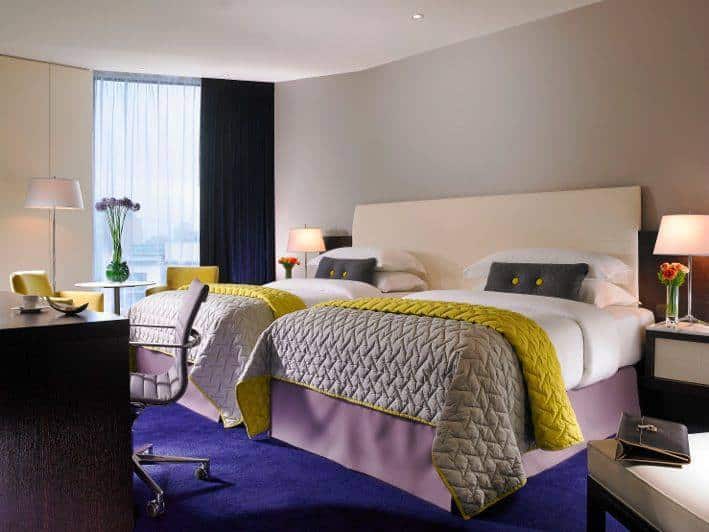 Highlights:
Comfortable king-size beds
Award-winning Marker Bar and Brasserie
There is a Stylish rooftop bar and terrace with panoramic views of Dublin
Spa and Wellness Center with five treatment rooms, 23 m infinity pool, and jacuzzi
A fitness center
Transportation:
· The Marker Inn Dublin could be a smooth advanced safe house fair 25 minutes' drive from Dublin Air terminal. Ignoring Amazing Canal Square and Dublin's Docklands, the sumptuous five-star lodging is in a perfect position for investigating the city's fundamental visitor attractions and key trade district. Close to the National Gallery, the Science Exhibition hall, the National Display, the Bord Gáis Vitality Theater, the 3 Field and the Aviva Stadium within strolling separate of College Green square and shopping center Grafton Street convenient for the city's fundamental commerce and monetary area, the IFSC and the Tradition Middle Dublin
Parking
Valet parking: Indoor
Price: €4.50 / hour. €28 / day.
Parking must be reserved in advanced
Call +353 (0)1 687 5130 or email reservations@themarker.ie to book
Blooms Hotel – A vibrant stay at Temple Bar's
Address: 3-6 Anglesea St, Dublin 2
Dublin Castle and Trinity College are both close to the vibrant Blooms Hotel in Temple Bar, making it the perfect starting point for touring. All the contemporary conveniences you possibly need for a city getaway (or a work trip), including a flat-screen TV, are included in the rooms and flats.
TEMPLE BAR is close to this hotel! This modern hotel is conveniently located in Dublin's Temple Bar neighborhood.
Young couples or friend groups might enjoy staying here! This hotel is ideal for individuals who want to be in the center of the action because it is located directly in the center of Dublin's vibrant nightlife district.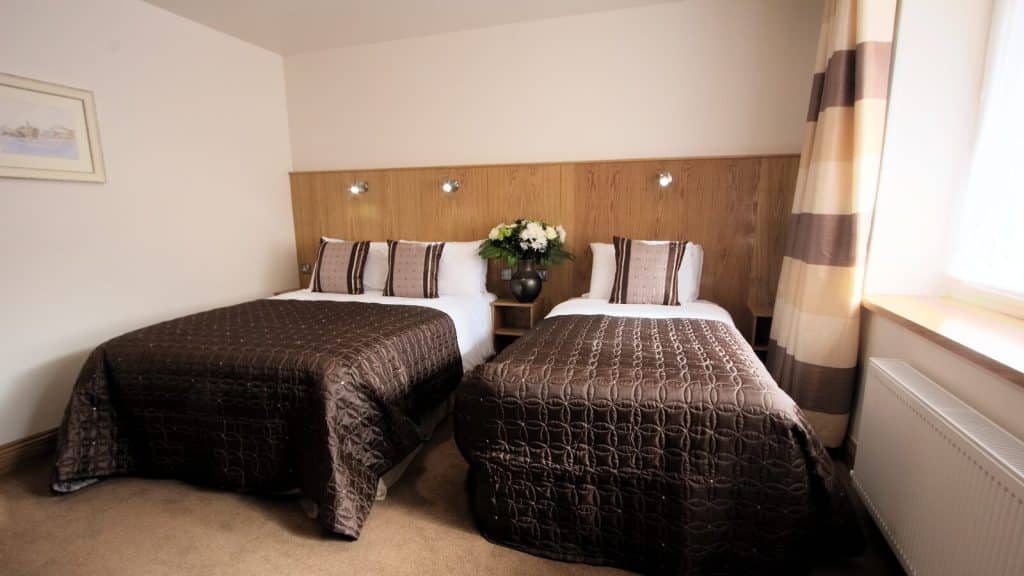 Highlights
There is a Vat House Bar, with live music and cocktail mixing classes.
Club M Nightclub is for those who want to dance.
The hotel has flat-screen TVs, tea and coffee-making facilities, and complimentary Wi-Fi in the rooms.
It is conveniently located in the city center
A delicious Irish breakfast buffet.
How to reach Blooms Hotel from Dublin Airport?
Public Transport and taxi
Parking:
No parking available in this hotel.
Aloft Dublin City – A favorite among millennials
Address: 1 Mill St, The Liberties, Dublin, Dublin
Despite being very young, it has already established itself as one of the top ten hotels in Dublin's city center, especially among the generation of tech-savvy millennials. The vibrant and fashionable Aloft Dublin City, a unit of Marriott International Inc., looks like it belongs on an influencer's Instagram page.
PORTOBELLO is not far from this accommodation! You will enjoy a tranquil stay outside the city center, despite just being a 15-minute walk from Dublin's bustling center, because of its location adjacent to the peaceful Portobello neighborhood.
This hotel is ideal for TECH-SAVVY PEOPLE! Anyone interested in technology will adore the amazing futuristic elements of this contemporary hotel.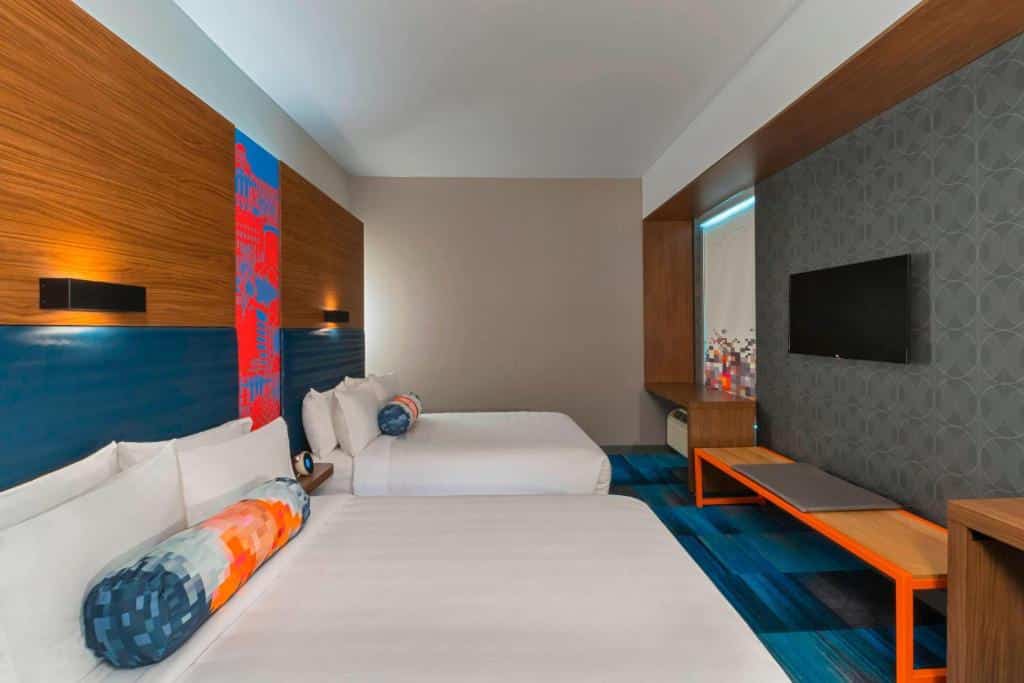 Highlights:
Cozy rooms with queen-size or king-size beds
With ensuite bathrooms with rainforest showers and Bliss Spa amenities
High-tech with QR codes to open doors, emoji-operated room-service, and 'Lofty', the WhatsApp concierge
WXYZ Bar and Tenters Gastro Pub
Re:Fuel by Aloft and Re:Mix Lounge
Re-charge Fitness Center
Parking and transportation
Offsite parking available (EUR 25 per day)
Getting around
Dublin Drumcondra Station – 5-min drive
St. Stephen's Green Station – 14-min walk
Dublin Airport (DUB) – 28-min drive
The Shelbourne
Address: 27 St Stephen's Green, Dublin, Ireland
The Shelbourne, arguably Dublin's most well-known five-star hotel, enjoys a prime location in the heart of the city with views of the lush St. Stephen's Green. The Irish Constitution was drafted at this historic hotel, and a copy of the original text is on display in The Constitution Room. The hotel itself is a timeless icon and deeply rooted in Irish history. Additionally, the views from bedrooms that look out over St. Stephen's Green may be the nicest in the city.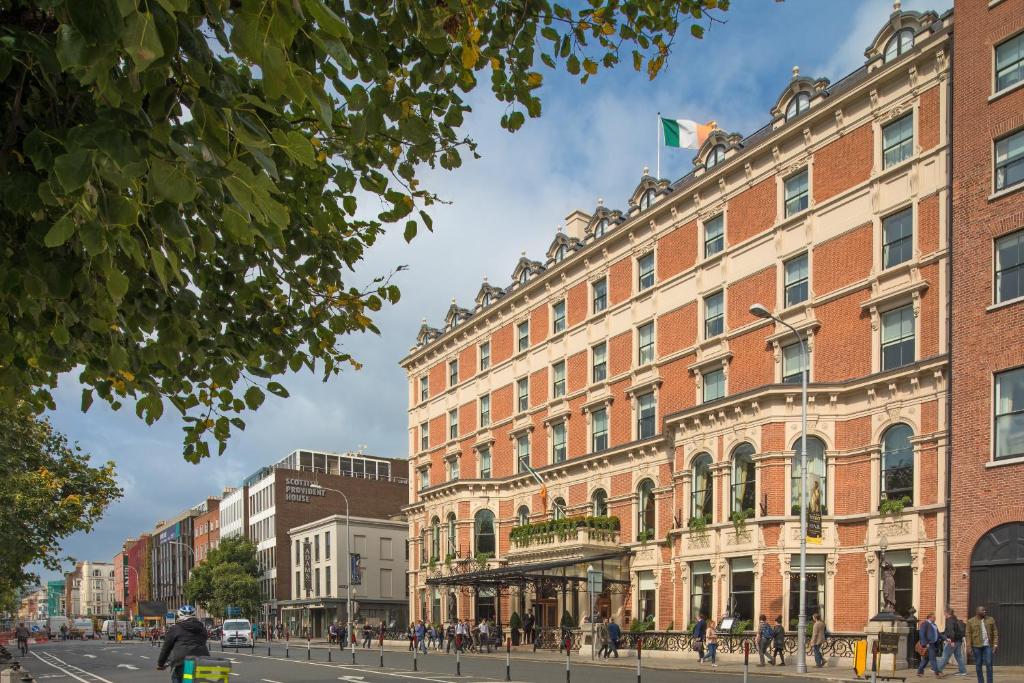 Highlights:
Queen Guest Room, Smaller Guest room, 1 Queen
1 extra-large double bed
FREE cancellation • No prepayment needed
Parking
St Stephen's Green car park height limit 1.95, excludes valet service .2 KM
Valet Daily: €40
Additional Parking Information
Guest car park height limit 1.85 meters.
Transportation:
Busaras – National Bus Service Station
St Stephen's Green LUAS (Green Line)
Connolly Station
Heuston Station
The Mayson, Docklands
Address: 81 – 82 North Wall Quay, D01XR83 Dublin, Ireland
Ideal for a romantic getaway. This hotel is located in what used to be the city's old docklands along the banks of the Liffey, next to The Devlin. The Mayson, housed in a former factory as well as a vintage townhouse, is a blend of sleek modernism and historical architecture with fantastic city views from its steel extension. The suites with the enormous copper bathtubs next to the floor to ceiling windows are the nicest, since you can people-watch while you soak in them. A fantastic steam room and a tiny heated pool are also there.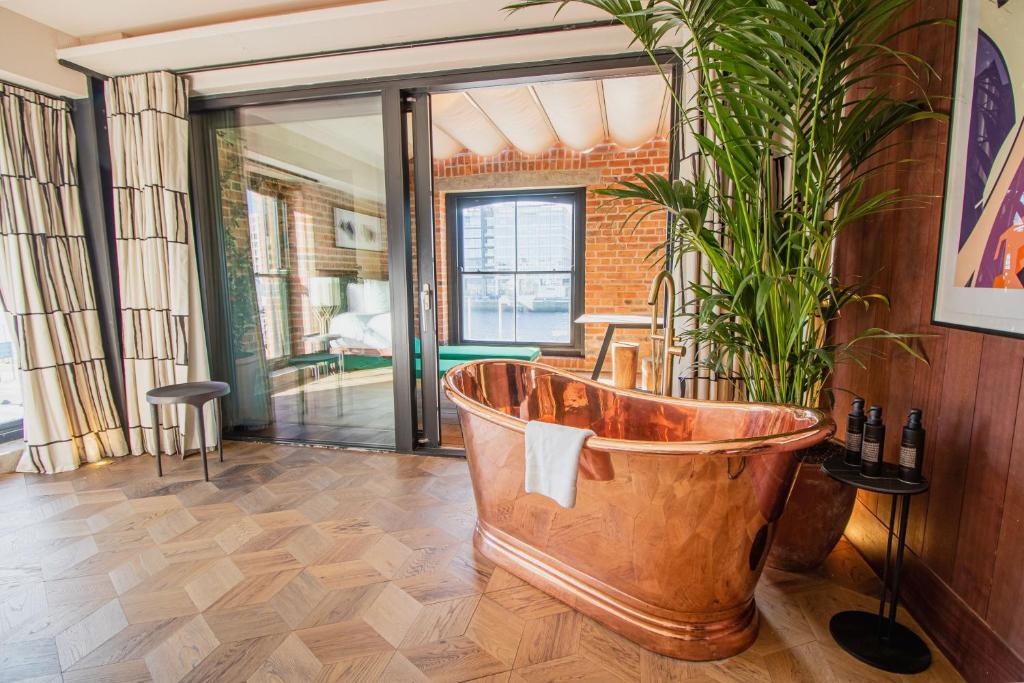 Highlights:
The hotel provides kettles in each room.
The Mayson's accommodations include a flat-screen TV, air conditioning, and some rooms with river views. The rooms have bed linen, a hairdryer, and private bathrooms.
Breakfast options include à la carte, and Full English/Irish.
Parking & transportation
Parking-with extra charge
Self-parking with extra charge
They offer: Local shuttle
The Westbury Hotel
Address: Grafton Street, D2 Dublin, Ireland
The family-run Westbury is the ideal location for discovering the best of Dublin because it is close to the Gaiety Theatre and just a short stroll from green St. Stephen's Green. The hotel also owns the adjacent Westbury Mall, where you can discover eccentric independent stores and specialty stores like Parfumarija, which sells unique perfumes.
The rooms at this hotel are well decorated in light contemporary colors; they are all airy, big, and feature fantastic city views. There are numerous bars and eateries, including the terrace-equipped Sidebar, in the manner of the 1930s. The elegant main restaurant, Wilde, serves breakfast. On the ground floor, there is a brasserie as well, and The Gallery offers a unique afternoon tea.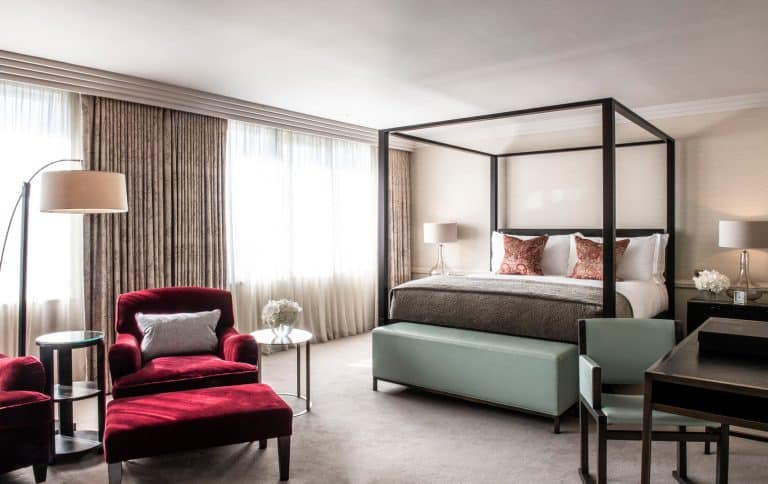 Highlights:
Situated in the real heart of Dublin, this hotel has an excellent location score of 9.8
Guests highly rated this hotel for its very comfy beds.
Good breakfast
Directions & Transport :
The Westbury is simple to reach by car, transport or prepare.
Roughly 40 minutes from the airplane terminal and near to major reference focuses within the city such as Grafton Road and St Stephen's Green, making your way to the inn is bother free.
Dublin Airport Travelling to the inn from the air terminal by car is generally fast, with the travel enduring around 35 minutes on the off chance that you drive by means of the N1.
A taxi to/from the air terminal costs around €35, or our visitor relations group will be cheerful to orchestrate a private pick-up and exchange; it would be ideal if you call the lodging on +353 1 679 1122 to inquire.
View outline of headings from Dublin Airplane terminal to The Westbury Alternatively, a few buses interface the airplane terminal to Dublin city middle.
The Airlink Express will take you to the city middle, including St Stephen's Green, otherwise you can get on Aircoach benefit 700 which is able to transport you to Grafton Road, inside minutes' walk of the hotel. Connolly
Buswells Hotel
Address: 23-27 Molesworth Street, D2 Dublin, Ireland
This chic boutique hotel is the ideal place to stay for a restful weekend in the city and is located directly across the street from the Irish Parliament, the National Museum of Ireland, and the National Library. The Buswells Hotel, housed in a grand late Georgian townhouse, is brimming with vintage beauty, from the lamplights in the foyer to the wood-paneled Buswells Bar.
All 67 of the rooms have a traditional décor with polished wood furnishings and neutral tones, ranging from small, quaint singles to spacious doubles with high ceilings and huge windows.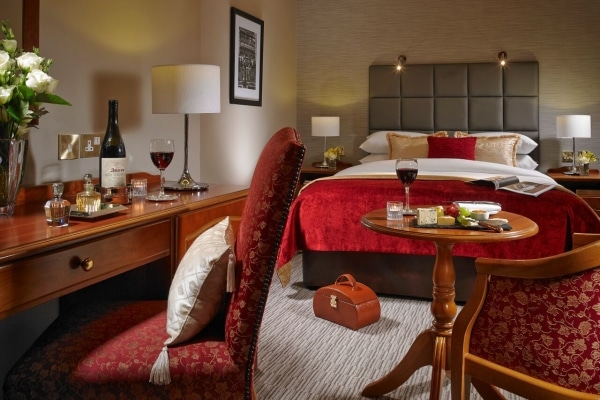 Highlights:
The hotel restaurant, Truman's, offers a substantial buffet-style breakfast that will fuel your explorations for the day.
As an alternative, Buswells Bar offers fantastic all-day food, and occasionally politicians or journalists will drop by for a whiskey sharpener.
Parking:
Buswells Inn can offer you a rebate with Setanta QPark on Setanta Place only 4 minutes walk away.
For overnight visitors, they are right now advertising a 24-hour markdown cost of €18.00. (marked down cost as of October 2022)
Transportation:
For travels to and from Dublin Air terminal, we prescribe either Air Coach or a taxi. Aircoach picks travelers up from exterior the entries terminal and stops at all major inns' en route from the air terminal to south of the city middle. They offer rebates on the off chance that you book on-line.
For Buswells Lodging, you ought to take Course 700 (Leopardstown Course). The closest halt to our inn is Dublin City Middle – Kildare Road halt which is adjoining to Molesworth Road where the lodging is located.
All Aircoach administrations work from the front entryway of both Terminal 1 and Terminal 2 at Dublin Airport. Taxi. The taxi-rank is additionally arranged fair exterior the entries terminal. You ought to anticipate to pay roughly €35.00
The Devlin
Address: The Devlin, Ranelagh 117 Ranelagh, Dublin, Ireland
The Devlin, one of Dublin's top little hotels, is located in the picturesque neighborhood of Ranelagh, a bit away from the action. This New York-style hotel is the ideal home base for wandering around Dublin because it is surrounded by quirky independent coffee shops, stylish restaurants, and hip bars.
The 40 rooms, which range in size from small to very roomy, are a fantastic pleasure. Herringbone floors, contemporary Irish art, and a color scheme of teal and leather all contribute to the look's stylish New York air.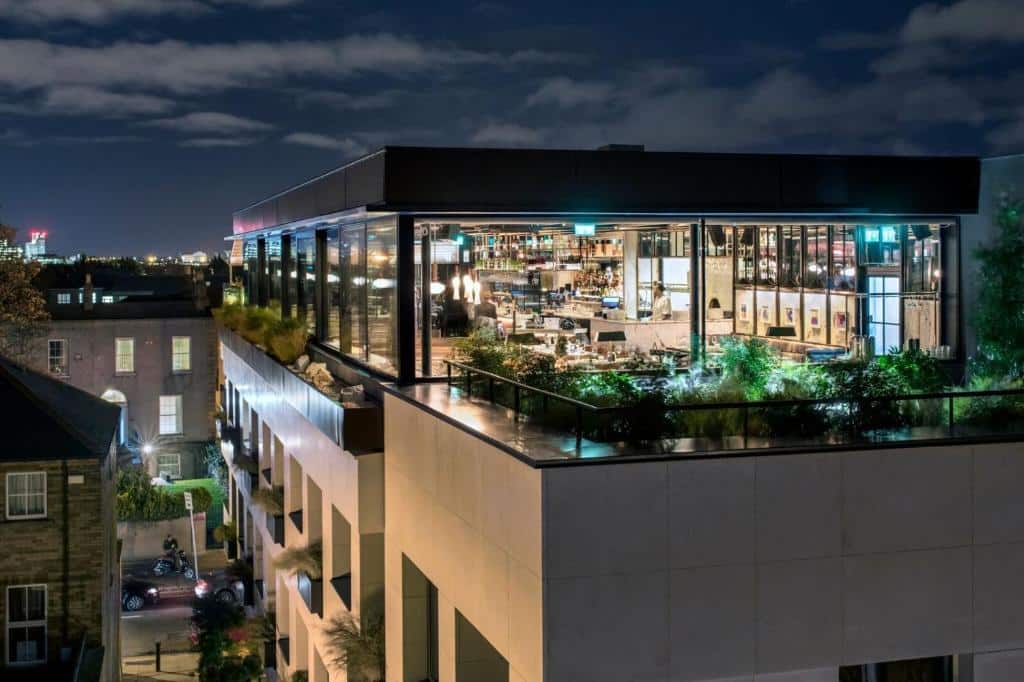 Highlights:
While you're here, enjoy supper in the sleek glass box of Layla's Rooftop Restaurant on the top floor, which offers stunning views of the city
Try some cocktails at Americana on the lower level.
The adorable little theater, which hosts two movies daily and boasts 1950s-style seats and a popcorn machine.
Parking
Onsite self-parking (EUR 15 per night)
Onsite parking includes off-street options
Getting around
Dublin Airport (DUB) – 30-min drive
Dublin Sandymount Station – 4-min drive
Dublin Lansdowne Road Station – 28-min walk
Dublin Grand Canal Dock Station – 30-min walk
Beechwood Station – 5-min walk
Ranelagh Station – 6-min walk
Cowper Station – 12-min walk
Iveagh Garden Hotel – caters to eco-aware travelers.
Address: 2 Dublin 72 Harcourt Street, Dublin, Ireland
The 2018-opened Iveagh Garden Hotel boasts 145 opulent rooms and is renowned for its eco-friendly business practices. It claims to be the first sustainable hotel in Europe and has a small carbon impact. All of the rooms feature contemporary décor; reserve a superior room for a waterfall shower. Craft beer, premium wines, and traditional cocktails are available at Elle's Bar. The pub also offers a bottomless pancake brunch and a champagne afternoon tea.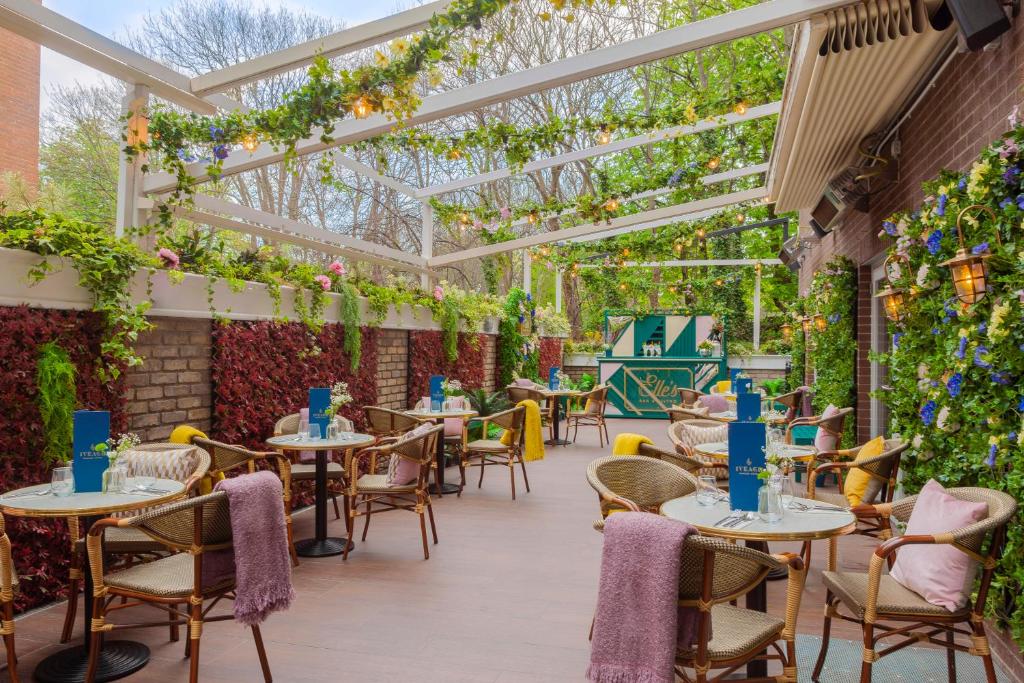 Highlights:
In Elle's Bar & Bistro, meals are served for breakfast, lunch, and dinner.
The front desk is open twenty-four hours a day, and the staff can book cabs and suggest nearby attractions.
The distance between Temple Bar and Dublin Castle is 15 minutes by foot.
Parking
The street parking is free of charge from 7.00 pm to 7.00 am the next day. Street parking is free of charge all day Sundays and the public holiday Mondays. Hatch street (adjacent to the hotel) is probably the best place for street parking.
The parking is available at two discounted locations.
Our selection of the best hotels in Dublin is now complete! Any hip boutique hotels in Dublin that we missed? Please leave a COMMENT, so we can add them to the list!