Nestled in the heart of the Cyclades, Mykonos is a Greek island that needs no introduction. Known for its dazzling beaches, vibrant nightlife, and picturesque villages, Mykonos is a destination that offers something for everyone.
In this article, we will take you on a journey through the exciting things to do on this stunning island, complete with details on parking spaces to make your visit as hassle-free as possible.
Explore Mykonos Town
Mykonos Town, also known as Chora, is the island's capital and a must-visit destination. Its iconic narrow streets are lined with whitewashed buildings adorned with colorful bougainvillea, creating a postcard-perfect atmosphere.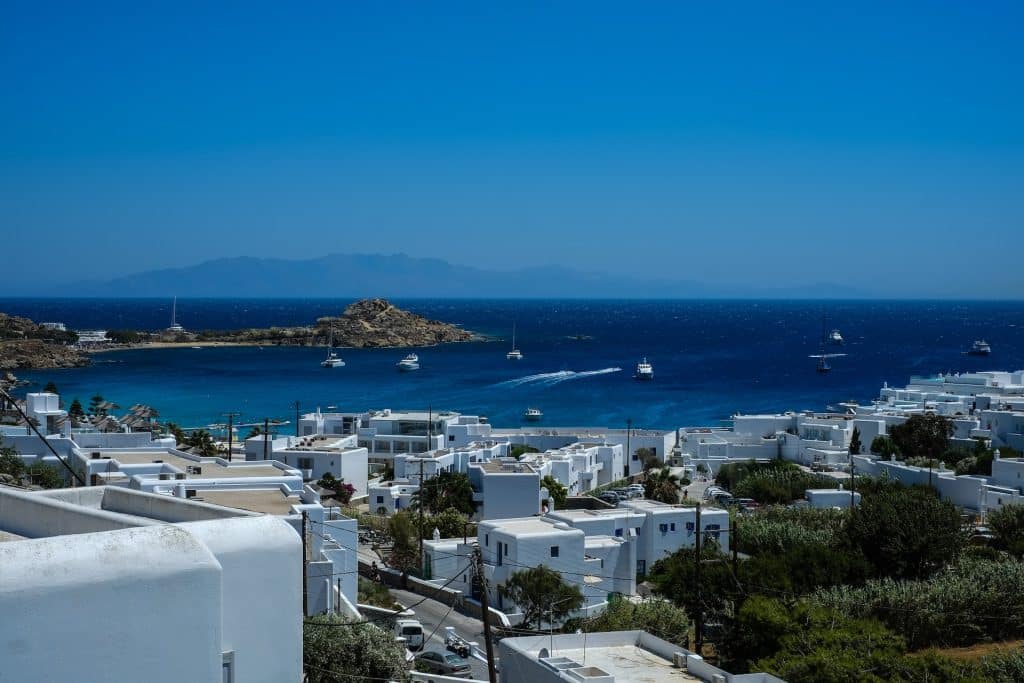 Stroll through the charming alleyways, discover boutique shops, and visit the famous Mykonos windmills for a classic photo opportunity.
Parking in Mykonos Town can be challenging, so using public parking lots or parking a short distance away and walking into the town center is recommended.
Enjoy the Beaches
Mykonos boasts some of the most beautiful beaches in the world. Whether you're seeking a party atmosphere or a serene escape, you'll find a beach that suits your preferences.
Paradise Beach: Known for its lively beach parties, it is a hotspot for fun-seekers. A parking area is available near the beach, but it can fill up quickly during peak season, so arrive early.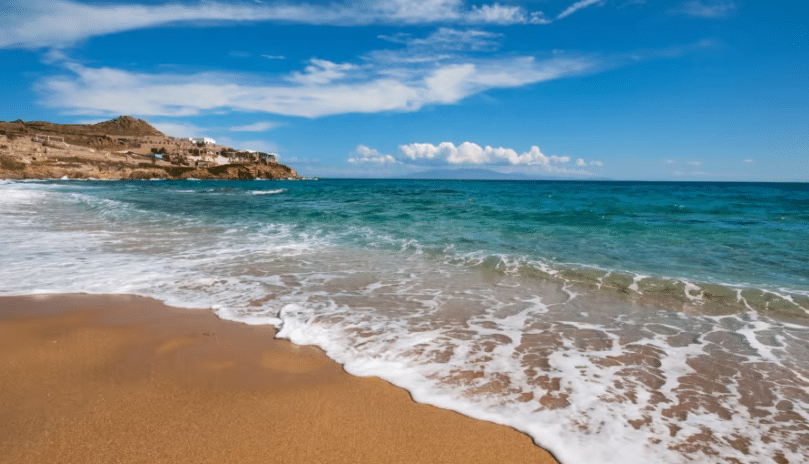 Psarou Beach: If you prefer a more upscale beach experience, Psarou Beach is the place to be. It offers excellent facilities and valet parking services for convenience.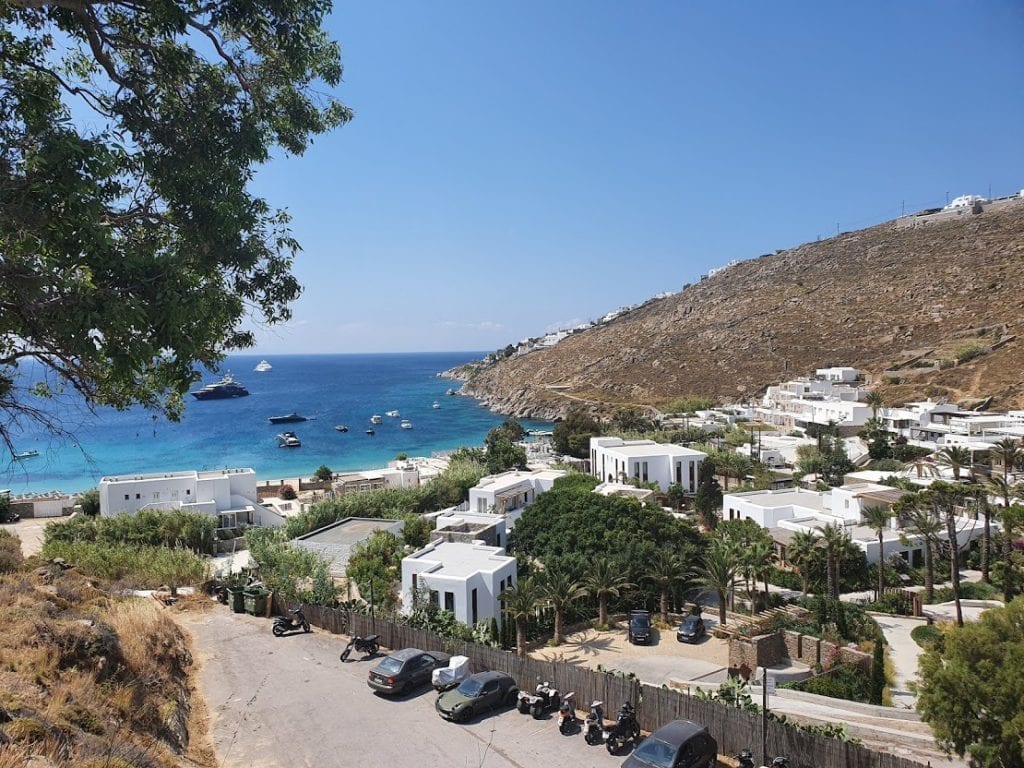 Elia Beach: Elia Beach is famous for its water sports, making it an excellent choice for adventure enthusiasts. There is a designated parking area nearby.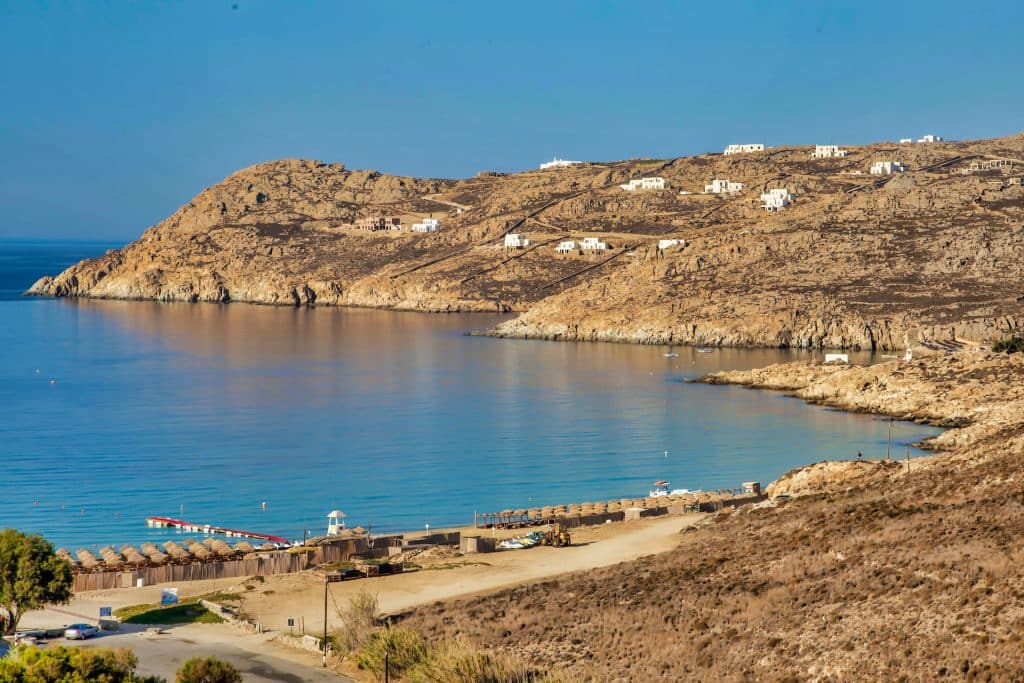 Discover Ancient Delos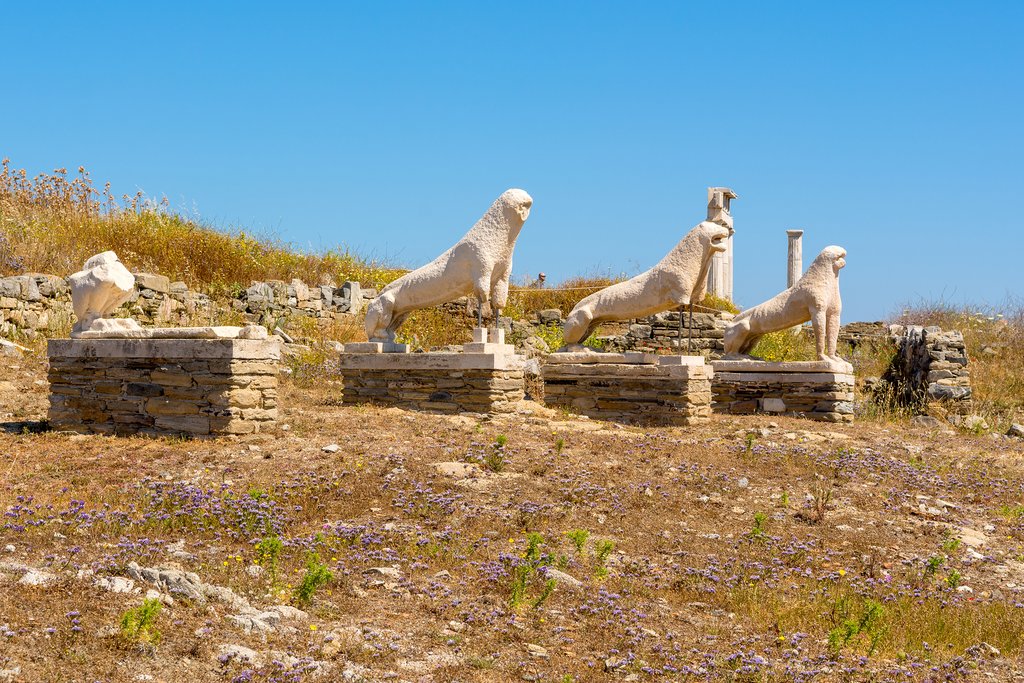 Just a short boat ride from Mykonos lies the UNESCO-listed island of Delos, an archaeological wonderland. Explore the ancient ruins, including temples, theaters, and mosaics that date back to the 3rd millennium BC. Ferries depart regularly from Mykonos Town, and ample parking is available at the ferry terminal.
Experience Vibrant Nightlife
Mykonos is renowned for its vibrant nightlife, with beach clubs and bars that come alive after sunset.
Scorpios: Located on Paraga Beach, Scorpios offers a more sophisticated nightlife experience. Limited parking is available, so arriving early or using alternative transportation is best.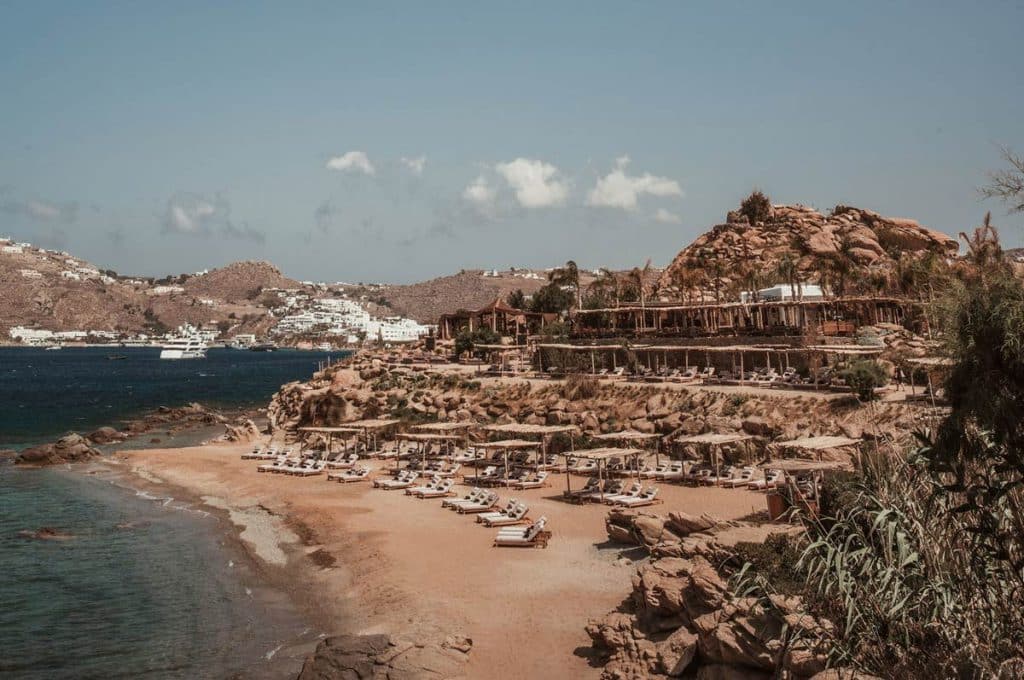 Visit Ano Mera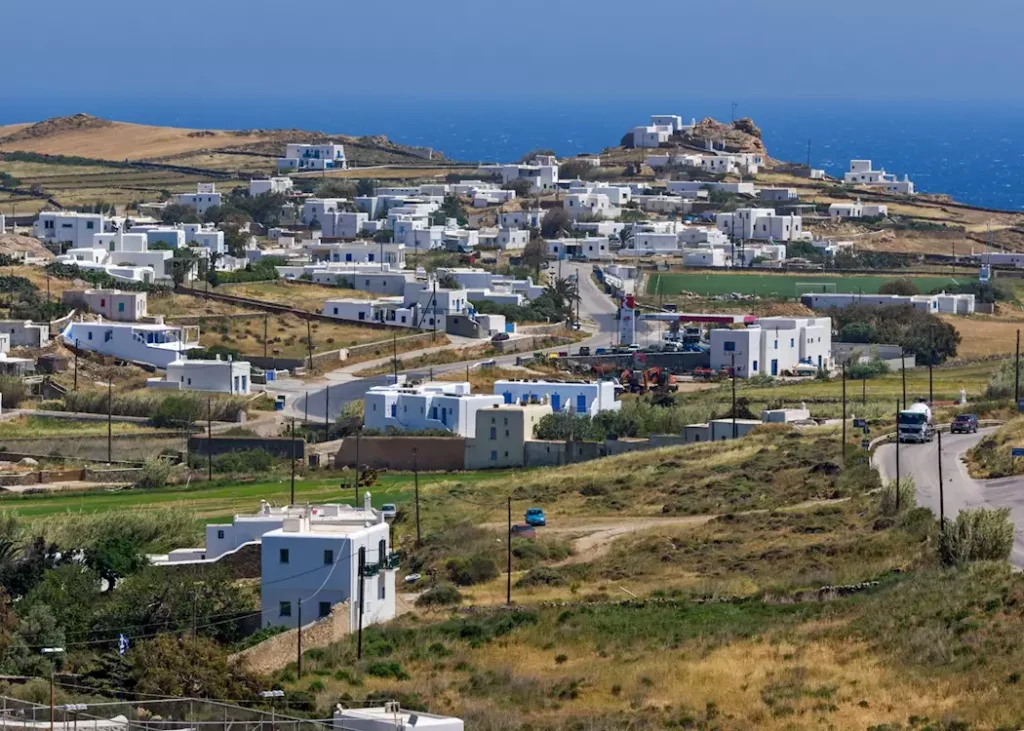 Escape the crowds and explore the peaceful village of Ano Mera. Visit the Panagia Tourliani Monastery and enjoy a traditional Greek meal at a local tavern. Parking in Ano Mera is generally more accessible than in Mykonos Town.
Savor Authentic Greek Cuisine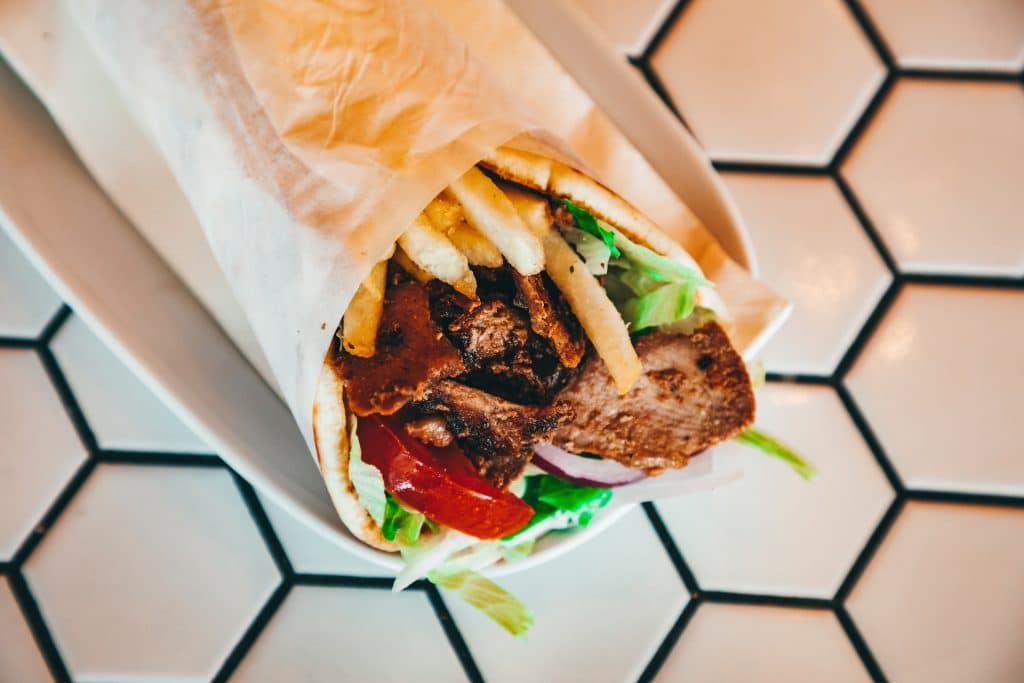 No trip to Mykonos would be complete without indulging in the island's delectable Greek cuisine. Explore the local tavernas and restaurants to sample traditional dishes like moussaka, souvlaki, and fresh seafood. Mykonos Town is brimming with culinary gems, and while parking can be challenging in the town center, it's worth the effort to savor the island's gastronomic delights.
Discover the Delights of Little Venice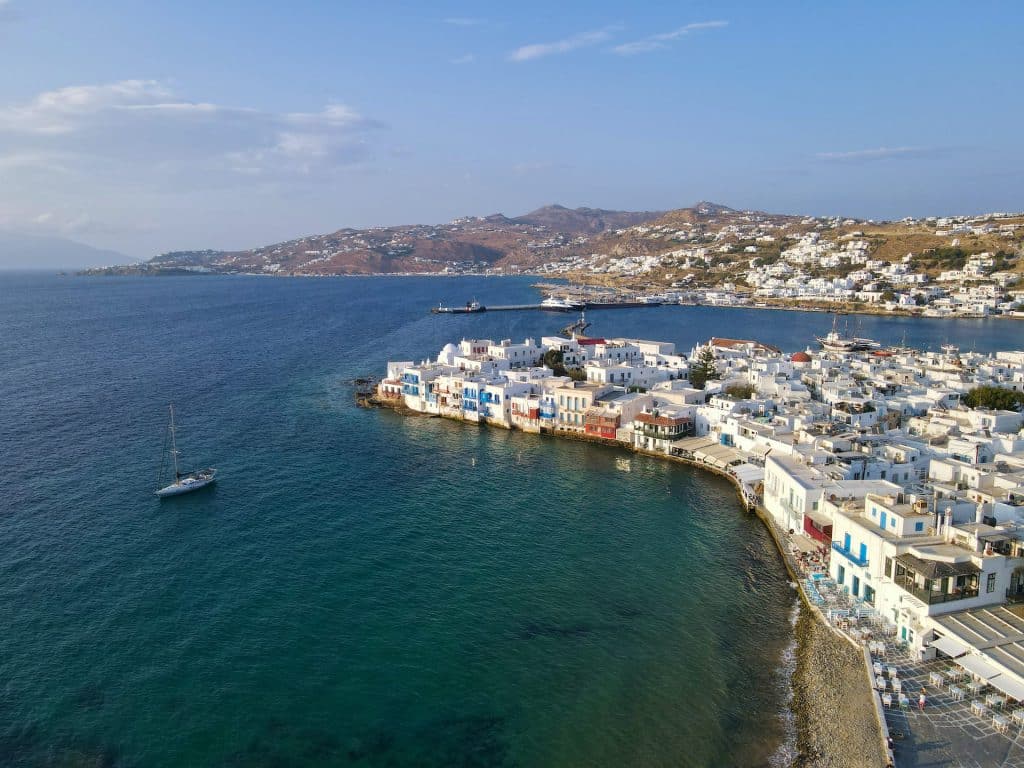 Little Venice is one of Mykonos' most iconic neighborhoods, known for its charming waterfront houses with balconies that hang over the sea. It's the perfect place to enjoy a romantic sunset or sip on a cocktail at one of the many bars that line the coast. Parking in the area can be limited, so consider parking in Mykonos Town and walking to Little Venice.
Embrace Water Sports
Mykonos offers a wide range of water sports and activities for those seeking an adrenaline rush. Try your hand at windsurfing, kitesurfing, jet skiing, or even scuba diving. Many beaches have water sports facilities; you can typically find parking nearby.
Hike to Armenistis Lighthouse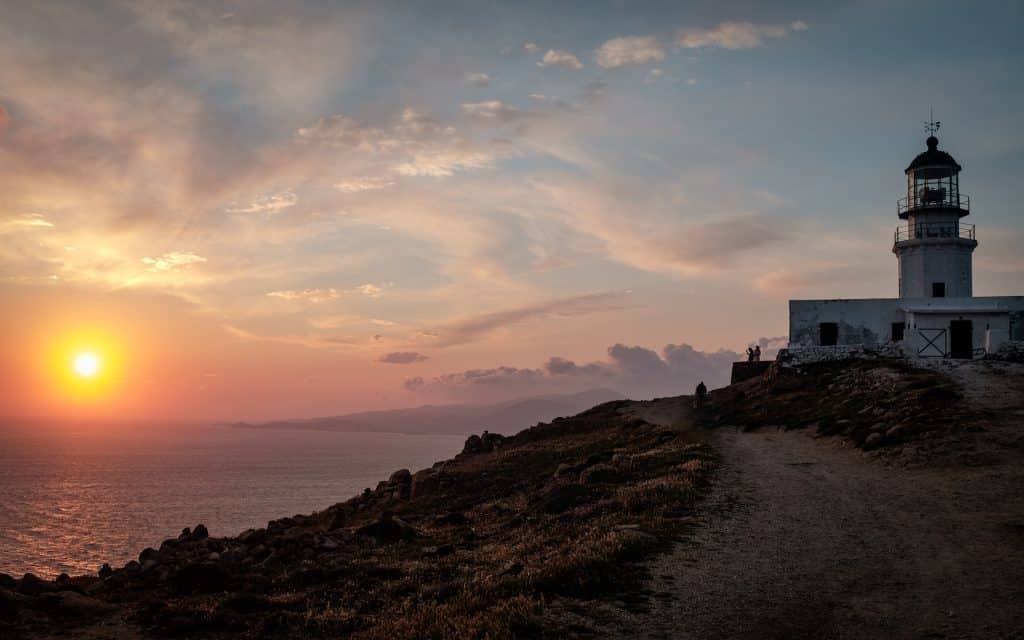 For a more active adventure, embark on a hike to Armenistis Lighthouse. The journey offers breathtaking coastline views and is especially rewarding at sunset. There is a parking area at the hike's starting point, making it easily accessible.
Experience the Mykonos Folklore Museum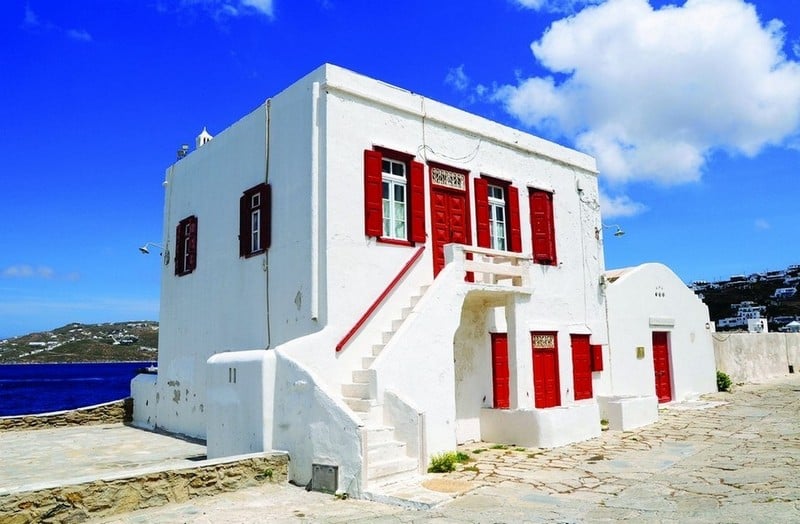 Learn about the island's rich history and culture by visiting the Mykonos Folklore Museum in Mykonos Town. It showcases a collection of artifacts, traditional costumes, and historical exhibits that provide insights into the island's past. Parking may be challenging in the town center, so opt for nearby parking lots.
Attend a Traditional Greek Festival
If your visit coincides with one of Mykonos' many festivals or religious celebrations, take advantage of the opportunity to immerse yourself in the local culture. Festivals often feature traditional music, dancing, and delicious food. Check the event calendar and plan your visit accordingly.
Relax and Rejuvenate
Mykonos is not just about excitement; it's also a place for relaxation and rejuvenation. Treat yourself to a spa day or unwind on a tranquil beach away from the bustling crowds. There are plenty of serene spots to enjoy a peaceful day on the island.
Shop for Souvenirs and Local Crafts
As you explore the charming streets of Mykonos Town and other villages on the island, take the time to shop for unique souvenirs and local crafts. You'll find everything from handmade jewelry and ceramics to traditional Greek textiles and artwork. Parking can be tricky in the town center, so be patient or consider using nearby parking lots.
Take a Day Trip to Nearby Islands
Mykonos is conveniently located near other beautiful islands in the Cyclades, making it an excellent base for day trips. Consider exploring islands like Santorini, Naxos, or Tinos, each with a distinct charm. Ferries depart regularly from the Mykonos Old Port, where you can find parking facilities.
Attend Live Music and Cultural Performances
Throughout the summer, Mykonos hosts various live music events and cultural performances. Something always happens on the island's entertainment scene, from traditional Greek music to international DJs. Check local event listings and secure parking near the venue in advance.
Experience the Windmills of Mykonos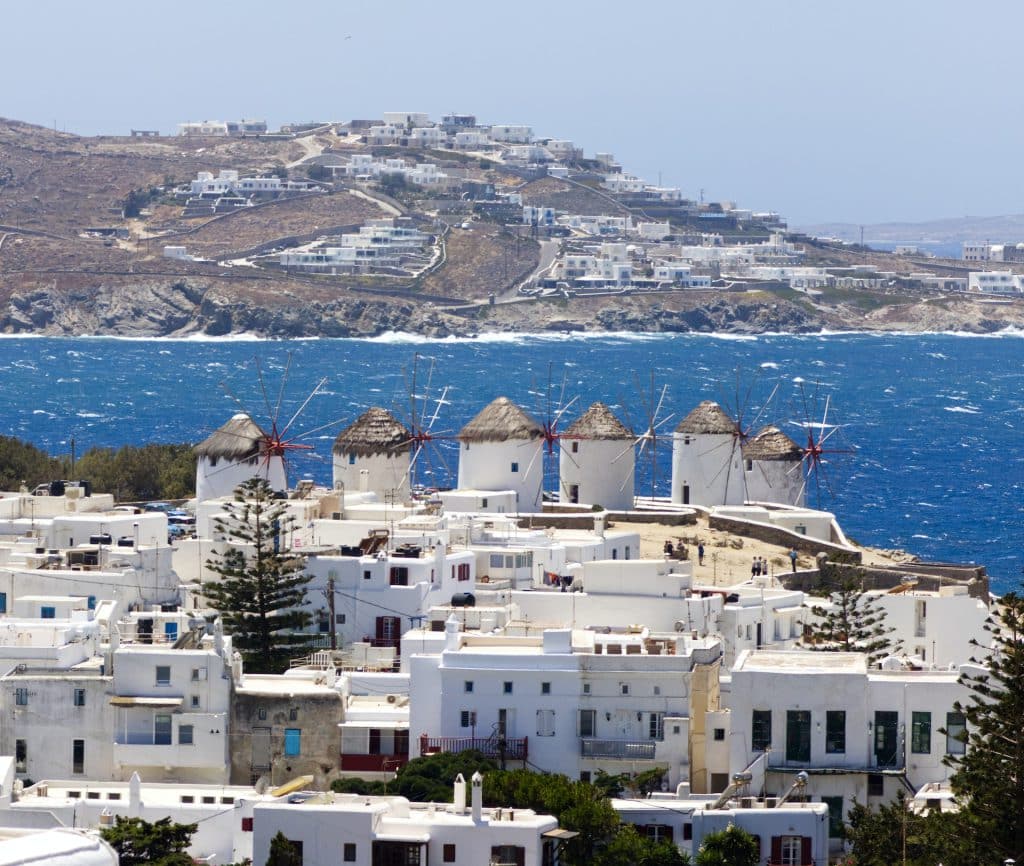 The iconic windmills of Mykonos are a popular photo spot and an integral part of the island's history. These historic windmills, once used for grinding grain, offer a glimpse into Mykonos' past. They are located near Mykonos Town, so parking options are similar to those mentioned earlier for exploring the town.
Sunset Cruises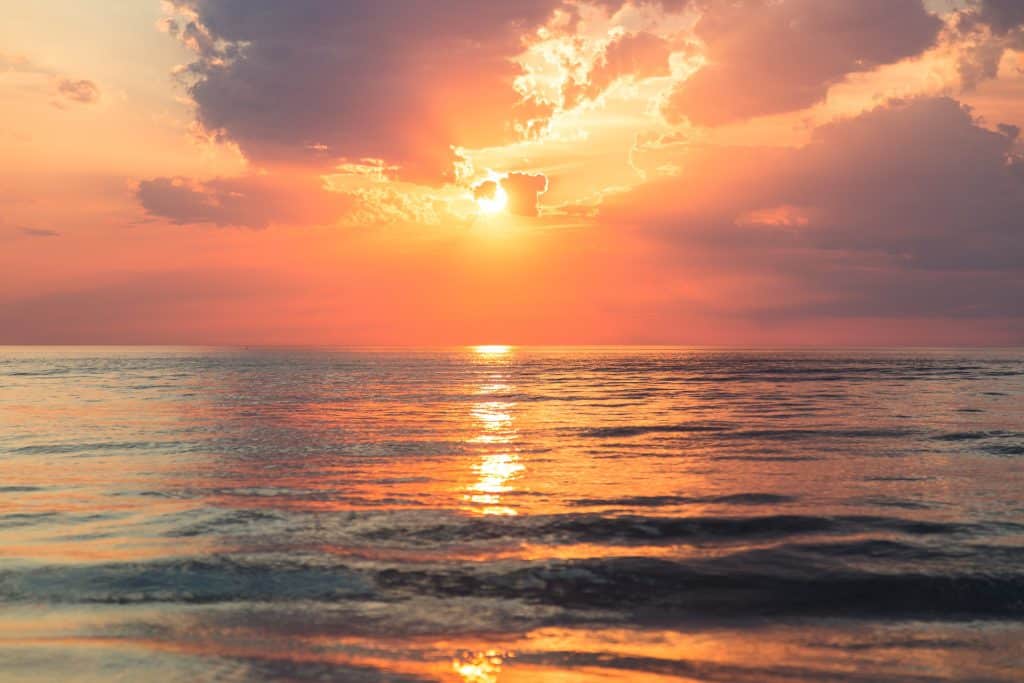 Witnessing the sunset in Mykonos is a magical experience, and one of the best ways to enjoy it is by taking a sunset cruise. Various tour operators offer sunset cruises that take you around the island's coastline, providing stunning views and a memorable evening. Many of these tours include transportation to and from your accommodation.
Volunteer or Engage in Sustainable Tourism
If you want to give back to the community or contribute to sustainable tourism, consider volunteering or participating in eco-friendly activities. Mykonos has initiatives that focus on preserving its natural beauty and cultural heritage. Check with local organizations for opportunities to get involved.
Explore Off the Beaten Path
While Mykonos is known for its famous attractions, feel free to explore the less-visited parts of the island. You may stumble upon hidden beaches, traditional villages, and breathtaking viewpoints that offer a more intimate Mykonos experience.
Plan for Parking in Advance
Planning for parking in advance is essential throughout your adventures in Mykonos, especially during the peak tourist season. Utilize public parking lots and valet services where available, and consider renting a scooter or bicycle for more straightforward navigation and parking.
Mykonos is a destination that goes far beyond its glamorous reputation. It offers a rich tapestry of experiences, from its vibrant nightlife to its cultural heritage and natural beauty.
As you plan your trip to this Greek paradise, remember to explore beyond the well-trodden paths, embrace the local culture, and savor every moment.
With careful planning and an adventurous spirit, your journey to Mykonos will surely be unforgettable.