The CN Tower dominates the city's waterfront skyline, and Toronto is a prominent Canadian metropolis with tall buildings, busy streets, and more. Toronto is renowned for its multiethnic and multicultural population, world-class professional sports teams, and elite colleges.
We've compiled a list of the best 15 hotels in Toronto to make it easier for you to organize your ideal trip!
Top Hotels
Toronto is a cosmopolitan city with a wide range of hotels to choose from, but a few stands out as top picks for travelers seeking luxury, comfort, and a memorable stay. These hotels offer luxurious amenities, excellent dining options, and world-class service. Whether you're in town for business or pleasure, these hotels provide the perfect setting for a memorable stay. From spacious rooms and suites to spas, fitness centers, and rooftop bars, the top hotels in Toronto have everything you need for a comfortable and unforgettable experience.
The St Regis Toronto
Address: 325 Bay St., Toronto, ON M5H 4G3, Canada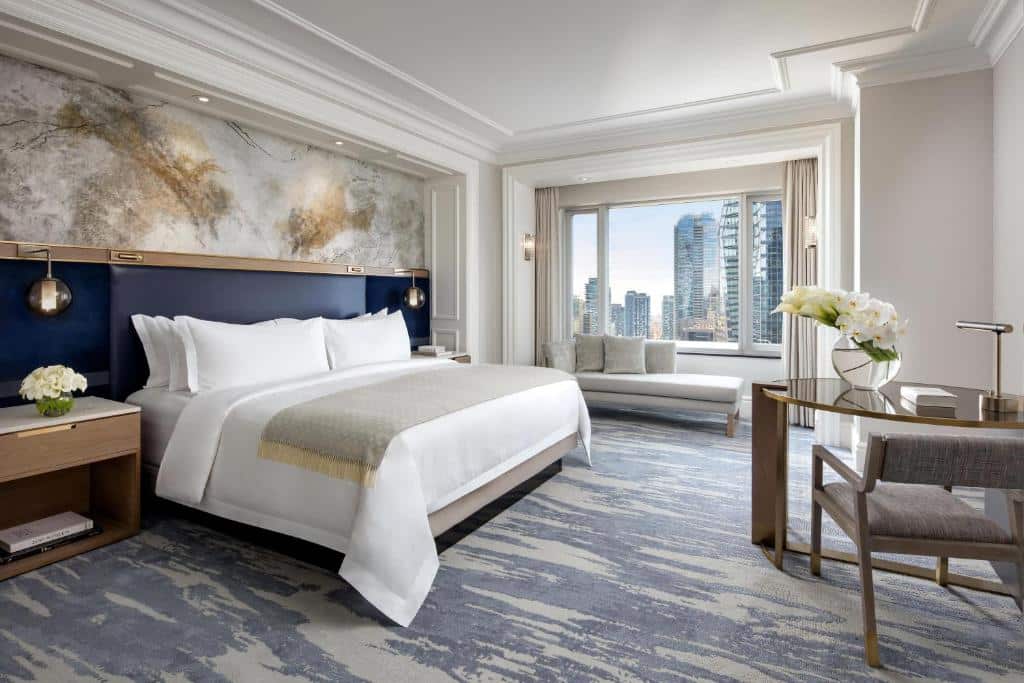 Over 40 St Regis hotels, resorts, and homes can be found all over the world. The only one in Canada is located in the Financial District of Toronto. This post-modern skyscraper, which was formerly known as the Adelaide Hotel before being relaunched under the St Regis name in 2018, is the city's newest premium hotel and the fourth-highest building.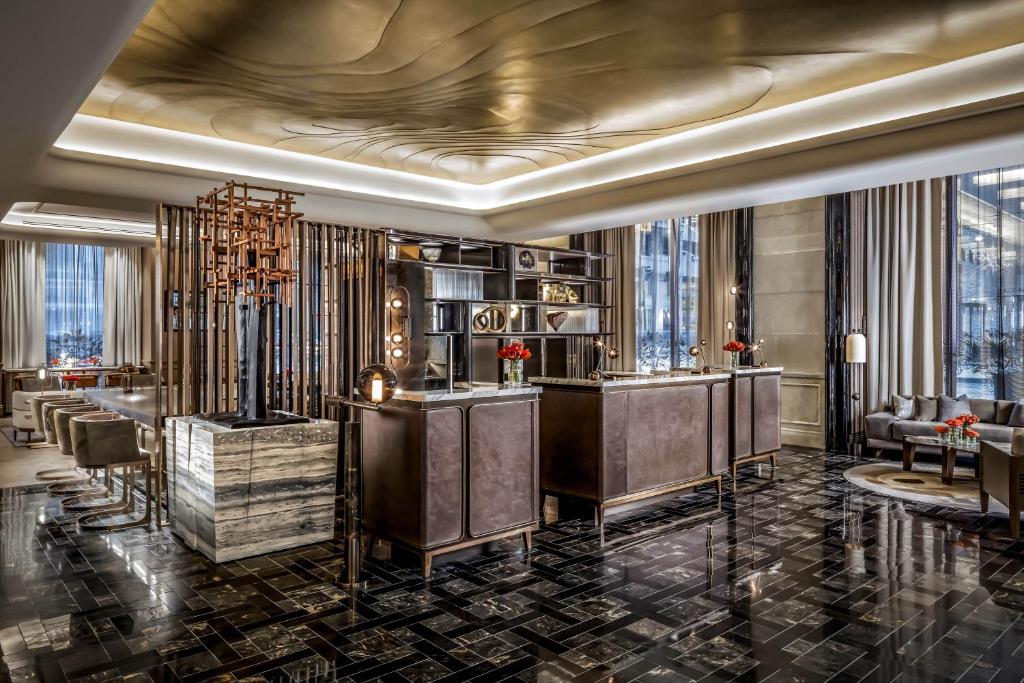 Highlights:
The 258 generously sized rooms have opulent embellishments in gold hues and luxurious dark marble baths.
On the 31st level, there is a saltwater infinity pool in addition to the two-story restaurant-bar Louix Louis that overlooks the city.
Delta Hotels by Marriott, Toronto
Address: 75 Lower Simcoe Street, M5J 3A6 Toronto, Canada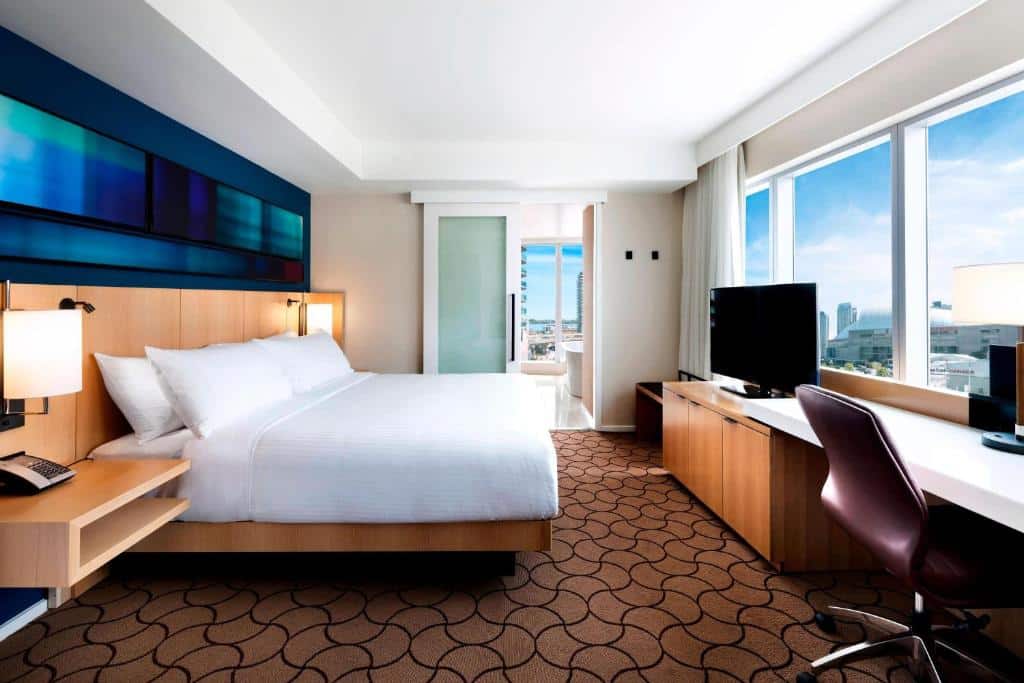 The tallest hotel in Toronto, a gleaming glass skyscraper rising 525 feet (160 meters) above the streets below, enjoys an advantageous location between the CN Tower and the Scotiabank Arena and offers stunning views of Lake Ontario. 2014 saw the opening of the 567 glitzy rooms at the Delta Hotels by Marriott Toronto, each of which was brightly decorated and outfitted by regional Canadian designers. For access to the lofty lounge on the 46th floor, reserve a clubroom from levels 40 to 46 as well.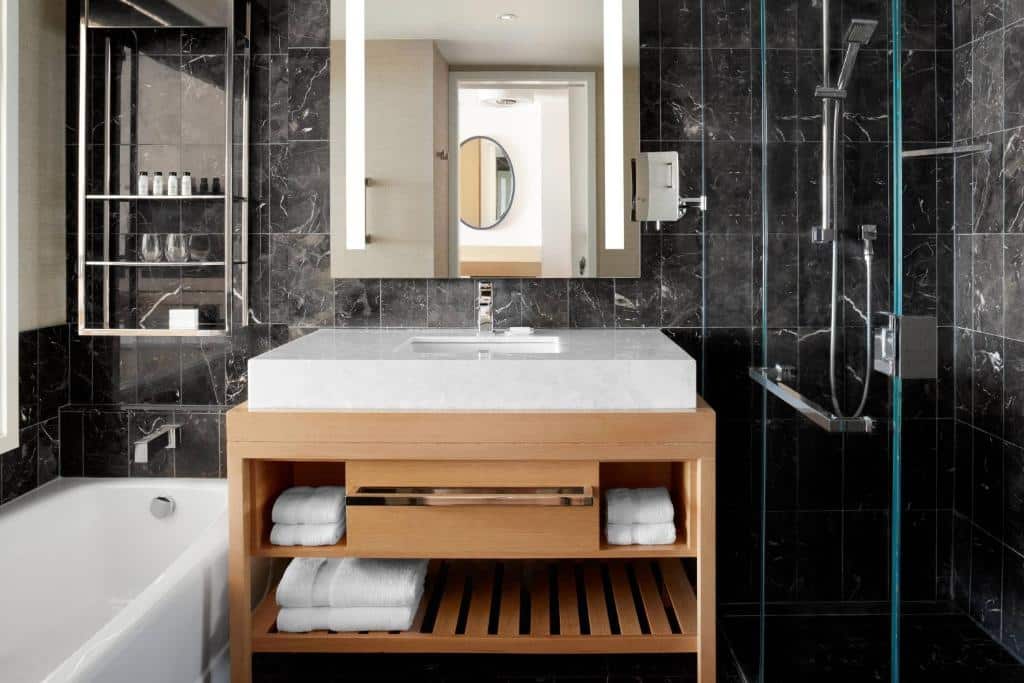 Highlights:
Swim in the heated outdoor pool while the city skyline is lit up and sip on a fine whiskey at Char No5.
Le Germain Hotel, Toronto Mercer
Address: 30 Mercer St, Toronto, ON M5V 3C6, Canada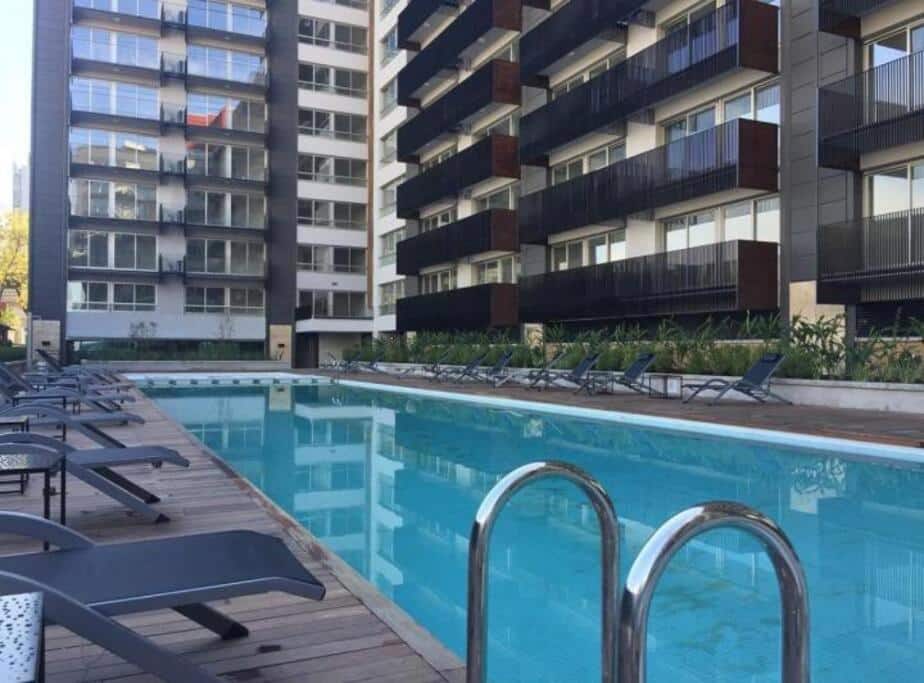 The Mercer, one of two Germain hotels in Toronto, features a distinctive design that is shared by other Germain family hotels in Canada. Co-president Christiane Germain has given meticulous attention to every detail, from the gooseneck bedside reading lamps to the sizable wood-paneled lobby decorated with the creations of regional artisans.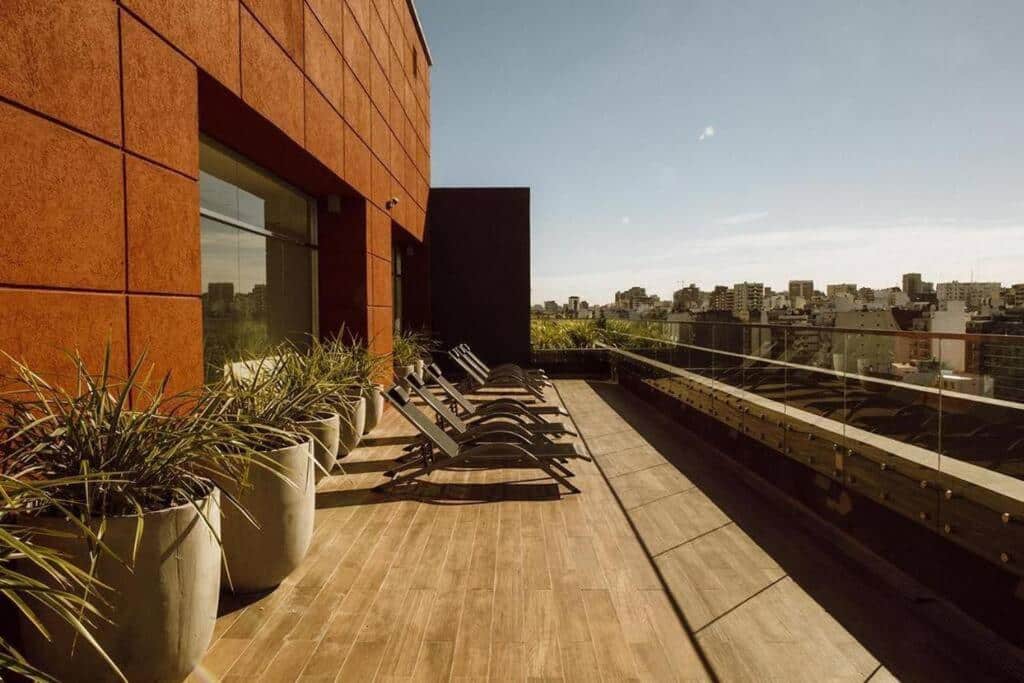 Highlights:
This hotel excels in location, being tucked between the Finance and Fashion Districts and near the Second City comedy theater, in addition to having tasteful contemporary interiors.
Four Seasons Toronto
Address: 60 Yorkville Ave, Toronto, ON M4W 0A4, Canada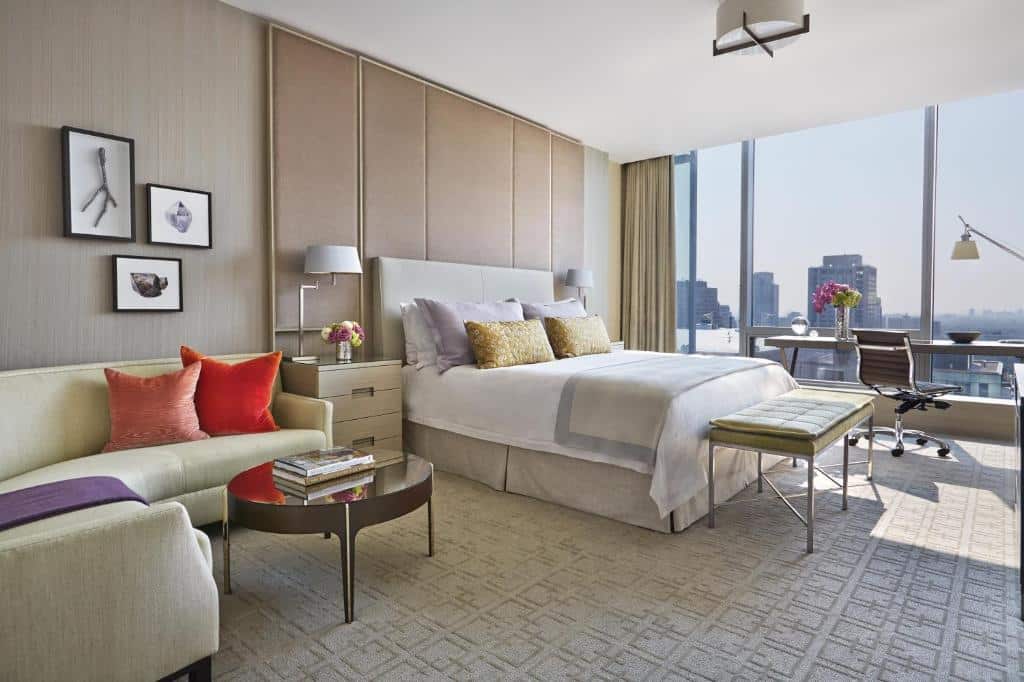 The Four Seasons brand was established in Toronto in 1961 when it first opened as a motel; thus, the firm invested heavily in its 259-room flagship when it opened in 2012. A calm, soaring lobby combines Asian design elements with a changing display of 1,700 specially commissioned pieces by Canadian artists, such as the dandelion sculpture by Alissa Coe that hangs above the front desk. Rich Yorkville is right outside your door, and a five-minute walk to the southeast will take you to the upscale Canadian retailer Holt Renfrew.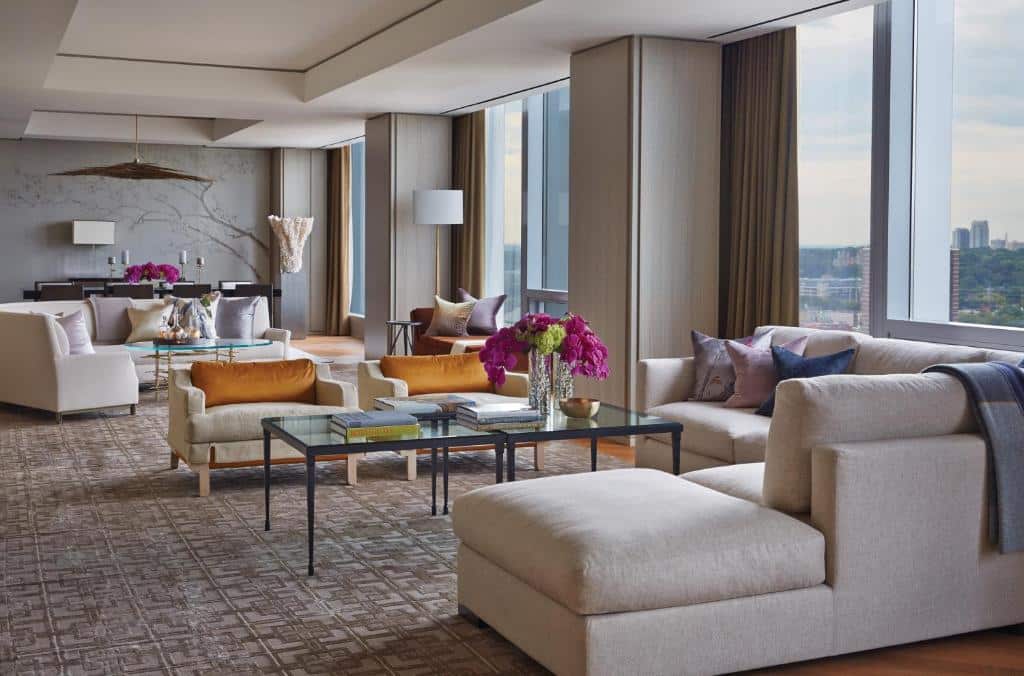 Highlights:
The guest rooms, which are mostly white, are simple but incredibly pleasant.
The expensive restaurant is run by New York superchef Daniel Boulud; the recently renovated d|azur patio, with its enormous pink painting by Ontario artist Florence Solis-Byun, feels a touch more local.
The luxurious spa within the hotel has recently reopened its outdoor terrace with views of the city skyline and a menu of Californian cuisine.
The Broadview Hotel
Address: 106 Broadview Ave, Toronto, ON M4M 2G1, Canada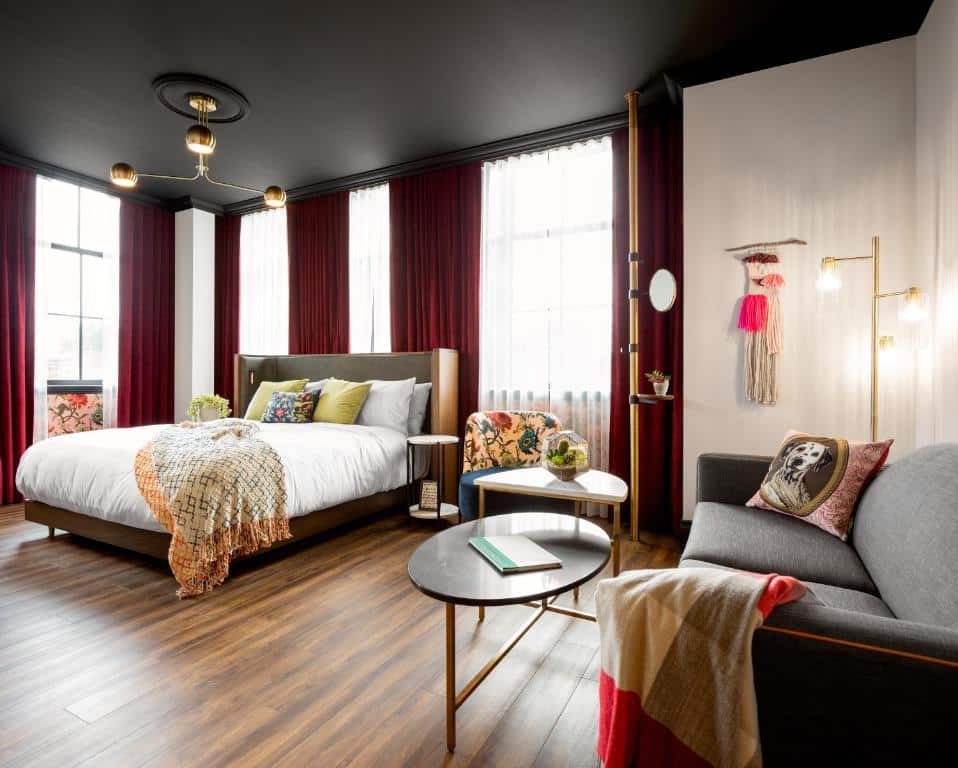 Some locals might miss the Broadview's former tenant, Jilly's Strip Club, but the majority of Torontonians were thrilled when it was transformed in 2016 into a trendy boutique hotel with 58 leather-clad rooms, high ceilings, and expansive windows. Drop your things off and head up to the rooftop lounge with art deco influences, which features indoor/outdoor seating with amazing 360-degree views of Toronto's downtown cityscape and low-lying neighborhoods.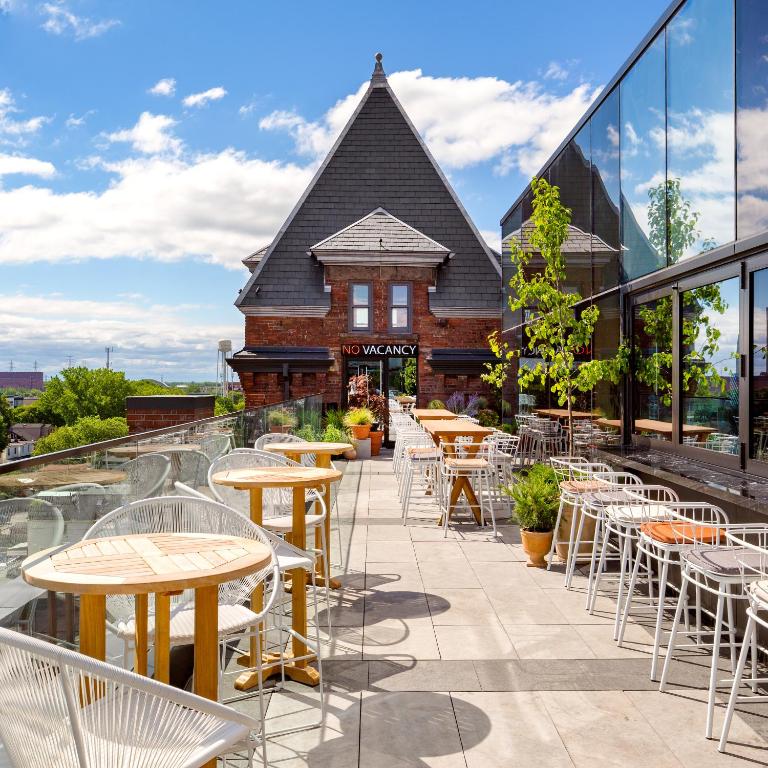 Highlights:
The Broadview has developed into a scene in Riverdale's primarily residential east end.
The Civic, an eclectic lobby restaurant, has become a popular hangout for locals because of dishes like gnocchi with spring greens and Nashville hot-chicken baos. Bonus: Leslieville, with its independent stores and chef-owned eateries, is just a short stroll to the east.
The Anndore House
Address: 15 Charles St E, Toronto, ON M4Y 1S1, Canada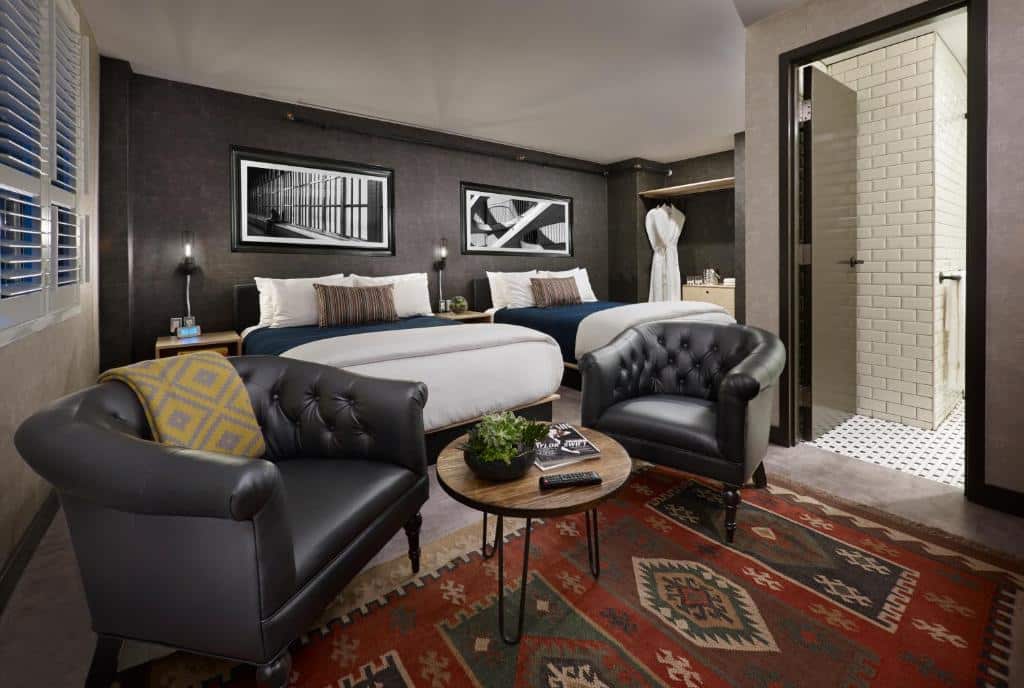 The Anndore House, a former apartment complex and flophouse, is a stylish yet understated lodging option. Its largest suite, at 550 square feet, has exposed brick walls, wood floors, and a luxurious king bed, giving it the feel of a downtown condo. Turntables are provided in each room, and guests can choose from the carefully curated vinyl selection at the front desk. Hard-to-please local foodies have praised lobby eatery Constantine for its Mediterranean dishes; don't miss the lamb burger with whipped feta.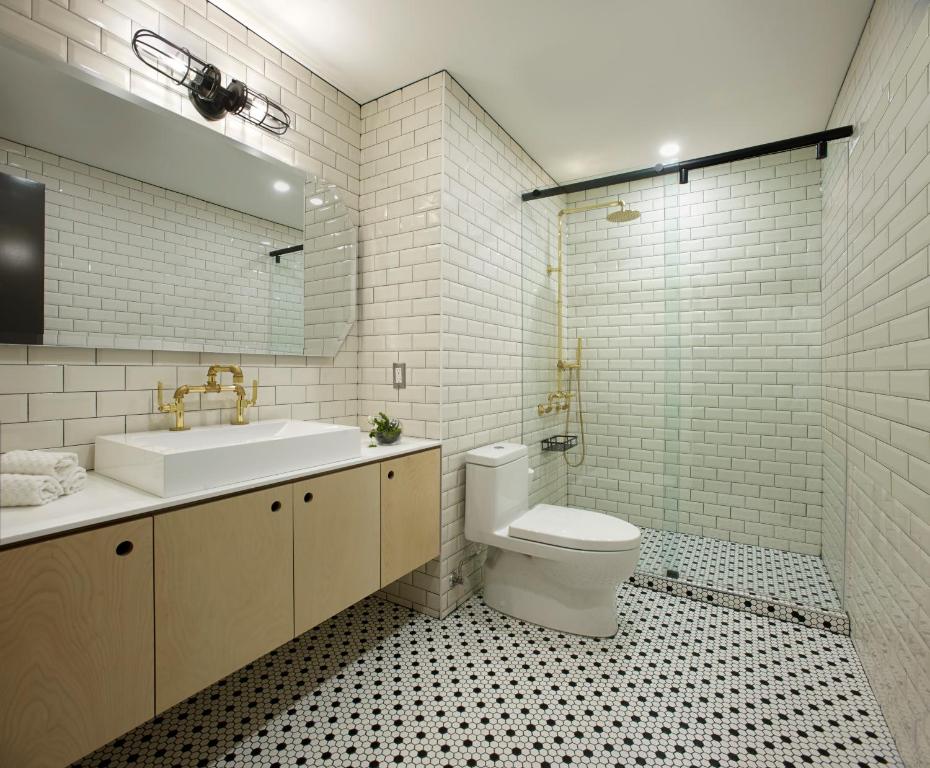 Highlights:
The small Hot Black Coffee on the first floor offers window seats to the passing downtown procession, and the neighborhood Crow's Nest barbershop draws a devoted following from all over the city.
The Westin Harbour Castle, Toronto
Address: 1 Harbour Square, Toronto, ON M5J 1A6, Canada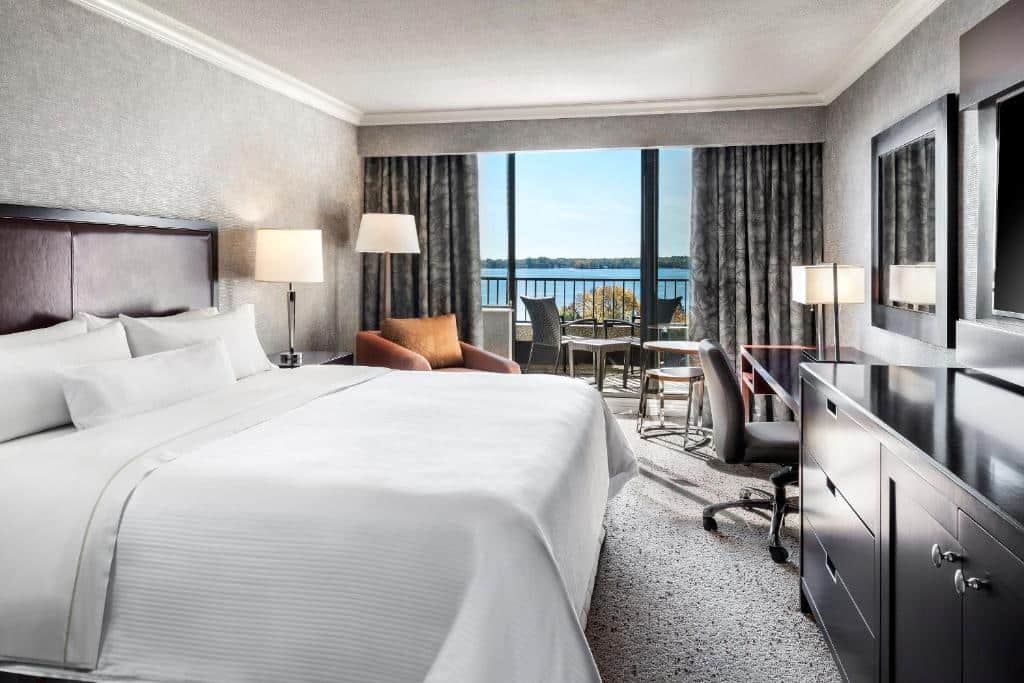 At the Westin Harbour Castle, experience the best of both the urban and natural worlds. The sparkling wedge-shaped tower lies on the coast with magnificent views of Lake Ontario. Rent a jet-ski, or stand-up paddleboard, or go sailing on the lake.
Highlights:
A 10-minute stroll will take you downtown, and you can enjoy a wide range of outdoor activities by the lake.
The hotel provides guests with amenities and peace. Bring your favorite pet along because dogs stay free at Westin hotels and can enjoy a variety of pet beds and snacks.
1 Hotel Toronto
Address: 550 Wellington St W, Toronto, ON M5V 2V4, Canada
The guest rooms at this hotel between King and Bathurst are light and spacious and feature furnishings made of reclaimed wood, organic cotton sheets, and limestone accents. The hotel uses energy-efficient heating and cooling, has a composter on site, and doesn't use single-use plastics to make it a sustainable luxury stay.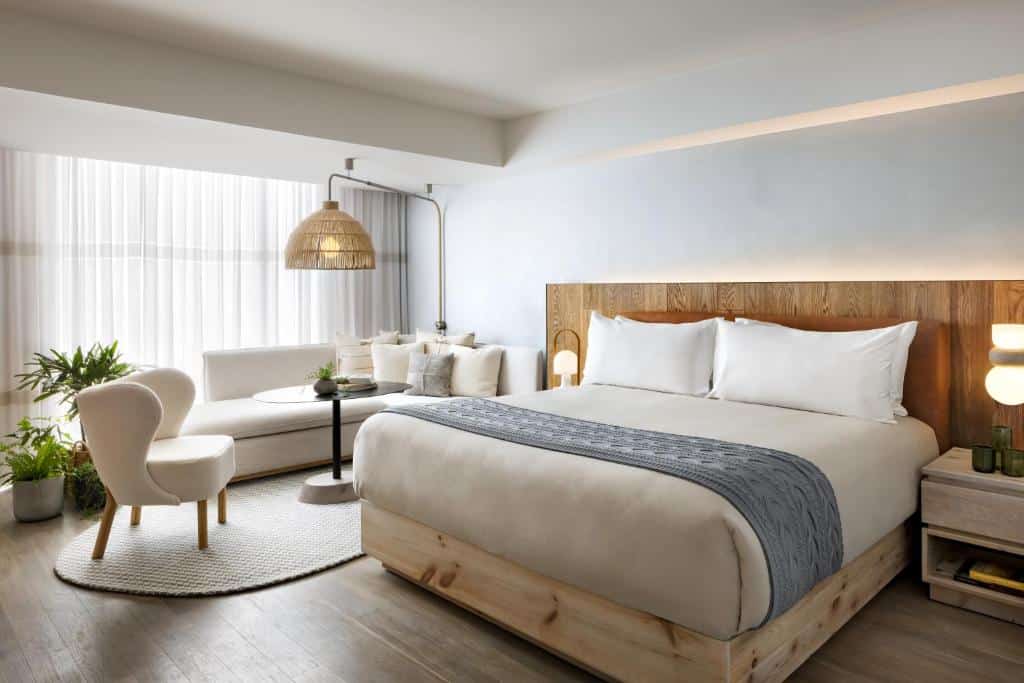 Highlights:
Enjoy a beverage at Harriet's Rooftop or the garden-themed Flora Lounge.
Park Hyatt Toronto
Address: 4 Avenue Rd, Toronto, ON M5R 2E8, Canada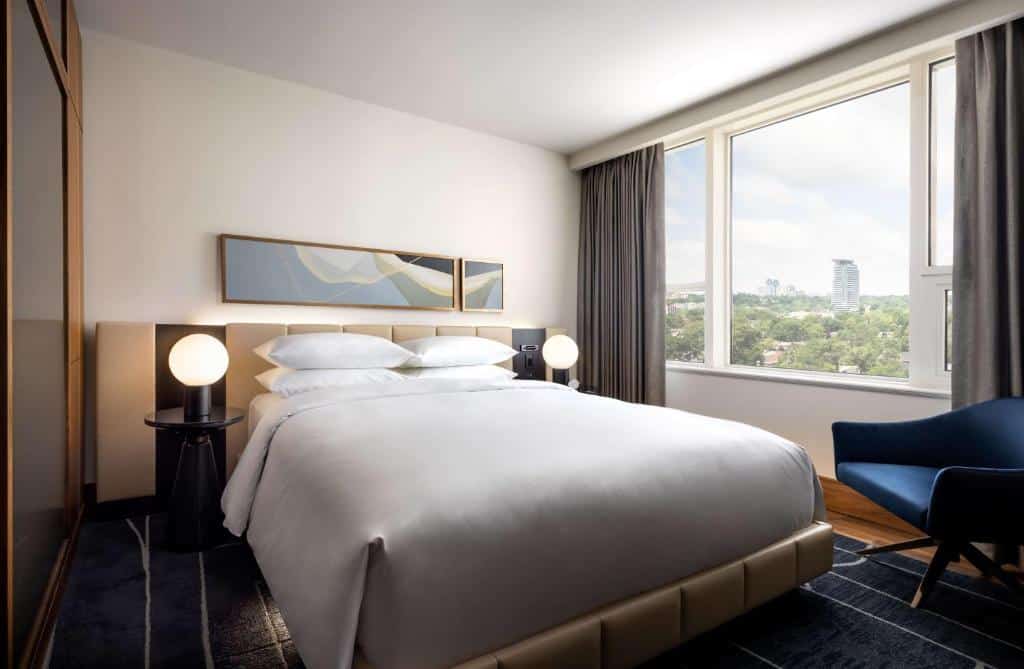 The hotel has been completely redesigned, and it is conveniently located near Avenue and Bloor. Brushed walnut furnishings, Le Labo toiletries, and unique minibars can be found in the rooms and suites.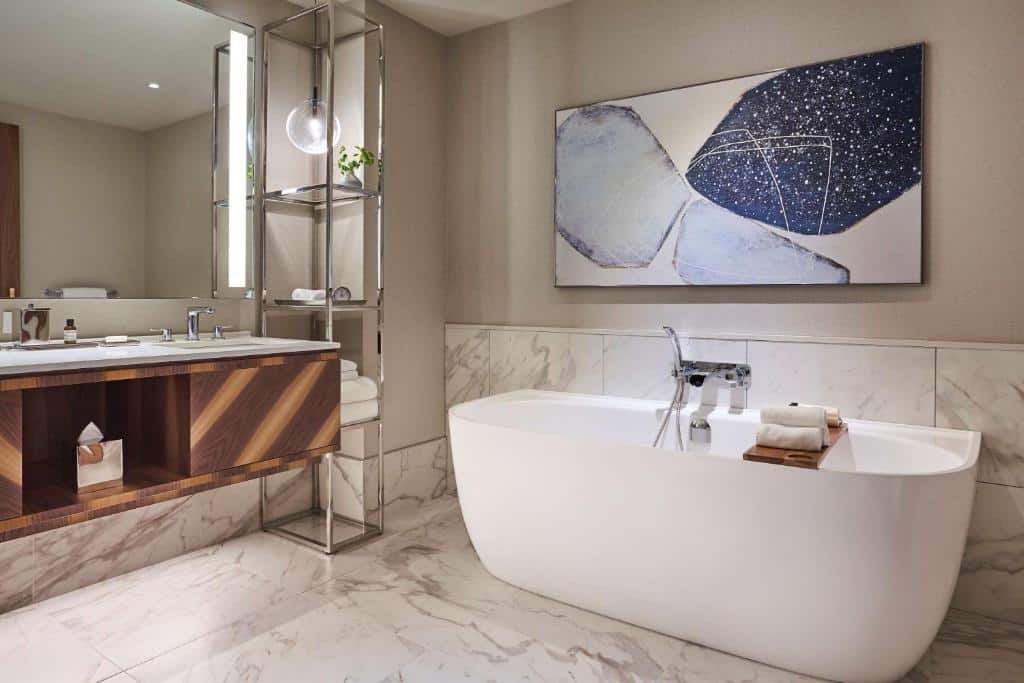 Highlights:
Visitors can unwind at Stillwater Spa, enjoy a cocktail and city views at Writers Room Bar, or dine on a seasonal menu at Joni Restaurant.
Bisha Hotel
Address: 80 Blue Jays Way, Toronto, ON M5V 2G3, Canada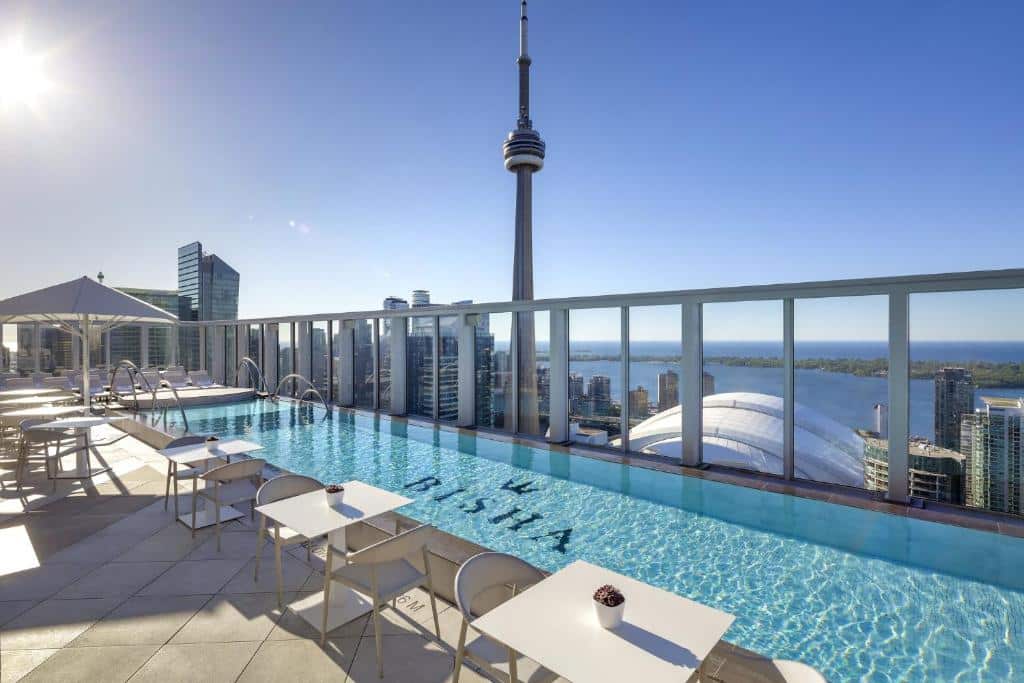 The chic guest rooms and suites at this hotel in the Entertainment District have modern accents and a casually sophisticated vibe. Lenny Kravitz's Kravitz Design company created a full floor, giving luxury a rock 'n' roll edge.
Akira Back, a Korean-inspired restaurant, and French Made, a Parisian restaurant, are two options for dining.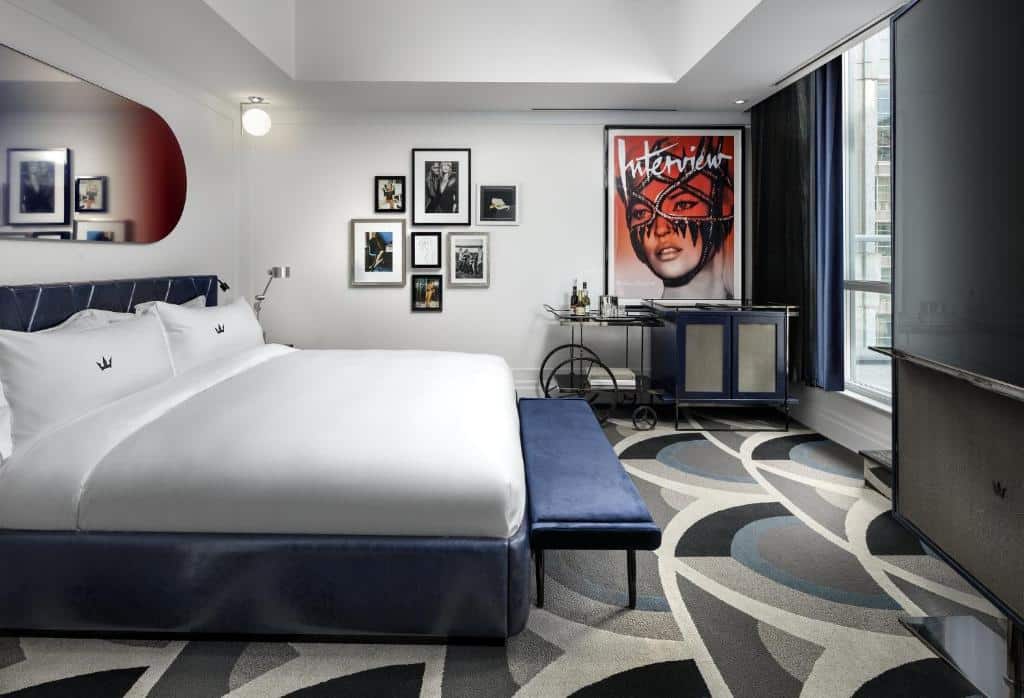 Highlights:
The standard lobby bar is Mister C Bar Room, while KST and an infinity pool are located on the rooftop.
Romantic Hotels in Toronto
Toronto is a vibrant city with many romantic hotels that offer a unique and memorable experience for couples. These hotels offer luxurious accommodations, excellent dining options, and breathtaking views of the city. Whether you're looking for a cozy room with a fireplace or a suite with a Jacuzzi, Toronto's romantic hotels have it all. Staying in these hotels will provide you with the perfect setting for a romantic getaway, anniversary celebration, or a honeymoon.
Hazelton Hotel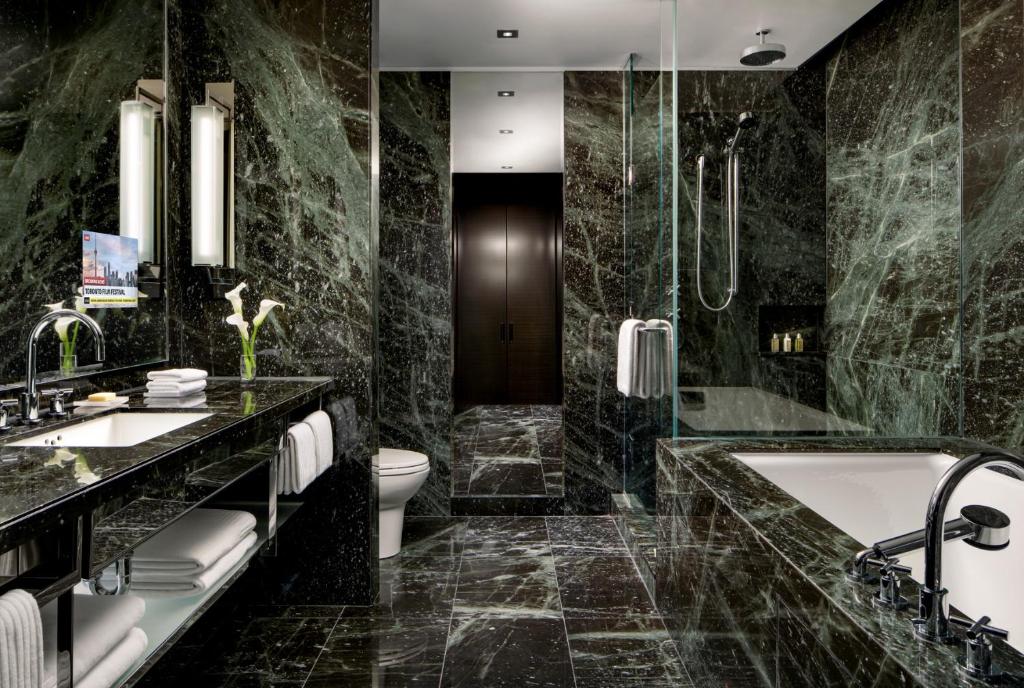 Highlights:
High-end store with luxurious furnishings, an indoor pool, and a pampering spa. Large rooms have city views, luxurious linens, and modern amenities. Locals frequent one restaurant because of its fantastic ambiance, fine menu, and beverages. Enjoy a film in the theater area, or relax at the spa.
Old Mill Toronto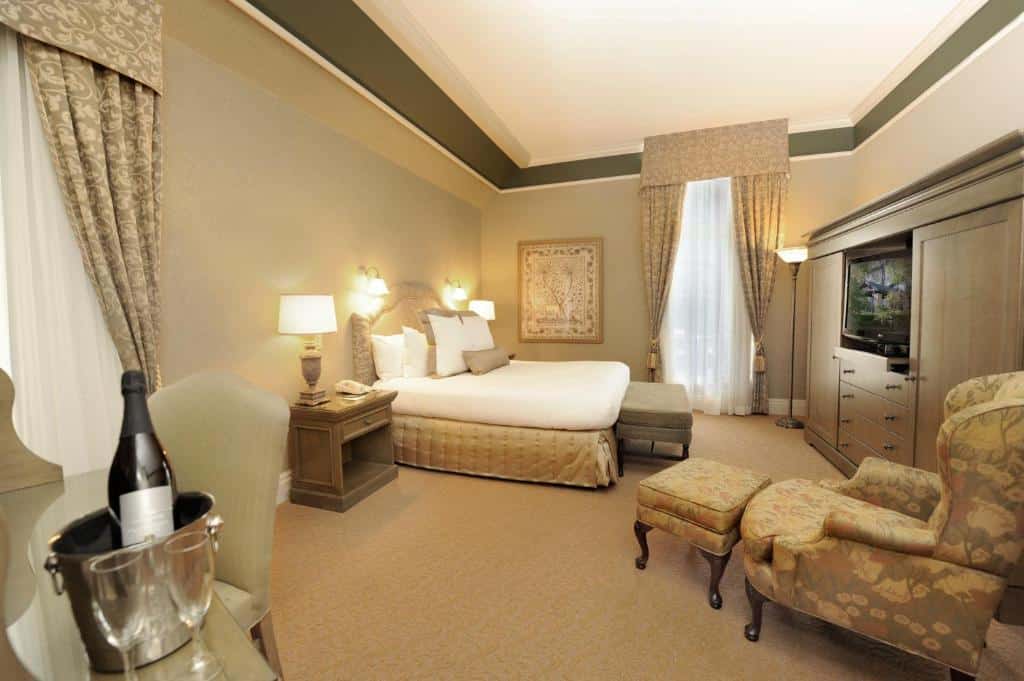 Highlights:
Boutique retreat tucked away in the Humber Valley, surrounded by parkland, walking paths, and the calming Humber River. A garden and courtyard are surrounded by elegant apartments and suites. Live jazz music is played in the well-known Home Smith Bar, and locals adore the restaurant's menu.
Fairmont Royal York Hotel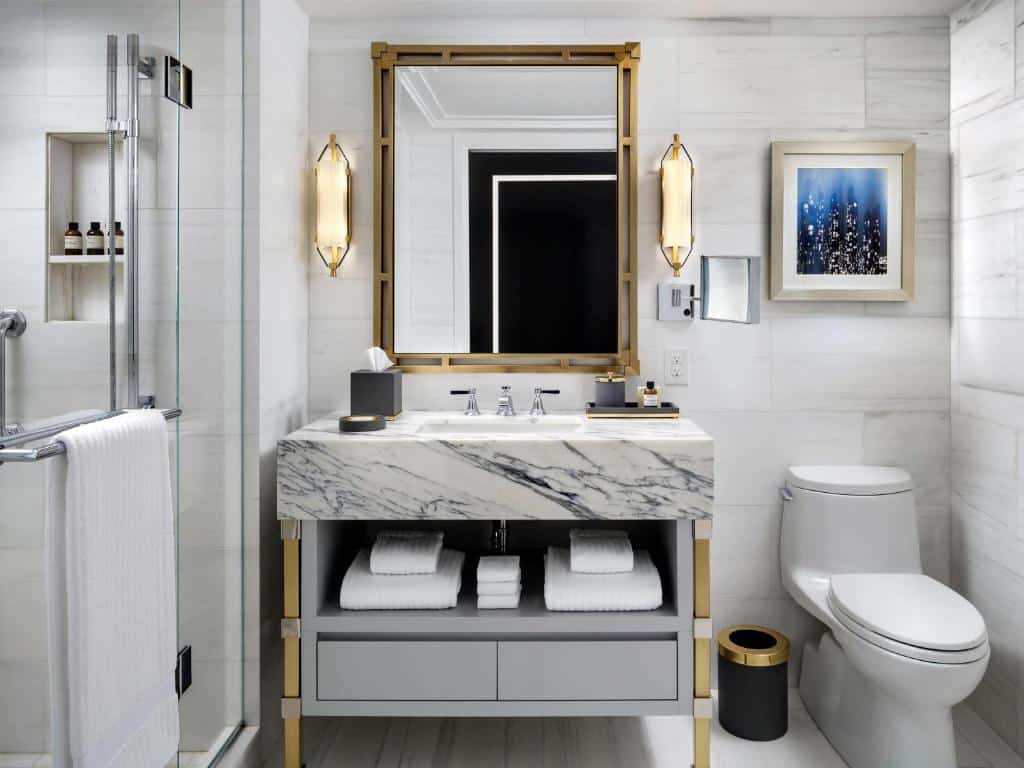 Highlights:
The Fairmont Royal York Hotel is also unique among all the Toronto hotels in that it offers an incredible five dining options onsite! No matter your personal preferences, you can always discover a unique dining option that meets both your palette and your budget. When you visit the Fairmont, you may even benefit from the chance to experience a piece of history when you visit their beautiful ballroom. Visit the Fairmont to experience Toronto quality that will help you redefine what Canadian excellence is all about!
Windsor Arms Hotel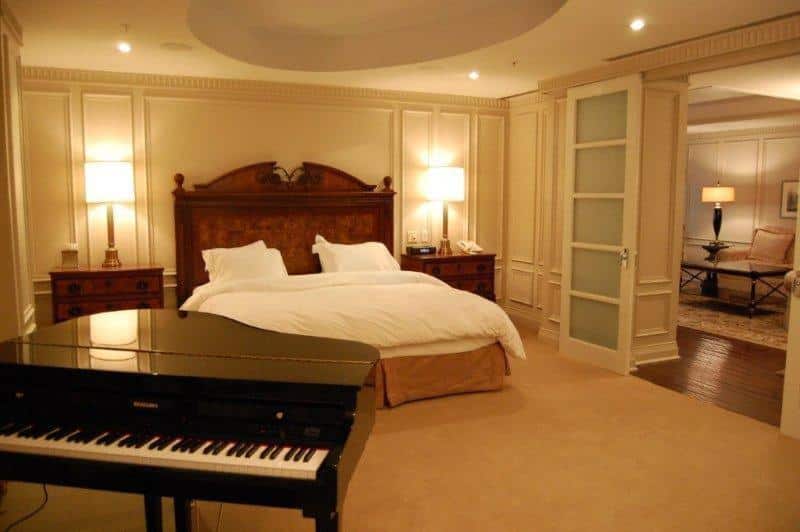 Highlights:
Take advantage of the Windsor Arms Hotel's deserving five-star rating and visit to see for yourself. For the convenience of all visitors, the hotel is located in the center of downtown Toronto, and also has two fully operational restaurants and an on-site spa. Their complimentary massages and body treatments guarantee to revive your passion for life and give you a brand-new appreciation for Toronto hospitality. Make your stay with your fiancée, and you will both cherish it for the rest of your life!
The Ritz-Carlton Toronto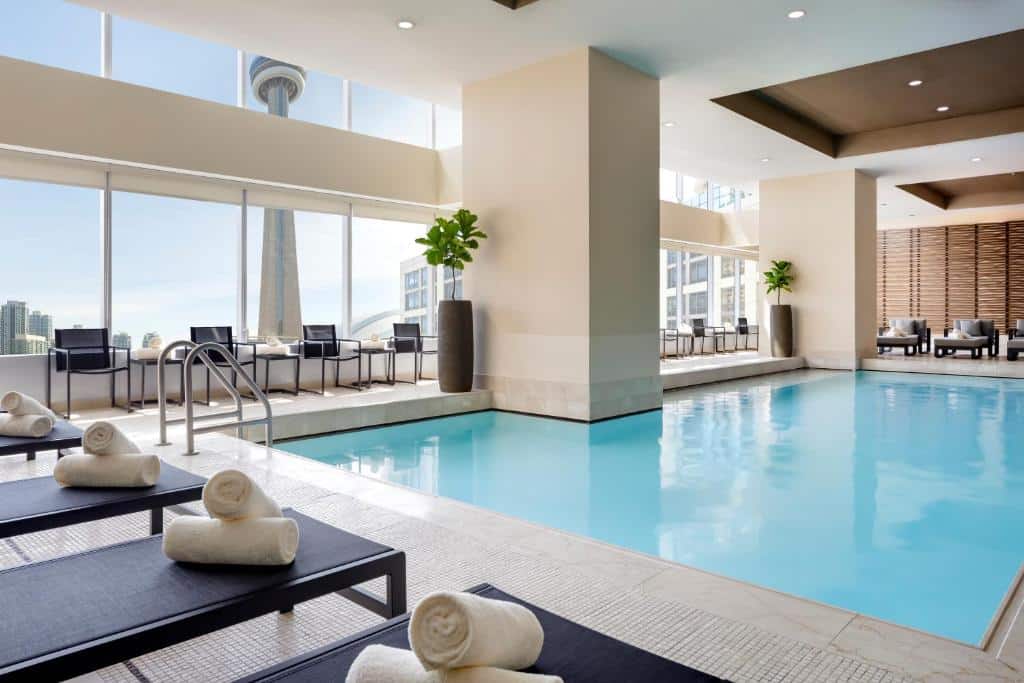 This luxurious hotel is located in the heart of downtown Toronto and offers stunning views of the city skyline. The hotel features a spa, a fitness center, and a rooftop bar.
To complete your travel bucket list to Toronto, we have listed some of the top places to visit in this link: 15 Amazing Places to visit in Canada.
Have a wonderful stay!
Have we missed your favorite hotel? Leave us your comment below and we'll surely include on our list!