Savoring Culinary Delights: 10 Best Restaurants in Riga, Latvia
Riga, the enchanting capital city of Latvia, is a hub of culture, history, and vibrant culinary experiences. With a culinary scene as diverse as its architecture, Riga offers many dining options to suit every palate. Whether you're a connoisseur of international cuisines or a fervent supporter of local flavors, this Baltic gem has something unique.
Here are the top 10 restaurants in Riga that promise an unforgettable dining experience, along with information about parking areas and nearby attractions.
1. Vincents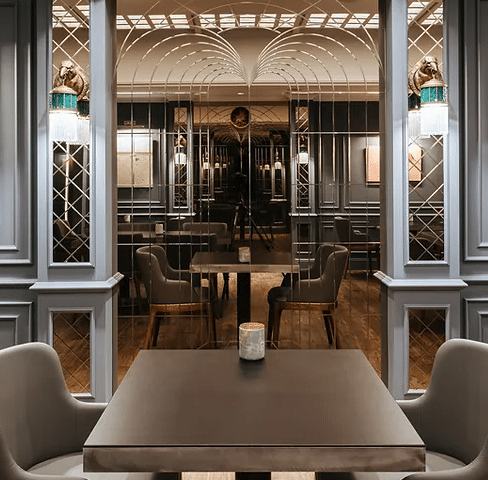 Location: Elizabetes iela 19, Centra rajons, Rīga, LV-1010, Latvia
In a 19th-century mansion, Vincents is a renowned fine-dining establishment that artfully blends traditional Latvian ingredients with international culinary techniques. The restaurant boasts an extensive wine list, impeccable service, and an elegant ambiance.
Parking is available nearby in designated areas, and the Freedom Monument is within walking distance, offering a glimpse into Latvia's history.
2. Bibliotēka No1/ Whitehouse Restorāns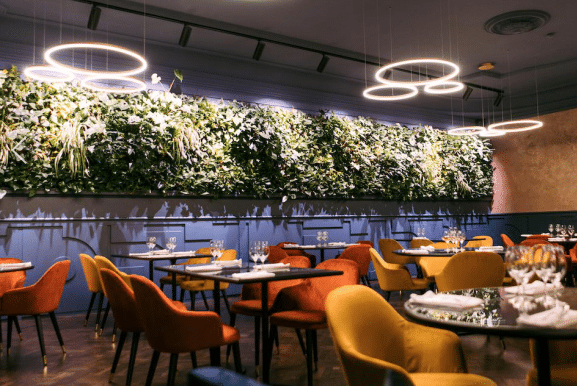 Location: Tērbatas iela 2, Centra rajons, Rīga, LV-1050, Latvia
Set in a charming historic building, Bibliotēka No1 offers a unique dining experience surrounded by books. The restaurant specializes in modern European cuisine with a twist.
Visitors can find parking options nearby, and the Latvian National Opera is just a stone's throw away, making it an ideal pre-show dinner destination.
3. Domini Canes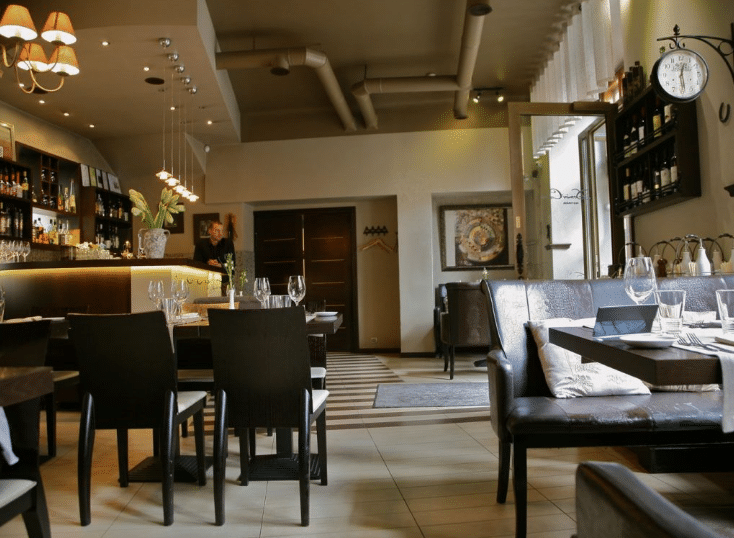 Location: Skārņu iela 18/20, Centra rajons, Rīga, LV-1050, Latvia
Nestled in the heart of the Old Town, Domini Canes is a must-visit for those seeking authentic Latvian flavors. The restaurant features a medieval-inspired interior and serves traditional dishes made from locally sourced ingredients.
While parking can be challenging in the Old Town, several parking lots are within walking distance. The iconic Riga Castle and St. Peter's Church are nearby attractions worth exploring.
4. Folkklubs ALA Pagrabs/Ala Pagrabs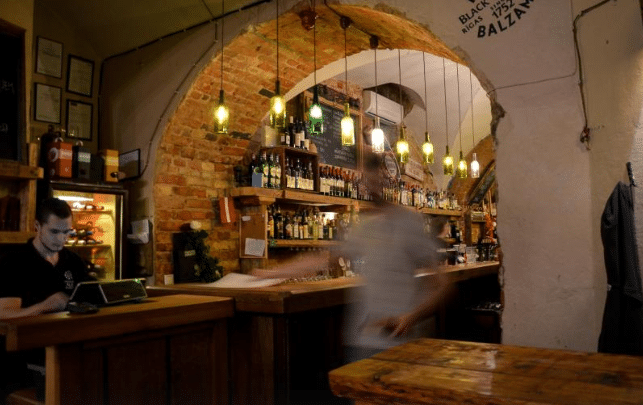 Location: Peldu iela 19, Centra rajons, Rīga, LV-1050, Latvia
Folkklubs ALA Pagrabs is the place to be for an authentic taste of Latvian culture. This rustic establishment offers hearty Latvian fare, live folk music, and an extensive selection of craft beers.
Limited parking is available nearby, and the Latvian Ethnographic Open-Air Museum is a short drive away, providing a glimpse into the country's rural heritage.
5. Aqua Luna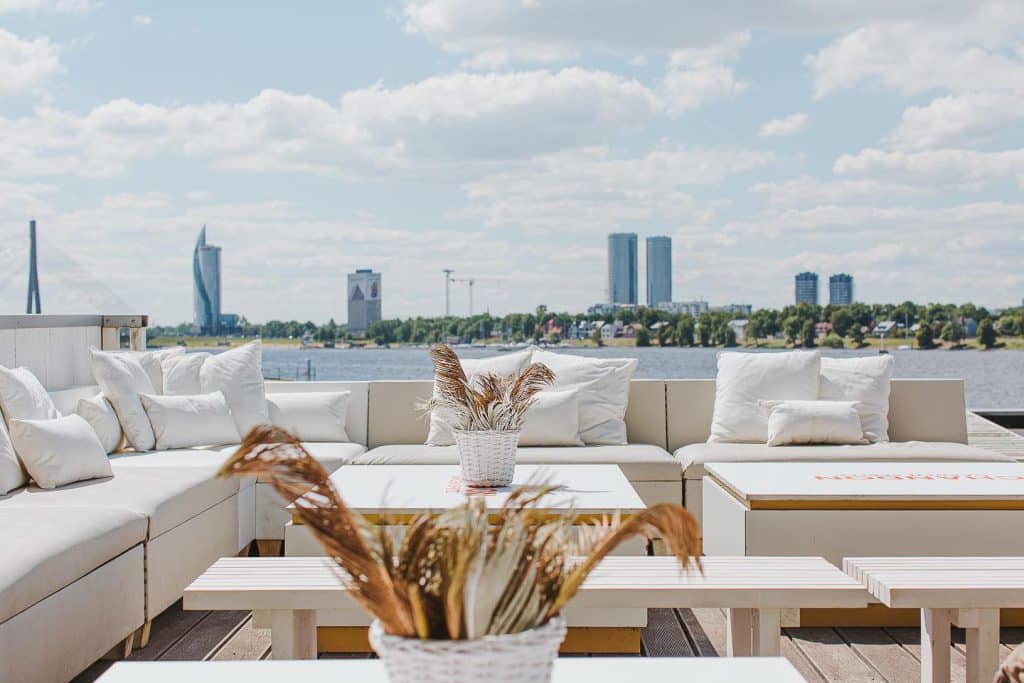 Location: Andrejostas iela 5 k-5, Ziemeļu rajons, Rīga, LV-1045, Latvia
Perched on the banks of the Daugava River, Aqua Luna offers stunning panoramic views of Riga's skyline. The restaurant specializes in seafood and Mediterranean cuisine, creating a perfect blend of flavors and aesthetics.
Convenient parking is available, and the Riga Passenger Terminal is a nearby attraction, hosting various events and exhibitions.
6. 3 Pavāru Restorāns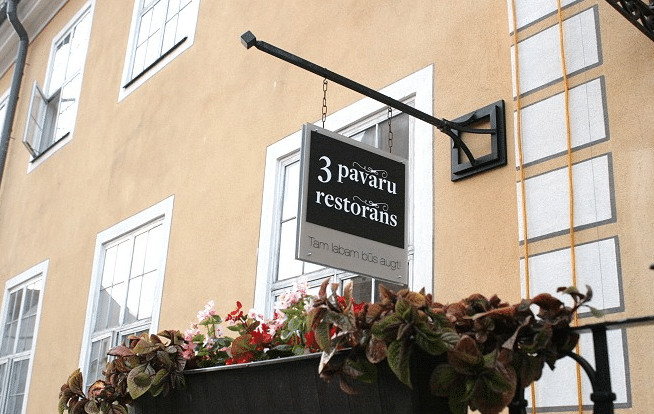 Location: Jacob's Barracks, Torņa iela 4, Centra rajons, Rīga, LV-1050, Latvia
Located in the Art Nouveau district, 3 Pavāru Restorāns is a culinary gem with a modern twist. The restaurant features an open kitchen concept and hosts a trio of talented chefs who create an ever-changing tasting menu.
Parking can be found nearby, and the Art Nouveau Museum is a short walk away, showcasing the city's architectural elegance.
7. Garage Burger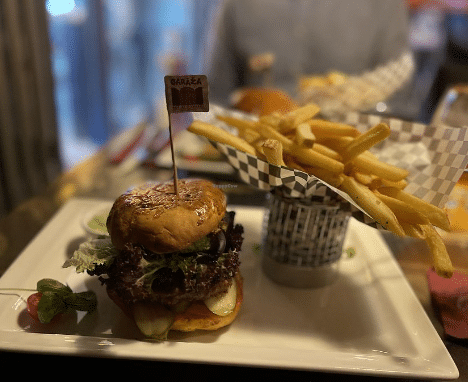 Location: Aldaru iela 10, Centra rajons, Rīga, LV-1050, Latvia
For a casual yet satisfying experience, Garage Burger serves up some of the best burgers in town. The restaurant's industrial-chic setting adds to its unique charm.
Street parking is usually available, and the Riga Ghetto and Holocaust Museum offer a somber yet critical historical perspective nearby.
8. Kalku Varti Restorans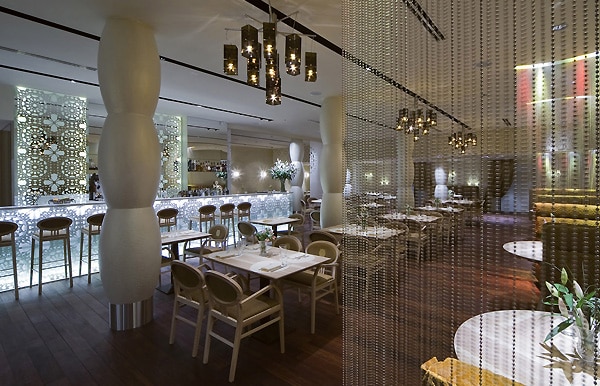 Location: Jauniela 20, Centra rajons, Rīga, LV-1050, Latvia
Situated near Riga's central market, Kalku Varti Restorans offers a blend of Latvian and European dishes. The restaurant's terrace provides a great vantage point for people-watching.
While parking can be challenging in this bustling area, the Central Market is a noteworthy attraction, showcasing local produce and culinary delights.
9. Raw Garden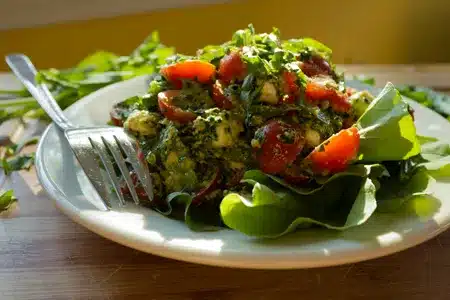 Location: Central District, Riga, LV-1010, Latvia
Raw Garden is a haven of plant-based delights for the health-conscious and vegetarians. The restaurant focuses on raw and vegan cuisine, offering a refreshing alternative to traditional dining options.
Limited street parking can be found nearby, and Bastejkalna Park is a short stroll away, providing a serene escape in the city's heart.
10. Restaurant Ferma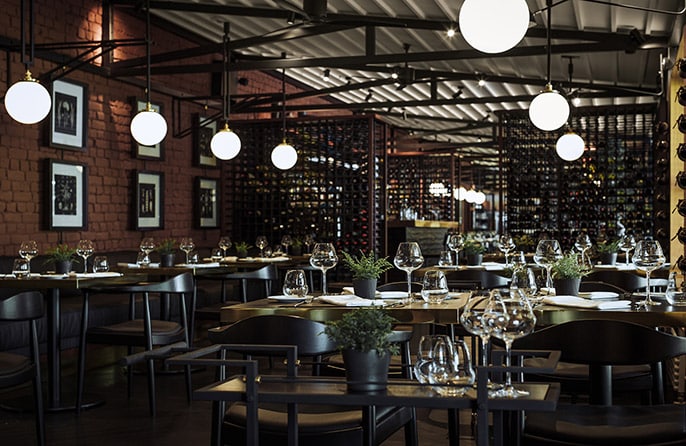 Location: Valkas iela 7, Centra rajons, Rīga, LV-1010, Latvia
Ferma offers a modern twist on European cuisine with a focus on locally sourced ingredients. The restaurant boasts ample parking space, and the Art Nouveau district is within walking distance, allowing you to explore the architectural marvels of Riga.
Riga's culinary landscape is a treasure trove of flavors to explore. The city caters to various tastes, from upscale fine dining to cozy traditional eateries.
While parking options might vary, each restaurant offers a unique culinary experience and nearby attractions that provide an enriching cultural backdrop to your dining adventure in this historic Baltic city.