You might notice the Italian word "albergo" or the word "hotel" in English. In either case, they both refer to a private chamber. The posh, five-star versions of hotels and hostels can differ from roadside motels. In 2020, there were more than 1,500 hotels in the Italian municipality of Rome, the majority of which had a three-star rating. The number of three-star hotels in the Italian capital increased to 618 in 2020 from 605 in 2019.
Cristoforo Colombo 710, Torrino, 00144 Rome, Italy
The Cristoforo Colombo restaurant is located in Rome's EUR neighborhood, adjacent to the Euroma2 retail mall and the GRA ring road. The hotel provides free parking, Wi-Fi throughout, and a seasonal outdoor pool. The air-conditioned, light-filled rooms at The Colombo provide direct access to the parking. Each room has a private bathroom and a flat-screen TV. The restaurant offers a wide variety of continental buffet-style breakfast options in addition to serving regional Roman, Italian, and international cuisine. The Cristoforo Colombo has excellent access to transportation. There is a bus stop nearby that connects to Rome's metro line B. Hotel Cristoforo Colombo is particularly popular with couples.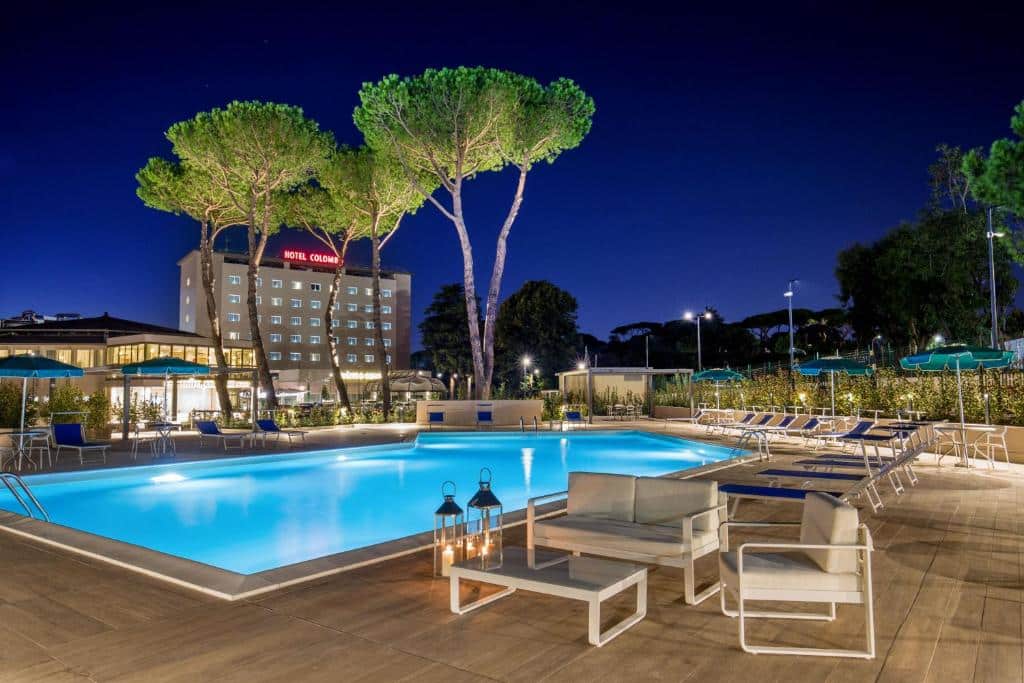 Amenities:
Free Wi-Fi
Breakfast
Free parking
Accessible
outdoor pool
Air-conditioned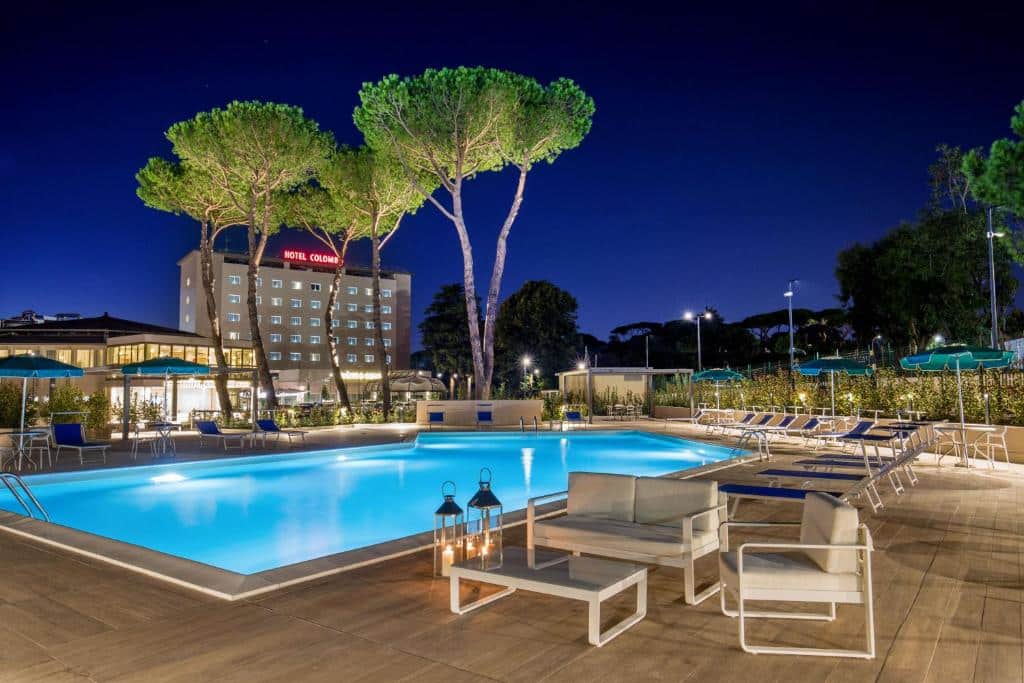 Nazionale 7, Central Station, 00184 Rome, Italy
The Coliseum is 20 minutes by foot from Quirinale. An inside corridor in the hotel's lush courtyard connects it to the Rome Opera House. The rooms include free Wi-Fi access.
The spacious rooms at Hotel Quirinale are individually furnished and come with parquet flooring and traditional furniture. A flat-screen TV with satellite and pay-per-view channels is provided in each room. Some apartments have views of the courtyard and tiny garden. Everyday breakfast is offered. À la carte dining options are also available, and the hotel's Opera Bistrot is open all afternoon for more relaxed dinners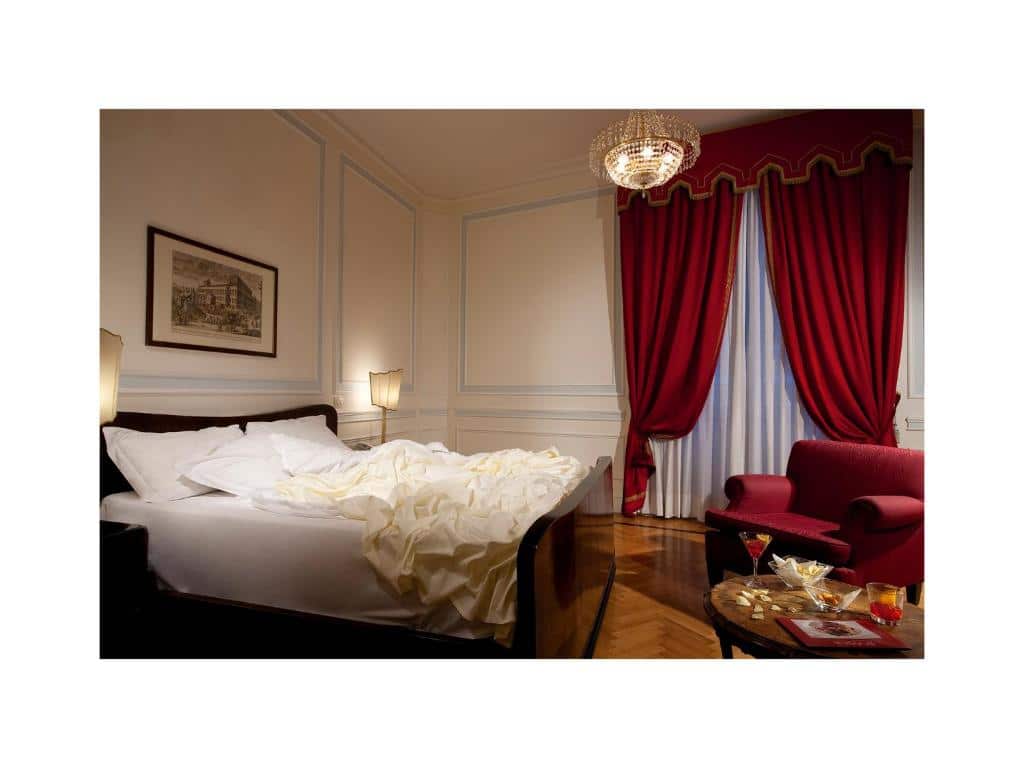 Amenities
Free Wi-Fi
Free breakfast
Accessible
Air-conditioned
Laundry service
Business center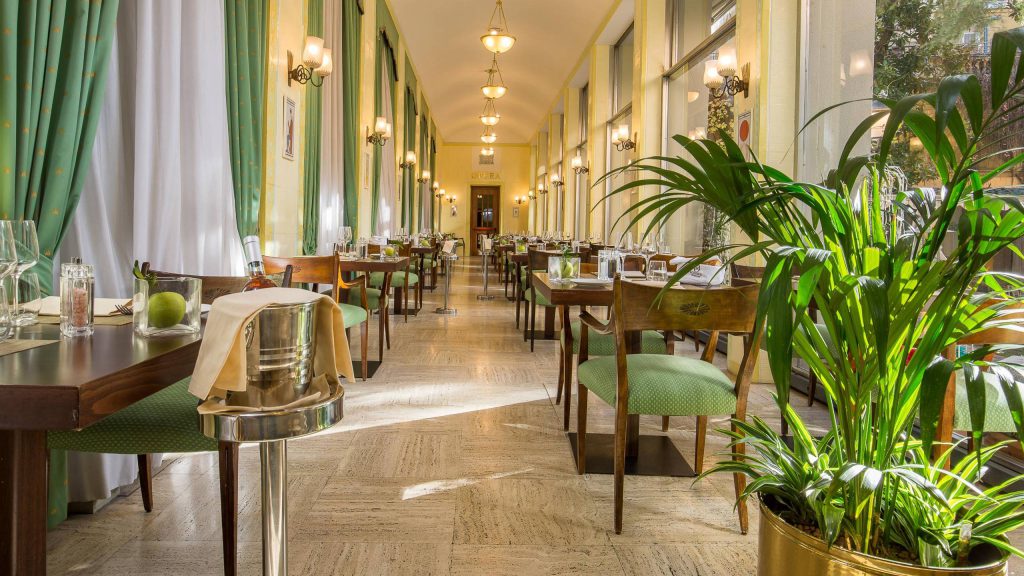 Viale Castello della Magliana 65, Magliana Vecchia, 00148 Rome, Italy
Every morning, an American buffet breakfast is served at the Holiday Inn Rome – Eur Parco Dei Medici. Mediterranean and international cuisine are served for lunch and dinner at La Serra Restaurant. In the summer, you can relax poolside or at the Incontro lounge bar. The Parco De Medici Golf Club is 1 km away from this 4-star hotel, and the Fiera di Roma convention center is 6 km away. Along with restaurants and stores, the Space Cinemas complex is located close by.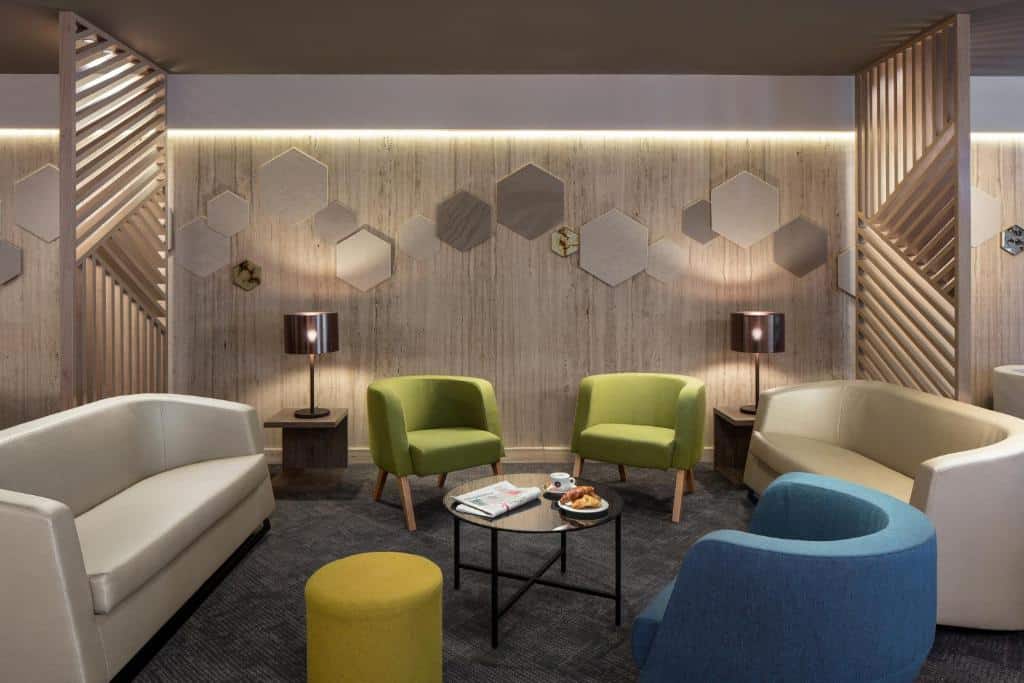 Amenities
Free Wi-Fi
Paid breakfast
Paid parking
Accessible
outdoor pool
Air-conditioned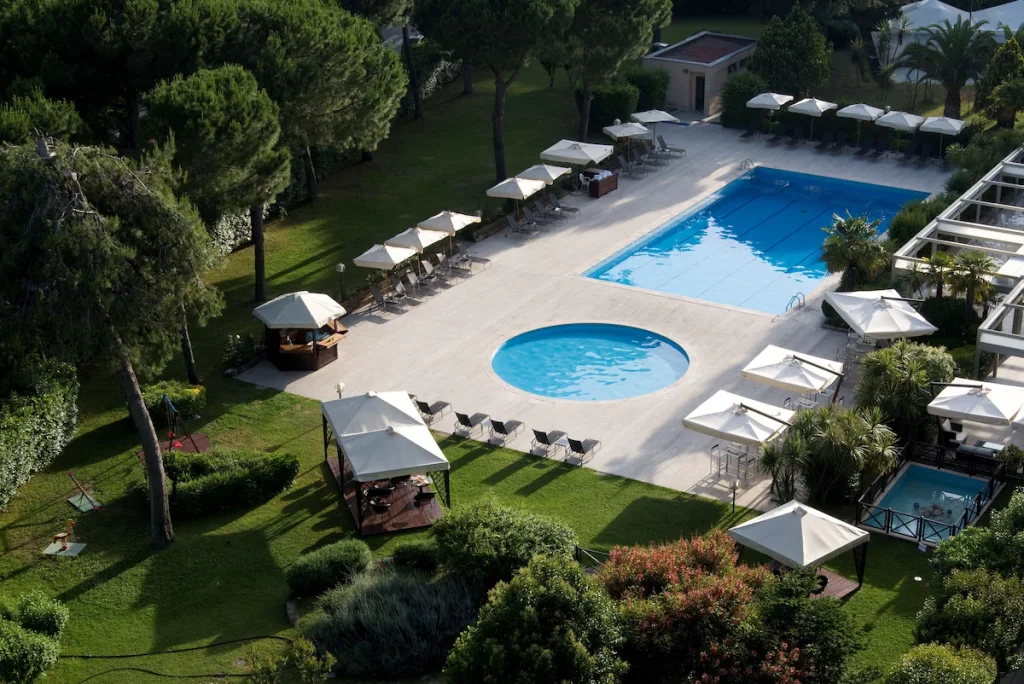 Cavour 213, Rione Monti, 00184 Rome, Italy
The FH55 Grand Hotel Palatino is located in Rome's Monti neighborhood, just 100 meters from the Cavour Metro and 5 minutes' walk from the Coliseum. It has a restaurant and an American bar. All areas offer free Wi-Fi.
The air-conditioned, minibar-equipped rooms in this hotel have satellite TV. Some offer rooftop views of Rome. Traditional Italian cookery and Roman cuisine are the focus of Le Spighe restaurant. The substantial breakfast buffet opens at 6:30. The FH55 Grand Hotel Palatino is a short stroll from the Forum and the Parco di Traiano. One metro stop separates Termini Train Station from Esquilino, which has marketplaces and a wide variety of ethnic restaurants.
Amenities
Free Wi-Fi
Breakfast
Accessible
Air-conditioned
Laundry service
Business cente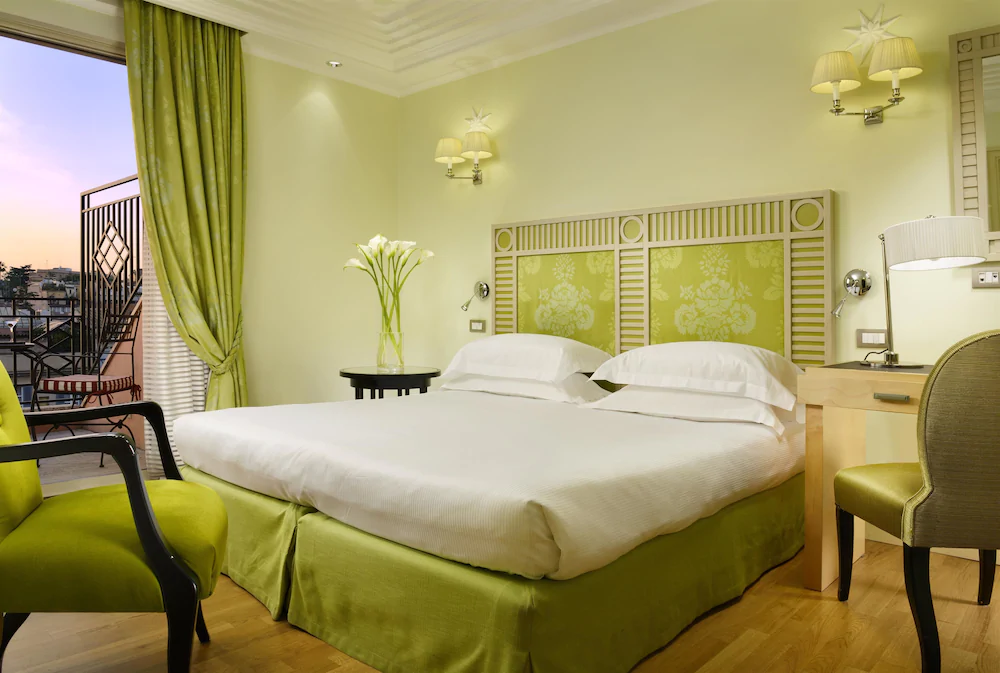 G. Amendola 3, Central Station, 00185 Rome, Italy
A traditional hotel in the style of the 1930s, Nord Nuova Roma features soundproofed rooms with satellite TV and free Wi-Fi. The distance to Roma Termini Train Station is 5 minutes by foot. The expansive sun terrace at Hotel Nord, which is accessible all summer, is a great place for guests to have an apéritif while taking in views of Rome. On the sixth floor, there is a meeting room and a gym that are completely furnished. The completely furnished marble bathrooms in the air-conditioned rooms come with either a bath or a shower. Breakfast can be consumed in the dining area or in the room. At the buffet, eggs, cold meats, yoghurt, and fruit are offered. Every afternoon and evening, the bar serves snacks and light meals, while dinner is served at a separate location.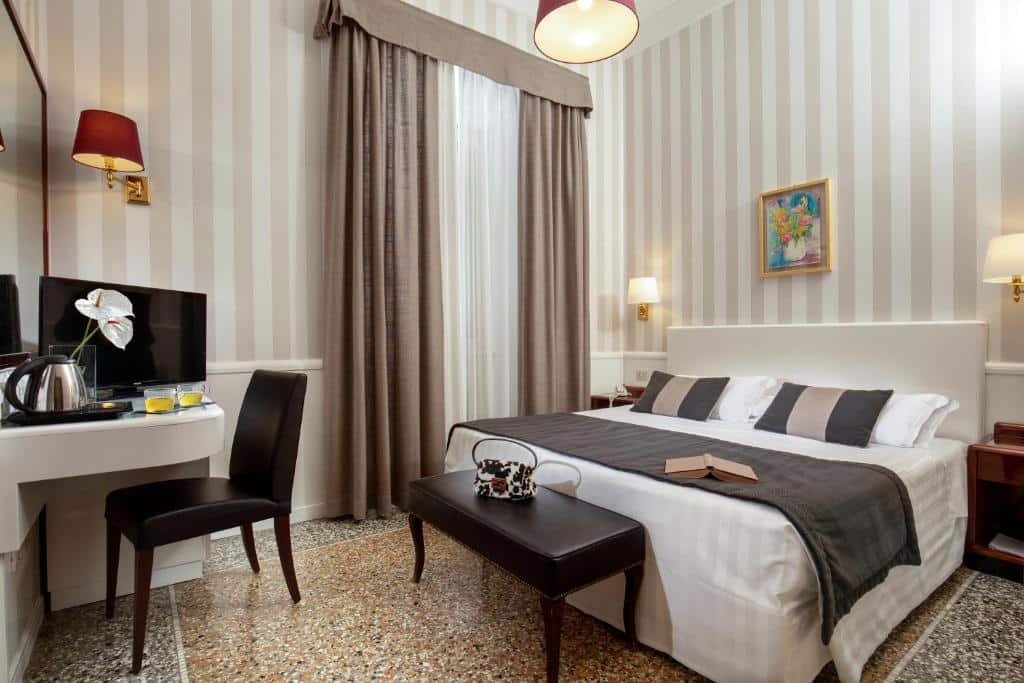 Amenities
Free Wi-Fi
Breakfast
Air-conditioned
Laundry service
Business center
Pet-friendly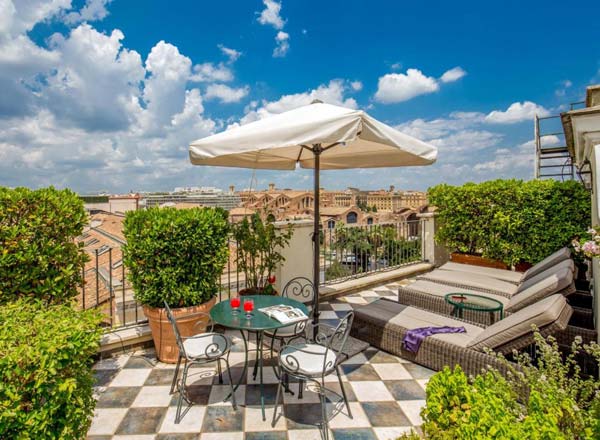 Riccardo Forster 24, Giuliano-Dalmata, 00143 Rome, Italy
In Rome's bustling EUR District, the Occidental Aran Park Hotel offers rooms with plenty of space that are surrounded by gardens. A panoramic restaurant is another amenity of the hotel. Every room at the Occidental Aran Park has a private balcony and a contemporary design. In addition to having satellite channels on the TV, air conditioning is a regular feature. A restaurant on the top level offers panoramic views of the countryside and a variety of Italian and foreign specialties. Food is provided on the terrace during the warmer months.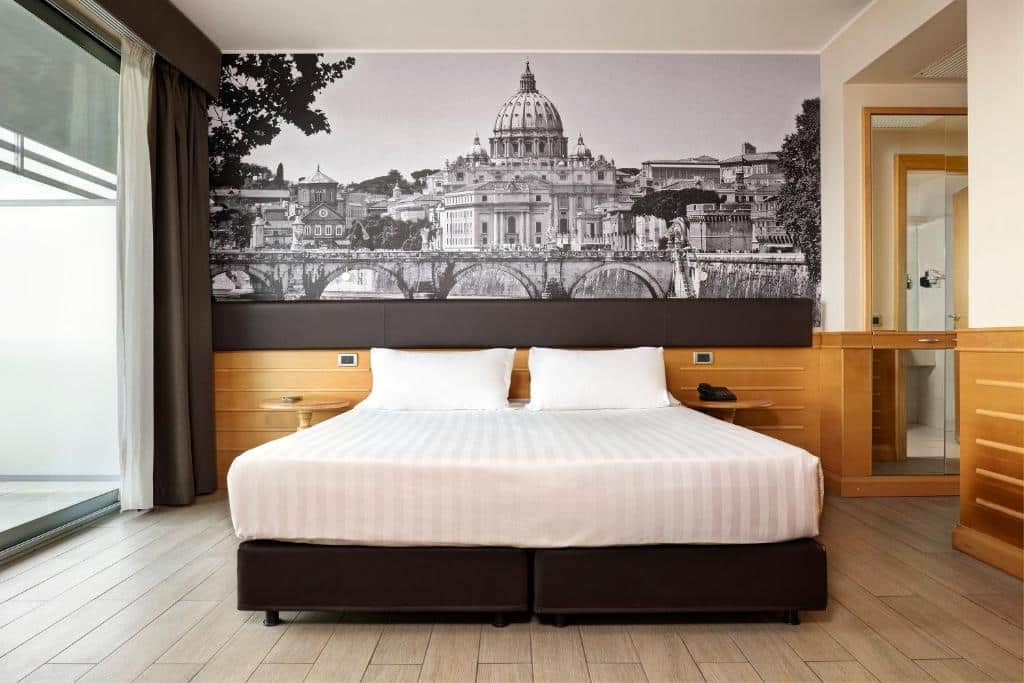 Amenities
Free Wi-Fi
Paid breakfast
Free parking
Accessible
air-conditioned
Laundry service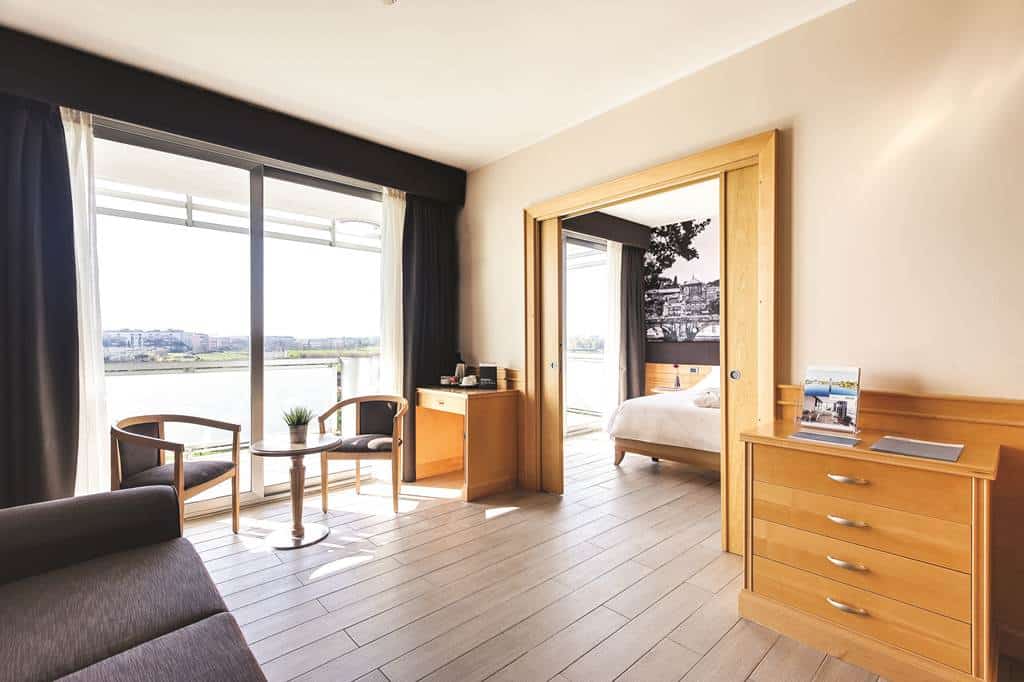 Arturo Mercanti, 63, Magliana Vecchia, 00148 Rome, Italy
Modern, air-conditioned rooms with free Wi-Fi are available at Ibis Roma Fiera. It is one kilometer from the Roma-Fiumicino exit of the motorway and has a fine dining restaurant and a bar right there. It is 10 kilometers to the Eur Magliana Metro Station.The modern rooms offer soundproofing and light-wood furniture. Each one has a radio, satellite TV, and a private bathroom with complimentary toiletries.
Traditional Italian cuisine is served at the on-site Oopen restaurant, along with freshly grilled meat. The facility also has a 24-hour reception and a business center.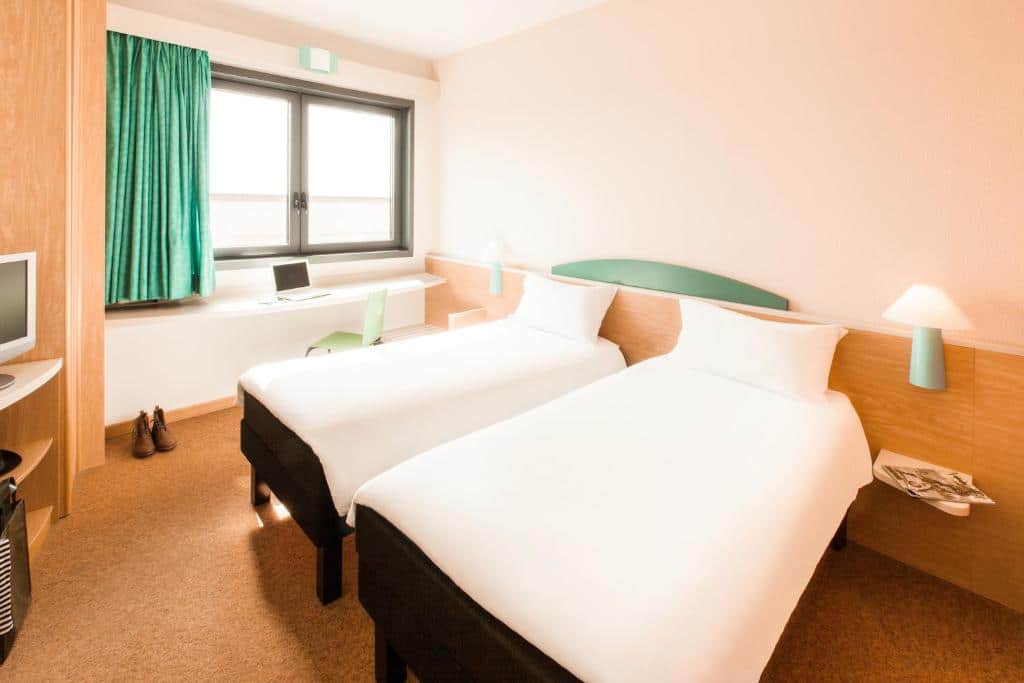 Amenities
Free Wi-Fi
Paid breakfast
Free parking
Accessible
Air-conditioned
Business center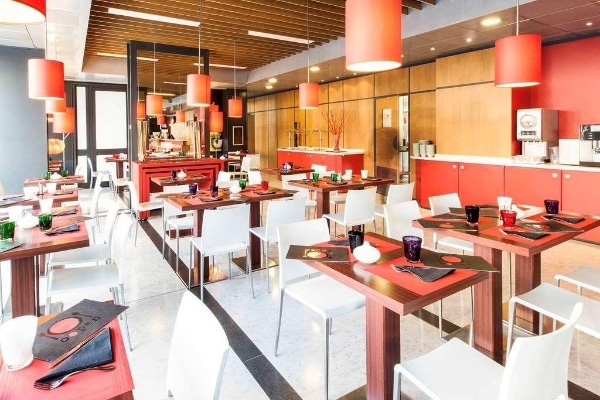 Mantegna 130, Ardeatino, 00147 Rome, Italy
The Tor Marancia neighborhood is home to the sizable design hotel Barceló Aran Mantegna. The building has a sizable business center and free Wi-Fi throughout. 600 meters separate The Aran Mantegna from Via Cristoforo Colombo. You can get to Basilica San Paolo Metro Station on foot in 20 minutes. Each air-conditioned room has a private bathroom with a hairdryer, a satellite flat-screen TV, and air conditioning. A 24-hour front desk, private parking, and 2 on-site restaurants providing both Mediterranean and traditional local fare are all features of the hotel. Breakfast is served buffet-style.
Amenities
Free Wi-Fi
Paid breakfast
Paid parking
Accessible
Air-conditioned
Laundry service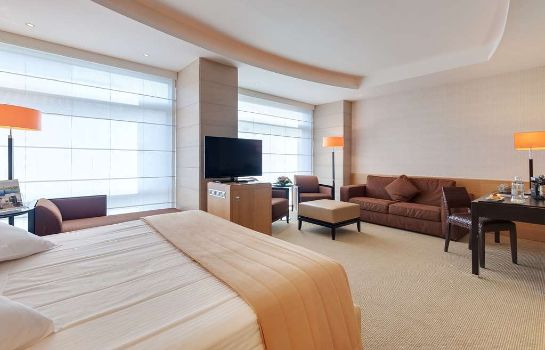 Aurelia 481, Aurelio, 00165 Rome, Italy
The TH Roma – Carpegna Palace is 200 meters from the Cornelia Metro Station on Rome's line A and is surrounded by a lovely garden with centuries-old trees. Free parking is available, and each room has a flat-screen satellite TV. Modern décor, a minibar, and pay-per-view TV channels are all features of the rooms. Free Wi-Fi is available in every accommodation, and some have tea and coffeemaking amenities. The hotel is housed in a historic structure close to Villa Carpegna Park and is four metro stops from St. Peter's Basilica. It takes 5 minutes to get to the A90 orbital highway.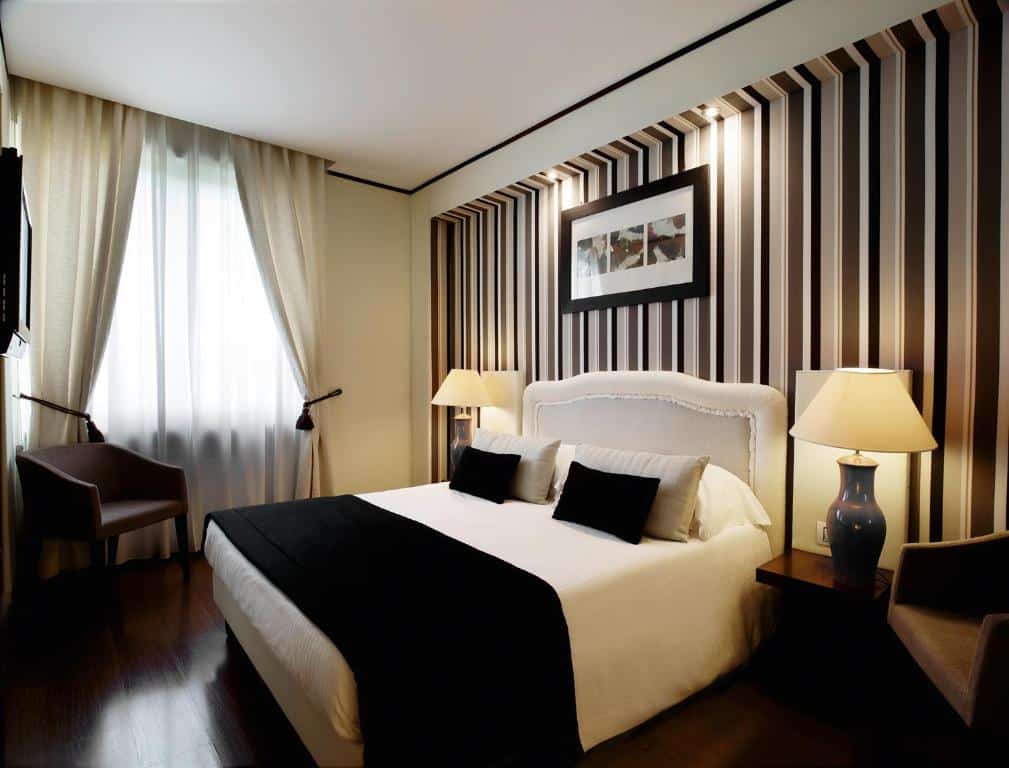 Amenities
Free Wi-Fi
Breakfast
Free parking
Accessible
Air-conditioned
Laundry service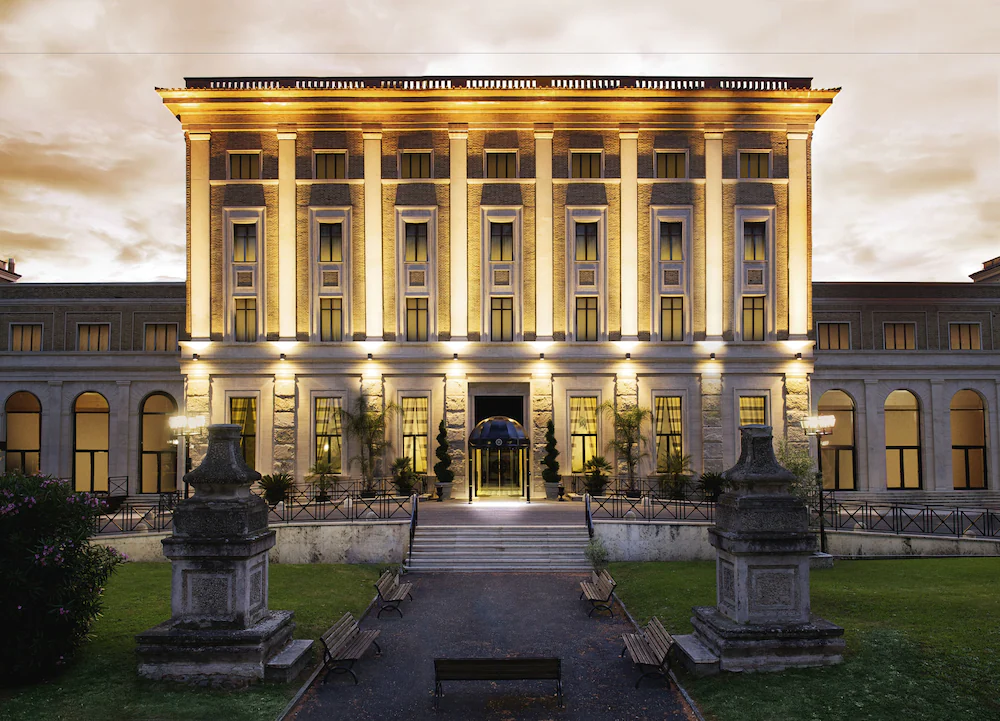 Giorgio Zoega 59, 00164 Rome, Italy
The A. Roma Lifestyle Hotel in Rome's Gianicolense neighborhood offers free Wi-Fi throughout and stylish air-conditioned rooms in addition to an outdoor summer pool, a fitness center, a restaurant with eight show cooking stations, and other amenities. There is a 10-minute stroll to Villa Pamphili. The hotel's rooms are all roomy and feature a 42″ smart TV with satellite channels, a minibar with soft drinks, tea and coffee making amenities, and some have balconies with views of the garden. The private bathrooms feature a hairdryer, toiletries, and both a bath and a shower. Reservations for massages and sessions in the wellness center, which has a sauna, steam room, and indoor pool, are available upon request. The hotel offers an American-style breakfast buffet.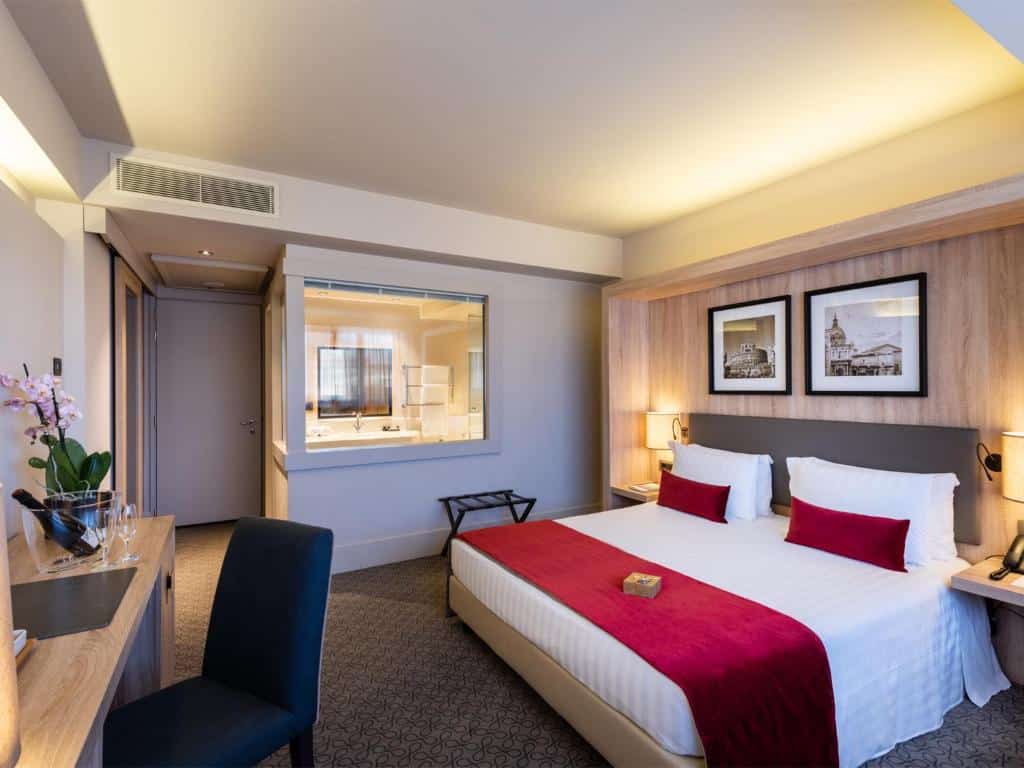 Amenities
Free Wi-Fi
Breakfast
Free parking
Accessible
Indoor pool
Air-conditioned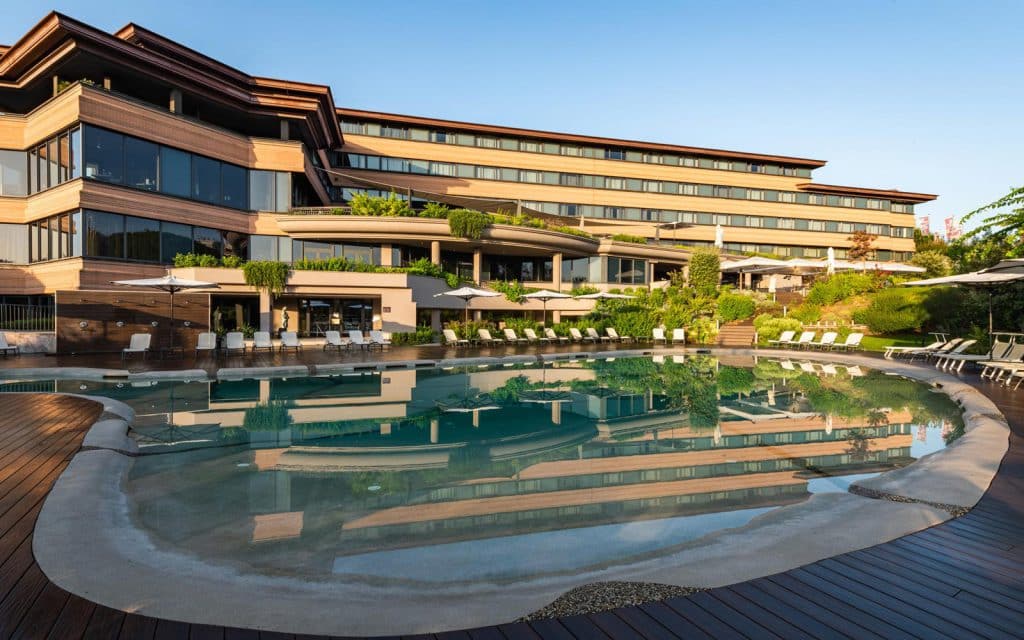 Are there any other fabulous hotels in Rome that you would recommend? Leave a comment and let us know!