Many different attractions can be found in Germany. There is always something enjoyable in Germany, whether it be the magnificent castles, the Black Forest, or the delectable German cuisine. Here is a fantastic overview if you want to sample some of Germany's most delicious cuisines.
Brot & Brötchen
A roll is a small, typically oblong or round, individual loaf of bread that is served as a side dish with meals. Rolls can be served and consumed whole, but they are also frequently cut and filled; the latter is known as a sandwich in both British and American English.
Käsespätzle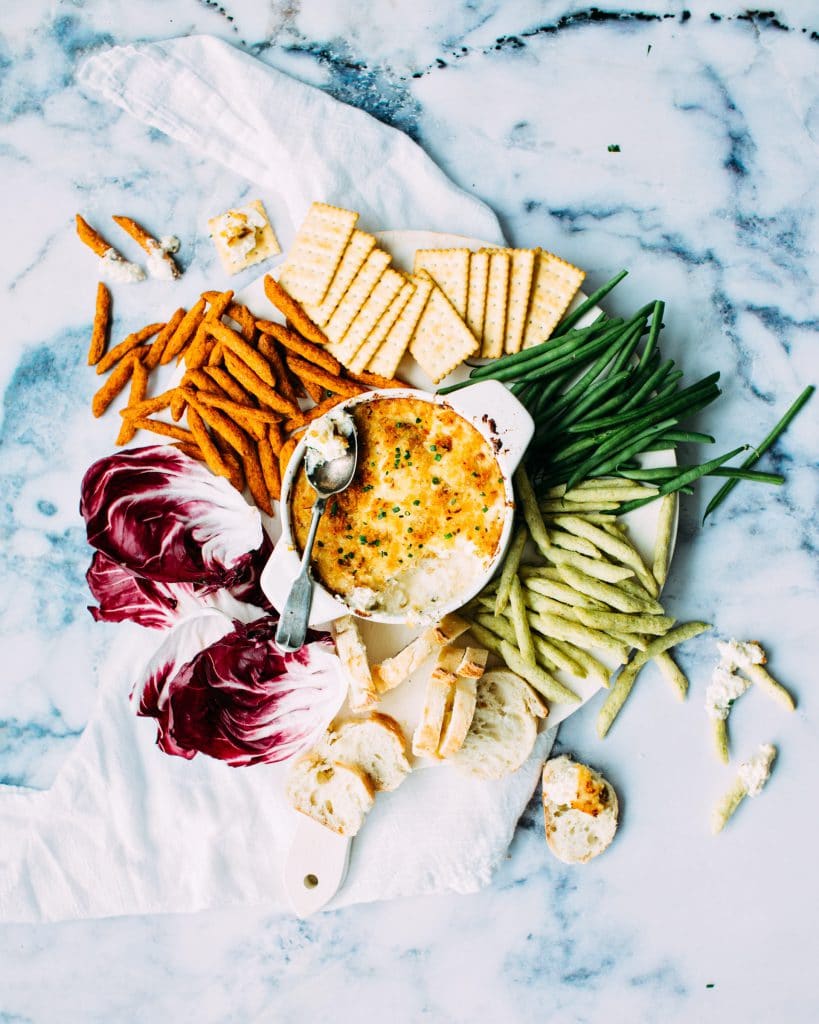 Käsespätzle is a traditional dish of the German regions of Swabia, Baden and Allgäu, and also in the Austrian regions Vorarlberg and Tyrol, as well as Liechtenstein and Switzerland.
Currywurst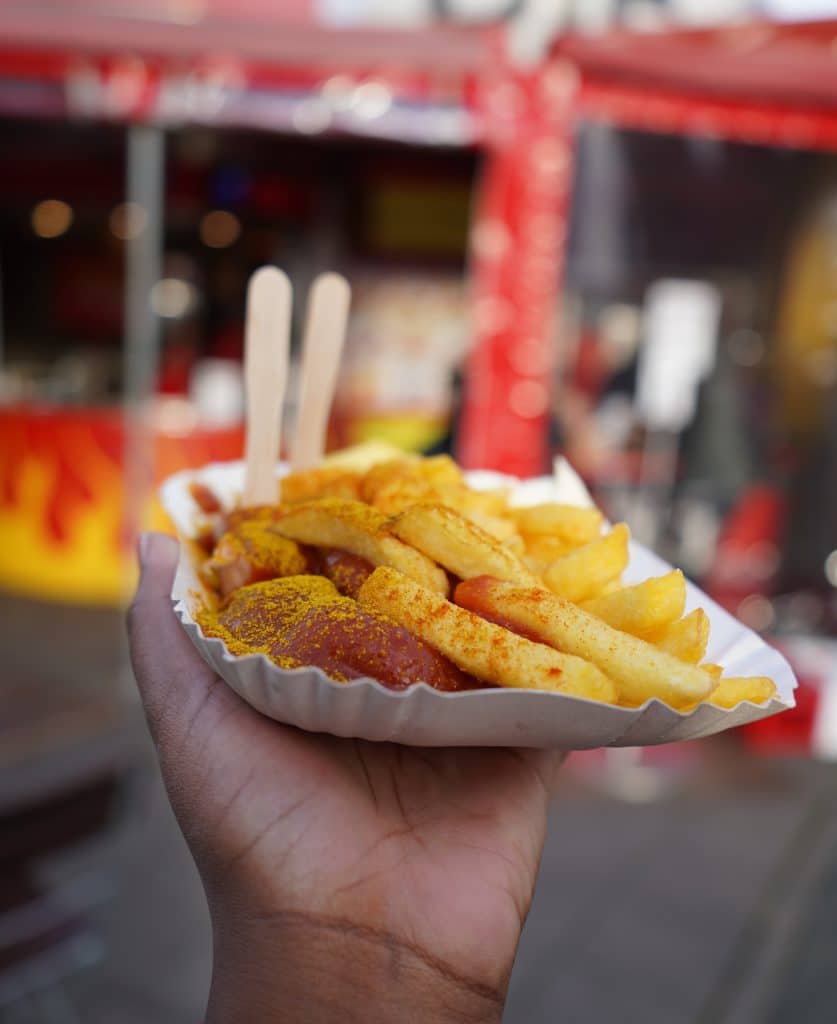 The German capital is notably credited as having invented the currywurst. Herta Heuwer, a savvy German housewife, in 1949 exchanged some spirits for ketchup with British soldiers. The meal was developed by the trade and consists of sliced German sausage, or wurst, that has been covered in ketchup and curry powder.
Kartoffelpuffer & Bratkartoffeln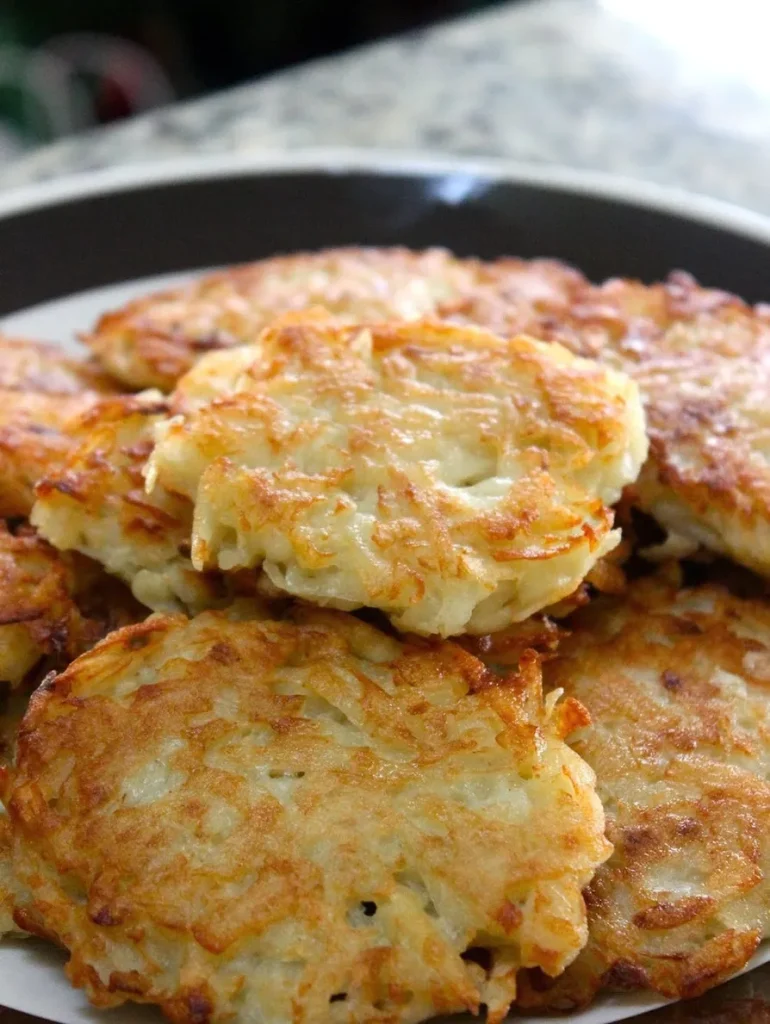 Kartoffelpuffer, or German potato pancakes, are a traditional German dessert appreciated in every region of Germany. They are not just a favorite dish to offer at home but also a well-liked street snack during regional Volksfests and seasonal festivities like Fasching, Karneval, and Christmas markets.
Rouladen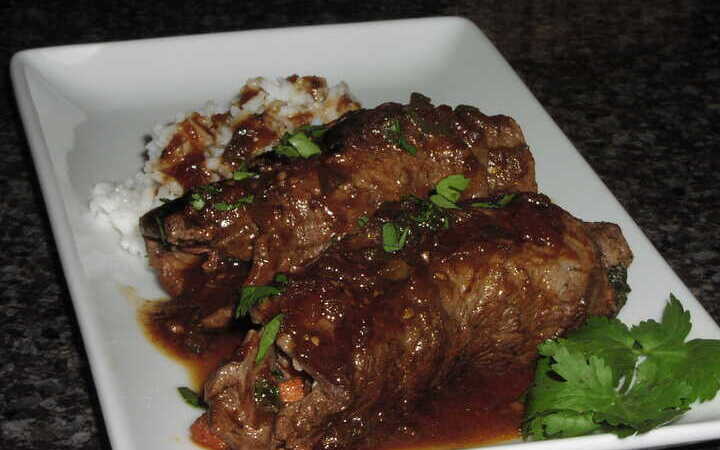 A traditional German dish that is hearty and flavorful is beef rouladen. These beef buns are slow-braised and covered with gravy created from the cooking sauce. The beef rolls' fillings include bacon, onion, pickles, and mustard.
Schnitzel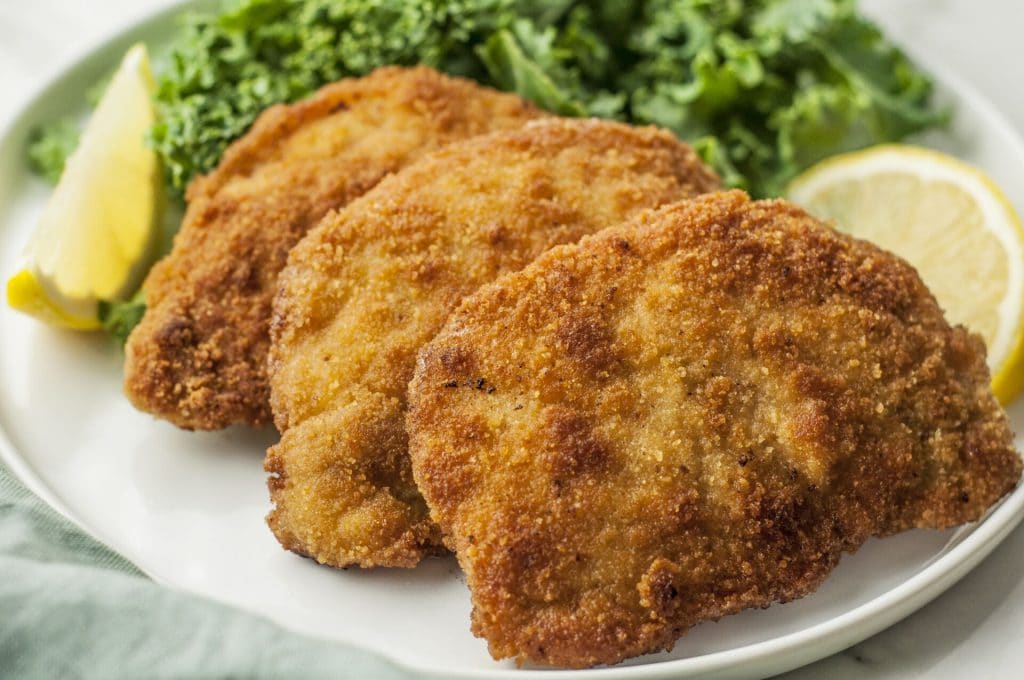 A thin piece of beef is called a schnitzel. Typically, the flesh is thinned by being pounded with a meat tenderizer. The meat is typically breaded before cooking. The meats used to make breaded schnitzel are veal, pork, chicken, beef, mutton, or turkey.
Eintopf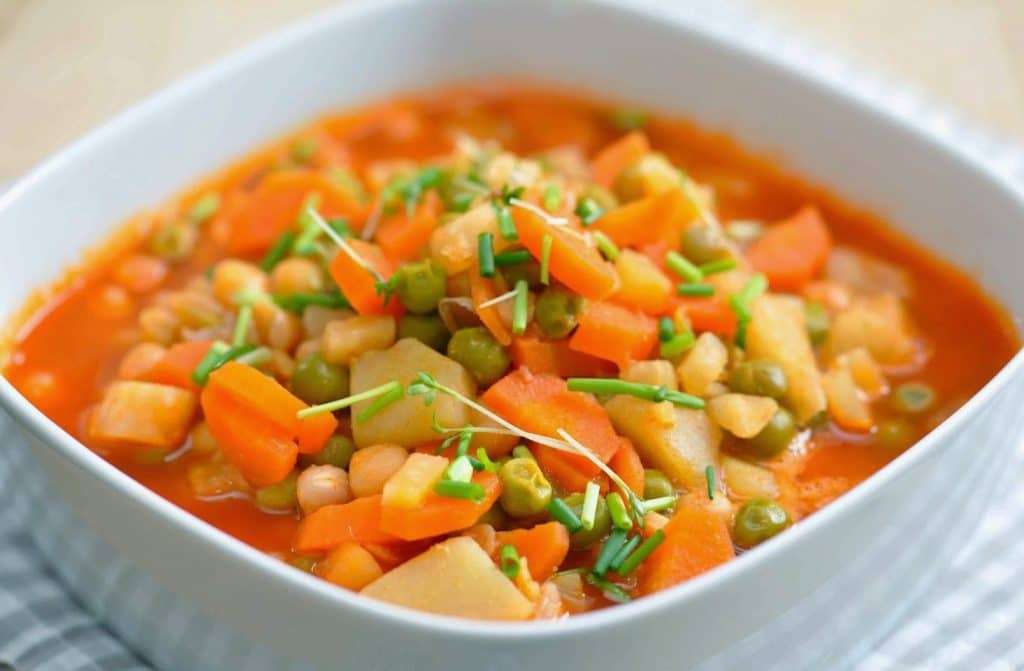 German potato soup is highly well-liked there, and you probably already know that Germany has the best potatoes in the world. Special potatoes are available for mashed, fried, and salad potatoes. This classic potato soup is simple to prepare and tastes great when served with Frankfurters or Wiener sausages.
Sauerbraten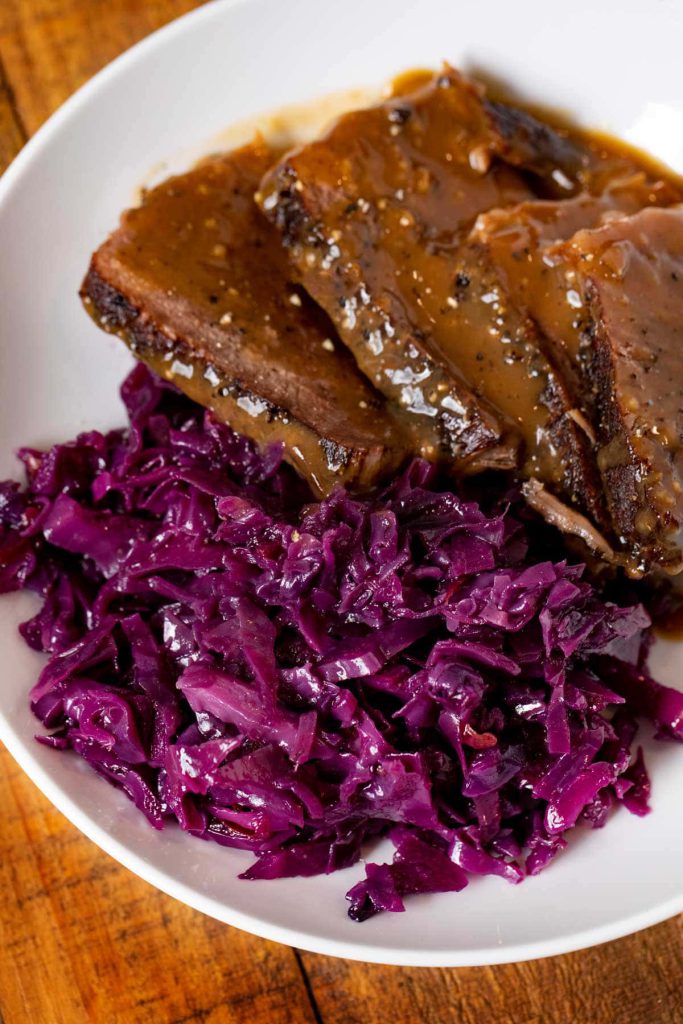 Traditional German roast of extensively marinated meat is known as sauerbraten. It is widely offered in restaurants with a German-style menu around the world and is regarded as the national dish of Germany. The most common meat used to prepare it is beef, but other options include venison, lamb, mutton, hog, and horse.
Brezel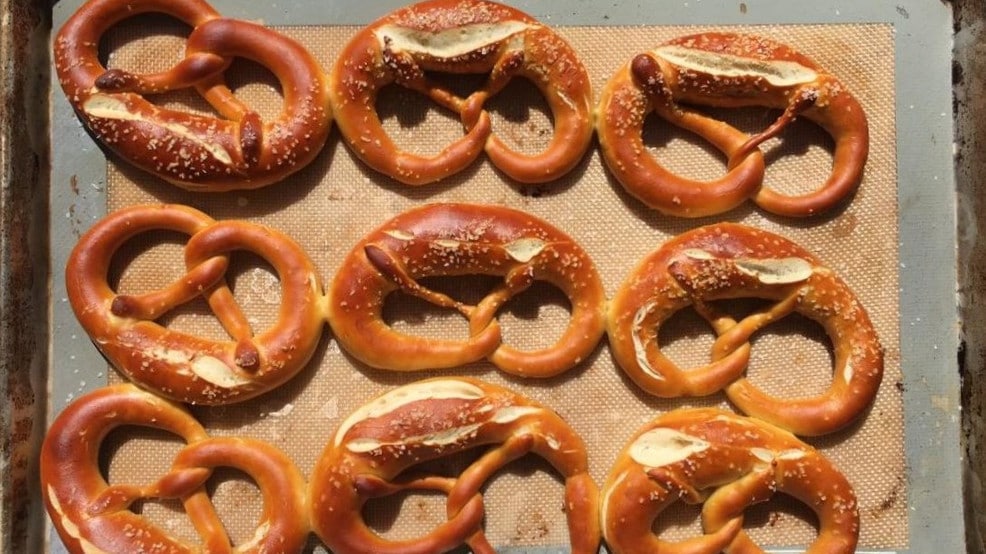 German soft pretzels, known as Brezeln or Brezen in Germany, have a chewy, bread-like interior and a rich brown exterior that results from soaking them in a lye- or baking soda-based solution before to baking.
Schwarzwälder Kirschtorte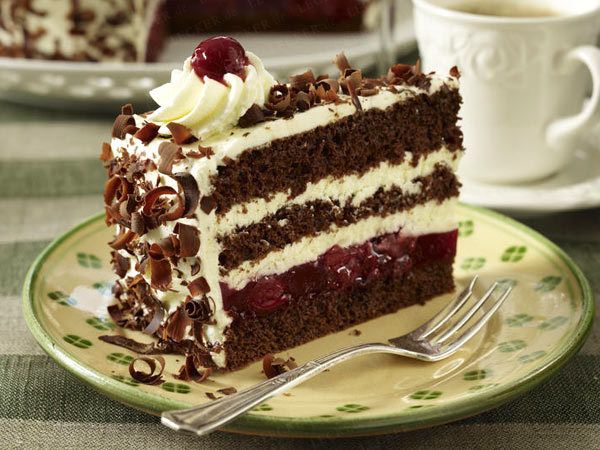 Blackwälder Kirschtorte, also known as Black Forest Cherry-torte in German, is the inspiration for Black Forest gâteau, also known as Black Forest cake. It is a chocolate sponge cake with a luscious cherry filling. Black Forest gateau typically has multiple layers of chocolate sponge cake between which are placed whipped cream and cherries.
Königsberger klopse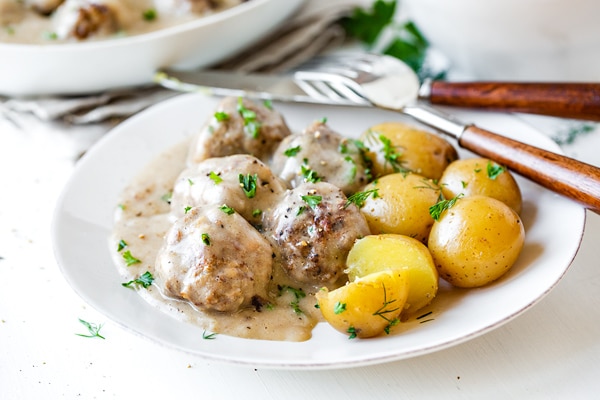 Königsberger Klopse, often spelled Soßklopse, are a specialty of Germany made of meatballs in a caper-infused creamy white sauce.
Maultaschen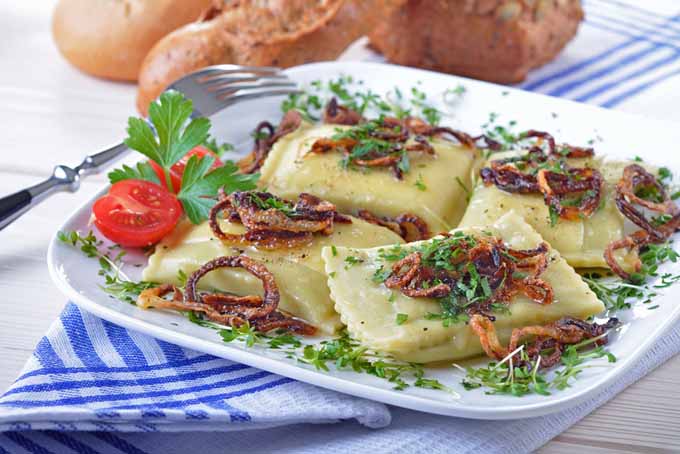 In Swabian cooking, maultaschen are a type of big meat-filled dumpling. They are made of spaghetti dough sheets that are stuffed with ground beef, smoked beef, spinach, bread crumbs, and onions and are seasoned with a variety of herbs and spices. Maultaschen typically measure 8 to 12 centimeters in diameter. They have a rectangle or square form.
Labskaus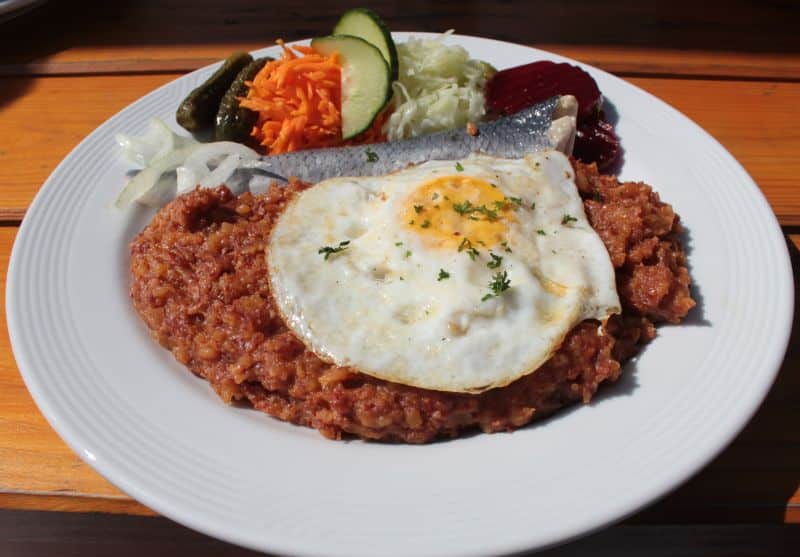 A meat and potato-based thick stew from Norway is called lobscouse. Labskaus is a delicacy popular in northern Germany, especially in Bremen, Hamburg, and Lübeck. Potatoes, onions, and salted beef are the key ingredients.
Sausages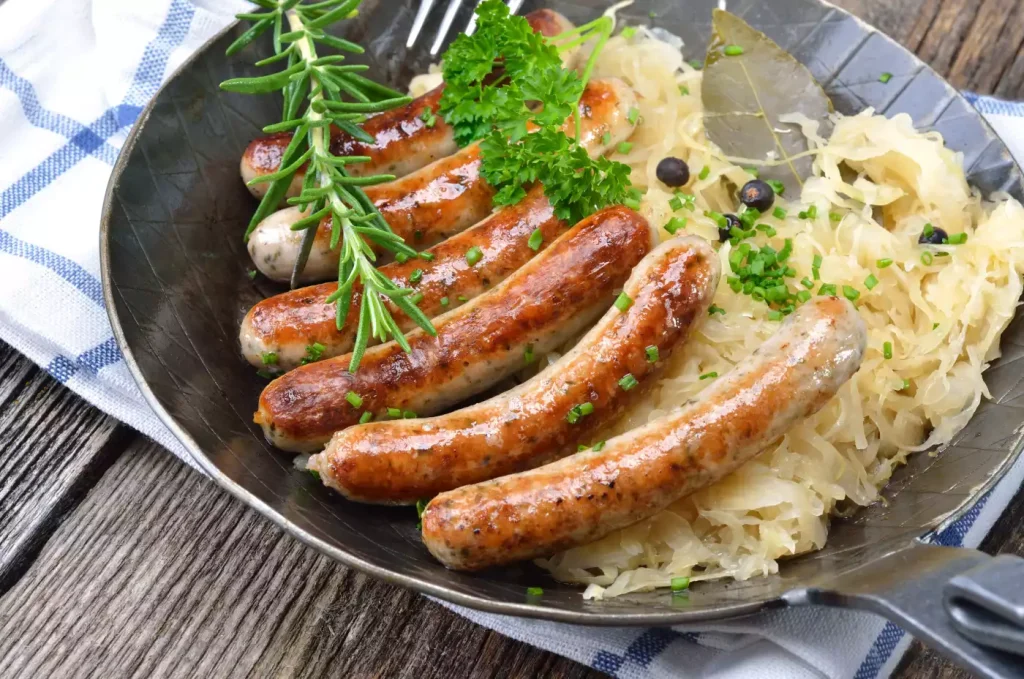 A sort of meat product called a sausage is often formed with ground meat, mainly pork, beef, or poultry, combined with salt, spices, and other flavorings. As fillers or extenders, additional ingredients like breadcrumbs or grains may be included.
Döner kebab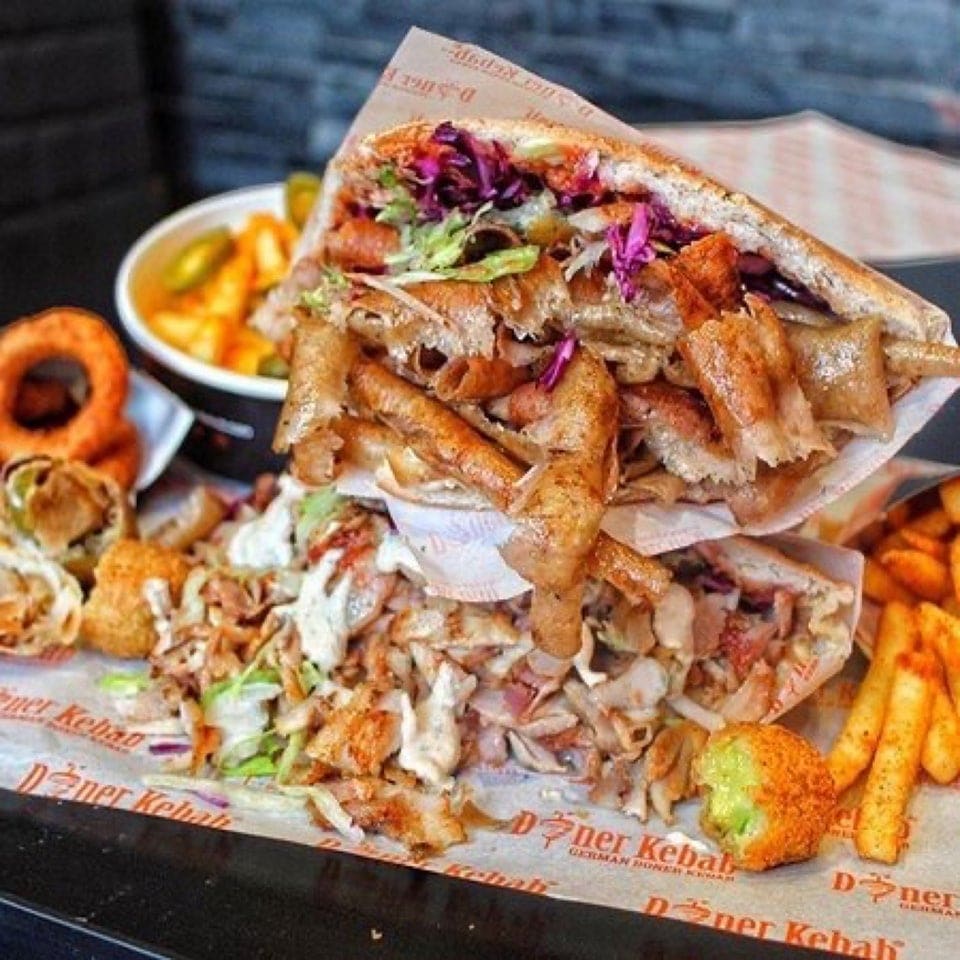 Popular fast food dish doner kebab, sometimes spelled döner kebab, is comprised of beef grilled on a vertical rotisserie. On the rotisserie, next to a vertical cooking element, seasoned meat is layered and gently rotated in the shape of an inverted cone.
Himmel un ääd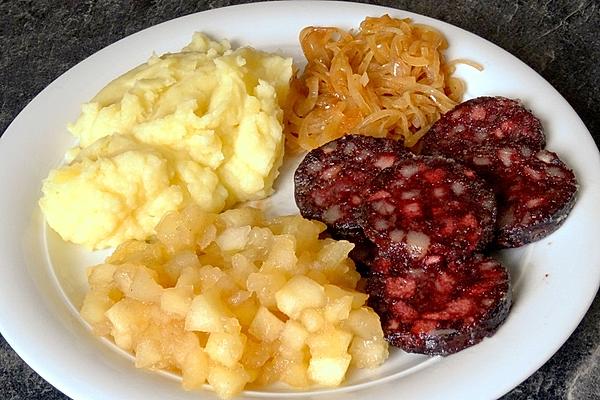 The dish's name is derived from its components: potatoes from the ground and apples from the sky (trees). The food is great on its own. It's kind of pleasant to have black pudding served with mashed potatoes, fried onions, and sweet apple sauce!
Zwiebelkuchen and federweisser
Onion tarts, also known as zwiebelkuchen, are made of yeast dough and topped with bacon bits, rich cream, and fried onions. It pairs beautifully with light federweißer.
Pinkel mit grünkohl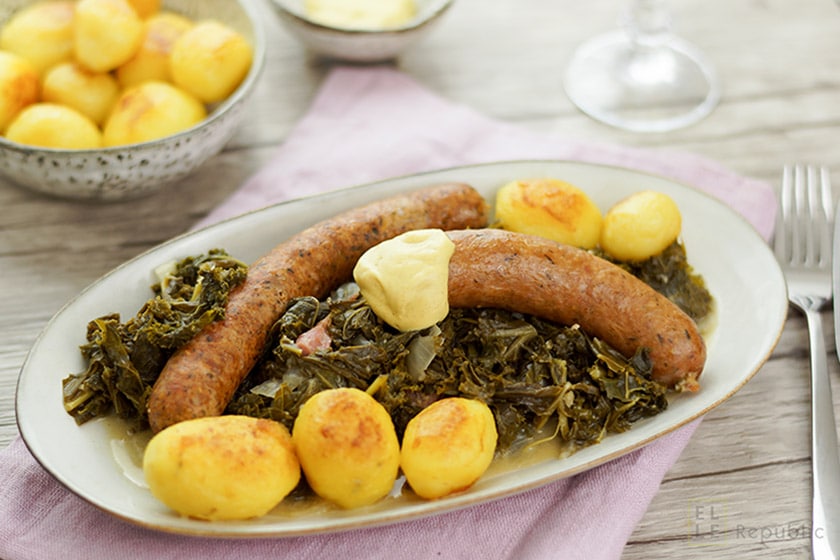 A smoked Kaszanka, or sausage, is called a pinkel. It is primarily consumed in northwest Germany, particularly in East Frisia and Friesland as well as the area around Oldenburg, Bremen, and Osnabrück.
Spargel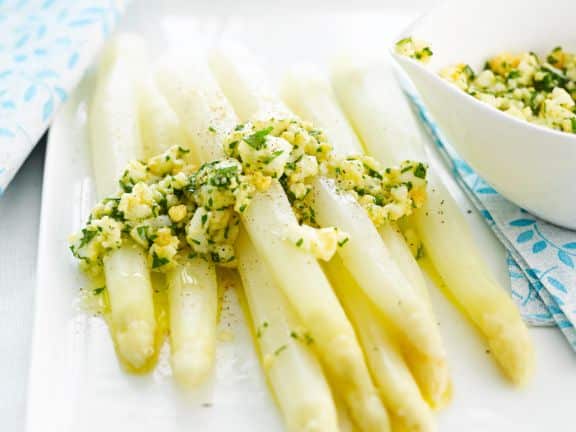 Garden asparagus, often known as sparrow grass and given the scientific name Asparagus officinalis, is a perennial flowering plant species. Spring vegetables are made from its fresh shoots.
Reibekuchen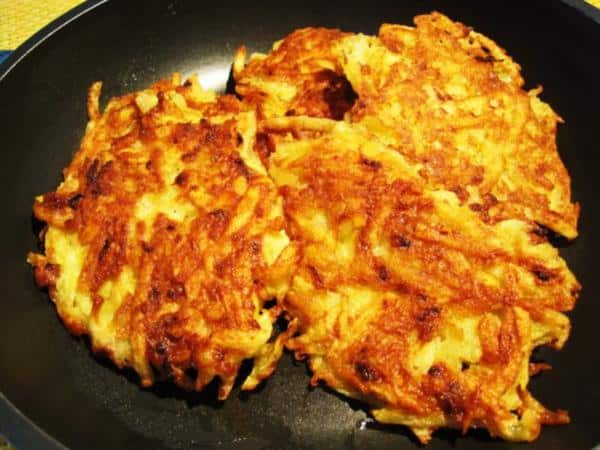 Potato pancakes are shallow-fried pancakes made from shredded or crushed potatoes, matzo meal or flour, and a binder like egg or applesauce. They are frequently seasoned and flavored with minced garlic or onion. They can be eaten simple or with a variety of toppings, including both savory and sweet ones.
Rollmops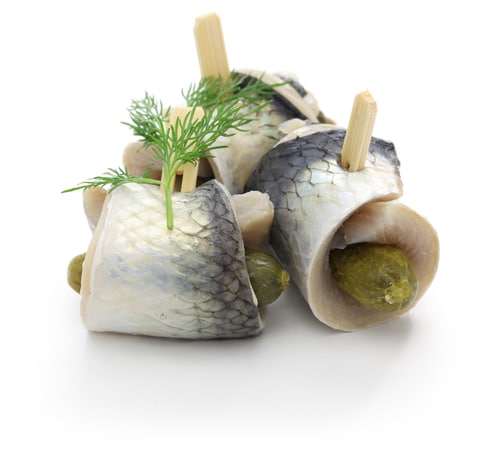 Pickled herring fillets are rolled into a cylindrical shape, frequently around a flavorful filling, to make rollmops.
Käsekuchen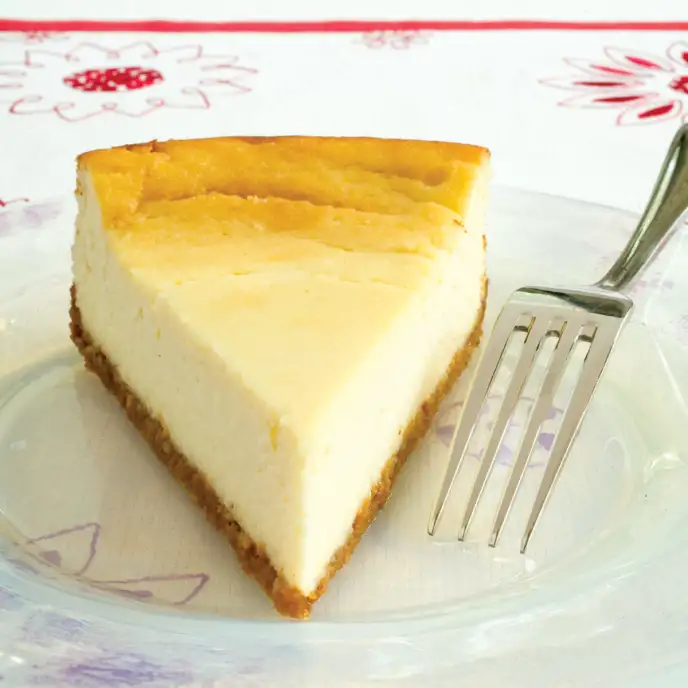 A delicious dish with one or more layers is called cheesecake. The main layer, which is also the thickest, is made out of a combination of soft, fresh cheese, eggs, and sugar. If there is a bottom layer, it typically comprises of a base made of pastry, sponge cake, or crushed cookies or graham crackers.
Spaghettieis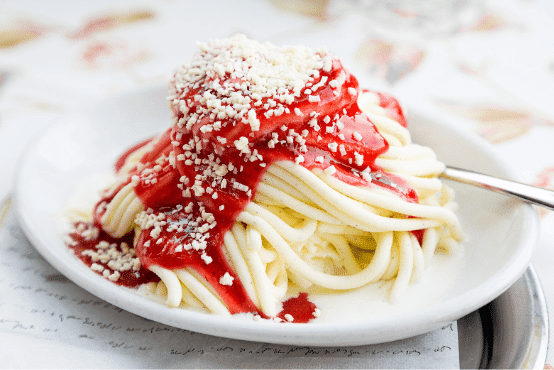 A German ice cream dessert called spaghettieis, or spaghetti ice cream, is designed to look like a plate of spaghetti. A customized Spätzle press or potato ricer is used to extrude vanilla ice cream into the dish, giving it the appearance of spaghetti.
Germany's culinary landscape is a delightful tapestry of flavors that will leave any food lover craving for more. From the hearty and comforting Bratwurst and Sauerkraut to the mouthwatering Schweinshaxe and Spätzle, Germany offers a wide range of dishes that cater to all tastes and preferences. Let's not forget the delectable Black Forest Cake and the refreshing Hefeweizen beer that are icons of German cuisine.
Whether you're indulging in the street food scene, exploring traditional gasthofs, or dining in Michelin-starred establishments, the top 20+ irresistible dishes in Germany are a true feast for the senses, allowing you to savor the country's culinary heritage and experience the pleasure of good food.
Share with us your favorite German dishes in the COMMENTS section below!