Porto is the second-largest city in Portugal, one of the oldest in Europe, and has a magnificent old city center that has been designated as a UNESCO World Heritage Site. Porto has so many awesome things to do. Everyone looks to be catching on to how much a visit to Portugal is needed on the good old vacation plans these days. But, for those who are still undecided about what to do in Porto, we have compiled a list of the top ten things to do in Porto. So, without further ado, let's get started.
10. Take a stroll around Douro's Ribeira
Get lost in Porto's tiny lanes, which are full of ups and downs, colorful buildings, and caricature corners. Douro's Ribeira is one of the city's oldest and most attractive neighborhoods. The view above the river and the Rabelo boats, which are traditional Portuguese wooden cargo boats used to transport people and goods along the Douro River that cross the waters, fascinate tourists and locals. Charge your camera and phone batteries before you come because it will be very hard not to snap everything here. It also boasts several excellent restaurants, pubs, and stores. Also, don't miss out on visiting Casa do Infante to understand more about the historical evolution of this Invicta neighborhood or take a plunge at the stunning Palácio da Bolsa.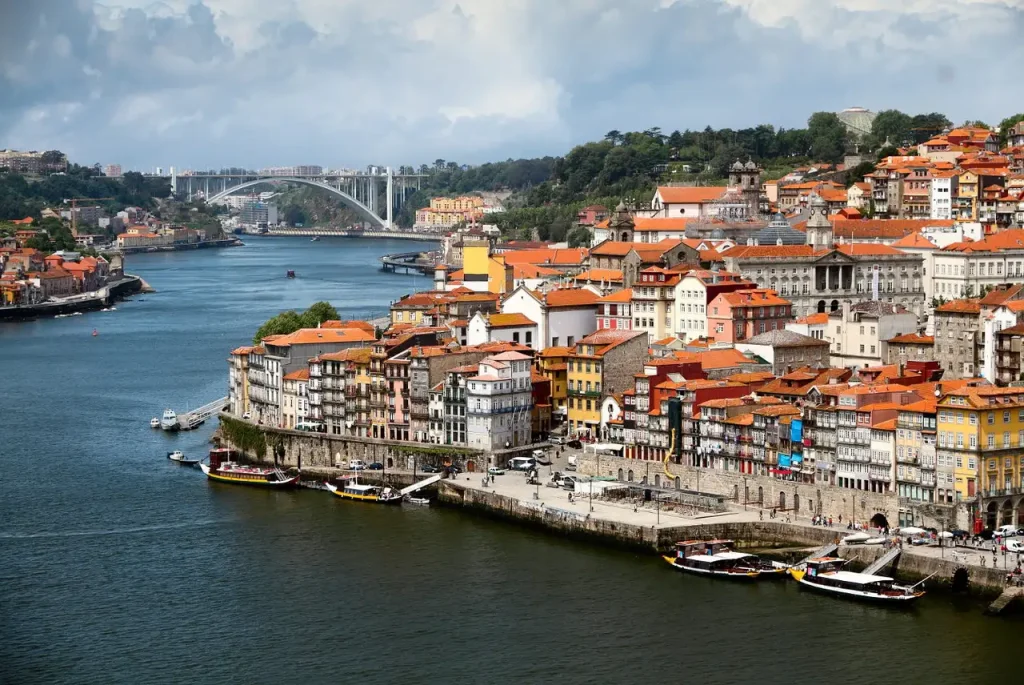 9. Follow the iconic Porto street art route
If you want to see a different side of Porto, leave the big attractions at rest and hit the streets. Keep a look out for Porto's ancillary population of beautifully colored murals, painted by the city's skilled street painters, as you walk the backstreets and nip through alleyways. Start the street art trail by checking out some of the major hitters, such as Daniel Eime's gigantic photo-realistic mural Mira on the Largo de Artur Arcos or Vhils' passionate tribute to healthcare workers at the Hospital So Joo with his characteristic carving style. Other notable sites to look for street art include Travessa de Cedofeita, the graffiti-covered Rua da Madeira, and Ribeira's Rua das Flores. Other must-sees are Mirigaia's Rua So Pedro de Miragaia, the gallery-lined Rua Miguel Bombarda, and the Trindade car park, which has pieces by street art demigods MrDheo and Hazul Luzah.
8. Praça da Liberdade
The great open spaces of Santo Ildefonso's square and boulevard feel a world away from the narrow streets of the Cais da Ribeira. The Praça da Liberdade was designed in the 18th century as a new urban arrangement and is limited to the south by the Neoclassical Palácio das Cardosas; an 18th-century monastery turned hotel. There is an equestrian statue of Brazil's Pedro IV, who is known as a democratic reformer. With imposing municipal buildings, luxury stores, and the Belle Époque Majestic Café on Rua Santa Catarina, the streets nearby are some of the most luxurious in the city.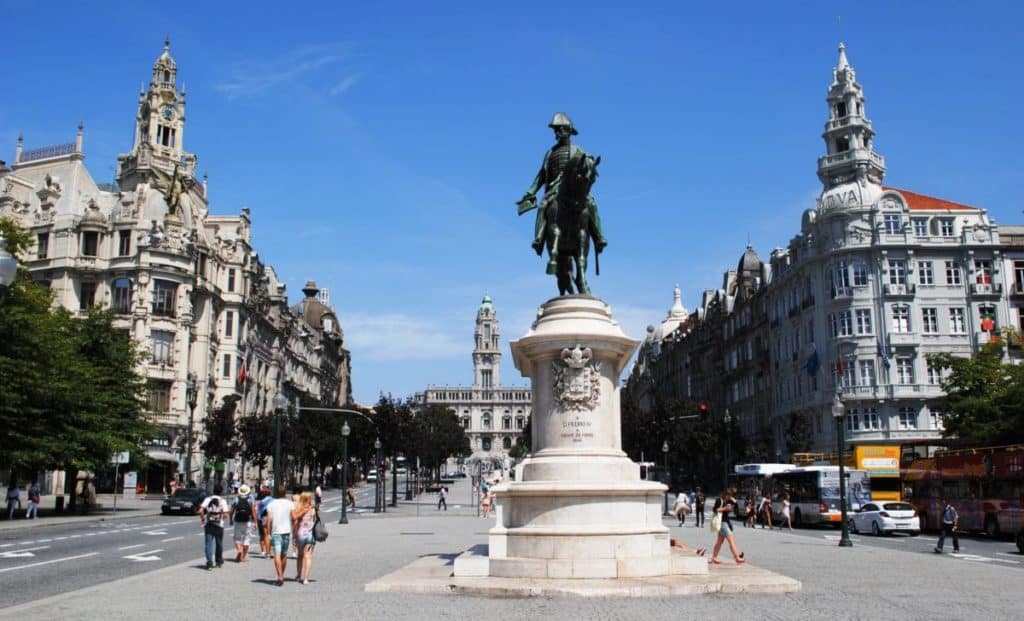 7. Try the Pasteis De Nata at Confeitaria Do Bolhao
The modest yet mighty Pastel de Nata is the birthplace of one of the greatest sweet delights you could ever want to put in your mouth. They're exquisite and completely addicting, with impossibly crisp and flakey puff pastry tarts filled with the creamiest of egg custard and sprinkled with cinnamon. One of the best parts about living in the land of this delectable delicacy is that eating sweet pastries for breakfast is not only socially acceptable but also expected. Confeitaria do Bolho, t The exquisite 120-year-old bakery selling Porto's finest Portuguese tarts, arrufadas or sweetbreads, croissants, and other delicious flaky sweet delicacies, can help you get your pastry on.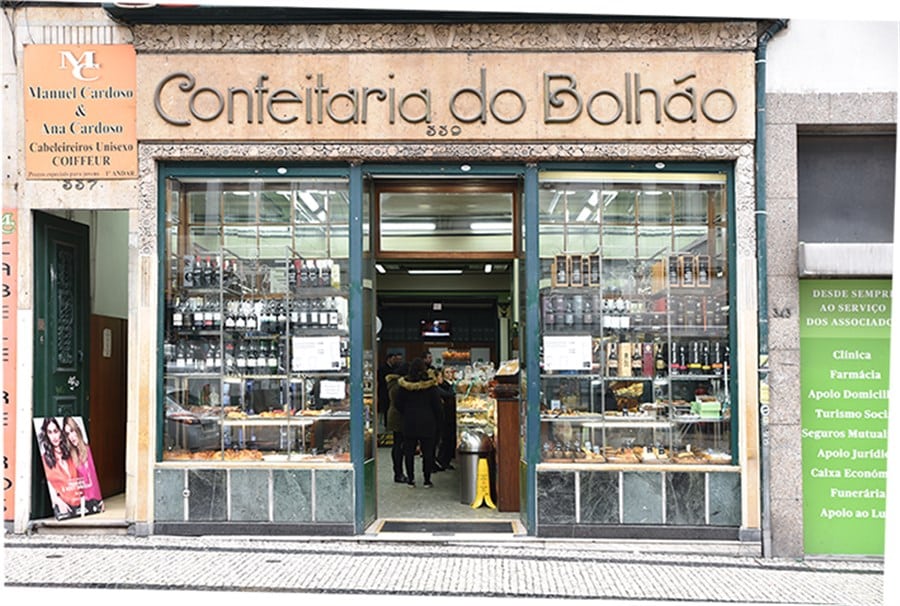 So, do what the locals do and get a coffee, select your pastry, and relax in the dining area in the back.
6. Try Port Wine
When in Porto, sip Port wine. It's that easy! The drink of choice is a fortified wine produced solely in the Douro Valley. There are several ways to experience this flavorful wine, ranging from red to tawny, and even diverse rosé collections. A Cálem Cellar Tour with a Fado Show and Wine Tasting are one of the most popular alternatives! Don't worry if you don't like this sweet selection. Porto and its surrounding area are not only famous for Port wine but also for having the greatest variety! Wine enthusiasts could take advantage of this by arranging a vineyard tour or tasting into their Porto itinerary.
5. Visit Zoo Santo Inácio
Zoo Santo Inácio is less than 10 minutes from Porto's city center and home to over 200 animal species, including rare snow leopards and southern white rhinoceros. The vast green habitats span 37 acres, making it the largest zoo in north Portugal. The Asian Lion Tunnel, the daily feeding of the Humboldt penguins with an educational talk by a zookeeper, and a large African Savannah filled with giraffes, rhinos, wildebeest, zebras, and ostriches are all its highlights.
4. Experience the Rich History of FC Porto
The second of Porto's European Cup titles came as a complete surprise, starting the career of Jose Mourinho, who has since won countless football trophies around Europe. FC Porto is important to the city and has a long history. Only Benfica has had greater success in Portugal. The Club's Museum in Estádio do Drago's East Stand depicts its story effectively, and you may take a guided tour to discover more. It is very modern, with interactive technology and multimedia. And, if a game is happening when you are in Porto, purchase a ticket.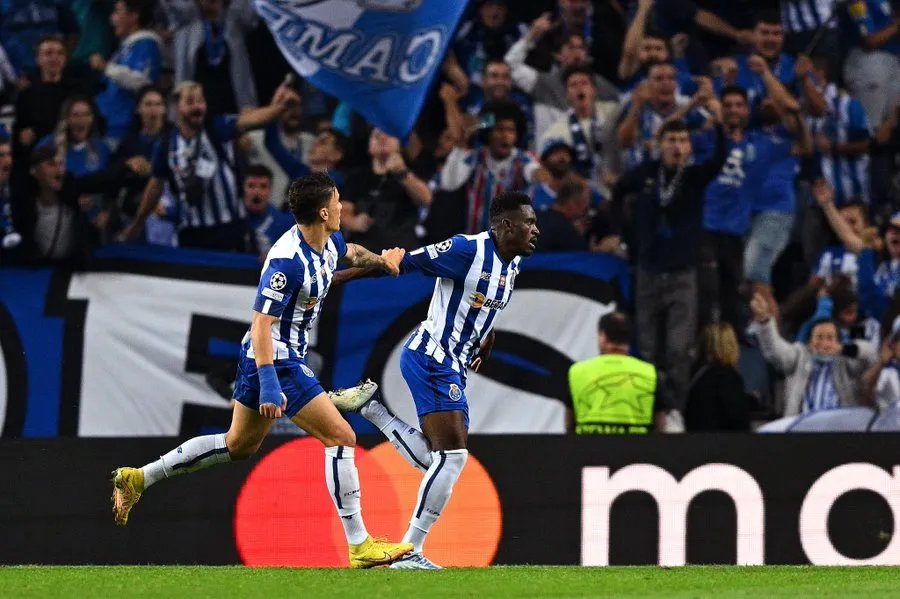 3. Rua de Santa Catarina
This is, without a doubt, the busiest commercial street in Porto and one of the most crowded – the majority of the street is purely for pedestrians. Aside from the usual clothing and footwear stores, this is where various street performers perform, from mimes to singers and statue men – there are several tiny acts that you won't want to miss! The amazing Café Majestic, one of the world's most beautiful and elegant cafés, is one of the sites to visit in Porto that can be found on this street. You may order everything you want here, but be aware that the prices are over average. Other highlights on this street are the amazing church Capela das Almas, where you can observe the exterior glazed-tile panels (about 15 000 glazed tiles), and the lovely Via Catarina retail center, which has an eating area on the top level and depicts the traditional quarters of Porto.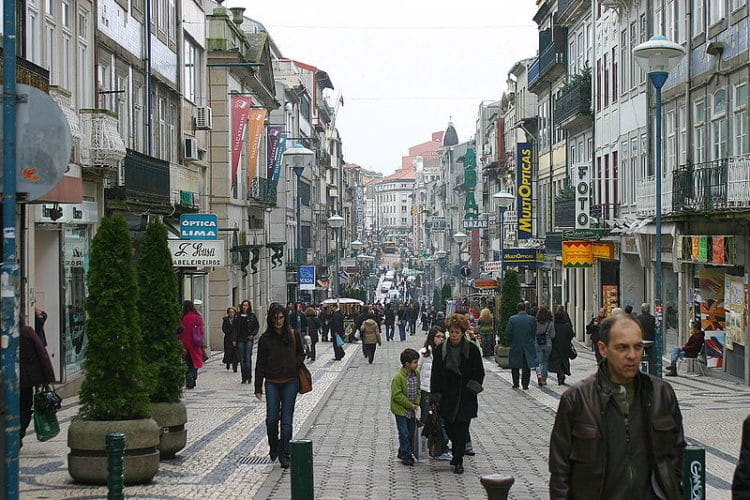 2. Admire the Porto Cathedral
The famous Romanesque Porto Cathedral, dating back to the 12th century, is the city's most prominent cathedral, located near So Bento Station at one of the highest points in the City of Bridges. To get there, either take a long but lovely walk up through the old town or join an often free guided walking tour, where you'll most likely pass through one of the city's most popular photographic hotspots: the historic Largo da Pena Ventosa square, where colorful buildings surround it enchantingly. Porto has a lot of hills, so wear strong, comfortable shoes!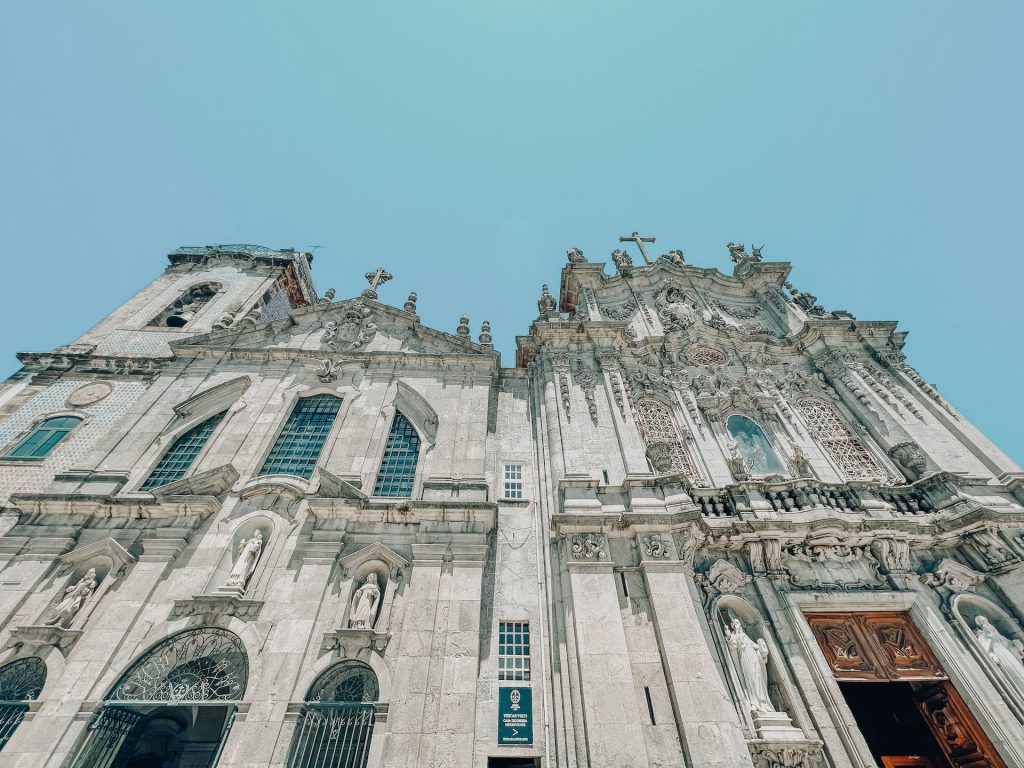 1. Freedom Square and Aliados Avenue
The most prominent square in Porto is Freedom Square. It was constructed in the fourteenth century and is situated in the city center, separating modern and ancient cities. From here, it is easy to go to Sao Bento Station and the Tower of the Clerics. You will see stunning monuments in the backdrop, including the Town Hall. The tower serves as a landmark, and the main monument depicts King Peter IV on horseback with the Constitutional Charter. If you visit in the afternoon or evening, you can also discover several vibrant pubs and restaurants in the area.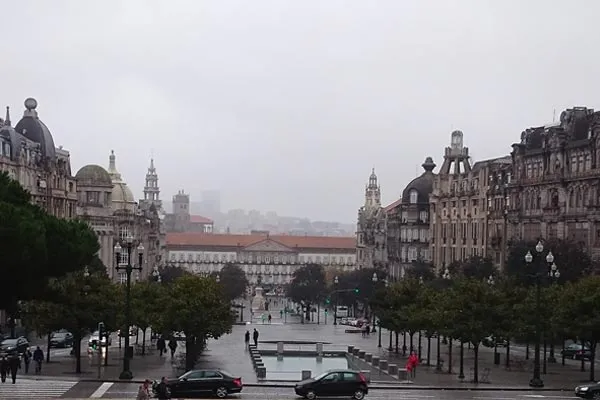 Top 10 Things to Do in Porto on a MAP
Try the Authentic Dishes in Portugal That You Must Try and visit the Best Wine Regions in Portugal Wine Country.
Have a question or comment about any of the best things to do in Porto? We'd love to hear from you. Leave your thoughts in the comments below.