Welcome to the vibrant city of Antwerp, a captivating destination that seamlessly blends rich history, artistic treasures, and a bustling modern atmosphere. In this article, we will unveil the top 10 things to do in Antwerp, ensuring that your visit to this Belgian gem is filled with unforgettable experiences. From exploring magnificent medieval architecture to immersing yourself in the world of diamonds and fashion, Antwerp offers a diverse range of activities that cater to all interests.
Whether you're an art aficionado, a history buff, or a fashion enthusiast, Antwerp is ready to captivate you with its charm.
So, get ready to embark on a journey of discovery as we reveal the must-see attractions and hidden gems that make Antwerp a destination not to be missed.
10. Learn about printing at the Museum Plantin-Moretus
This historic printing press was once considered one of the best in the world. Since 1876, the property has been home to the museum, which is currently a UNESCO World Heritage Site. It may seem odd for a museum to be designated a World Heritage Site, but after you see this interesting location, you will understand why.
The structure itself dates back to medieval times and, combined with the courtyard, is worth a visit in and of itself. When you combine this with a museum that houses the world's oldest printing machine, a 17th-century library, and a collection of important artwork, it's easy to see why the Museum Plantin-Moretus is so highly respected.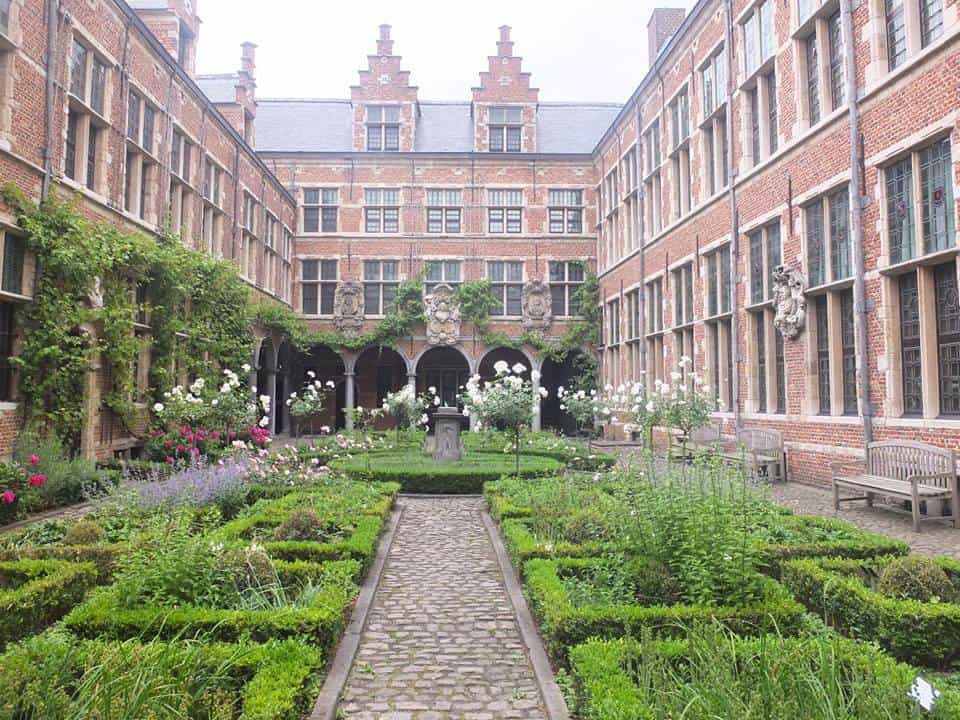 9. Museum Vleeshuis
One of the nicest things to do in Antwerp is go inside one of the city's magnificent medieval buildings, the Museum Vleeshuis. This is a historic Guildhall, and the name literally translates to 'Meat House' since this was where the city's butchers would gather to talk business.
The majestic structure you see now, with its spectacular facade, was built in the early 1500s, but it is currently used as a museum space, with a large collection of preserved artifacts that you can look through. The museum's major focus is music and instruments, but there's so much more to discover.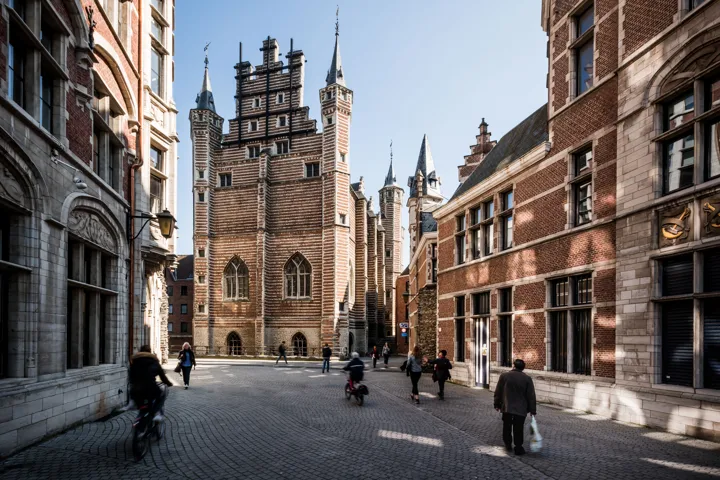 8. See Het Steen Castle
Het Steen Castle, built in the early 13th century, was originally the city's stronghold because of its excellent location directly on the river. It's the city's oldest building and a favorite among photographers for both the castle and the strange statue immediately outside. "The Steen" has been used for a variety of purposes over the years, ranging from a prison to a museum.
It is currently a visitors center with a panoramic rooftop and the location of The Antwerp Story. The display offers visitors the city's history as well as an overview of its neighborhoods, inhabitants, and what makes Antwerp special.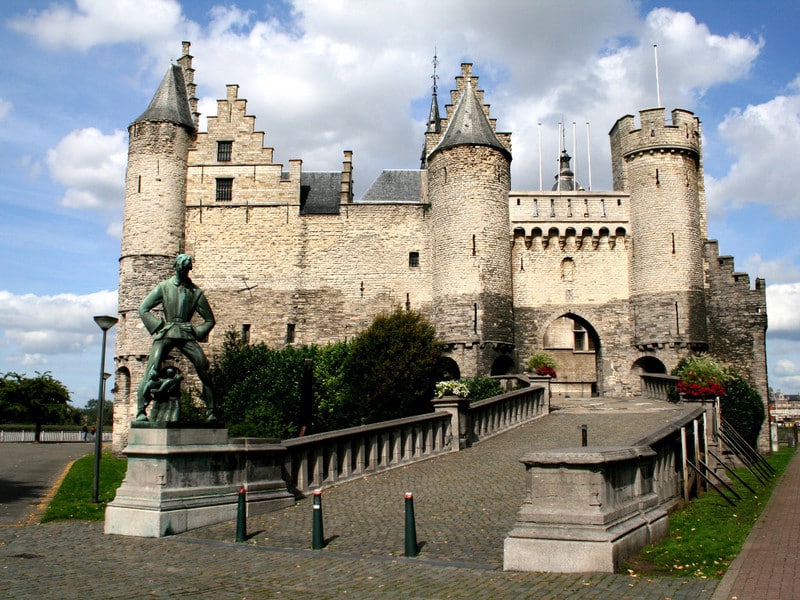 7. Enjoy a free walking tour and some sun at Conscienceplein
One of the finest ways to get to know a city is to take a free walking tour. That is also true in Antwerp. Legends Tours organizes tours with competent, English-speaking guides daily at 10:30 a.m., 1:30 p.m., and 8 p.m. They're top-rated on TripAdvisor for a reason. If you want to join a tour, simply reserve a space on their website and be in the Grote Markt at your scheduled time.
After passing through a narrow, cobblestone lane, you'll arrive at the lovely Hendrik Conscienceplein, which is named after Flemish 19th-century writer Hendrik Conscience. St. Charles Borromeo Church, located in this square, is often regarded as the most important baroque church in the Low Countries. It's one of the locals' favorite locations to hang out on sunny afternoons, thanks to the many cafés, restaurants, and street entertainers performing at the square.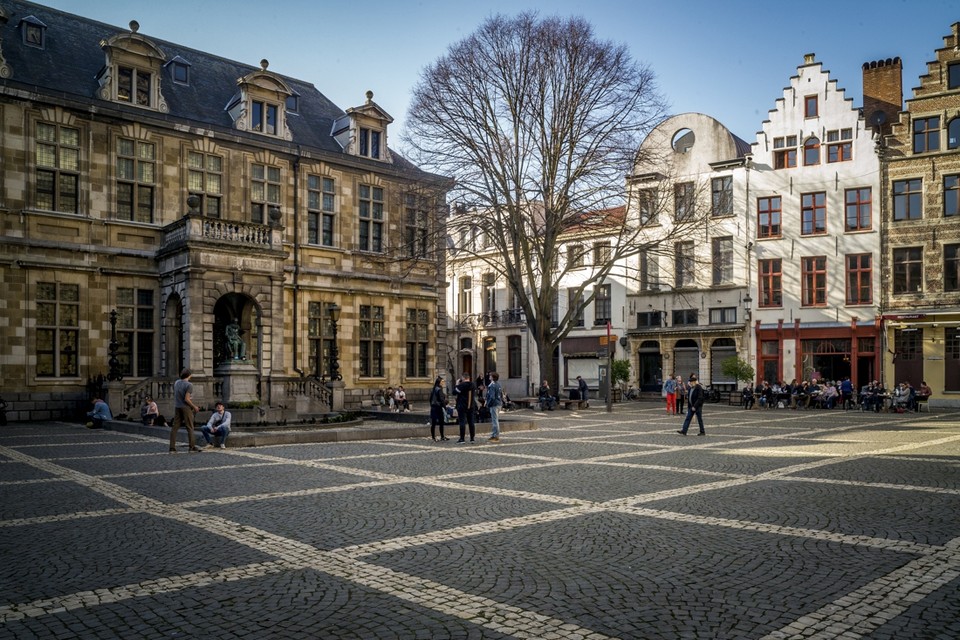 6. Cross the river to explore the 'left bank'
If you want to avoid the crowds and get a better perspective of the city's skyline, head west to Antwerp's left bank, known as Linkeroever. To reach there, simply cross the Scheldt River via the lovely Sint-Annatunnel. Explore some of the major green areas on the left bank, such as Galgenweel and Boeienweide.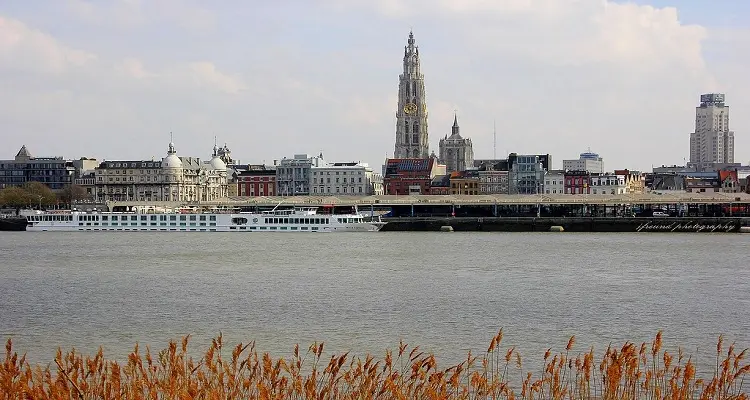 5. Antwerp Central Station and the Diamond District
Antwerp Central Station marks the starting point of this one-day Antwerp trip. Even if you're not traveling to Antwerp by train, the station is a terrific place to start your day. This neo-baroque structure was built in 1905 and is widely regarded as one of the most beautiful train stations in the world – and I couldn't agree more!
You'll enter the Diamond Quarter after exiting Central Station. This is where diamonds are polished and exchanged, and there are several diamond boutiques where visitors can spend all of their money. Antwerp has been renowned as the World's Diamond Capital since 1447. And it has retained this designation to this day.
While it might not be worth spending much time here, peering through the shop window is fun. But unless you're in Antwerp to purchase diamonds, it's best to just stroll past it from the station to the next point on this one-day Antwerp tour.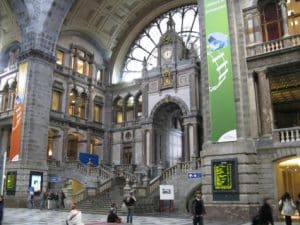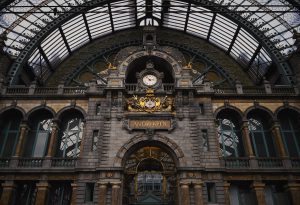 4. Museum Aan de Stroom
Museum Aan de Stroom, or MAS in short, which translates as 'Museum on the River,' spearheaded the revitalization of the once derelict Willemdok harbor area, opened in 2011 to great acclaim – as much for its stellar architecture as its thoughtful, well-curated exhibitions paying homage to Antwerp, its history, and culture. The museum, which is located just north of the city center on a pier commissioned by Napoleon in 1811, was constructed by Dutch architect Neutelings Riedijk and soared 60 meters above the water.
The five themed floors of interactive and entertaining displays use nearly half a million artifacts – including anything from Old Master paintings to model boats, newsreels, penny farthings, model ships, and personal accounts on video – to showcase Antwerp's development into one of Europe's largest ports, a diamond capital, and a multiracial center of learning and culture. An outdoor terrace on the ninth and top level provides views ranging beyond the city to the River Scheldt, where the Antwerp tale began.
MAS features a double-Michelin-starred restaurant, 't Zilte,' which is unique for a museum. Chef Viki Geunes oversees the cuisine. Outside is the MAS Boulevard, which has a few modest temporary exhibition galleries and lovely views of the harbor's bobbing boats.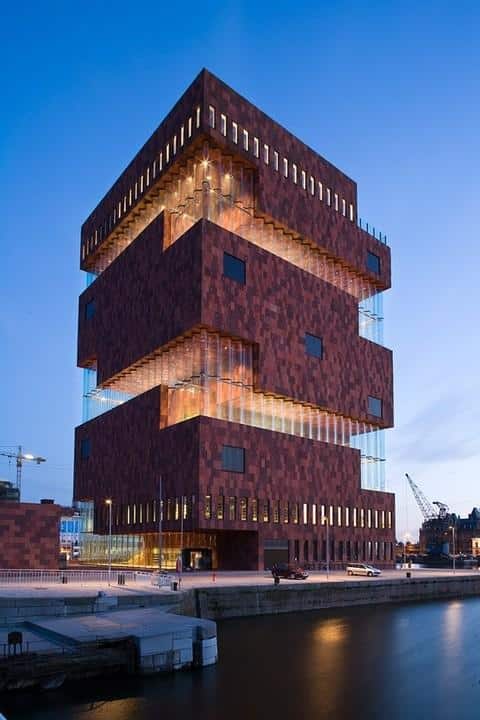 3. Chocolate Nation, Antwerp's Belgian chocolate museum, is a must-see
The popular Chocolate Nation, advertises itself as the "World's largest Belgian chocolate museum," is located just across the street from the central station. With your ticket, you not only get to learn about the history of chocolate and how it is created, but you also get to consume a lot of it. The tour lasts around 60–90 minutes and concludes with a chocolate sample at the gift shop.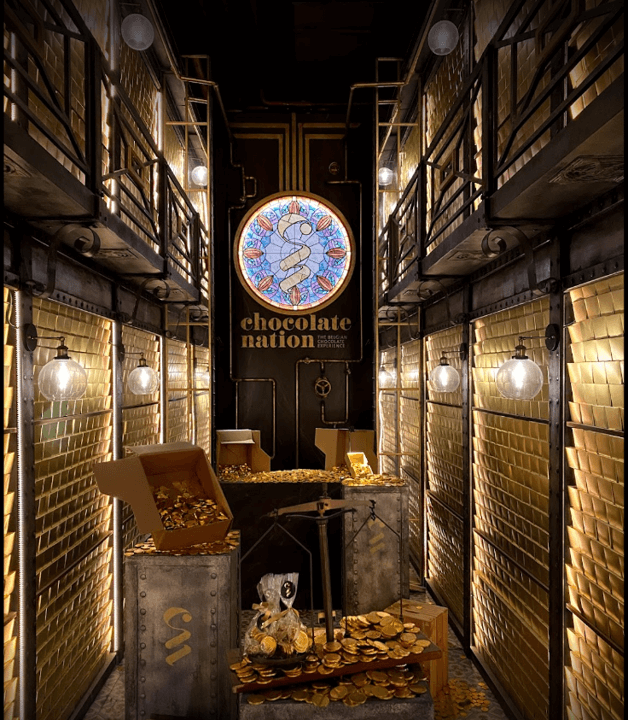 2. Stadsfeestzaal Shopping Centre – Shop in Style
The Stadsfeestzaal Shopping Centre originally opened its doors in 1908 and was designated a National Heritage Building in 1983. A fire almost totally destroyed it in 2000. Only the massive stairs, steel roof structure, and ancient facade were spared. Because it was such an important structure, it was restored to its former splendor and now appears exactly as it did when it originally opened.
Everything from designer apparel to pop culture goods to premium bathroom products and inventive sushi can be found here. They also have a one-of-a-kind business that converts all the colors in your iris into a work of art in minutes!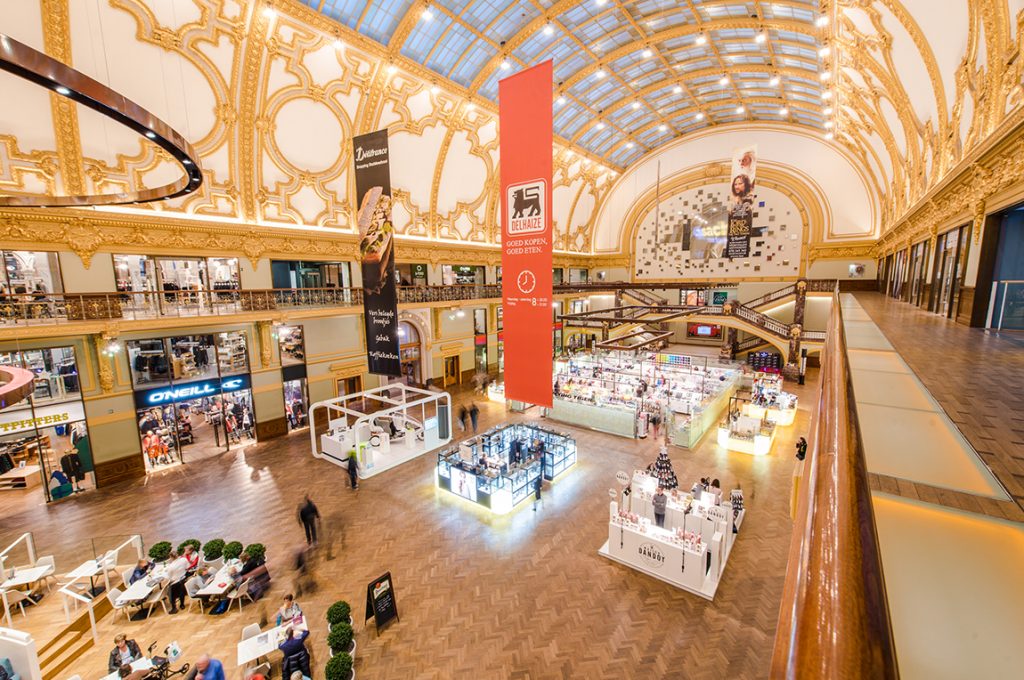 1. Antwerp's Cathedral
The Cathedral (Onze Lieve Vrouwkathedraal) is the biggest Gothic cathedral in Belgium.
The cathedral's construction began in 1352 and lasted until 1521. Architects and master builders who participated in its creation were Jacob van Thienen, Pieter Appelmans, Jan Tac, Everaert Spoorwater, Hermann and Dominic de Waghemakere, and Rombout Keldermans. The church has been severely damaged on several occasions throughout the years, robbing it of many of its most valuable items of art.
First, there was a fire in 1533, followed by despoliation by rebel iconoclasts in 1566, Calvinists in 1581, and French Republican armies in 1794 and 1800. Unfortunately, just a handful of the missing riches have been found. The outside was restored in the nineteenth century. Therefore, all the carved masonry on the building's exterior is modern. Work on the inside began in 1965, with the nave first, and was finished in 1983. The best remaining pieces of art may be seen in the nave and aisles, as well as the cathedral treasury.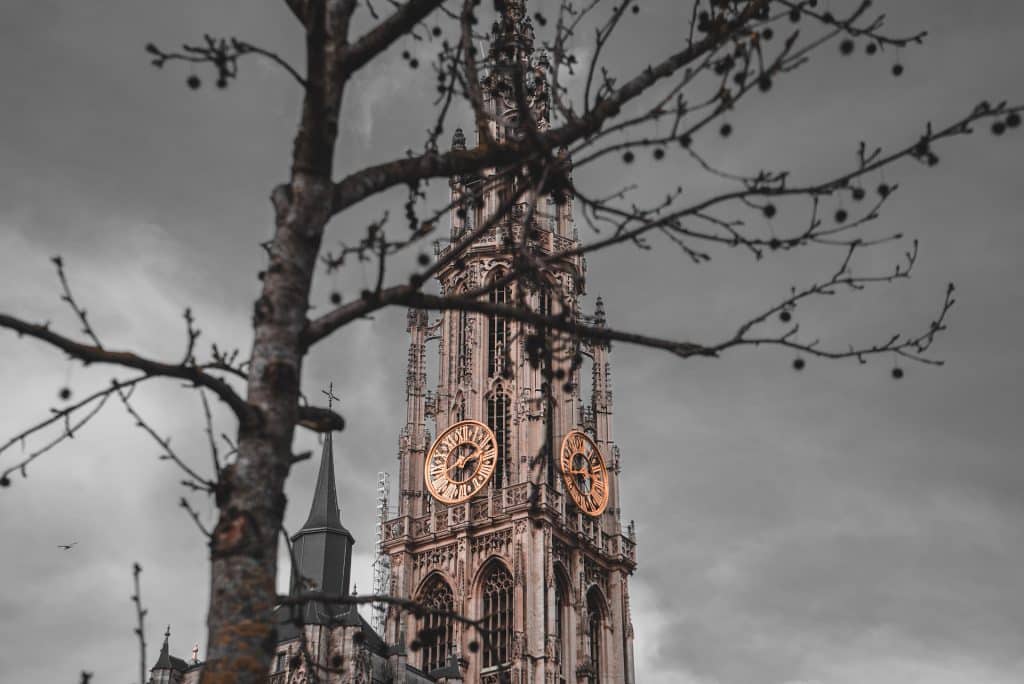 You may also try the 20 Belgian Dishes That Will Blow Your Mind to fully enjoy your stay in Antwerp.
Top 10 Things To Do in Antwerp on a MAP
Whether you're wandering through the cobblestone streets of the historic center, indulging in the local cuisine, or immersing yourself in the world of fashion and diamonds, Antwerp never fails to enchant. With its rich cultural heritage, thriving arts scene, and warm hospitality, Antwerp invites visitors to create cherished memories that will linger long after they leave.
So, pack your bags and embark on an unforgettable journey as you explore the top 10 things to do in Antwerp, a city that promises to delight and inspire at every turn.
Have a question or comment about any of the best things to do in Antwerp (Belgium)? We'd love to hear from you. Leave your thoughts in the comments below.