Hotels in Malta with sea views, including luxury, boutique, and affordable options.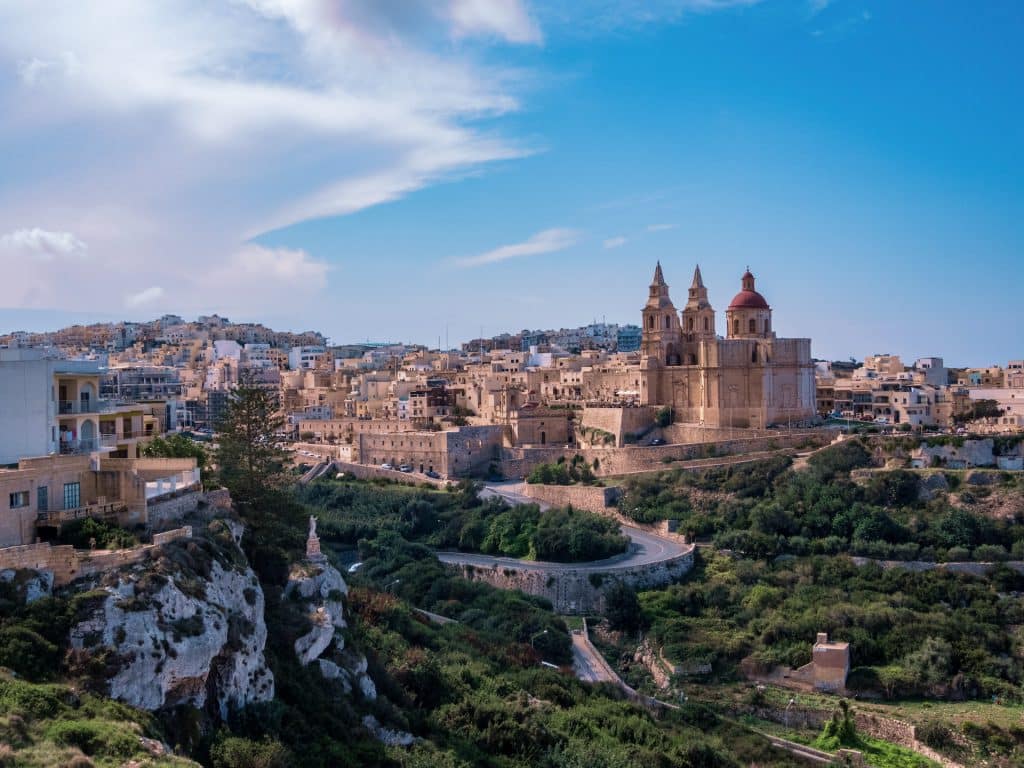 Malta is the ideal island for a retreat throughout the winter, spring, or summer and to get you started on your path to a happy holiday. Malta, which is located in a sunny region of the glittering Mediterranean, has the warmest weather on average throughout all of Europe, making it the ideal destination for a vacation at any time of year.
Due to its turbulent past, which saw it ruled by the Romans, the Moors, the French, and the British, English is a commonly used language, and the cities are brimming with incredible cultural treasures, from ancient temples to breathtaking Renaissance structures in the capital, Valletta.
Traveling to Malta combines the best aspects of classical Europe with the idyllic island beauty that you would typically need to take a longjourney to see. We've selected some of the greatest hotels to get you in the mood for a Maltese vacation, from opulent five-star resorts to evocative boutique B&Bs.
Discover the Hidden Gems of a Nearby Neighborhood in Malta
Sliema – a charming neighborhood in Malta, boasts a picturesque seafront promenade, historic landmarks, and a lively atmosphere. With its abundance of cafés, restaurants, and shops, Sliema is a popular destination for both locals and tourists seeking stunning views and a relaxed Mediterranean vibe. Whether you're strolling along the waterfront or exploring its quaint side streets, Sliema's beauty is undeniable.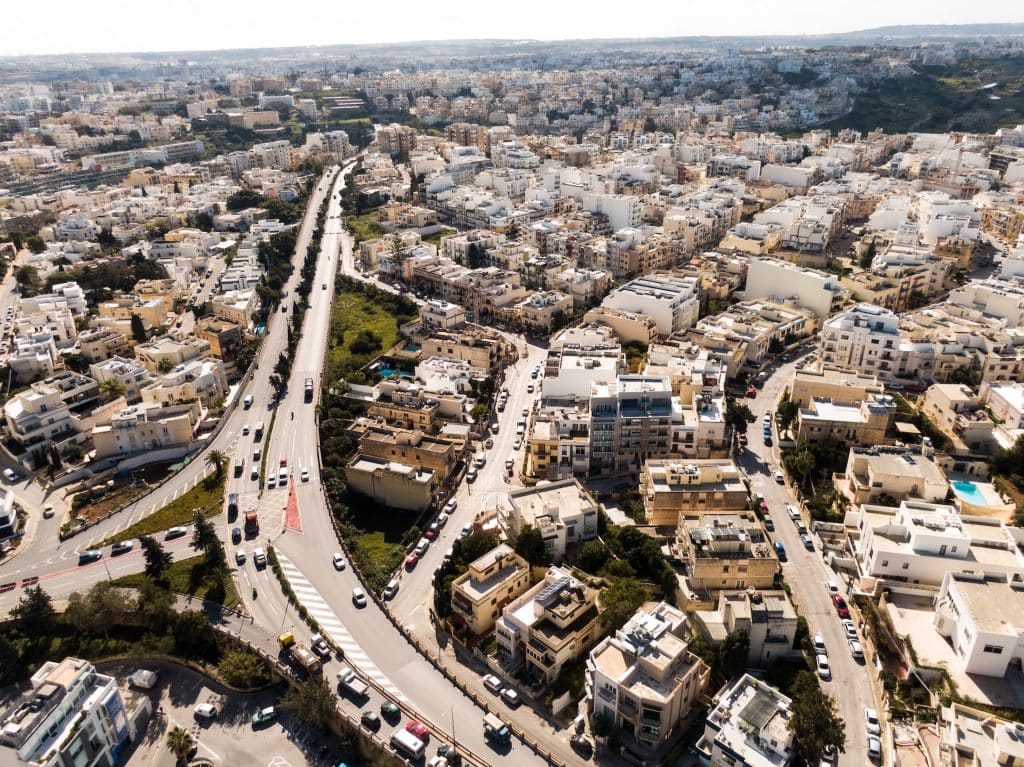 Marsaxlokk – A quaint fishing village on the southeast coast of Malta, known for its colorful traditional boats, bustling Sunday market, and fresh seafood.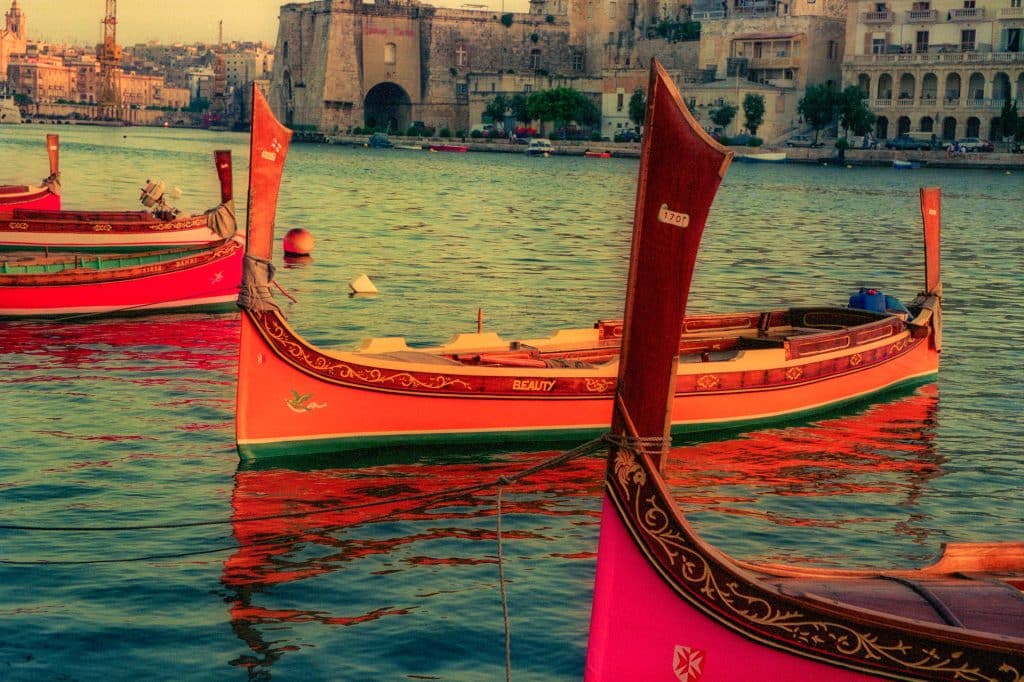 Birgu – A charming and historic neighborhood with a picturesque waterfront, dotted with traditional Maltese boats and offering a glimpse into the island's maritime heritage.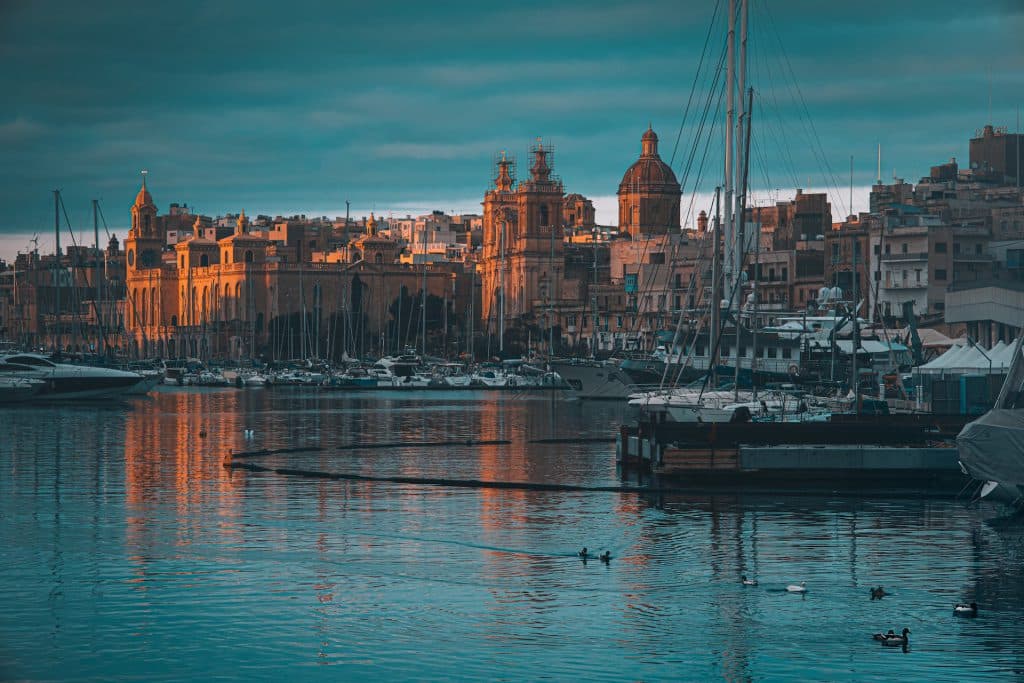 Mosta – A town located in the center of Malta, famous for its Rotunda, a stunning church with one of the largest unsupported domes in the world.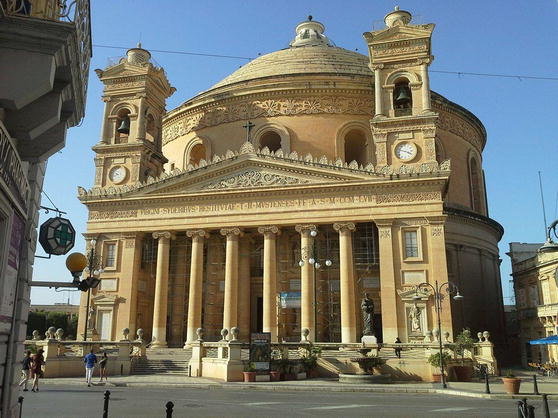 Mdina – A medieval walled city with stunning views and narrow streets, known as the "Silent City" for its peaceful atmosphere.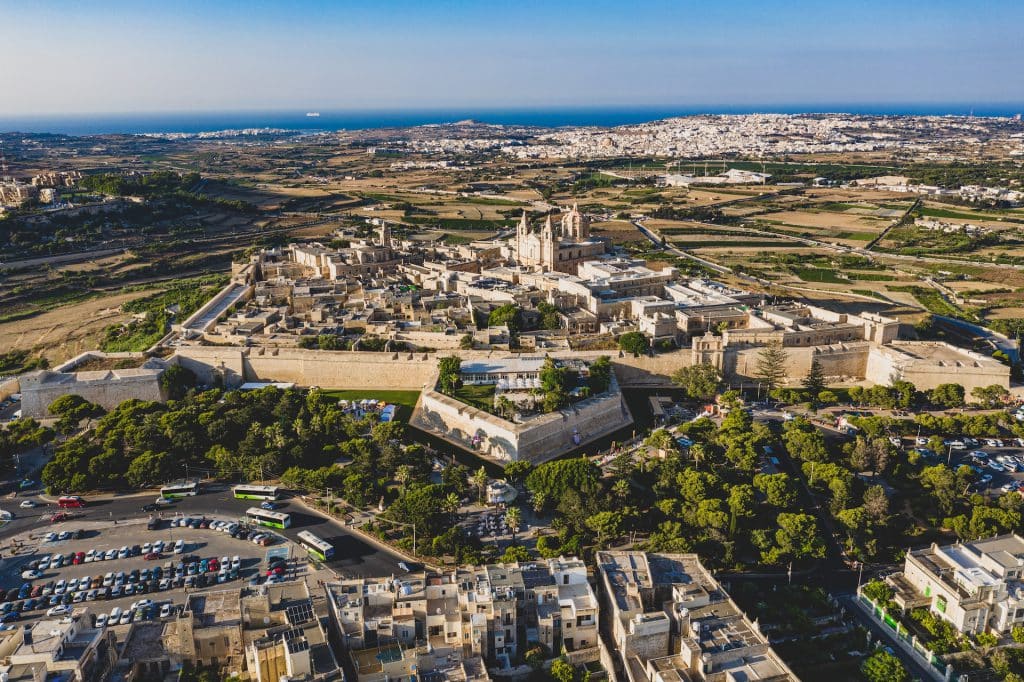 Top Hotels
The Embassy Valletta Hotel, Valletta
Location: Strait Street 173, VLT 1185 Valletta, Malta
The Embassy Valletta Hotel is situated on the site of one of Malta's original hotels, which opened its doors to visitors in the 1800s, right in the heart of Valletta, at the entrance to the fabled Strait Street.
Its 81 rooms are particularly spacious and have been tastefully furnished, subtly mixing classic, contemporary, and futuristic concepts. All rooms have matching city or sea views. No matter which way you travel after leaving the building, you won't be more than a few steps from the city's eateries, historic pubs, and cultural attractions, making this hotel a terrific choice if the location is crucial to you.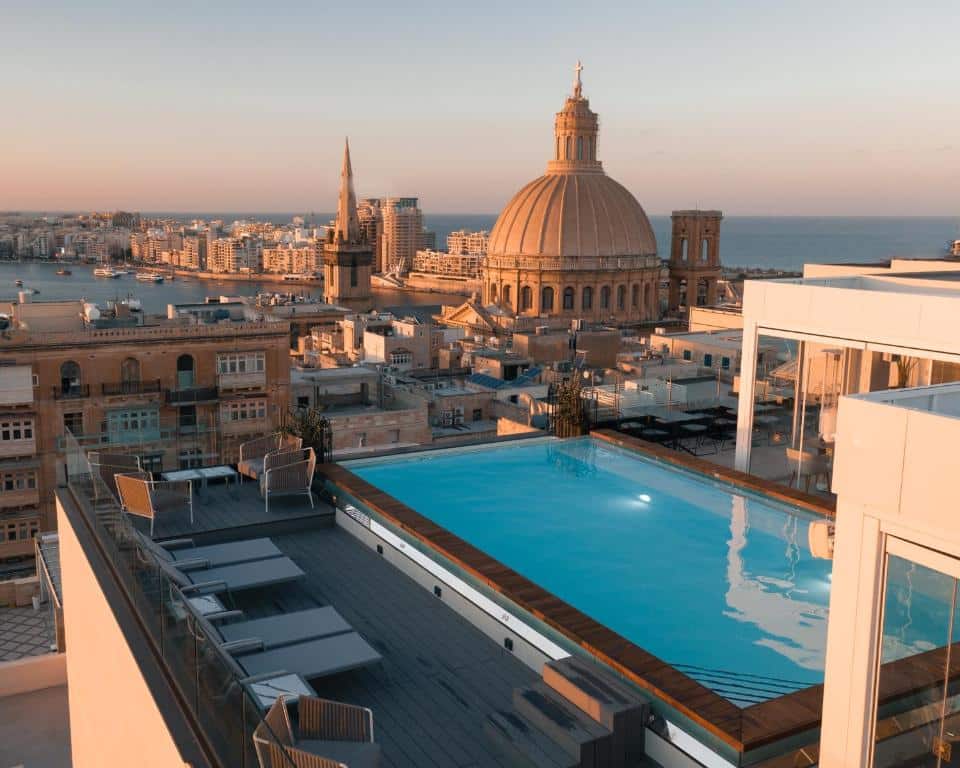 Highlights:
Every day, the hotel provides both a continental and a buffet breakfast.
There is a patio in the Embassy Valletta Hotel.
Tigné Point Beach is 2.6 km and MedAsia Beach is 2.3 km from the hotel. The Embassy Valletta Hotel is 8 kilometers from Malta International Airport, which is the closest airport.
The location is especially popular with couples, who gave it a 9.7 rating for a trip with a partner.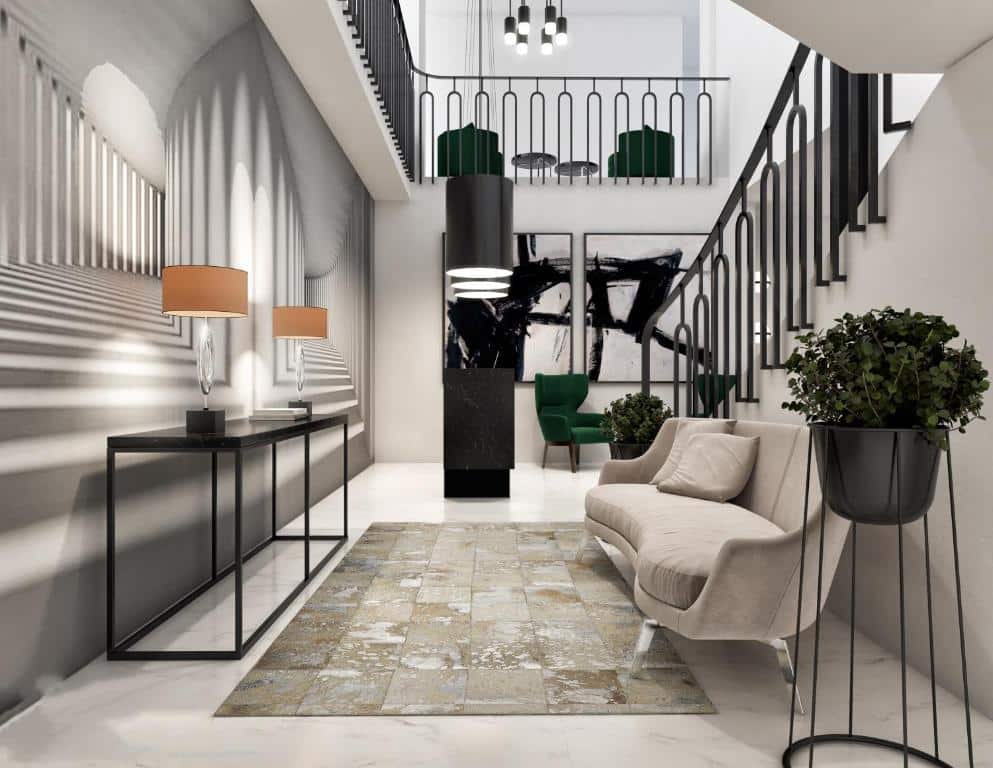 Hyatt Regency Malta, St Julian's
Location: St George's Bay, STJ3310 St Julian's, Malta
The spotless beach on St George's Bay is just a short distance away from the Hyatt Regency Malta, which is located in the center of St. Julian's. The upscale hotel is the ideal location for learning about Malta's 8,000-year history.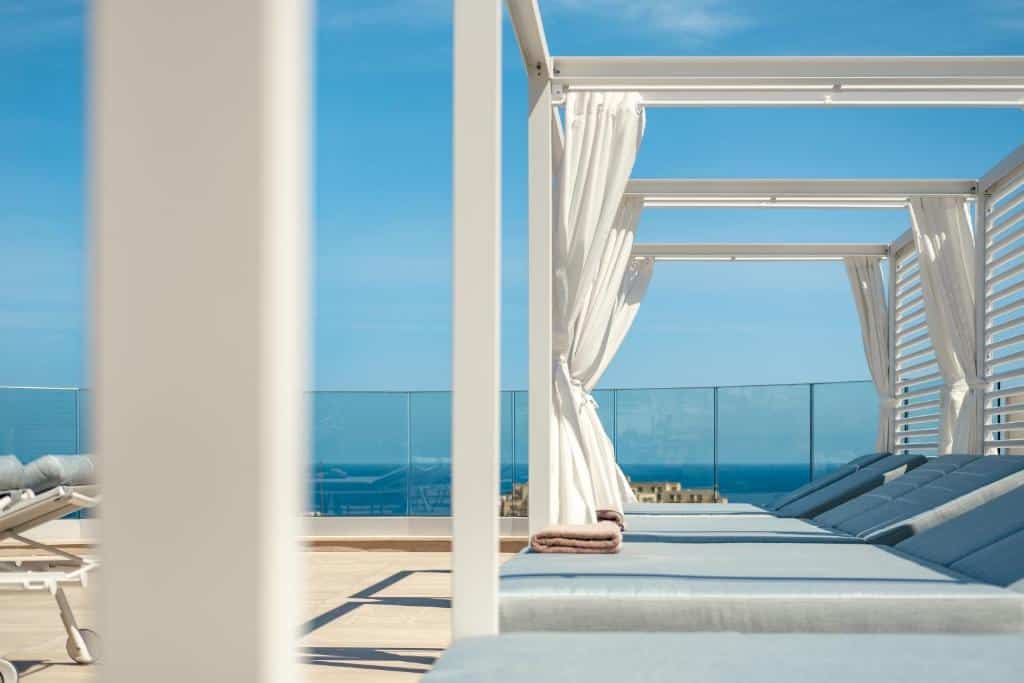 You'll appreciate relaxing by the magnificent rooftop pool with a view of the turquoise waves, as many of the 151 rooms and suites provide breathtaking views of the city and the Mediterranean Sea. The hotel also offers a fitness center, the Carisma Spa, and the opportunity to savor delectable contemporary Mediterranean cuisine at rooftop alfresco dining establishments The Square and GIN-ger.
Highlights:
Customers of the motel can enjoy a continental breakfast.
Visitors can take advantage of the spa and wellness center, plan excursions at the tour desk, or hire a car to explore the neighborhood.
The Hyatt Regency Malta is close to the Love Monument, Portomaso Marina, and Bay Street Shopping Complex. 10 kilometers away from the lodging, Malta International Airport is the closest airport.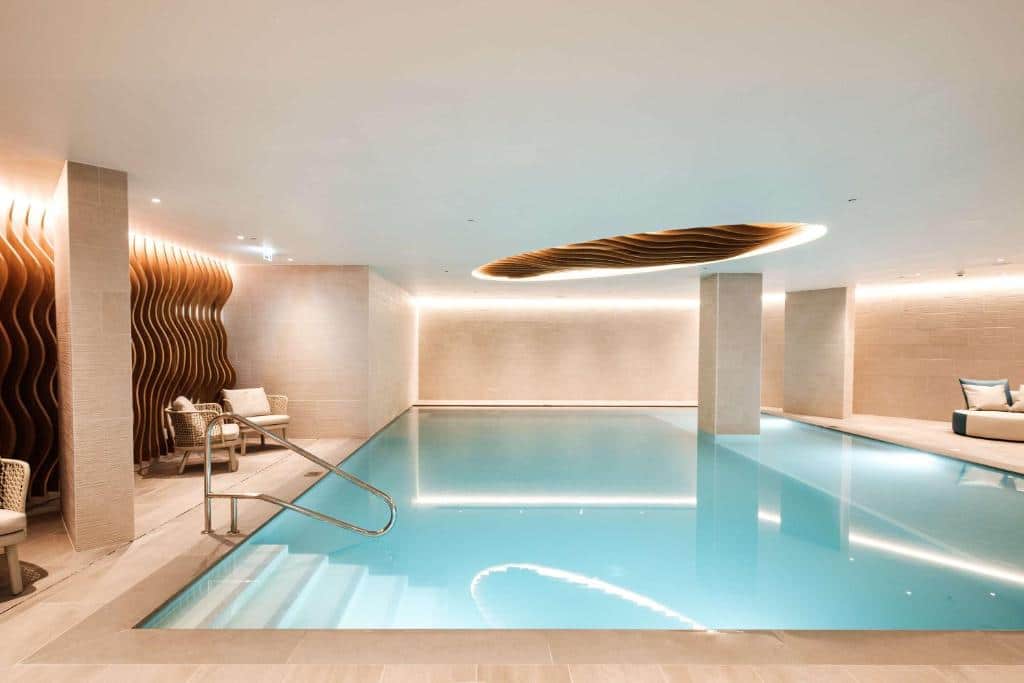 The Xara Palace
Location: Misrah Il-Kunsill, MDN 1050 Mdina, Malta
At this five-star hotel in Malta that is integrated right into the Mdina's historic city walls, expect nothing less than luxury. The Xara Palace is located in the center of one of Malta's most fascinating cities, which is renowned for its amazing baroque architecture. It offers breathtaking panoramic views of the Mediterranean, which you can take in from your own private hot tub in an Executive Suite.
Highlights:
The premium 5-Star boutique hotel features seventeen luxury rooms and suites with breathtaking views, all individually and elegantly decorated with antique furniture and artworks, plush Parisian fabrics, and king-size mattresses to reflect its past regal rank.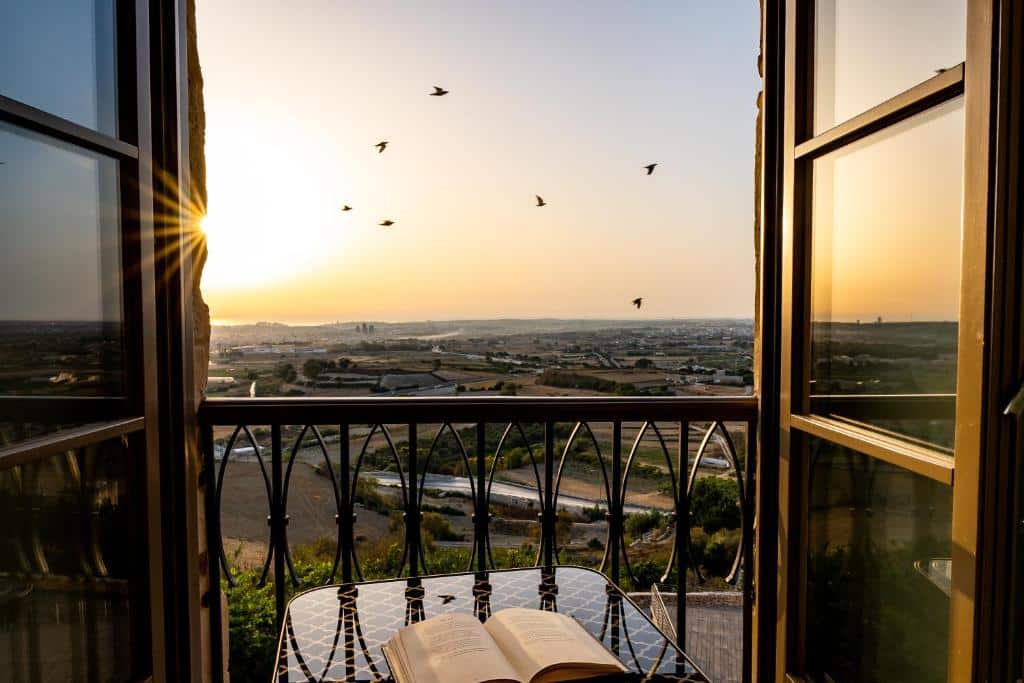 Palazzo Consiglia
Location: 102, Saint Ursula Street, VLT 1234 Valletta, Malta
This delightful boutique hotel, which is tucked snugly into a 400-year-old Valletta townhouse, has 13 rooms, each with a roof terrace and plunge pool, and a small underground spa with a converted cistern for a whirlpool. The old chapel now houses its restaurant, which serves a hearty, high-quality breakfast. A retractable roof has been installed over the original limestone courtyard to create an all-weather sitting area, bar, foyer, and breakfast extension. The welcoming staff will be ready to help you with reservations and directions, and everything in Malta's charming, small capital is right outside your door.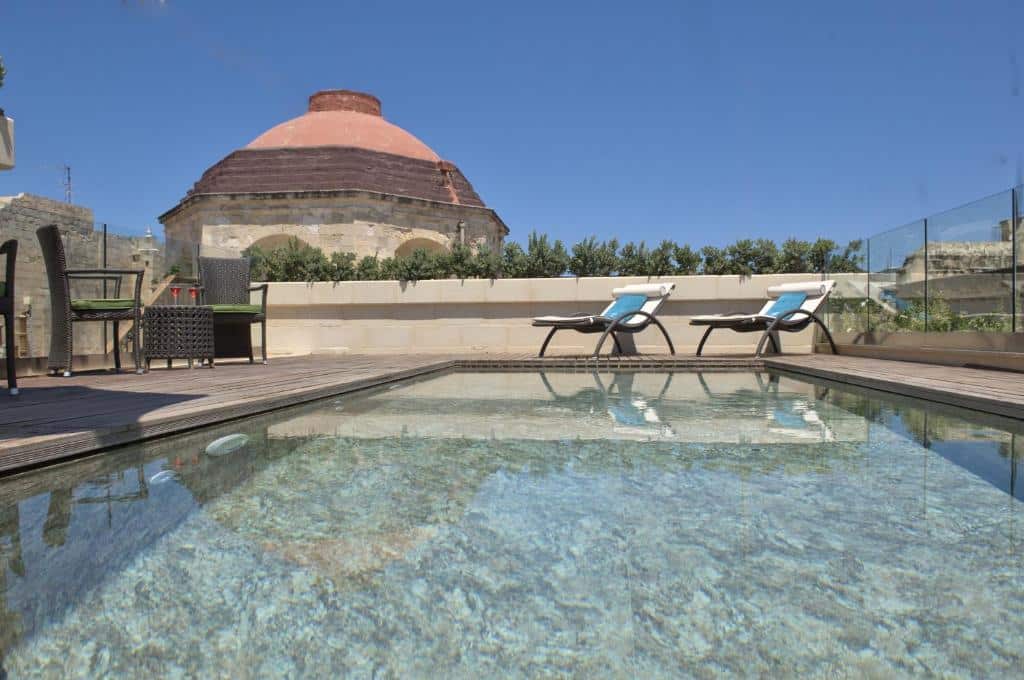 Highlights:
Every room has a flat-screen TV, a closet, and a private bathroom. You will have a seating space in some rooms.
Every morning, the facility serves a continental breakfast.
During their stay at the hotel, visitors can take advantage of the hot tub and hammam, among other spa and wellness amenities. The hotel also has a front desk open around the clock.
Auberge de Castille, Museum in Valletta, Malta, and The Malta Experience are popular attractions close to Palazzo Consiglia – IK Collection. The distance to Malta International Airport is 8 kilometers.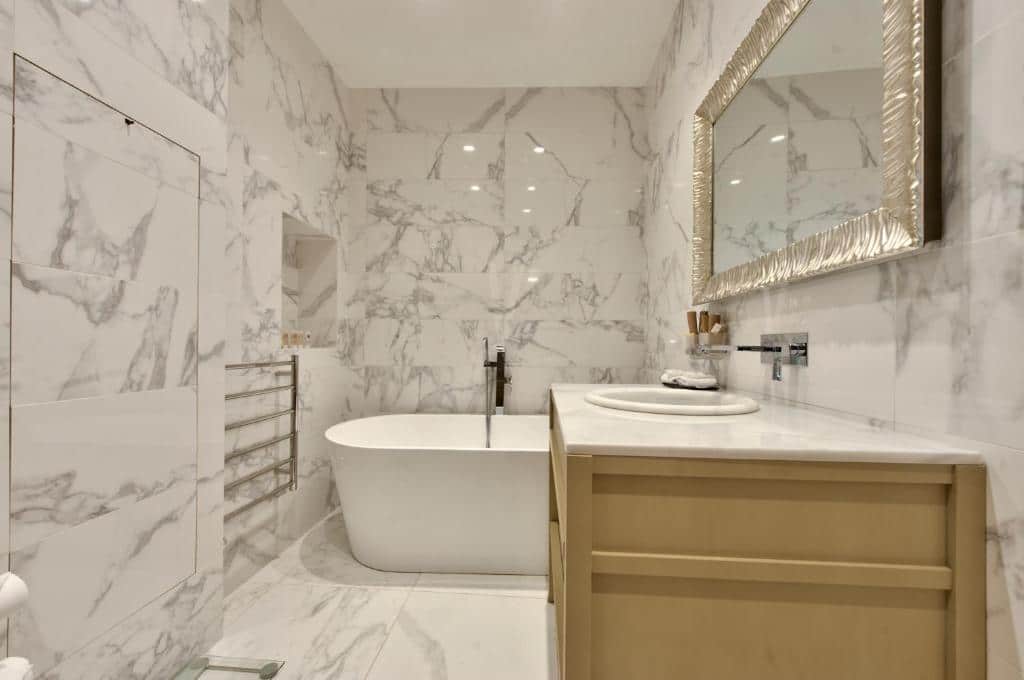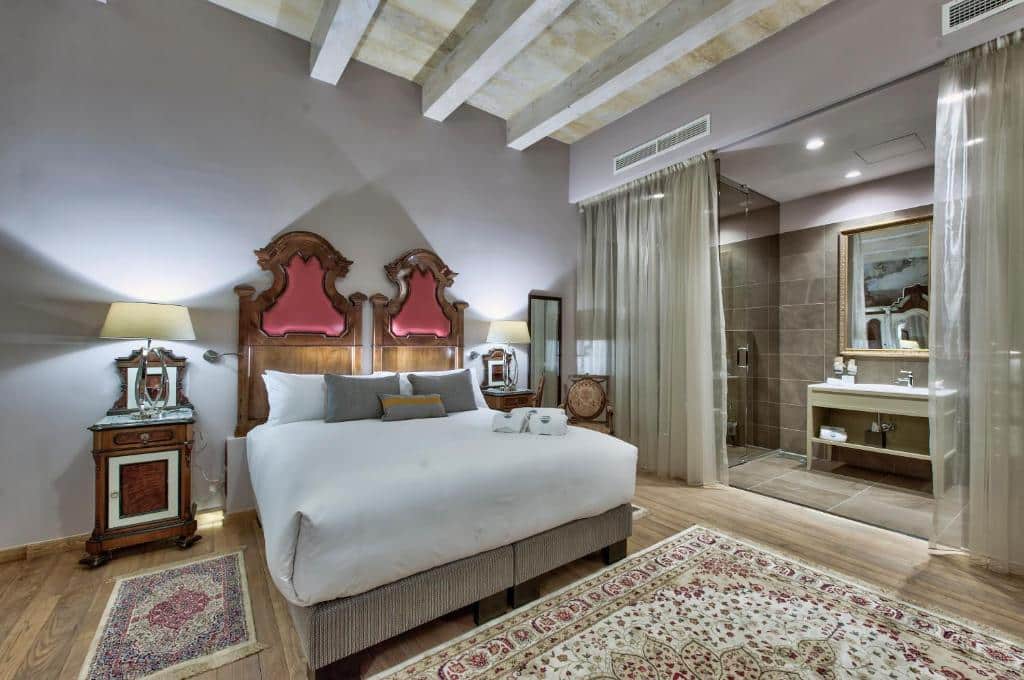 Corinthia Palace
Location: De Paule Avenue, BZN 9023 Attard, Malta
The five-star Corinthia Palace offers a get-away alternative within 20 minutes drive of Valletta, located in a peaceful, upscale neighborhood across from the president's summer residence (in the open San Anton Gardens). Relax in the spacious double pool in the tranquil garden or experience the spa, which will reopen at the start of 2020 following a complete renovation and feature a sizeable (and warm) indoor pool, sauna, and a wide range of treatments. With the fine-dining Villa Corinthia, which is flanked by the original villa around which the hotel was built, as well as the eastern Rickshaw restaurant, foyer bar-brasserie, and a modern Mediterranean Summer Kitchen for seasonal al fresco dining, your gastronomic demands are equally well supplied for.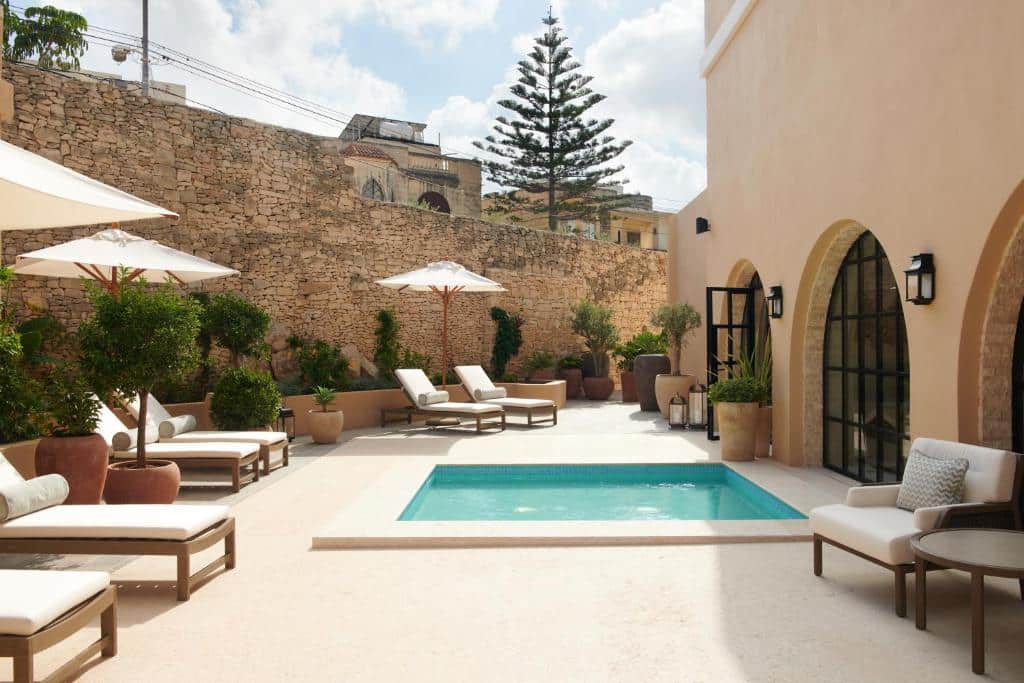 Highlights:
The Corinthia Palace Malta offers roomy accommodations, each with a private balcony and all the conveniences of home.
The knowledgeable staff is available at all times and is happy to assist you.
You are in a good place to explore Malta. The popular resort of St Julians is 7 kilometers from the hotel, while the walled city of Medina is only 4 km distant.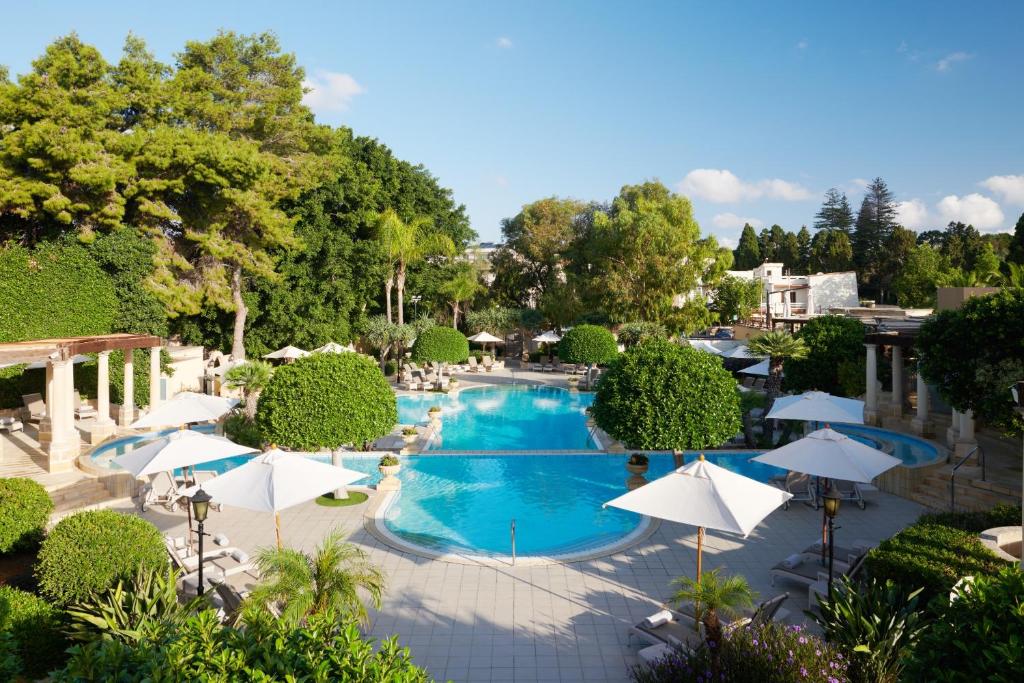 Inhawi Boutique Hostel
Location: Triq Telghet, STJ 1015 St Julian's, Malta
This outstandingly affordable hostel is located just off Balluta Bay's bustling waterfront and features its own pool, terrace, and a small garden area with a few hammocks. The hostel provides great amenities and a cozy boutique atmosphere. Visitors can self-cater in the spacious kitchen, which has a retractable cover, or ventures outside into St. Julian's eatery-lined streets. On the patio next to the reception, which transforms into a stand-alone (non-budget) upscale restaurant at night, breakfast may also be had on the cheap within the building. You can select from a 12-bed dorm to a twin room, and each wide, comfortable bunk comes with a socket and bedside lamp.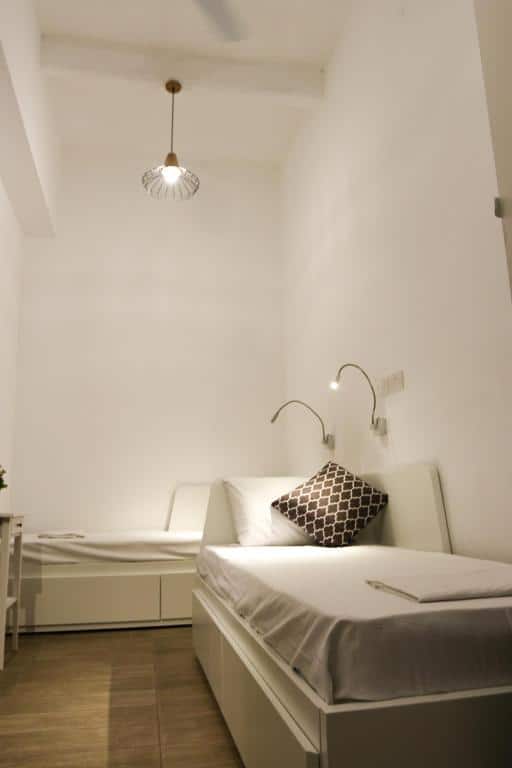 Highlights:
The hostel provides lodging in shared dorm rooms. Some flats feature a terrace or balcony. Wi-Fi is available anywhere for free.
The resort has a front desk open around the clock. Every day, a continental-style breakfast is served with sweet and savory foods, fresh fruit, and hot beverages.
The hostel also rents bicycles. Six kilometers away from Inhawi Boutique Hostel, Malta International Airport is the closest airport.
Ta' Cenc & Spa
Location: Cenc Street, SNT 9049 Sannat, Malta
This hotel's setting, which is sandwiched between the historic Gozitan village of Sannat and the summit of the soaring Ta' Cenc cliffs, is everything. The hotel also features two spacious outdoor pools, two tranquil, appealing terraces on which a full breakfast buffet is provided, comfortable rooms, and a spa with a sauna, treatment rooms, and a lovely indoor-outdoor pool that is atmospherically lit when dusk falls. It's a genuine treat to be able to stroll out onto the rocky garigue, scattered with old dolmens, and watch the sun sink into the sea 145 meters below, despite service being a little inconsistent over the years.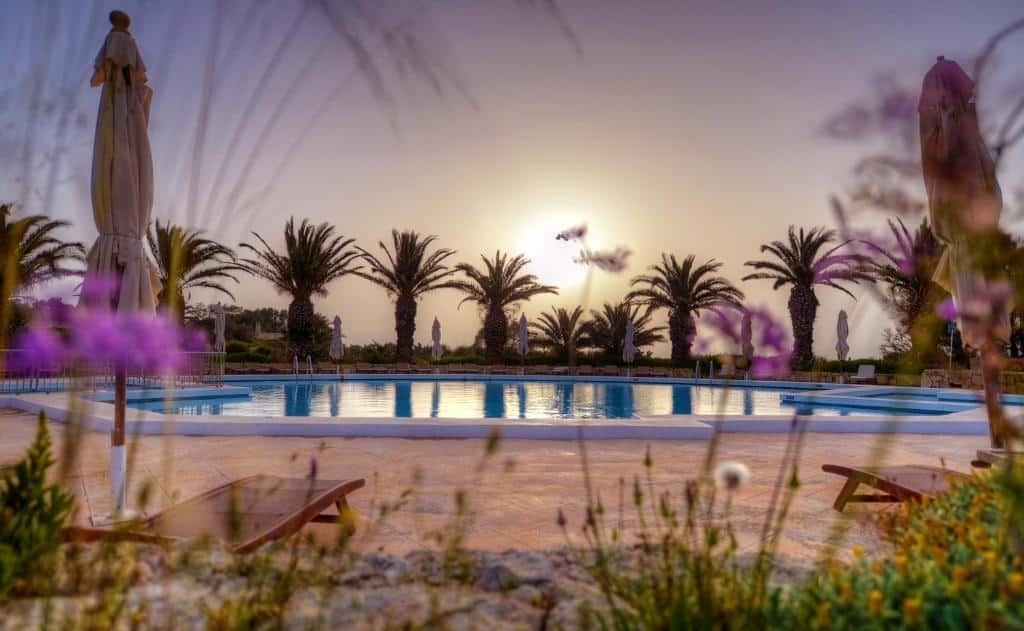 Highlights:
Ta Cenc boasts two tennis courts and two swimming pools, one of which has a kiddie pool and a hydromassage area, so there's no way you'd ever be bored there. There is a free minibus that runs on schedules to the private beach, which is 2 kilometers distant. A bar and grill restaurant is located here.
Back at the hotel, you can have fun playing board games, pool, table tennis, and video games. Exercise at the gym before unwinding in the wellness center's heated pool, Finnish sauna, hot tub, and steam room. Treat yourself to a massage or a solarium.
Tours of Gozo can be arranged by the qualified staff. You can rent a car and exchange currency at the front desk.
The restaurant's award-winning chefs create the best Italian and international food. Select between a set menu and à la carte. After that, unwind with a drink on the terrace while listening to live music.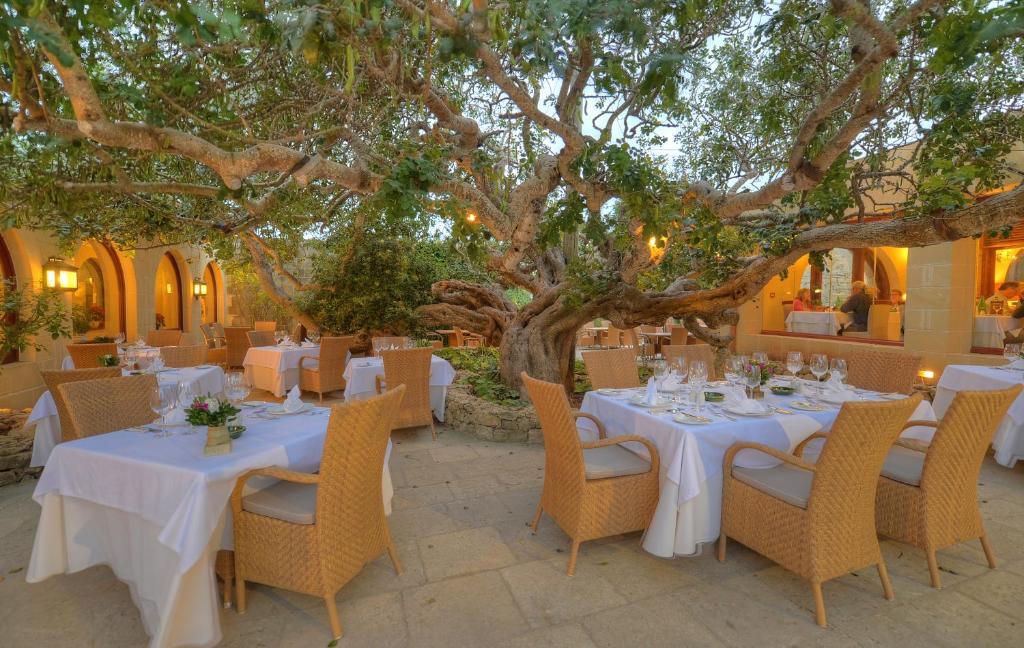 Casa Rocca Piccola B&B, Valletta
Location: 53 Saint Dominic Street, VLT 1602 Valletta, Malta
The five guest rooms at Casa Rocca Piccola B&B are filled with antiques, period details, and elegant furnishings. There is also a stunning terraced garden where guests may have breakfast outdoors.
A popular museum is housed in a portion of the structure, where visitors can get knowledge about Malta's history by studying the noble owners of the palace.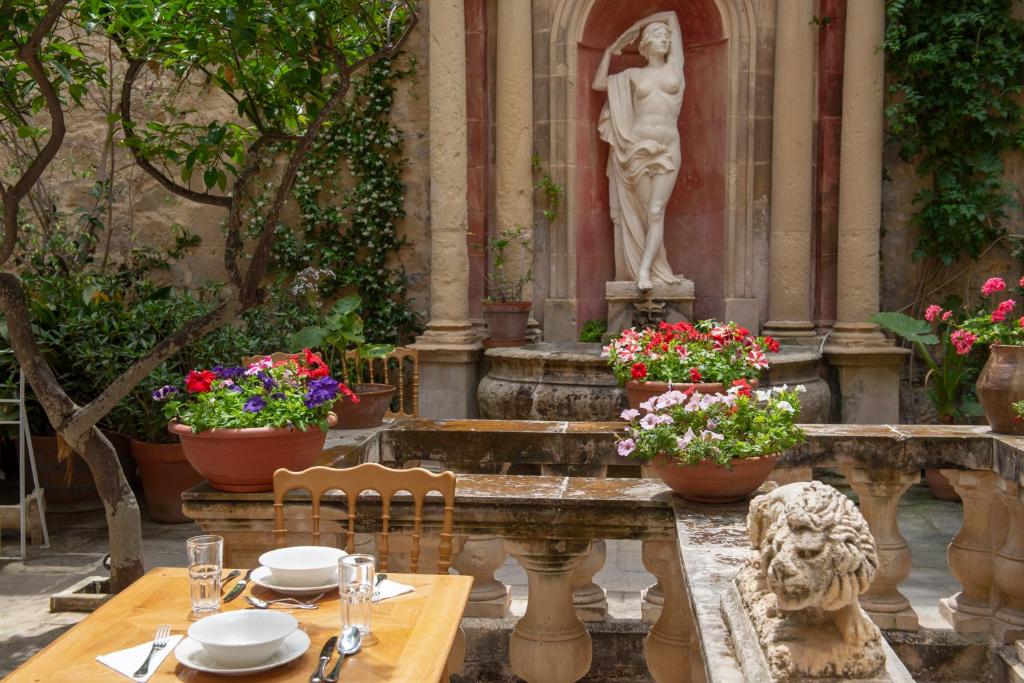 Highlights:
Each apartment has a private bathroom with a shower, slippers, a hairdryer, and complimentary toiletries.
The bed and breakfast offers a continental breakfast every day.
The Upper Barrakka Gardens, the Valletta Waterfront, and the University of Malta's Valletta Campus are all popular attractions close to Casa Rocca Piccola B&B. 8 kilometers away from the lodging, Malta International Airport is the closest airport.
AX The Palace, Sliema
Location: High Street, SLM1542 Sliema, Malta
AX The Palace in fashionable Sliema, a thriving, affluent resort on Malta's northeast coast, is furnished with modern suites, a rooftop spa, an infinity pool, and a choice of five dining and drinking establishments.
Eat at TemptAsian on the ninth level for east Asian-inspired meals with views of Sliema's harbor, or go up to the roof for pizza and cocktails at one of Malta's hippest nightlife spots. The hotel's accommodations range from bright, contemporary Comfort Rooms with views of the atrium to Designer Suites, each of which is centered around a different sense.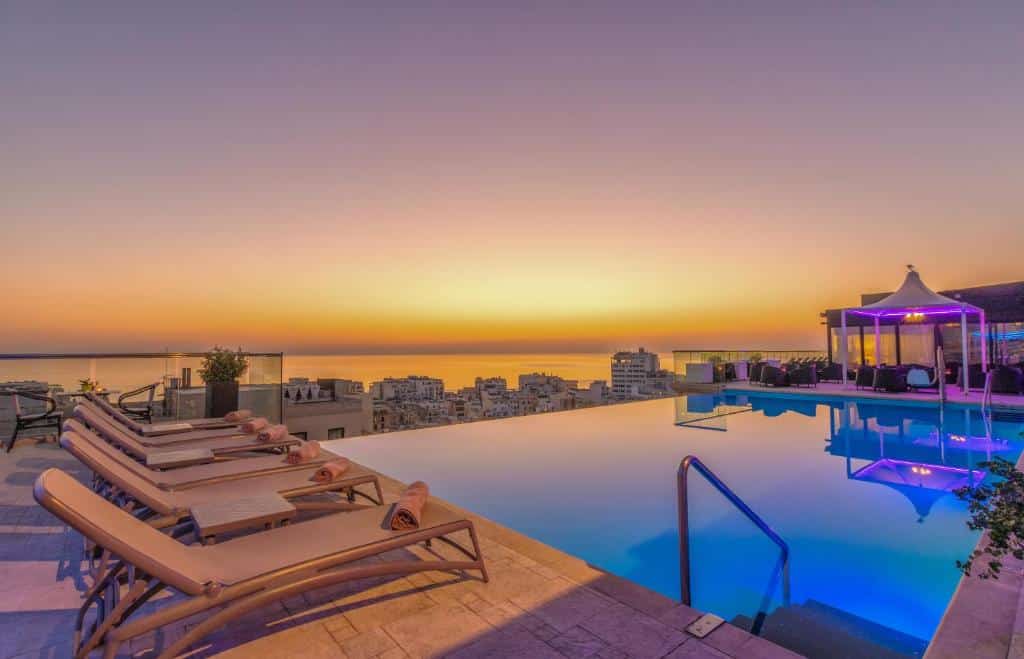 Highlights:
The Palace offers large, air-conditioned rooms with a minibar, a tea and coffee maker, and a smart TV with over 70 HD international channels. Every accommodation and common areas has free Wi-Fi.
The Palace offers two dining options, with the top-floor restaurant specializing on Asian food and the second serving traditional Mediterranean fare.
The capital Valletta is merely a 20-minute drive from the hotel, which is located 8 kilometers from Malta Airport.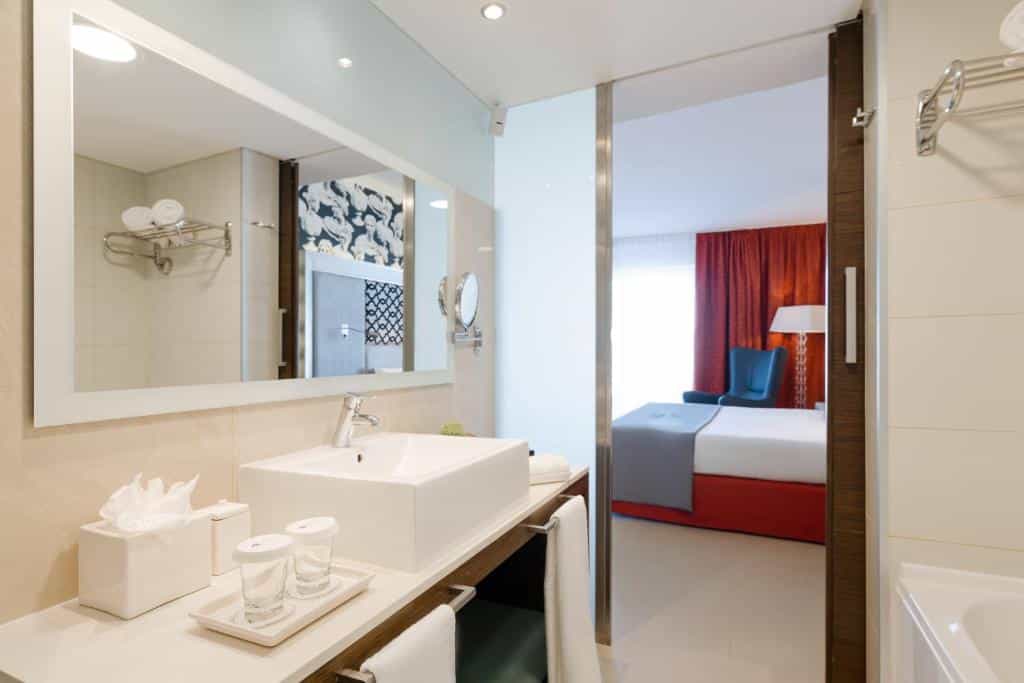 Best for colonial-era comfort: Phoenicia
Location: The Mall, FRN1478 Valletta, Malta
This 1930s grande dame, Malta's first five-star hotel, continues to serve as the home away from home for British royals traveling to the former territory. It is conveniently situated next to Valletta's bastion walls, right outside the City Gate, and is close to all the city's attractions, bars, and restaurants, as well as ferries, buses, and taxis. Being outside the walls, it offers direct access for vehicles, room for a lengthy garden and infinity pool overlooking Marsamxett Harbour, and is also about to have a brand-new spa and fitness center. You can check out sights as you sleep if you stay in Phoenicia.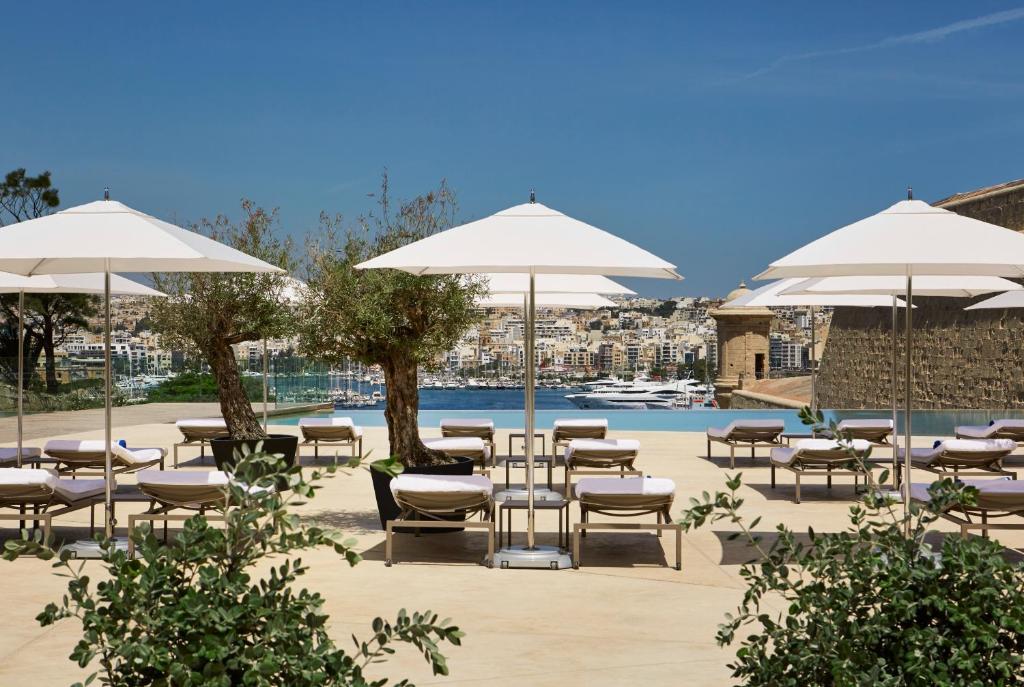 Highlights:
The Phoenicia has a seasonally open outdoor infinity pool with harbor views during the winter. With tiled floors and contemporary furniture, the rooms are roomy and attractive. Each of them has air conditioning, a minibar, and a coffee and tea maker. They are all furnished with a free wireless internet connection, and the hotel has Wi-Fi everywhere.
The restaurant serves a fusion of Maltese and Mediterranean cuisine and offers a breakfast buffet each morning with a selection of fresh fruit juice and espresso.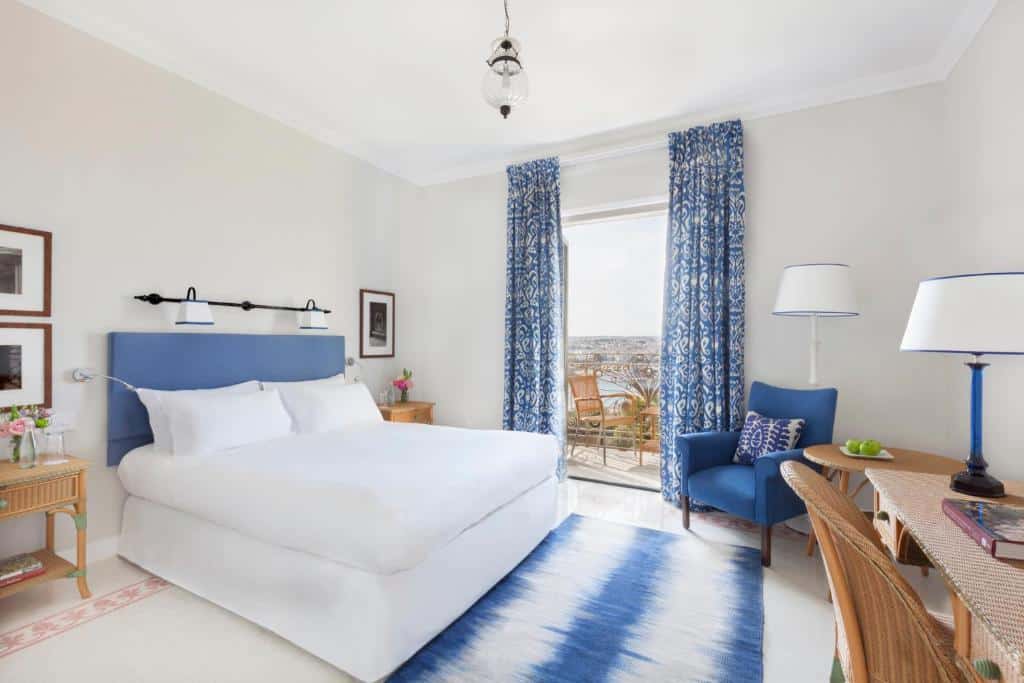 Best Budget Hotels
Castille Hotel
Location: VGW6+6MP, Castille St, Valletta, Malta
Castille Hotel, which offers lovely rooms starting at $39, is a terrific place to stay. It provides amenities like room service, a restaurant, a bar, parking, and car rentals. Many past visitors have given it a great rating of 8 out of 10.
Boho Hostel
Location: Triq Dun Guzepp Xerri Saint Julian's, STJ 1420, Malta
Boho Hostel has a fantastic guest rating of 8.50 out of 10. This location offers shuttle services, parking, car rentals, and scuba diving. Prices for the wonderful rooms start at $15.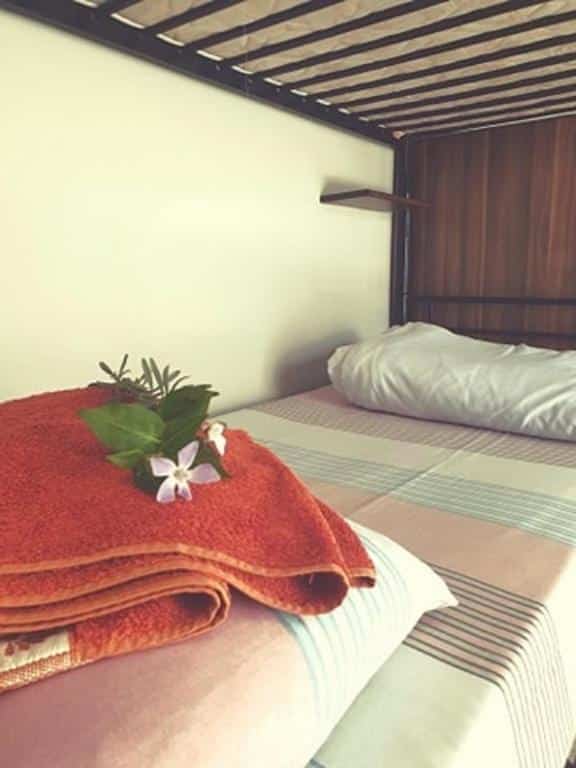 Park Lane Aparthotel
Location: Maskli Street Qawra St Paul's Bay, SPB 1480, Malta
The Park Lane Aparthotel provides city views, room service, a fitness center, a bar, and an outdoor pool. The fantastic rooms start at $76. It is situated at Maskli Street and has a 9.20/10 rating from visitors.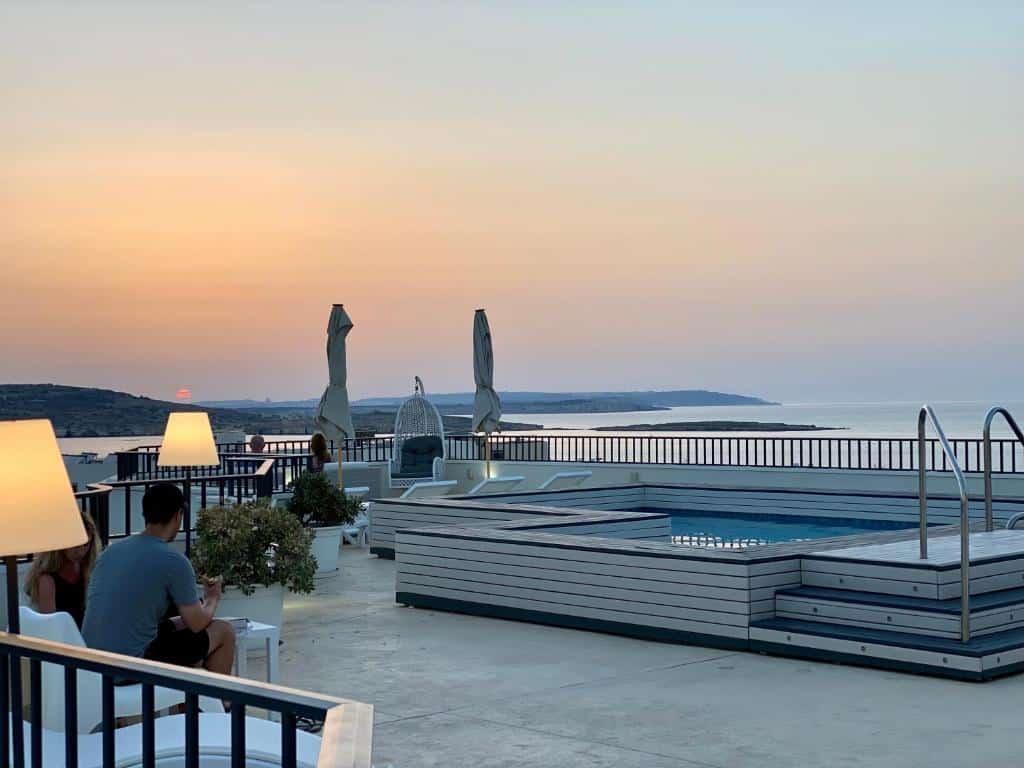 Pebbles Boutique Aparthotel
Location: 89 The Strand, Triq Ix – Xatt, Tas-Sliema SLM 1022, Malta
Pebbles Boutique Aparthotel, which is at 88-89 The Strand, offers fantastic accommodations starting at $28. (before taxes). There is a restaurant, a gym, a bar, city views, and kitchens in the rooms. It received a fantastic 8.70 out of 10 stars.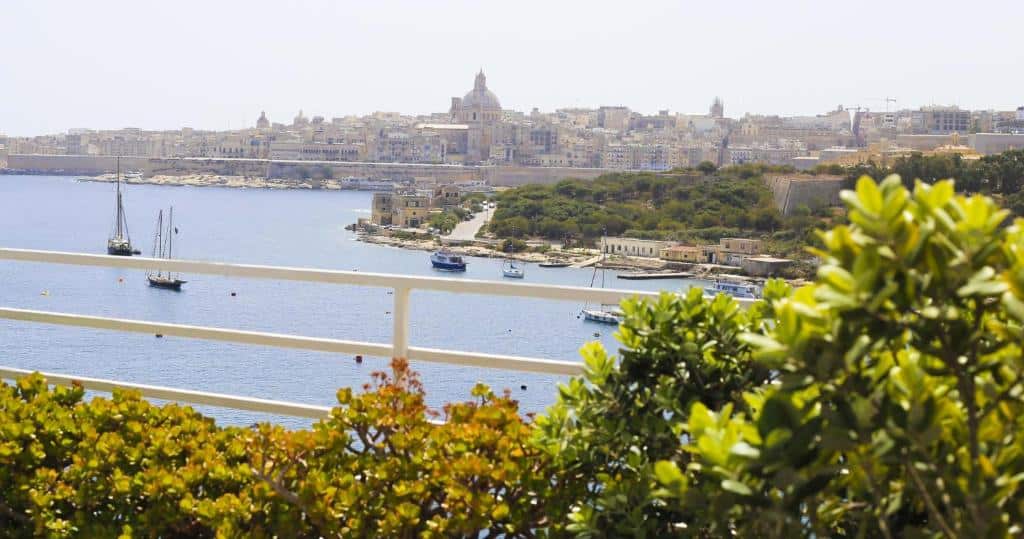 Mr. Todd Hotel
Location: 26 Triq Manwel Dimech, Tas-Sliema, Malta
There are no better low-cost motels than Mr. Todd. The hotel's prime position, only a minute's walk from Sliema's bustling seafront and close to the island's bus and ferry ports, is its biggest selling point. Urban-chic furnishings include hardwood furniture, light-colored floors, and balconies in the Comfort and Superior rooms. There is a free breakfast included with your stay, as well as an inexpensive bar and patio, to help you stretch your vacation budget.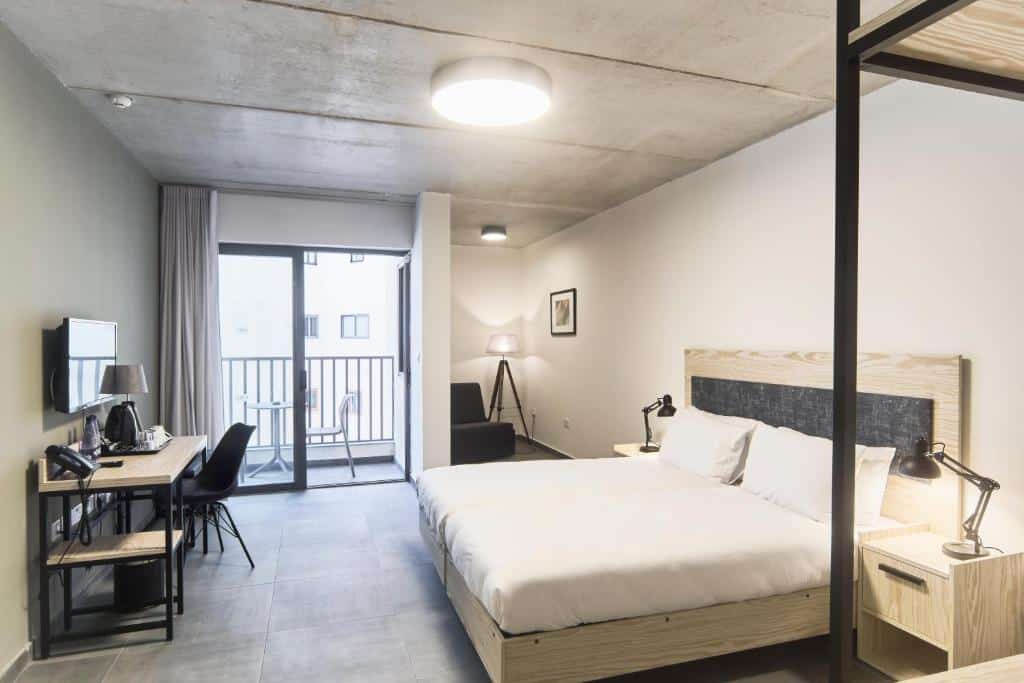 Why Visit Malta?
The cities appear Middle Eastern, the churches and cathedrals appear Greek and Roman, and the Maltese language has an Italian-Arabic accent.
Additionally, people drive on the left side of the road, and red phone booths can be found all throughout (mostly in the capital, Valletta).
English serving as the second official language of the island of Malta is one of the effects of the 150 years that it spent under British sovereignty.
The most notable cities in Malta are like enormous open-air history museums, which is one of the main reasons to visit there.
The city you see now was constructed during the Middle Ages, and its period setting is utterly enthralling.
If you're unsure whether Malta is a nice vacation destination, know that in addition to beaches like Ghajn Tuffieha (Riviera Bay) and Gadira Bay, you'll also find natural pools like St. Peter's Pool and Gar Lapsi, as well as its renowned lagoons.
How eager are you to make travel plans to Malta? Leave a comment below if we missed your favorite vacation hotel, and we'll be sure to add it to the list!
More about Malta: Best Places to Visit in Malta, Amazing Coffee Shops in Malta