About Palawan…
Palawan, in the southwestern Philippines, is a place that promises a memorable experience. Palawan has been dubbed the "Best Island in the World" by many travel journals for its magnificent beaches, crystal-clear waters, and breathtaking natural surroundings. The region is also noted for its rich biodiversity, which includes many rare and endangered species, making it an excellent visit for nature enthusiasts. Palawan has something for everyone, whether you're searching for relaxation, adventure, or cultural immersion. A journey to Palawan is likely to leave you with memories that will last a lifetime, from exploring underground rivers to island hopping to diving.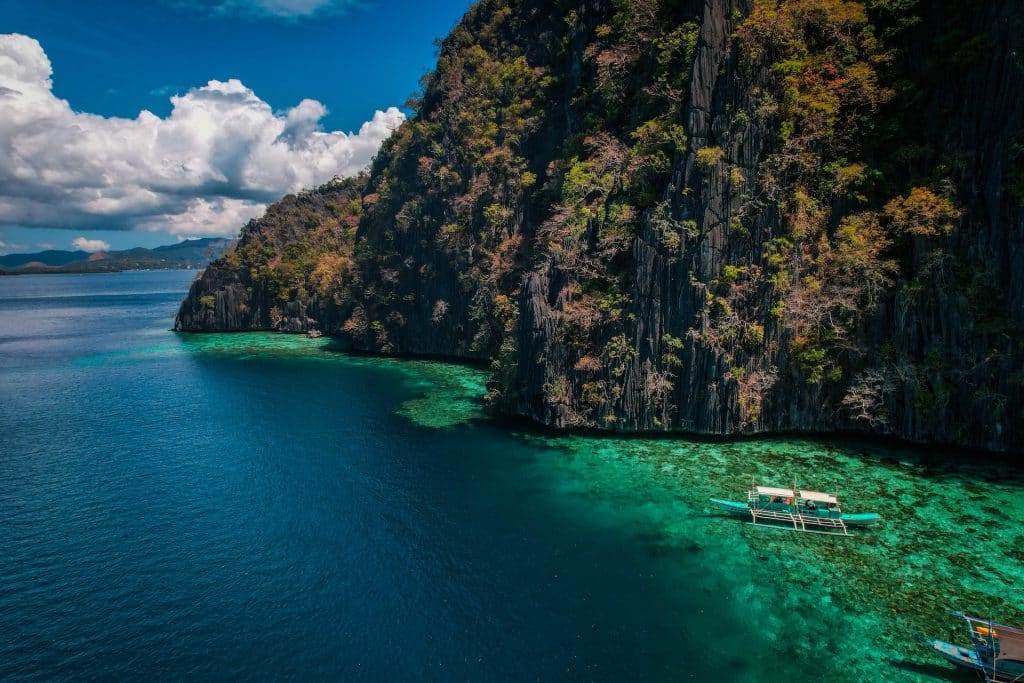 Here's our five-day itinerary for your next visit to Palawan.
Day 1: Puerto Princesa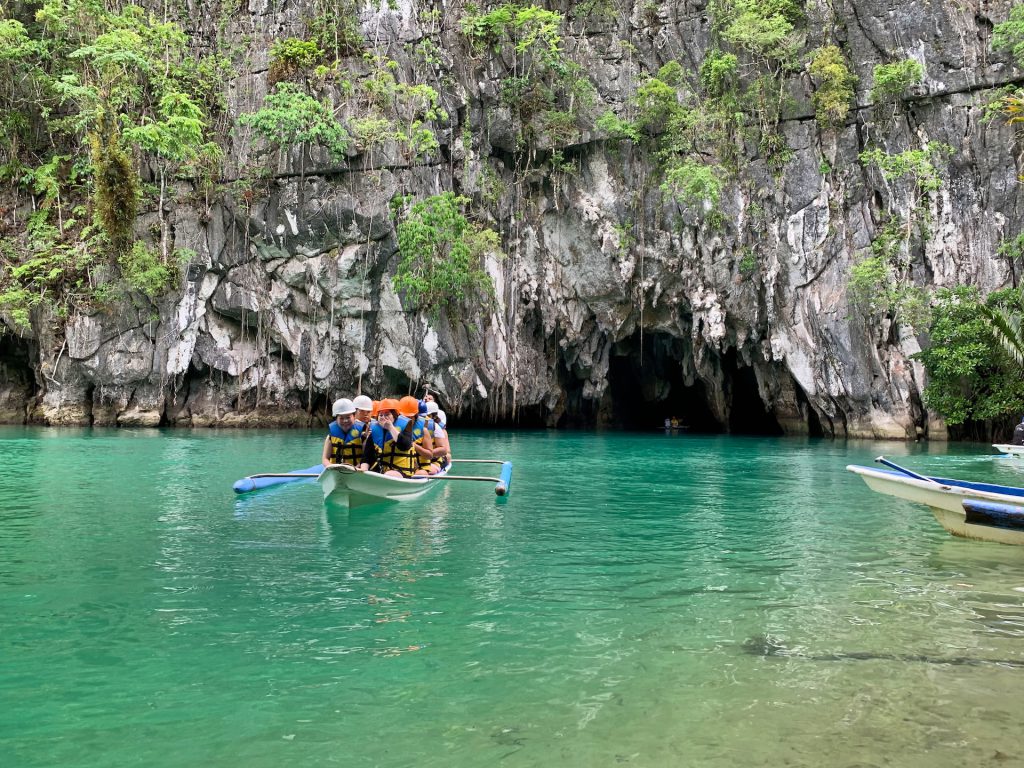 Your first day in Palawan will begin at Puerto Princesa. Puerto Princesa, in the lovely province of Palawan, is more than just a gateway to the world-famous El Nido. This huge provincial city known as "The City in a Forest" is noted for its breathtaking views and encompasses a large region with many natural, cultural, and historical monuments for local and foreign visitors to discover.
There are also various Puerto Princesa trips and activities available. The Puerto Princesa Underground River, its most famous attraction, is a natural wonder and a national treasure. Its stunning limestone cliffs, turquoise waters, and towering cave formations will captivate visitors and nature enthusiasts alike. Aside from the underground river, the city is home to some of the most beautiful islands in the Philippines, as well as Palawan beaches where you can get the perfect tan, fascinating cultural and historical attractions, and activities that will keep you entertained.
Day 2: El Nido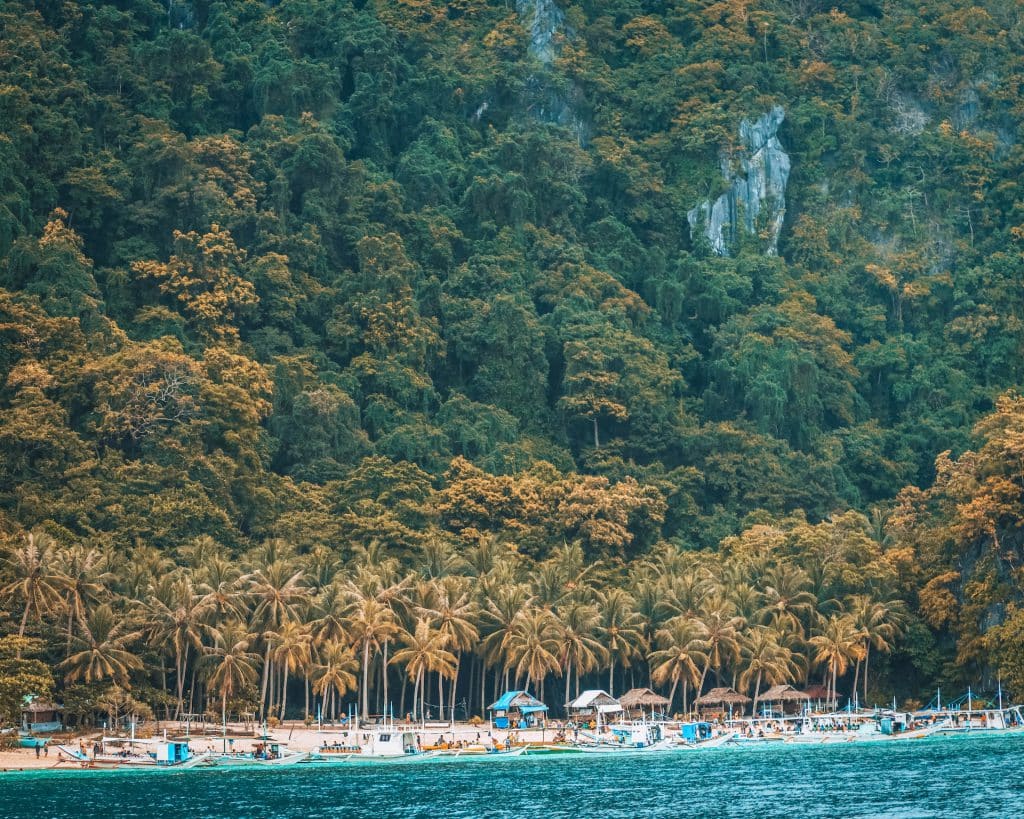 The main course of your journey will begin as you travel north from Puerto Princesa. El Nido is Palawan's most famous tourist destination, but it's not easy to get to. It's all part of the adventure and fun of touring in Palawan, but you'll need to leave the city early because it's at least a 5-hour trip north on difficult roads from Puerto Princesa.
El Nido, a quaint little beach town located in the northernmost part of mainland Palawan, has developed into a travel destination, with more convenient access to more flights and a wide array of El Nido resorts and El Nido hotels that include Philippines luxury resorts, some of the best beach resorts in the Philippines, Philippines honeymoon resorts, and backpacker hostels that cater to everyone's budget.
Imagine deserted silky white sand beaches with clear and turquoise oceans, stunning limestone cliffs, secret islands, and dramatic sunsets – El Nido, with its untouched beaches, should be on every traveler's bucket list. El Nido's temperature is generally always warm, making it an excellent year-round getaway. The big attraction of El Nido is the easy access to various island-hopping destinations.
More than the many lovely islands off its coast, the island also caters to adventurers and nature lovers by offering exciting El Nido trips such as cliff climbing, kayaking, waterfall trekking, and sunbathing on pristine Palawan beaches on the main island.
El Nido is like losing yourself in a dream that you don't want to wake up from. Its majesty and charm will undoubtedly transport you to paradise and heaven on Earth.
Day 3: Island Hopping in El Nido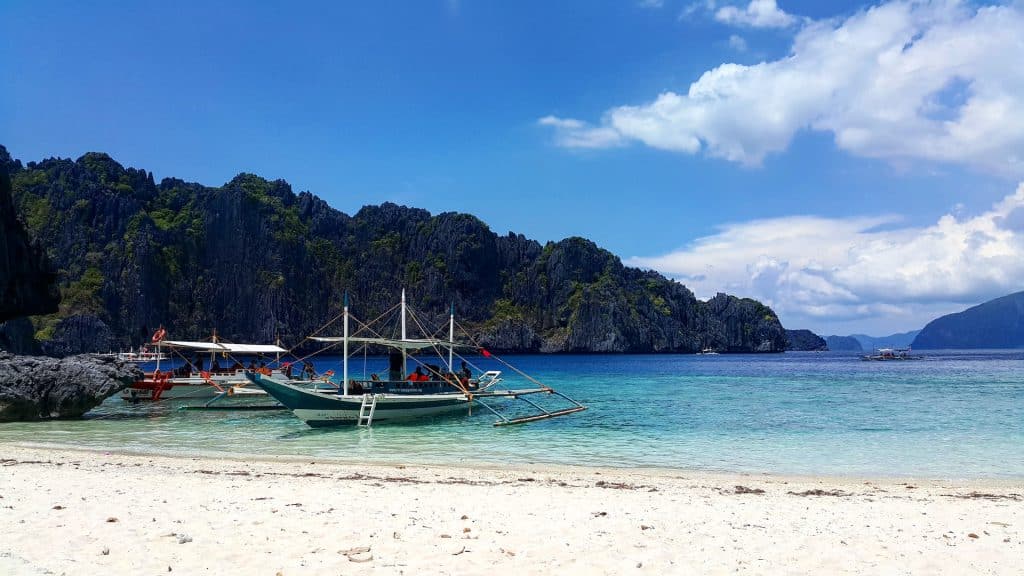 On your second full day in El Nido, you should take an island hopping tour, as this is the best way to see the sights.
Simply choose one of the trips that you did not do on day two and remember to sign up the night before to ensure your spot. Another exciting day awaits you as you ride fishing boats across the turquoise water to secluded coves, white sand beaches, and stunning limestone karst terrain.
When you return to El Nido's beaches, linger out for the evening at the bars. Order some cold San Miguel and a fresh seafood BBQ.
Day 4: Coron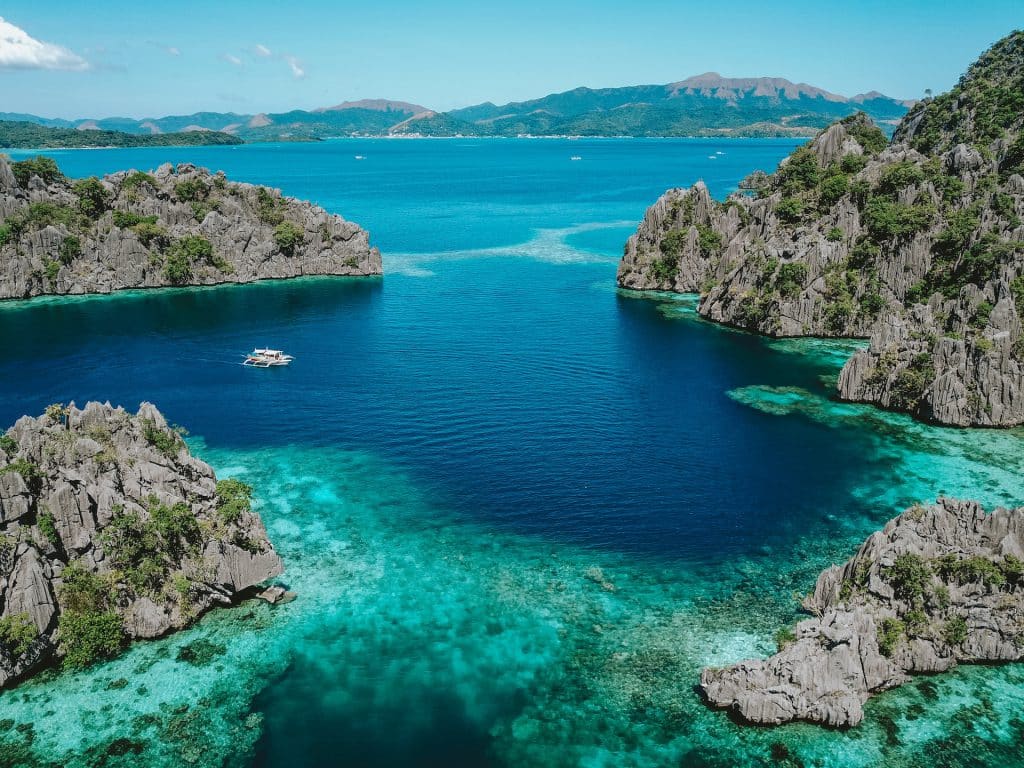 On Day 4, you'll go to Coron, one of the nicest spots to visit in Palawan, but be prepared for a long ride and an early start. You can take either the slow 6-hour ferry or the faster but more expensive 4-hour tourist boat from El Nido. However, if it is busy, you may not have an option. Bookaway allows you to compare and book boat tickets from El Nido to Coron.
For starters, Coron Bay is the location of all the magic. This beautiful maze of deep blue water winds around tall limestone cliffs that look straight out of the movie 'Avatar' it almost doesn't seem real.
Multiple shipwrecks in the bay have contributed to the creation of natural reefs. These reefs and ruined ships provide excellent diving and snorkeling opportunities.
You can sign up for Island Tours that transport you through Coron Bay while stopping at secret inlets, taking you to the best swim locations, and views that give you a full perspective of the bay. If you want to make all of your friends and family envious, then go to Bulog Island. The beach is powdery and white, the water is a stunning ombre that goes from clear crystal to vivid blue, and the backdrop is Instagram-worthy. When the tide is low, a new sandbar forms, allowing you to snap those desired jumping shots in which you appear to be floating in the middle of the ocean.
And, as if that wasn't enough, the way the catamarans line up on the beach is straight out of National Geographic.
Day 5: Pass Island & Black Island
On your second full day in Coron, you'll also go island hopping because there are still hundreds of islands to view.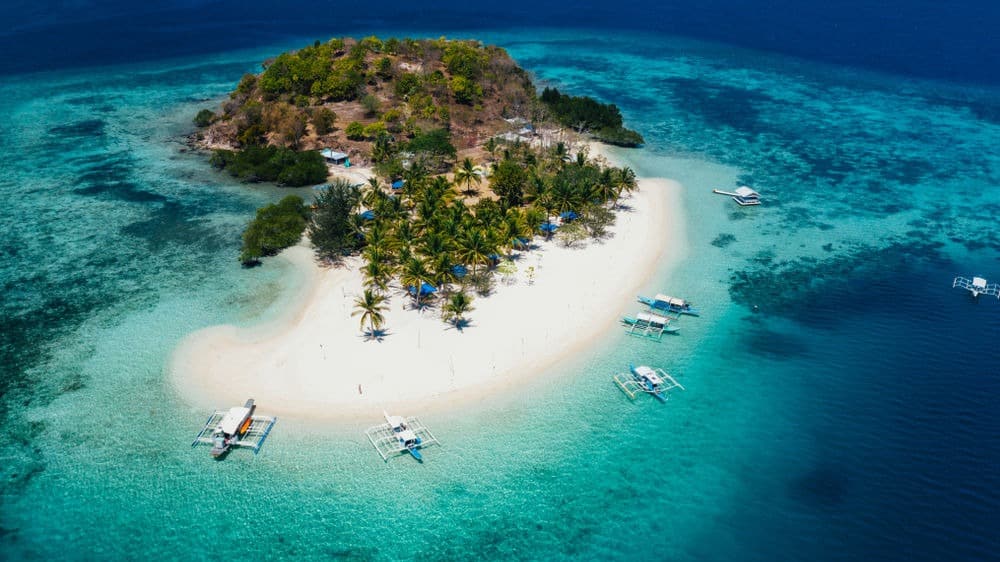 Pass Island is the first. Pass Island is one of Coron's hidden jewels, with its white sandbar flanked by coconut trees and a view of the calm waves lapping the ocean. This is a small island in Palawan, just outside Busuanga. There are several methods to get to Pass Island; however, taking a boat is mandatory. It takes about 2 hours by boat from Coron Town. Alternatively, one can take a bus to Concepción, which is around an hour distant by boat. Tours to this island are also often offered by travel businesses throughout town.
Visitors can engage in some team play while on the beach at Pass Island, which features a volleyball and basketball court. Snorkeling is also a popular activity because the waters around the island are teeming with beautiful reefs and aquatic life. Drones are also permitted on the island, allowing tourists to get uninterrupted panoramic views of the entire island, providing a new perspective on the clarity of the surrounding waters.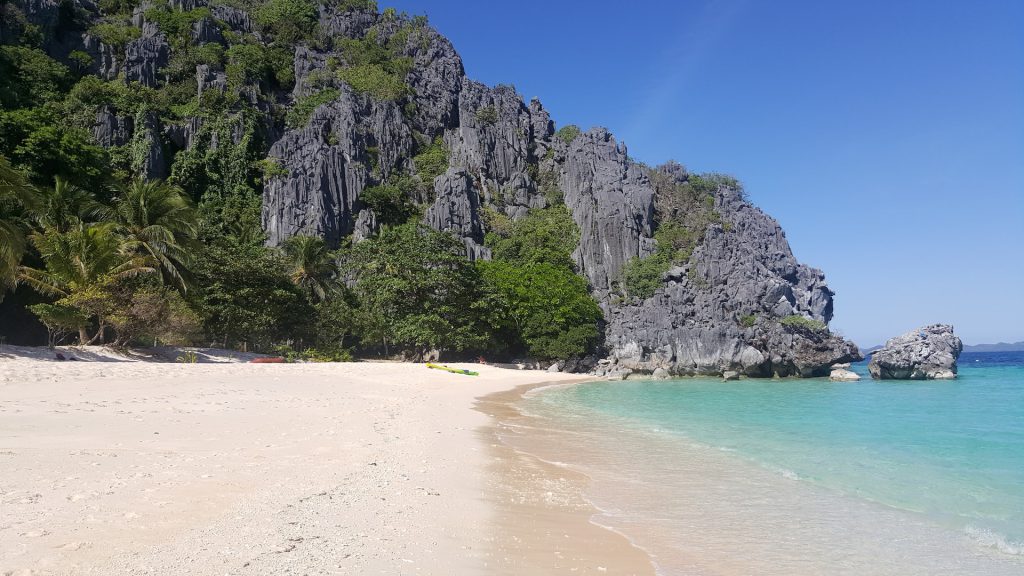 Then there is Black Island, known to locals as Malajon Island, which is a big, mysterious-looking island near Busuanga. Despite its gorgeous white beaches and coconut trees, it has an ominous feel from a distance. Once on the beach, there are numerous secret caves and private beaches to explore. The coral surrounding Black Island is spectacular and awesome for shallow water snorkeling, or it has a large drop-off for free divers. Basically, no matter what you want to do in the water, this is the place to be. You can spot various coral and fish species here, as well as a few decent sites for cliff jumping if you're up for it!
On your way back, you can either catch a slow overnight ferry or a quick 40-minute flight to Manila, from where you can continue your journey or head back home.
If you are planning your trip, make sure to check out our accommodation tips in Palawan. We've compiled a list of places to stay while visiting this island.
Palawan, Philippines, offers a paradise like no other, and our five-day itinerary has allowed you to experience the best this breathtaking destination offers. From the lush forests and beautiful underground river in Puerto Princesa to the pristine beaches and dramatic landscapes of El Nido and the mesmerizing beauty of Coron's islands, your journey through Palawan has been filled with awe-inspiring moments.
Whether you were exploring the hidden gems, indulging in thrilling activities, or simply relaxing on the picture-perfect beaches, Palawan has left an indelible mark on your heart. Our itinerary has been a helpful guide, allowing you to make the most of your time in this tropical paradise.
As you reflect on your unforgettable experiences, we encourage you to share your favorite moments in the comments below. Palawan's natural wonders, rich culture, and warm hospitality have a way of captivating travelers, leaving them longing to return and, until then, hoping that you carry Palawan's beauty and serenity wherever your future travels may take you.