Hamilton is the perfect destination if you're searching for a nature-based break in Ontario that includes hiking and waterfall hunting. A whopping 156 waterfalls can be found in Hamilton, which is also referred to as the "waterfall capital of the world."
When visiting Ontario, the majority of visitors head to the well-known Algonquin Provincial Park or Tobermory; nevertheless, only a few are fortunate enough to find and experience Hamilton's secret beauty.
Even though it's challenging to choose just 10 waterfalls from Hamilton's 156, these are the ones you should go see if you only have one day in the city. This is your official Hamilton Falls bucket list, so use it!
Smokey Hollows Falls
Ten meters high, Smokey Hollows Fall is also referred to as Great Falls, Watertown Falls, Boundary Falls, and Grindstone Falls.
Previously used to power a nearby sawmill, the waterfall is now the focal point of restored parkland. There is a free parking area just near the falls, and getting there doesn't involve any trekking at all!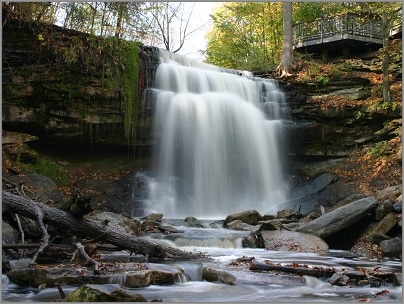 Sherman Falls
Sherman Falls is a 17-meter-high curtain waterfall. Sherman Falls may not be Hamilton's tallest waterfall, but there is something very magical about it. Compared to other waterfalls in Hamilton, this one has a multi-tiered appearance that is extremely distinctive, and the area around the falls feels incredibly snug.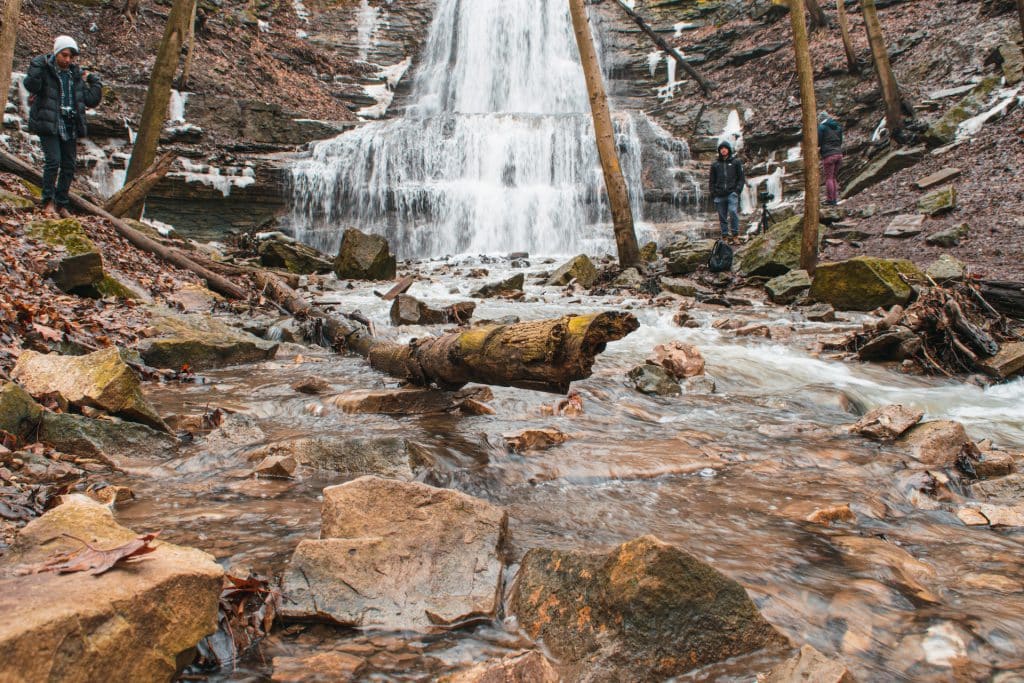 Albion Falls
The cascading Albion Falls is a 19-by-18-meter waterfall that is almost as wide as it is tall. The waterfall is incredibly impressive to observe, but the only place from which to do so is from a viewpoint near the parking lot.
Until recently, it was allowed to stroll to the base of the falls, but due to a tragic event, doing so is now forbidden, and you risk being fined thousands of dollars. Instead, stay on the viewing platform!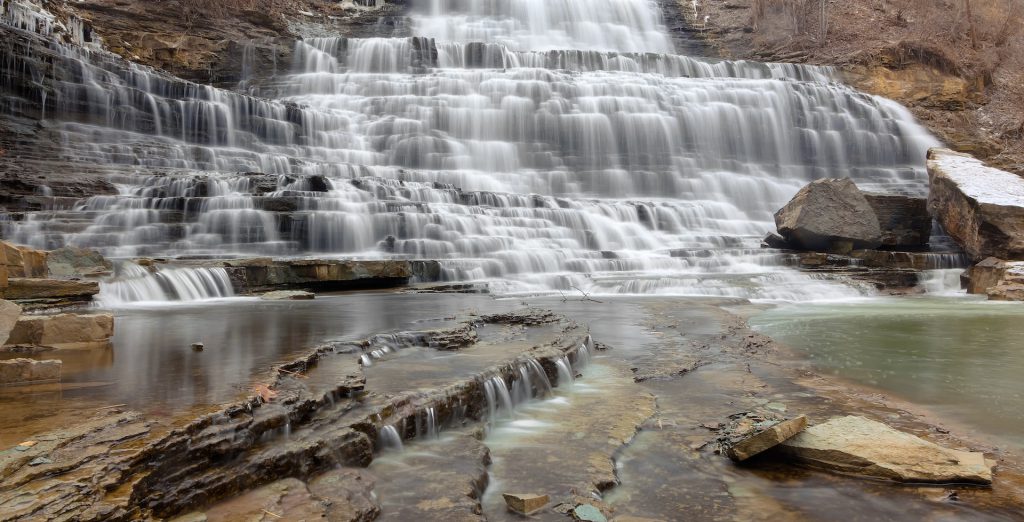 Felker's Falls
Another ribbon waterfall with a height of 22 m is Felker's Falls. Although Felker's doesn't frequently appear on lists of the best waterfalls in Hamilton, we nonetheless strongly suggest going there! The waterfall itself is quite picturesque, the gorge's vista is breathtaking, and the fall foliage is absolutely mesmerizing.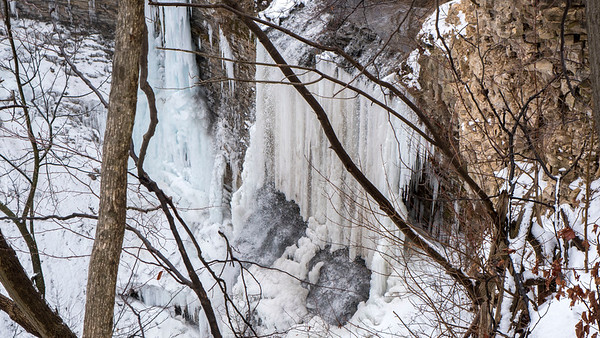 Buttermilk Falls
Buttermilk Falls, which is located beneath a bridge on Mountain Brow Blvd. close to Limeridge Rd. on the East Mountain, might be regarded as a hidden gem, but it's anything but. It would be more accurate to state that Albion Falls, which is located less than a minute away by car, simply overshadows it. Buttermilk Falls is a nearly year-round waterfall that is about 75 feet (23 meters) high. The flow decreases to a mere trickle in the late summer, early fall, or during periods of very little rainfall. It enters a branch of Red Hill Creek.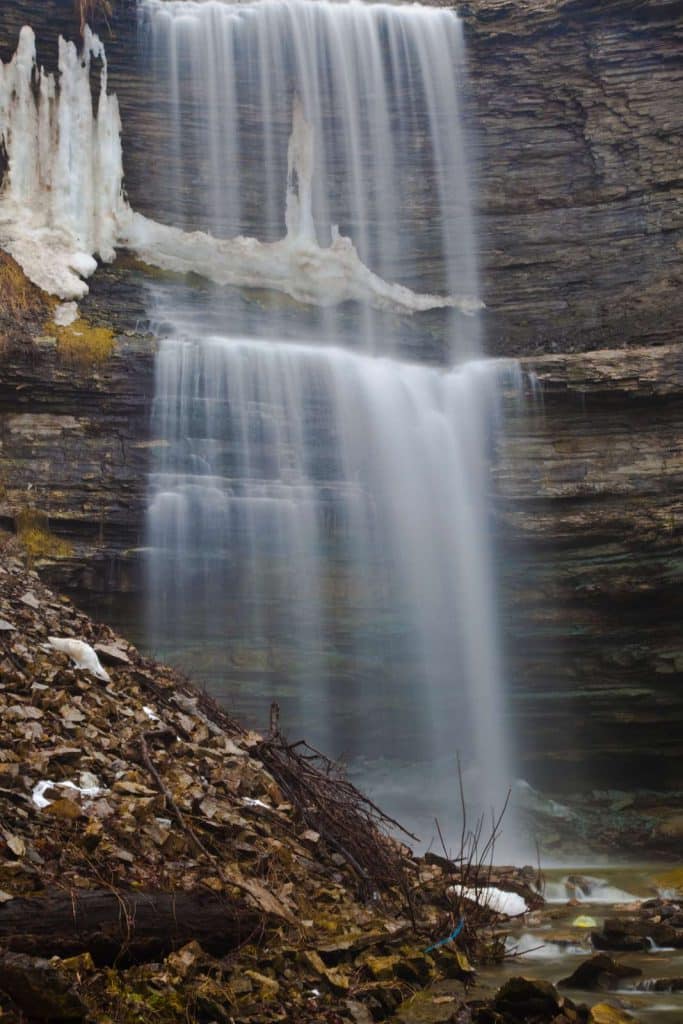 Tiffany Falls
Less than 500 meters of walking distance separate the parking lot from the 21-meter-high Tiffany Falls. This waterfall is stunning and very easy to get to in Hamilton.
Tiffany Falls is a well-known waterfall in Hamilton, and with good reason. The Spencer Gorge's tall cliffs frame the waterfall, which is encircled by a verdant forest.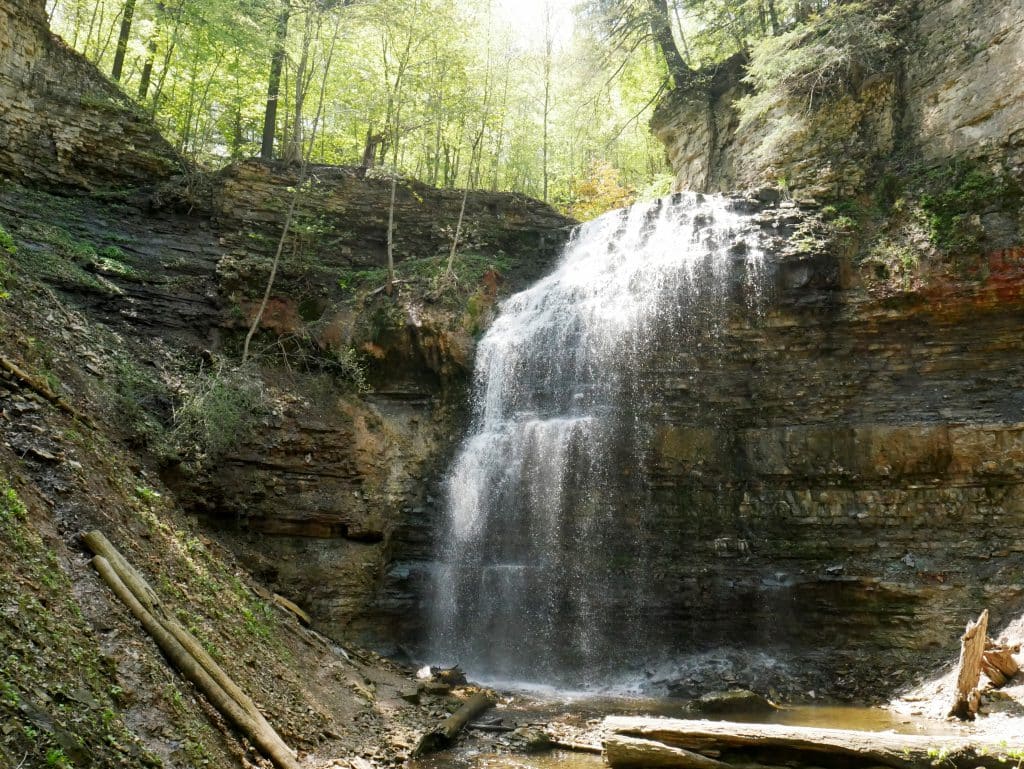 Chedoke Falls
Chedoke Creek, which receives its water from an underground creek on the West Hamilton Escarpment, falls 59 feet (18 meters) to the Chedoke Creek below, then goes back underground to the area beneath the Chedoke Municipal Golf Course before surfacing near the 403 and entering Cootes Paradise.
This waterfall pours year-round, but slows down when the rainfall has decreased. The pool of water right beneath the falls has a turquoise appearance and is surrounded by cliffs on about two thirds of its perimeter. At the water's edge, some of the cliff rock has eroded, resulting in a slight overhang and a very distinctive and alluring appearance.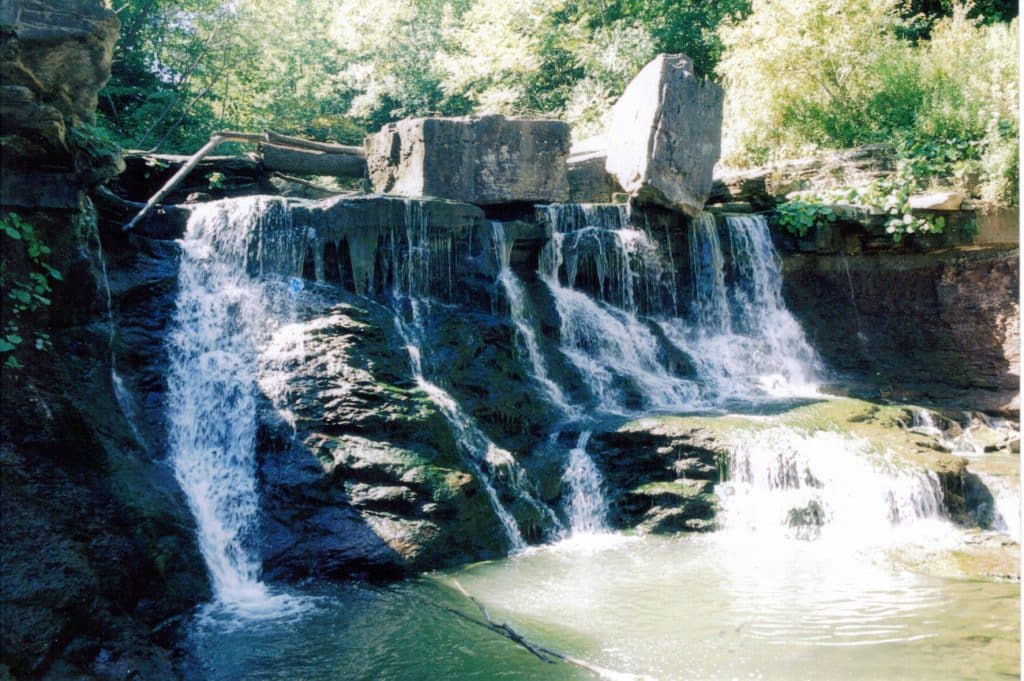 Tews Falls
Tews Falls, which plunges 135 feet (41 meters) into Logie's Creek in Spencer's Gorge, is the tallest waterfall in Hamilton. It gives stunning views of the gorge and is just a few meters shorter than Niagara Falls. Except during extremely low rainfall periods, when the flow has been known to stop, the water is in motion all year.
Thanks to its fantastic location above the valley on the way to the Dundas overlook, this waterfall area is one of the busiest in Hamilton. It's a tremendous treat to hike in from the bottom. It takes around 30 minutes to hike along the creek's edge and through the valley.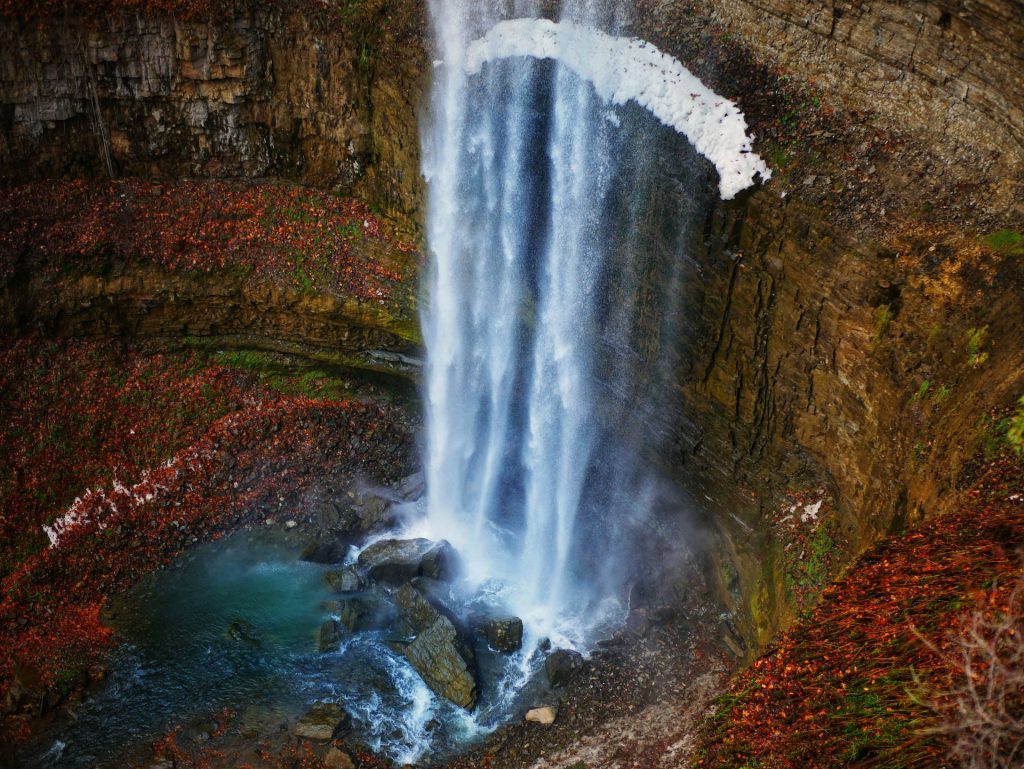 Washboard Falls
The hike up to Washboard Falls, which is just next to Tiffany Falls, isn't really "simple," since you have to scramble up the edge of the gorge just past the wooden viewing platform. You can prepare to use your hands and get a little muddy along the journey because the terrain is sometimes damp and quite slippery.
All things considered, Washboard Falls provides a really tranquil and pleasant environment. I'd strongly advise seeing this Hamilton waterfall if you're in good physical shape and don't mind getting a little mud on you.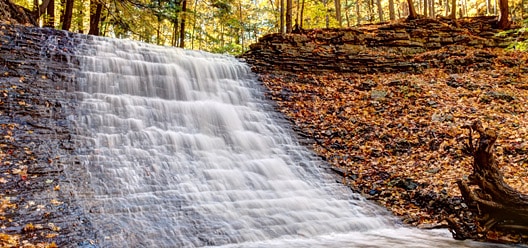 Devil's Punchbowl Falls
Despite the fact that the gorge into which this waterfall empties may not have as much vegetation as other waterfalls, its height is 121 feet. Yes, size is important, but a waterfall is more than just sheer height. The bowl that Devil's Punchbowl Falls pours into is simultaneously intimidating, thrilling, interesting, cool, and enjoyable. The height alone will give you the chills as you peer over the edge. Looking up the cliff from the bottom can be thrilling. You will probably grow captivated as you look up the wall, since you can distinguish between the several layers of the millions-of-year-old rock by their variations in color and texture. It's also amazing to hear your voice echo off the cliff sides in the bowl.
It has a harsh, untamed reputation and an allure. Although the distance to the punch bowl along the pathways is short, the terrain is rough, with small, steep slopes made of rock, clay, trees, and bushes. No other waterfall in Hamilton has the same allure as Devil's Punch Bowl, which has a lit cross at the top.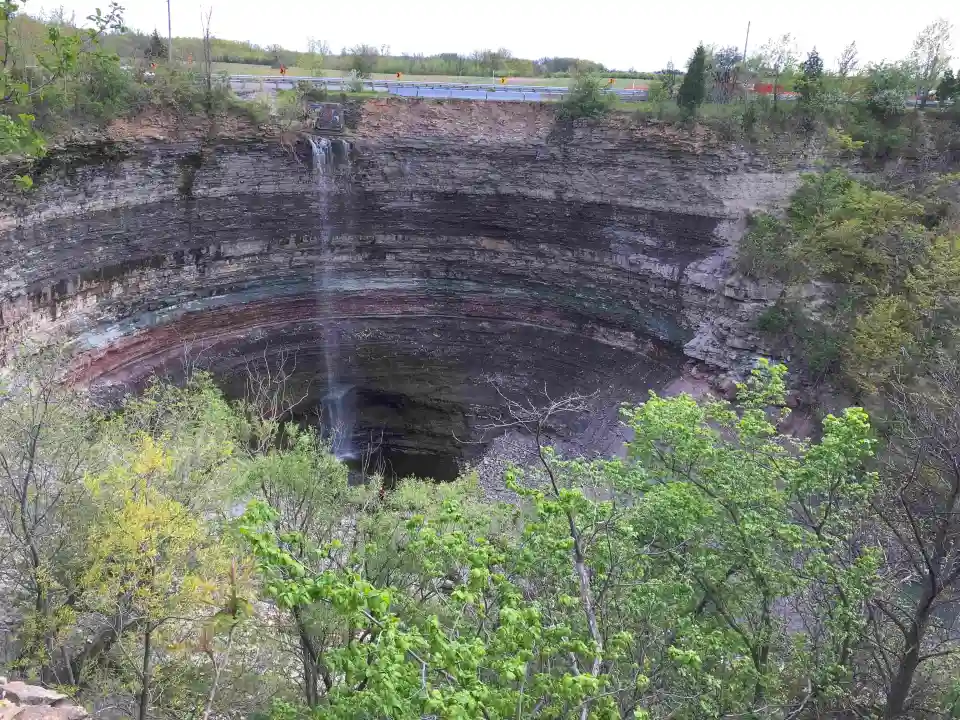 Knowing the top waterfalls in Hamilton to visit has probably left you wondering how to organize your trip. You may want to include some treks, even though many of these waterfalls don't require much trekking. You might want to take in as many Hamilton waterfalls as you can. So, which item on our list piqued your interest the most? Let us know in the comments below!